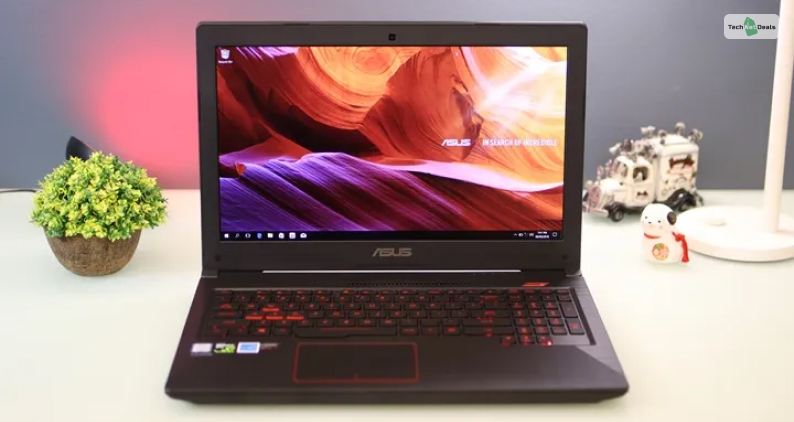 If you are looking for a budget gaming laptop that was released a few years earlier, have a look at the Asus ROG FX503. Released in 2018, this laptop has decent performance and various additional features to make it a great choice.
Keep on reading this review to learn more about it before deciding on whether you will buy it or not.
Asus ROG FX503 Specifications:
The primary specifications of this laptop are as follows:
OS
Windows 10 Home
Display
15.6" FHD LED Display (1080p)
Processor
7th generation Intel Core i7 7700HQ (2.8GHz, boostable up to 3.8GHz)
Graphics Card
NVIDIA GeForce GTX 1050 4GB
RAM
8 GB (2400MHz, expandable upto 32GB)
Storage
1TB HDD (7200 RPM)
Connectivity Ports
3x USB 3.0 Type A Ports
1x HDMI 1.4 Port
1x SD card Reader
Battery
Li-On battery
Keyboard & Touchpad
Backlit Keyboard, Buttonless Touchpad
Speakers
2x 2w speakers
Camera
720p HD webcam
Dimensions (WxDxH)
39cm x 27cm x 2.5cm
Weight
2.5kgs (6 lbs)
Price
$1,000
Asus Rog FX503 Features:
After using this laptop for a week, here is the detailed description of its main features and what I liked. Therefore, here's my Asus ROG FX503 review.
Design & Build Quality
When it comes to the design of this laptop, it's pretty ergonomic but not too stunning to look at. From the top, it looks like a pretty simple laptop. The side bezels on the screen do not look too thin.
However, the top hood with its screen is particularly slim. It's a pretty slim laptop, considering the fact that it's a performance-heavy laptop. This slim form factor will please many laptop users who carry their gear everywhere.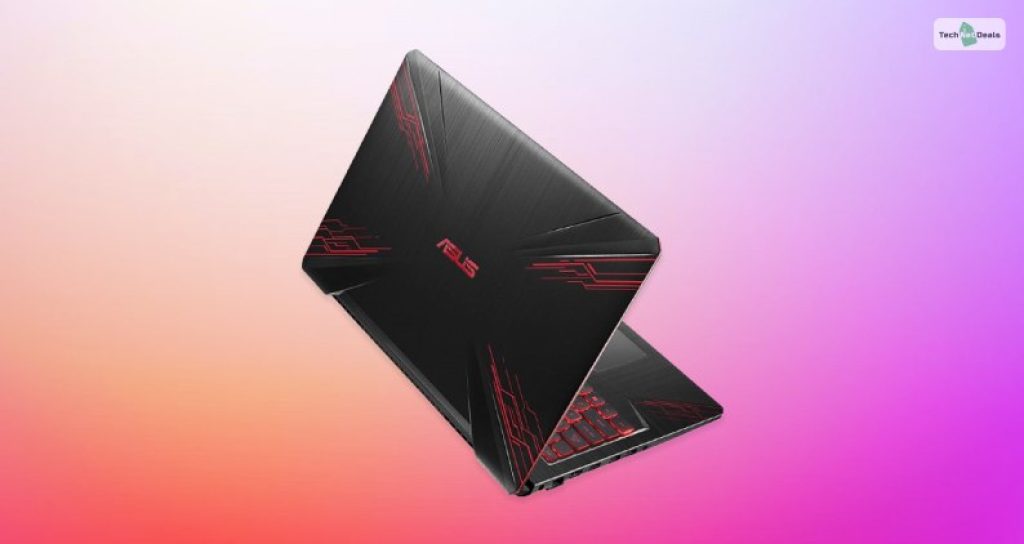 When it comes to the build quality, it's pretty sturdy. This was expected, considering it's an Asus laptop, who have always kept their laptops pretty durable.
Display
The display is pretty good and vibrant, making gaming and movie watching a pleasurable experience. Whether it's seeing the likes of Avatar or the realism of Red Dead Redemption 2 – it all looks stunning. The 15.6" screen has pretty bold and vibrant colors, which enhances the experience.
However, gamers might want more in terms of the display. This is because, unlike other gaming laptops, the Asus ROG FX503 screen only has a standard 60Hz refresh rate. Therefore, if you want higher frame rates and a monitor with higher refresh rates, you won't find it here.
Keyboard, Touchpad, & Webcam
The keyboard is pretty good, acting as one of its main highlights. It's marketed as a "low-profile" anti-ghosting keyboard. This means that it generates less "clicky" noise, which is commonly associated with mechanical keyboards. Plus, it's 1.8mm key travel makes it easier to press as well. In addition, the keyboard has an n-key rollover, which makes registering multiple keypresses at once smoother.
The touchpad is pretty simple, with no special bells and whistles. However, it does lack the extra mouse buttons at the bottom, which the Asus ROG Strix Scar II GL704GM has. Plus, this time, the webcam is on the top bezel, unlike the one on the laptop mentioned above. However, its quality is pretty poor. Don't even think of Twitch streaming using this.
Connectivity Ports
The Asus ROG FX503 has all the necessary i/o ports that are necessary for a laptop. It has an HDMI port for connecting another monitor, along with 3x USB 3.0 Type-A ports. Plus, it has a standard fare 3.5mm audio jack as well for connecting your headphones.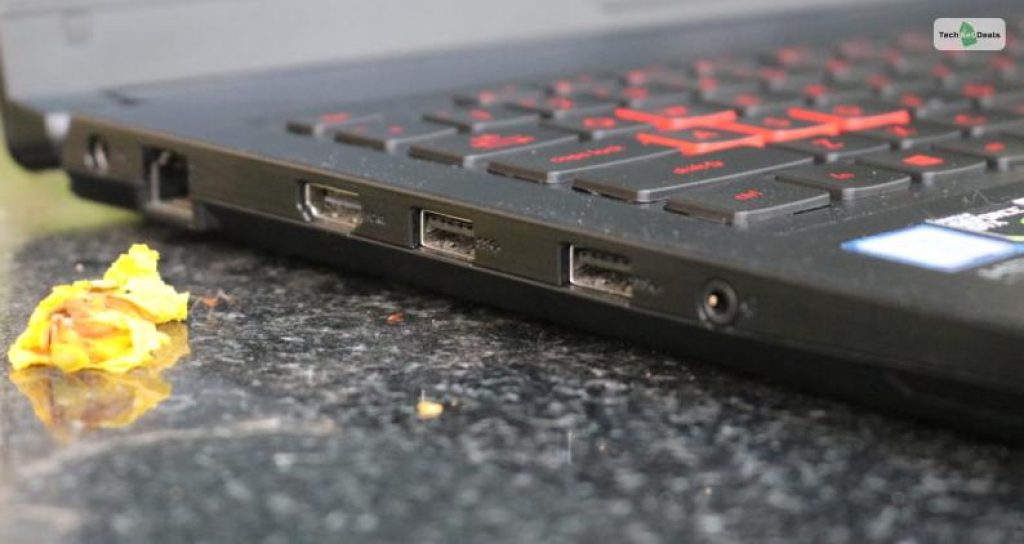 However, what's missing is the USB 3.2 Type C ports, which are slowly becoming the standard for USB devices. However, you will get an SD card reader instead. Therefore, you won't need an additional SD card reader for storing your favorite pictures from your camera.
Battery Life
Battery life is something that most medium to high-performance laptops often sideline. This is one of the reasons why a desktop PC is always considered better for gaming. The Asus ROG FX503 battery will last for approximately 4 hours under normal circumstances (web browsing, YouTube videos, Netflix, and chill). However, this will be reduced to just 1.5 hours when gaming or running graphically intensive applications.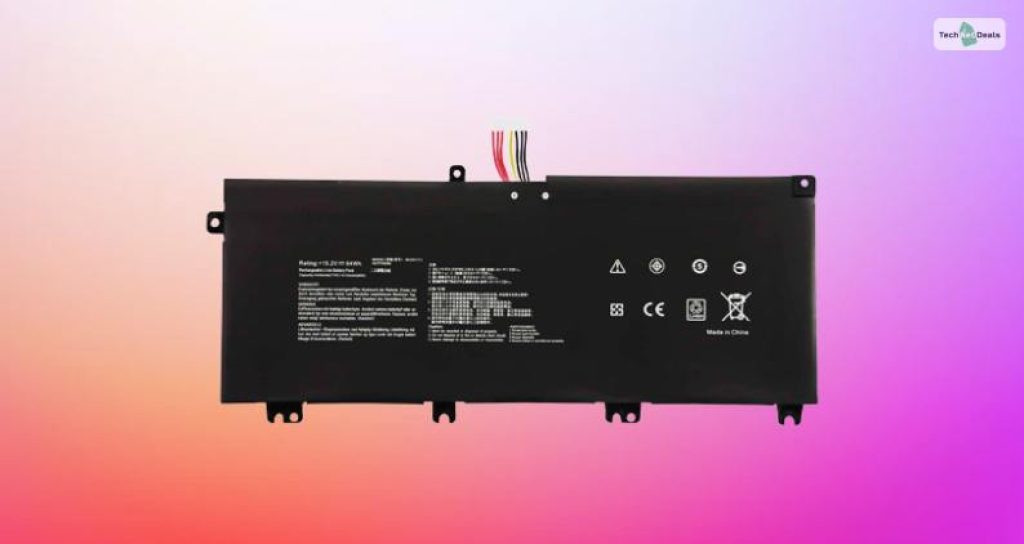 However, the plus side is the fact that it has a dual-channel heat dissipator and cooling system with copper pipes. Therefore, even after gaming for 3 hours straight, this laptop remained cooler than other gaming laptops.
Performance
The Asus ROG FX503 performance is pretty decent. Given its mediocre specifications, it provides mediocre performance as well.
When it comes to office tasks involving the use of the Microsoft Office Suite, it provides good performance. However, productive app users will find some slowdowns from time to time. I faced some slowdowns using 10+ layers on Adobe Photoshop or while video editing using Adobe Premiere Pro.
However, when it comes to gaming, this laptop is not that great. The NVIDIA GeForce GTX 1050 4GB has become pretty outdated now, replaced by RTX graphics cards. Therefore, older games released below 2014 will run at max settings. However, modern games will only give 30+ fps (still playable) on the lowest settings.
Here are some gaming benchmarks I faced while using the Asus ROG FX503.
| | |
| --- | --- |
| GAME | FPS |
| Valorant | 100+ |
| Apex Legends | 80+ |
| League Of Legends | 150+ |
| Overwatch 2 | 70+ |
| The Witcher 3: Wild Hunt | 50+ |
| Red Dead Redemption 2 | 40+ |
| Grand Theft Auto V | 45+ |
| Assassins Creed: Valhalla | 60+ |
| God Of war | 40+ |
| Cyberpunk 2077 | 30+ |
Frequently Asked Questions (FAQs):
Gamers have various queries about the Asus ROG FX503. My answer to their most asked questions are:
Q1. Is The Asus ROG FX503 Good For Gaming?
Ans: The answer lies somewhere in the middle. This laptop runs on an older NVIDIA GeForce GTX 1050 4GB graphics card, which has become outdated now. Therefore, it's not that great for gaming by today's standards.
Q2. Is The Asus ROG Better Than Asus TUF?
Ans: Most critics and users will agree to the fact that Asus ROG laptops are better than Asus TUF laptops. This is because ROG laptops are made to be more premium, while TUF laptops are meant to be more budget-friendly.
Q3. Which Asus ROG Laptop Is Best?
Ans: When it comes to Asus ROG laptops, the Asus ROG Zephyrus G15 is the best in the series. This laptop gets updated each year with better specifications.
Final Verdict: Is The Asus ROG FX503 Worth It In 2023?
The Asus ROG FX503 is a pretty decent laptop in 2023. It's a good laptop if you want to do productive work on it, like using Adobe Photoshop and Premiere Pro. However, gamers will find this laptop a bit underpowered. This is because of its use of an older graphics card and 7th gen Intel Core i7 processors.
PROS
CONS
Good display
Additional SD card reader port
Very slim form factor
Outdated processor and graphics card
Batter can heat up and drain pretty quickly
Read Also: