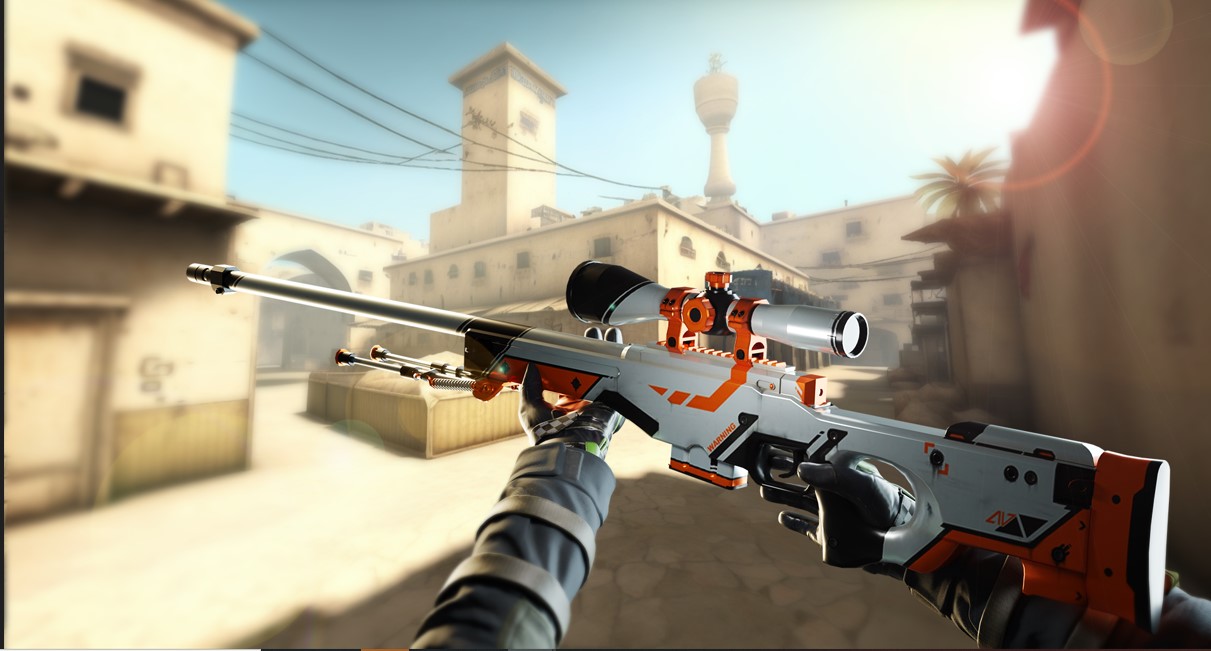 Counter-Strike 2 is almost here as a sequel to the legendary first-person shooter Counter-Strike: Global Offensive. It's set to launch in the summer of 2023 and promises significant technical leaps in Counter-Strike's gameplay, graphics, maps, and much more!
You might be wondering what will happen to your skins from CS: GO once CS2 is out. If you're one of the people that have invested heavily and built a collection of skins in CS: GO, rest assured that they will not only transfer over to CS2 but also improve in visuals and rise in value!
AWP | Asiimov
The famous AWP Asiimov is one of the rarest skins in CS:GO: this Covert family of skins has a drop rate of only 0.63%. AWP | Asiimov has a futuristic yet funky design with a black, white, and orange color scheme.
Introduced in 2014 as part of the Phoenix Collection, AWP | Asiimov quickly became a fan favorite. The AWP in itself is a powerful in-game rifle, and the Asiimov skin adds a touch of style and flair to this deadly weapon that's loved by many.
But will the Asiimov add the same style and flair to the AWP in CS2? Will it be worth buying or keeping? Let's review what you should expect from AWP | Asiimov in CS2.
AWP | Asiimov in CS2
CS2 is based on a new Source 2 engine with improved graphics and a better lighting system than CS: GO. This means that the same skins will be rendered differently in both games.
AWP | Asiimov in CS2 will have a more detailed look, with sharper textures, highlights that change according to the lighting conditions the skin is under, and dynamic shadows depending on the darkness of the area. The Asiimov color scheme gets a vibrancy and contrast boost, making the orange accents pop out more under the right lighting conditions and making the AWP look like it's taken straight out of a sci-fi movie!
The price of AWP | Asiimov depends upon supply and demand, rarity, wear condition, and market trends, just like with any other skin. The current price of this skin ranges from $73 for the Battle-Scarred variants to $285 for the Field-Tested variants. The expected increase in price for CS2 is around $19 for the Battle-Scarred and $72 for the Field-Tested Asiimov.
Related: Top 10 Best Graphics Card Under 5000 In India (2021 Updated)
Key Information Related To AWP | Asiimov
Buying an AWP Asiimov is secondary. First, you will have to know some core information related to it. It is one of the most iconic and popular skins sponsored by CGSO. It has a number of different essence as well as visual floats in comparison to other skins. However, one needs to stay aware of what an AWP Asiimov does.
The AWP always presents itself as an Asiimov in-game. Thus, the game does not categorize itself as a Blackiimov, and neither does the community. A base AWP Asiimov looks like a usual community skin, thereby varying between battle-scarred and field-tested conditions. Obviously, the condition changes when there are priceless AWP stickers, although that's a completely different story.
How To Identify A Fake AWP | Asiimov?
Identifying a fake AWP Asiimov can be quite tricky. There are situations when it appears to be edging into the Blakiimov territory, although they don't merge very closely. Oftentimes, people are caught making an attempt to sell these in the name of Blackiimovs, which is not ethical for most buyers.
To avoid such a scam, you will have to know the minute details about AWP Asiimov. Although this is not always considered a scam, maximum people genuinely misguide Blackiimovs as Asiimovs. A fake AWP | Asiimov is worth of certain overpay. It all depends on your liking of this float kind.
Recommending to overpay somewhere around $10 for an Asiimov is not a smart decision. However, you cannot expect to get the same return when you try to sell it again because it is simply a matter of preference.
Entailing The Performance And Design
Imagine something extremely aesthetic encompassing aggression; that's what an AWP | Asiimov is made up of. It has to be one of the most stunning designs presented in CS: GO ever. The inspiration comes simply from its replica of a venomous reptile having the same name. It has vivid black, deep green, and yellow colors, enough to create a bold statement.
The weapon is infamous for its pattern, which strikes fear in the minds of opponents since it organically imitates the pit viper scales. Additionally, serrated fangs, as well as snake eyes, are carved into this beautiful design. The fearful sight for the CS: GO deserves a glance for every devotee.
It is completely unmatched when we talk about AWP | Asiimov's performance. After its design, the performance is equally worth mentioning. Being a sniper rifle, the AWP provides unparalleled strength which can deliver a one-shot kill directly to opponents.
Moreover, the classic Asiimov skin never alters the mechanics or gameplay statistics of the opponent's weapon. This ensures that the deadly accuracy always remains intact. The visual enactment of the skin might influence the perception as well as the confidence of the user, thereby offering a psychological benefit in intense gaming situations.
Where to Buy AWP | Asiimov
Before the prices for AWP | Asiimov shoot up, you might wanna get the skin in your inventory. But which marketplace is best for purchasing one? Steam's 15% commissions make it tough to find a reasonable price for any skin, and third-party sites are far too unreliable, thanks to all the fraud they let run under their noses.
DMarket is the solution to these problems. This trusted platform allows you to trade skins with other players within minutes in the safest possible environment.
All of this is possible thanks to DMarket's underlying blockchain technology that they use to handle each transaction. Use any payment method you prefer, even if it's a cryptocurrency, to buy new skins at lower prices than other platforms because of the lower commission fees.
So why the wait? Head over to DMarket and treat yourself to AWP | Asiimov before the prices go up!
Read Also: