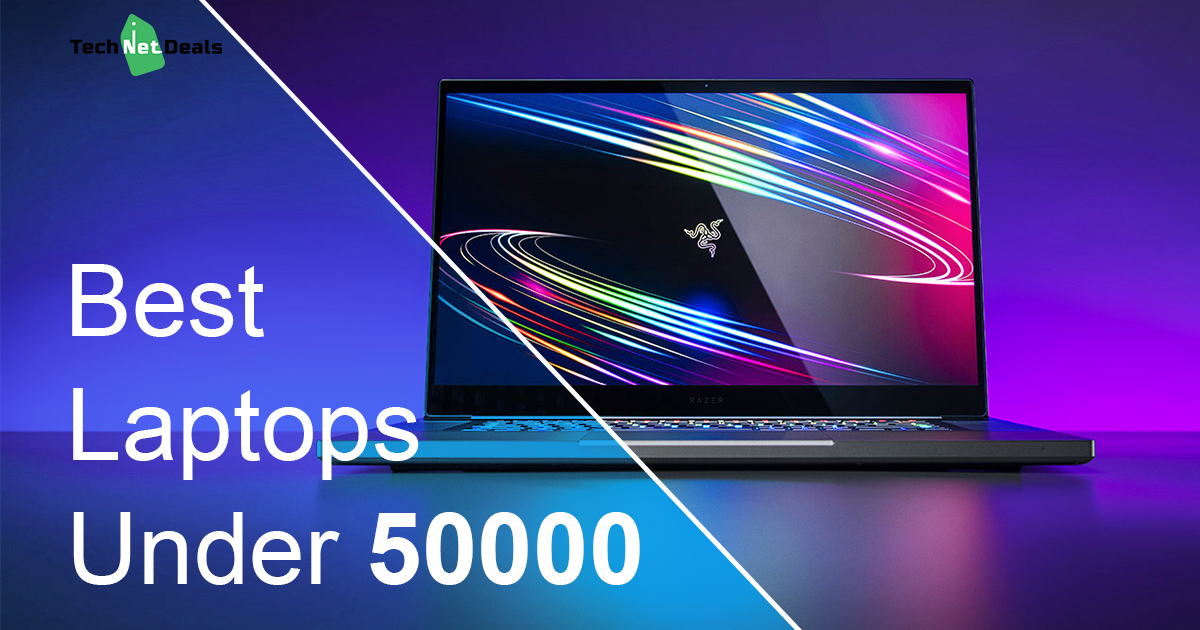 You need to pay attention to so many factors when looking for the best laptops under 50000 in India. The best gadget depends on how you will be using the machine. What works well for an enthusiastic gamer will not augur well with a person who is looking for a laptop for office work. 
Whether you are looking for the best laptops under 50000 for office work or individual use, you will not fail to get the best choice. All you need to do is match the product features to your individual needs. Here is a list of some of the best machines under this price range. 
Under each product, we will be looking at the key specifications, product description, pros, and cons. At the end of this content, you will be in a better position to choose the best laptops under 50000 that will meet your needs with a high level of precision.
10 Best Laptops Under 50000 Rs In India
Last updated on August 14, 2020 8:11 pm
Best Laptops Under 50000 Rs In India
1. ASUS TUF Gaming
Pros
2666mhz RAM according to armory crate 

Hypercool technology

Excellent sturdy design 

A true gaming budget laptop 
Cons
All USB ports on one side 

 
ASUS TUF Gaming is a middle-level gaming laptop that has an amazing overall performance and comes at a reasonable price.  It's one of the laptops that changes the way people look at gaming laptops. It has impressive hardware with a compact and aggressively-designed chassis that is exceptionally tough.  
FX505 comes with a keyboard that inspires gaming from having RED-backlit keys. The WASD key group is highlighted and an overstrike technology for precise and fast control. It also has an IPS-level cutting-edge nano display and the MIL-STD-810G certified durability test. 
Even though FX505 has a compact size, it has a punch that supports fully-fledged gaming desktops.
The Ryzen 5 3550H processors power this machine giving it more power than the previous generations. The processor supports faster and more efficient multitasking. It simultaneously includes live streaming, recording, and gaming. 
The device comes with the AMD Radeon RX 560X graphic card for super-smooth gameplay and vivid visuals. When it comes to AMD FreeSync, the refresh rate of the display synchronizes with the frame rate of the GPU to eliminate visual tearing, minimize stuttering, and reduce lag. 
The exclusive hyper-cool technology of ASUS includes the ADC (anti-dust cooling) and the fan over-boost technology to make sure that there is exemptional cooling in gaming marathons. The integral parallel placement of the fan and patented trapezoid-cut lid improves the cooling further. 
The DTS headphone uses the X technology to deliver immersive and high fidelity 7.1 theatre-quality surround sound audio.  You will still get the high-quality audio even when you are using the headset. This gadget indeed qualifies to be among the 10 best laptops under 50000. 
Key Specifications
Verdict
You might find that this laptop is overpriced on Amazon under the best laptop under 50000 category. But if you are looking at the price only then you will not be able to see what it has got inside. ASUS TUF gaming laptop provides some of the advanced features that you will get in some of the premium laptops. The only drawback of this laptop is that plastic materials are also used to build this laptop.
2. Lenovo Ideapad S145
Pros 
The screen has Full HD resolution 

Simplified charging kit 

Several USB-A ports 

Anti-glare Technology
Cons 
Lenovo Ideapad S145 comes in as second on our list of the best laptops under 50000 Rs. The machine is specially designed for long-lasting performance. Lenovo Ideal Pad S145 grants users a powerful AMD/Intel processing in a light and stylish design. 
It is a perfect device for all the computing on-the-go and it is a durable laptop that comes with a broad range of secure and fast storage options and great audio. It has up to eighth-generation Intel Core 17/AMD A-9 processing and hence it is specially designed to keep pace with the user regardless of the task. 
Lenovo Ideal Pad S 145 comes with a broad range of secure storage options with a hybrid SSD that has a hard disc drive to guarantee uses a fast response time. The standing weight of the gadget is 4.0888lbs which translates to 1.85kg. It is a perfect machine especially for a person who is on the go. 
It has a narrow bezel that presents a larger display area and cleaner design. You will get several color options in glossy or textual finishes. It is an affordable laptop that will impress you quite well. 
Key Specifications 
Verdict
Lenovo is one of the trusted brands in India that have a good reputation to serve high-quality products to the Indian audience. And they are certainly doing so with their new Ideapad series.
You find that Lenovo Ideapad laptop is among some of the most stylish laptops in India. Also, it has power-packed hardware that lets you enjoy every aspect of this laptop.
View On Amazon View On TataCLiQ
Pros
Has an SD card reader

Intel latest Ice Lake CPUs

M.2 PCle X4 drive support

Comfortable Keyboard 
Cons 
TN panel has poor viewing angles

Weak chassis 

 
This 15.6-inch portable laptop has a great look in its sleek exterior design making it a solid upgrade from the previous versions. It has sturdy keys, power button, and hinges. You get the 15.6-inch display as non-touch and touch versions. The most basic alternative is the non-touch anti-glare LED-backlit display a resolution of 1366 X 768. The 15.6" FHD touch display that has True-life single-cell LED backlighting and a resolution of 1920 X 1080 comes out as the best option. 
If you are looking for the best bargain, this machine provides an excellent starting point. It is so affordable even if you want the best configuration like the FHD touch display. DELL Inspiron 3593 has so many positive reviews from users about virtually everything including the fast and smooth touchpad. 
Dell Inspiration 3593 has a 720p integrated widescreen webcam that has a single digital microphone. You will also get two w/ Waves MaxxAudio Pro technology tuned speakers.  The inbuilt microphone jack and combo headphones mentioned above enhance user experience. It also has an inbuilt wireless technology to allow you to connect to the internet through Wi-Fi networks. 
The chassis of this machine comes in various color options including Beijing Red, Copper, Ultra Blue, Purple, Platinum Silver, Sparkling White, and Black. It is one of the features that users love most about this laptop. It is among the best laptops under 50000 Rs in the Indian market. You can be sure that the performance of this machine will not let you down. 
Key Specifications 
Verdict
If you are looking for laptops that serve an all-round performance, then nothing will be better than DELL Inspiron. It is one of the sturdiest laptops that you can find in the market. If you are a rough handler then DELL Inspiron might be tailor-made for you.
Pros 
Fast base system but easily expandable

Inbuilt ethernet port that can do virtually everything 

Great battery life 
Cons 
Keyboard backlight missing 

No touchscreen 
This machine is an excellent option if you are looking for reliable and responsive performance. It has the latest graphics and processor options with a lot of power to stream and surf. The extensive quality tests will make sure that implies that you will keep going. The laptop is sleek, stylish, and highly portable. 
The stylish and sleek design makes this laptop eye-catching and you can easily take it anywhere. It has a color-matched hinge and a beautifully brushed keyboard. The smart look of the HP 14-inc core i5 resembles its performance. It will make sure that users stay connected and entertained. 
The performance of the process is nearly equal to that of the 5th Gen Core i5 mobile processors. Therefore, the machine is highly efficient and power efficient. The machine also comes with 44GB RAM Module pre-installed. It also has two slots for the RAM making it easy to upgrade. 
The laptop also has USB type-C and USB 3.1 which is very rare in the other best laptops under 50000. The interface SSD in this laptop is M.2 SSD and the Samsung brand. It is one of the best additions that create a large room for upgrades. 
You can easily upgrade the Wi-Fi adapter to new technology at a low cost if the need arises because it is not integrated into the motherboard. The display of the laptop is bright, sharp, and vivid leaving out nothing that you may desire. The display is far much better than what you will get on the other laptops.
Key Specifications 
Verdict
Hp is yet another trusted brand in India. It is one of the brands that has more users than any other brand in India. HP Pavilion x360 is the latest edition of the pavilion series of the HP laptops. It is integrated with some of the advanced features that you can only enjoy on the premium laptops. Also, you get Alexa as your laptop assistant.
Pros 
Lightweight laptop 

Loud and clear sound 

Great for multitasking performance 

Amazing anti-glare display 
Cons
Lags at some point 

Need to upgrade graphics and the RAM for gamers 

 
The 15.6" diagonal HD antiglare LED-backlit screen brings color to life by rendering 1366 X 7688 HD pixel resolution. Intel Core i3 processor powers this HP laptop making it take up some of the most demanding applications while making sure that energy consumption is at its minimum. 
The 500GB 7200rmp SATA HDD allows you to save so many digital files on this laptop. It comes in a class black look that will immediately grab your attention. The wide HD resolution 15.6-inch resolution supports photos, movies, video chats, and vivid games. The anti-glare HD LED-backlit display produces crisp images even during broad daylight. 
It has inbuilt dual speakers that have the DTS Studio Sound Technology for an immersive and rich audio experience. The intel core i3 processor and Intel Turbo boost bring forth a superlative performance. The 4GB RAM will make sure that you have no glitches or lags when multitasking. It has vivid and crisp visuals that deliver the best gaming experience. 
The 500GB hard disk drive provides a lot of room for your files like audios, videos, movies, pictures, and many more. The laptop has a long-lasting powerful battery for added entertainment and fun. HP 15 core i3 supports Wi-Fi networks for accessing the internet at high speeds. 
The design of the keyboard guarantees you a fast and error-free typing experience. It has a 4.88 by a 1.7-inch touchpad that is built right and accurate. The laptop has one of the best designs in the market and offers a glitch-free performance. This performance makes it stand out among the other best laptops under 50000 Rs. 
Key Specifications 
Verdict
Lenovo Thinkpad is the latest edition that is integrated with advanced features. It is built keeping the rough users in ming. Usually, expensive laptops are very delicate but in the case of Lenovo Thinkpad, that is not true. You can use this laptop however you want to. Hence, if you are a businessman and need a laptop at your disposal all the time, then Lenovo Thinkpad is the one that can serve you perfectly.
View On Amazon View On TataCLiQ
6. ASUS VivoBook 15 (X512DA-EJ503T)
Pros 
Fingerprint sensors

3rd generation Ryzen processor

Backlight LED

FHD LED light display
Cons 
Battery backup is not up to the mark.

As it is a powerful beast, 8 GB RAM seems insufficient.
Asus Laptop X512DA-EJ503T is a compact laptop that will serve you well regardless of what you want to do. It is a modern frameless four-sided Nano-Edge display that boosts the ultra-slim 5.7mm bezel. This produces an incredible 88 percent screen to body ratio for surprisingly immersive visuals.  
The Ergo Lift hinge tilts the keyboard up to grant users a more comfortable typing experience. The latest AMD Ryzen 7 processor powers this machine and has a dual-storage processor. The laptop is available in four unique finishes that will perfectly suit your style. 
The laptop provides a sophisticated and sleek look in a transparent silver look. You could also go for the peacock blue, slate grey, or coral crush looks. The color that you choose depends on your preferences. Asus Laptop X512DA-EJ503T opens a world of productivities and possibilities to you. The typing position will surely enhance your performance when working on this machine.
The processor and dual-band Wi-Fi 5 will make everything possible. It also comes with a speed of up to 867 Mbps and dual storage. This design gives a large storage capacity and superfast data performance. You can install apps on SSD for fast app loading times and superfast response. 
It makes access to your laptop more secure and easier. Asus Laptop X512DA-EJ503T has an inbuilt fingerprint sensor or you can type your password each time you log in. The full-size backlit keyboard is the other beautiful addition making it perfect for all environments. 
The laptop has a 1444mm key travel for a comfortable experience of typing. It is a machine that we cannot leave out of the best laptops under 50000 rupees. 
Key Specifications 
Verdict
ASUS Vivobook is one of the best products that you will see on this product list. It is very smooth with its performance. This laptop is not suited for gaming purposes. But if you want you can certainly enjoy some of the light games present in the market. The best thing about these laptops is that they have a long battery backup.
Pros 
Lightweight Design 

Pretty Good Battery life with 

Quick Charger 

Compact in size

Perfect 4GB RAM 

Keypad and Mouse Pad Good
Cons 
Little poor build quality 

No DVD W/R Driver 
This laptop is specially designed for long-lasting performance. It is a stylish designee 1444-inc laptop from HP that comes with a long-lasting battery. You can be sure that the machine will keep you entertained, connected, and productive all day long. 
HP Notebook PC 245 speed through all your tasks or just sit back and socialize with the modern processors and a very rich HD display. You woo be able to achieve this great performance when using HP 14Q CS0009TU all day long. 
The device has one of the best displays for your daily needs. It is powered by the Intel Core i3-702U seventh-generation processor. This also comes hand in hand with the 4GB RAM and a storage of 1TB for the HDD. The machine has all that you can expect from the best laptops under 50000. 
HP 14Q CS0009TU runs on the DOS operating system. For the graphic card, this laptop comes to an Intel HD 620 graphics for managing all the graphical functions. It also has a 3 cell Li-Ion battery to power it for long and weighs 1.47 Kg. This explains why HP 14Q CS0009TU features on our list of the best laptops under 50000 Rupees in India. 
Key Specifications 
Verdict
HP notebook is among some of the best laptops under 50000 that provide most of the premium laptop features. Starting with the fingerprinting sensors, to face recognition features. It is best suited for official uses. And best go with the day to day work.
Pros
Elegant Laptop Design

Great Performance and Efficiency 

Long Battery Life 

Upgradability 

Great display 
Cons 
This 14-inch laptop is lighter and thinner. You can use the legacy VGA port to work the way you need. It comes with the latest Intel processors and essential security features. For the operating system. You will get the best combination of Windows features and modern improvements. 
With the Dell Mobile connect, the machine can pair with Android and iOS smartphones. You will get an option of channeling notifications for your IMS, SMS, and phone calls among other apps to your laptop.
The laptop supports Gigabit Ethernet to help users to enjoy data transfer speeds of 1000, 100, or 10 Mbps to allow you to download all your files in a flash. You can use the VGA port to connect to your monitor or TV. 
The power button has the option of the fingerprint to help you secure your data. The sign on process is safe, fast, and easy. It also has the Trusted Platform Module 2.0 (TPM) security feature for creating and managing computer-generated encryption keys. 
This feature helps users in securing and encrypting their fingerprints, passwords, & keys outside the drive.  The TPM locks the description and you can't read the data by removing the HDD and installing it on a different machine. 
The DELL Vostro 3490 has one of the most dependable performances in the market. The 10th Gen Intel Core i5 processor delivers incredible seamless multitasking and responsiveness. You will also run graphic-rich applications with the optional discrete AMD Radeon 610 2GB VRAM. 
The 1TB seismic storage will help you in keeping all your files in order. The laptop also has a peak shift feature that will help you to reduce the consumption of power. 
Key Specifications 
Verdict
Dell Inspiron 3593 is the best product if you want to enjoy seamless official work. This laptop is made for the corporate world, where people can use DELL Inspiron to present their presentation and business deals. With this product, you get a quality certificate of the DELL and 1-year warranty.
You may also like: Best Laptops Under Rs 30000 in India
Pros 
Efficient and powerful hardware 

Does not use the aggressive PWM in adjusting its levels of brightness 

Thin and lightweight design 

Supports NVMe drives 
Cons 
No Type-C Ports 

TN panel with Naturally Poor Viewing Angles 
With Acer Aspire 3 Thin A315-55G, you will be able to enjoy the premium feel and touch of this thin laptop model. The charcoal black finish alongside the thin bezel of this product delivers a superior feel to the user.
With the built quality, you will be able to fight all the occasions with a high level of pride. It comes with a true to life display with an amazing audio quality that supports both business and personal utilization. You will enjoy its high graphics and super-fast processing speeds with 2 GB Nvidia MX230. When it is at its very best, you will be able to experience the beast. 
Key Specifications 
Verdict
Acer Aspire 3 is quite comfortable to use. You will find that all the functions of the Acer aspire laptops are simple to understand. You get 8GB RAM that helps to make your system smoother. With the aspire 3, you get a full-screen HD display that gives life to all the visual outputs.
Pros 
Excellent battery life 

Good configuration 

Lightweight design 
Cons 
Insufficient capacity for storage 
Microsoft Surface Go MCZ-00015 comes last on our list of the best laptops under 50000. It has so many features that outshine the other products in the price range. Apart from being very compact, Microsoft Surface Go MCZ-00015 comes with a lightweight design. 
The machine has a detachable keyboard that gives users the feeling of a tablet and laptop concurrently. The device is backed with an excellent battery that can last for several hours and also have an excellent configuration. You will get this laptop at the mid-range price even though it lacks a sufficient storage capacity. 
This laptop is stylish, sleek, and slim. It only weighs 0.56Kg and has a silver color body. The input peripherals are a touchpad with enabled multi-touch gestures and a detachable keyboard. The gadget also receives support from Windows 10 Home Basic. 
For display and configuration, it has a screen size of ten inches. It goes hand in hand with a crisp 1800 X 1200-pixel display resolution. To enhance the user experience further, it has HD LED-backlit pixel-sense touchscreens for displaying with the corning gorilla glass 3. 
It comes with the Intel Pentium Dual-Core 4415 processor which has a clock speed of 1.6GHz. This laptop also gets the integrated graphics processor from the Intel HS 615. It is also supported by the 8GB DDR3 RAM whose maximum working speed is 1600MHz.  
The laptop stores multimedia and files in the 128GB SSD. It also comes with the wireless LAN 802 and Bluetooth v4.0 for connectivity. You will also get a microphone jack and headphone jack. This description justifies why it finds its way to the best laptops under 50000 Rs. 
Key Specifications 
Verdict
Asus Vivobook is very comfortable for the fingers with the Chiclet keyboard. It also has a fingerprint sensor that provides an extra layer to your laptop's security. Gaming cannot be advisable but you can certainly try heavy software like photoshop.
How to Choose the Best Laptop Under 50000 Rs in India 
When buying a laptop, you have to make sure that it suits your budget and needs. Maybe you want to organize a research project, play some games, teach a class, or write a term paper.
The laptop shopping experience can be quite confusing at a glance. The market has hundreds of different models and they come in various sizes. You will get at least three various operating systems and various price ranges. This guide will help you choose the best laptops under 50000. Here are some of the tips to help you through the process. 
i) Portability
If you are looking for a laptop to take on the go, then you need to choose a smaller machine. The screen size for most laptops ranges from 11 to 17 inches. The whole system has to fit on the display. 
Therefore, small notebooks are more compact and lightweight. The larger ones are normally bulkier. If you are not so mobile, a 15-inch will work well for you. However, a model of 13-to 14 inches is easy to carry around.
However, you have to balance between the screen size, portability, and other features when you're buying best laptops under 50000. You have to sacrifice one thing for another to get the best display. 
ii) Resolution 
The best resolution for a laptop should be at least 1080p. You cannot fail to get the best laptops under 50000 with a minimum screen resolution of 1920 X 1080 pixels. Some brands refer to this as 'full HD' in their description. The number of pixels makes it easy for users to read the web pages without having to scroll. You can also stack multiple windows side by side while multitasking. 
iii) Battery Life
The guiding principle here is to choose a machine that has the longest battery life. You can always go for one that can averagely stay for eight hours. However, gaming laptops are an exemption to this rule because they consume a lot of power. 
iv) Operating System
Chrome books are the best option for kids while the other users can go for Windows and macOS. It is easy for kids to use laptops that run on Chrome OS from Google. It is also not easy for them to infect the machine with malware. 
However, other people prefer the MacBook and Windows 10 laptops because they provide a higher level of functionality. Besides, Windows provide more affordable options then MacOS if you want to choose between the two. On the other hand, MacBooks offer better inclusive software for editing videos and photos and stronger security. 
v) Touch Screen
If you need a touch screen, make sure that you get 2-in-1. We have so many 2-in-1 laptops that switch between tablet and clamshell models. These are great options if you want to use the touch screen. However, they cost more and you may not find so many of them in the category of the best laptops under 50000 Rupees in India. Besides, they have less battery life than those that have a touch screen. 
vi) Key Specs
8GB of RAM, 256GB SSD, and core i5 are some of the key specifications for the best laptops under 50000. The processor, HDD, and RAM should not compromise on the speed of working. It is better to go for the SSD and not the hard drive because the solid-state will make sure that the programs are loading faster. All these points will make sure that you are getting the best laptops under 50000. 
FAQs (Frequently Asked Questions)
Here are some of the questions that we usually get from our readers. we have tried to answer some of the most asked questions. we hope that we were able to clear all your queries. even if there is anything more you want to ask, you can definitely ask them by dropping your question below in the comment section. we will be obliged to answer them all.
1. Which is the best laptop under 50000?
Asking about the best laptop under 50000 after reading the article might be the dumbest question you can ever ask. However, we will still answer it. There are several brands that offer some of the best laptops under 50000 in the market. Every laptop comes with its own distinctive features. so, before buying one, you need to see what are the features that are looking at the laptop. And once you have decided that, you can choose any laptop (from the above-mentioned list ) that fits your requirement.
2. Which brand is best for laptops?
When you will step into the market, you might feel confused after seeing the sheer number of brands present in the market claiming to be the best. You can only hope to choose the best one. The best way to buy the best laptop for yourself is by buying from the list mentioned above.
3. Is Ryzen 5 better than i5?
Both the processors are best in their own way. Comparing both the processors is like comparing apple and Oranges. Both of them are fruits but are different altogether. The same way Ryzen 5 and i5 are both processors but are different in their own way. With Ryzen 5 you can have excellent gaming experience. While on the other hand, i5 is good with software adaptations.
4. Should I get AMD or Intel?
It totally depends on what kind of work you want to do on your laptop. If you are looking for a laptop that you can use for your official purposes, then you can simply go for the intel core processors. However, if you are a designer and need to do tasks on multiple tabs then you can choose AMD as it provides seamless multitasking features.
Conclusion 
These are the best laptops under 50000 Rs and a guide in how to select the best. As mentioned earlier, the right product virtually depends on how you will be using it. The secret is making sure that you do your homework well.