Buying a gaming laptop to play amazing games with your friends has become one of the best pastimes post-Covid. However, while everyone wants pricier laptops from big brands like Razer, Dell Alienware, Razer, Asus, and more, some other companies have entered the market too. One such laptop is the Clevo NH70.
Sporting its spotlight 4k 17.3" screen and RGB keyboard, it looks great. Powered with a 9th Gen Intel Core i7 processor and 4GB NVIDIA graphics card, gamers will want to know more about this laptop. Therefore, learn about this laptop review by reading till the end.
Clevo NH70 Specifications
Then primary specifications of the Clevo NH70 are:
| | |
| --- | --- |
| OS | Windows 10 Home |
| Display | 17.3" (3840 x 2160 4K resolution and 144Hz refresh rate) |
| Processor | 9th Generation Intel i7 9750H (2.6 GHz) |
| Graphics Card | NVIDIA GeForce GTX 1650 4GB |
| Memory (RAM) | 8 GB DDR4 (2666 MHz) |
| Storage | 1TB SSD |
| Weight | 2.5 kg |
| Price | $1,015 |
Clevo NH70 Review: My Honest Impressions
After getting this laptop, I decided to tinker around with it for a week and figure out its worth. Therefore, here's what I have to say in my Clevo NH70 Review 2023:
1. Design & Display
Coming to its design, the Clevo NH70 has a pretty simple and minimalistic look. There is nothing flashy about this laptop at all. Following a very minimalistic design (which I prefer), this laptop looks good enough. Its RGB keyboard has a very compact design which looks well with the overall minimalistic look of this laptop. It's a bit thick on the bottom, with thin bezels surrounding the screen on top. Its thick bottom makes it a bit heavier than other laptops, weighing 4.8 lbs (2.5 kg).
When it comes to the screen, it's not as good as other laptops on the market with 4K screens. After playing quite a few movies and games, I felt the qualitative difference in the screen compared to other laptops. The edges of the look often appear smudged, which should not happen considering it's a big 17.3" 4k screen. I recommend using this Clevo laptop at 1080p resolution for the best look and to save power as well.
2. Keyboard & Touchpad
The Clevo NH70 has an RGB backlit keyboard that is very pleasing to look at. However, unlike other gaming laptops, this laptop lacks dedicated drivers for changing the RGB color patterns. Therefore, this has a single zone RGB color, which cannot be changed much. Only a few patterns are available, which can be toggled with a few key presses. Plus, one look at this laptop, and you know it's meant for gaming since it has thicker WASD keys.
The touchpad is pretty standard fare. There's nothing special about it. It's pretty smooth and responsive, just like every other laptop out there. However, I mostly used a mouse because I prefer using them more than trackpads.
3. Cooling & Battery
When it comes to cooling this laptop, I will say Clevo has done a good job. This laptop has powerful fans underneath the keyboard, which makes all things cool and quiet during long gaming sessions. Also, the heat vents are at the sides, which makes dissipating heat more efficient.
However, my biggest complaint comes with the battery of this laptop. Under normal gaming sessions, it lasted 3.5 hours unplugged. If you are watching movies or surfing the web, then this will go up to 5 to 6 hours. This is below average compared to most gaming laptops in the market.
4. Benchmarks & Performance
Playing various graphically intensive games to measure the performance of a computer is the best way to do so. Therefore, here are the Clevo NH70 benchmark gaming tests and the FPS that I have experienced: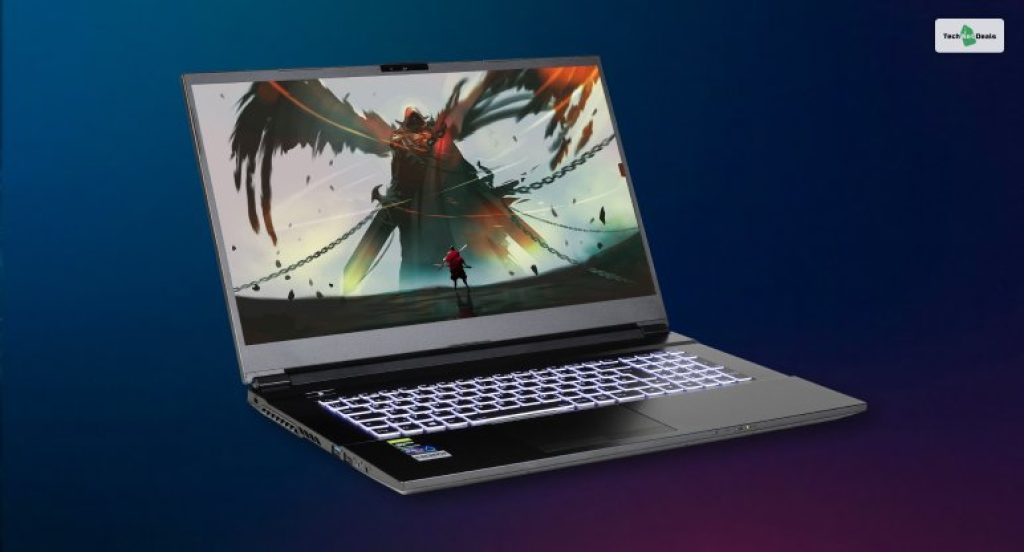 | | |
| --- | --- |
| Game (Ultra Settings, 1080p) | Frames Per Second (FPS) |
| God of War | 19 |
| Elden Ring | 21 |
| The Witcher 3: Wild Hunt | 30 |
| Grand Theft Auto 5 | 30 |
| Red Dead Redemption 2 | 13 |
| Forza Horizon 5 | 20 |
| Halo Infinite | 15 |
| Assassin's Creed Valhalla | 16 |
| Cyberpunk 2077 | 15 |
| Valorant | 72 |
| Apex Legends | 32 |
| Overwatch 2 | 37 |
| Battlefield 2042 | 29 |
| Fortnite | 34 |
As you can see from the table above, the Clevo NH70 fails to reach 60 fps on most modern games at Ultra Settings. However, you will be fine if you play only multiplayer games. If you are a competitive Valorant player and want to become the next Tenz, then I recommend turning all settings to low to get around 100 fps. Coming to single-player games, you should do the same to reach the 60fps mark.
The combination of 8GB RAM, 9th Gen Intel Core i7 9750H, and the GTX 1650 artists will be fine. If you use more professional and creative apps like Photoshop, Premiere Pro, After Effects, Blend, Cinema 4D, etc, then these apps will run pretty smoothly. Plus, the 17.3" screen makes it all better, in my opinion. However, I did notice some lag when editing 4k videos with Adobe Premiere Pro.
Clevo NH70 Alternatives
Apart from buying the Clevo NH70 gaming laptop, here are some other alternatives you can have a look at:
1. Asus 2-In-1 Q535
Here's what I had to say about this laptop in my Asus 2-in-1 Q535 review:
"The Asus 2-in-1 Q535 is a respectable touchscreen 2-in-1 laptop from Asus. When utilizing graphically demanding productivity programs, it performs below average. However, due to its subpar graphics card, it is not intended for gaming.
However, its poor graphics card and battery let it down in the end. Moreover, its $1,998 price tag was the source of my greatest disappointment. This is just too much to expect for such requirements, in my opinion."
Pros
Cons
➡Excellent 4K touchscreen display
➡Great processing power
➡Good looks and design
➡Fewer connectivity ports than peers
➡Underperforming graphics card
➡Below-average battery life
➡Too expensive for specifications offered
2. Macbook 12in M7
If you love Apple products, you can try this laptop out. Here's what I had to say about this laptop in my Macbook 12in M7 review:
"In my opinion, you can buy this MacBook 12in M7 if you can find a refurbished one in stores or on eBay. From its performance and looks, it will provide the same experience you expect from a MacBook.
However, I would still not recommend buying this laptop if you can spend more. The first reason is that it's unavailable in any stores, and you will need to look for used models. Secondly, it's pretty old, with better MacBooks available on the market (although a lot pricier). Also, many Windows laptops will beat this one in performance-to-price comparison sans a higher-quality display and battery. Additionally, gamers should stay away from this MacBook."
Pros
Cons
➡ Amazing 12-inch retina display
➡Great quality keyboard and trackpad
➡Various connectivity ports
Impressive battery life
➡Screen could've been bigger
➡Ten-keyless keyboard is never better than the full keyboard
➡No recommended for gamers
3. Lenovo IdeaPad Gaming 3
Price: $689
If you want the best budget gaming laptop in the cheap laptops category, I recommend buying this laptop. It's better than the Clevo NH70, and cheaper as well!
With this laptop, you will get above 60 fps on most modern AAA games, except for the latest ones.
I reviewed this gaming laptop recently, and this is what I have to say about the Lenovo IdeaPad Gaming 3:
"The Lenovo IdeaPad Gaming 3 is a good gaming laptop for $689.99. This laptop has everything right, except for its dull screen, which gamers will dislike. Therefore, if you can connect it to a bigger display using its HDMI port, you can buy this gaming laptop."
Pros
Cons
• Cheapest gaming laptop with RTX 3050 GPU
• Good design and solid build quality
• Great speakers
• Devcent 1080p gaming
• Dull display
• Too few ports
• Single-channel RAM
• Runs hot after a few hours of gaming
4. Asus TUF Gaming F15
Price: $1,099
The Asus TUF Gaming F15 is an excellent gaming laptop. The best thing that I like about this laptop is its variants. While the base model comes equipped with the Nvidia RTX 3050 4GB graphics card, there are other variants as well. Therefore, you can also choose the variants with the Nvidia RTX 3060 6GB and Nvidia RTX 4060 6GB graphic cards.
I reviewed this laptop recently, and this is what I have to say about it:
"You should definitely go for the Asus TUF gaming F15 gaming laptop in 2023. It has impressive performance and battery life for a gaming laptop, just over 1,000 bucks, with a price tag of $1,099.
You can easily play all the new games at their highest settings with ease, with RTX ray tracing turned to the max. However, I wish its screen was just a bit better, along with less cramped keyboard key spacing as well.
Also, its heating issues can be problematic, especially if you game on this laptop for several hours. Plus, don't use the webcam. Just don't.
Overall, it's an excellent buy for the price you are paying!"
Pros
Cons
• "TUF" build quality
• Great gaming performance
• Good battery life
• Heating issues
• The screen could have been brighter
• Per-key RGB would've been better
• Poor webcam
Frequently Asked Questions (FAQs):
Gamers have asked various questions regarding the Clevo NH70. Their answers are as follows:
Q1. Clevo Is From Which Country?
Clevo is an electronics company from Taiwan. They have an assortment of various laptops and computer peripherals that you can buy.
Q2. Is The Clevo NH70 Good For Gaming?

The Clevo NH70 is not that good for gaming, especially if you are buying it in 2023. It will run older games pretty well and all newer games at 30 fps at the lowest settings. 
Q3. Is The Clevo NH70 Good For Creative And Professional Work?
Yes, the Clevo NH70 is good for professional production work like graphic designing, animating, and editing. 
Final Verdict: Is The Clevo NH70 Worth Buying In 2023?
In my opinion, no.
The Clevo NH70 is a decent laptop for its price. It provides good enough performance if you wish to do productive and creative work. However, if you are a gamer, then you will be disappointed with its sub-par performance.
However, multiplayer gamers can still enjoy more leeway in this regard. However, cinemaholics will enjoy watching movies on its 4k 17.3" screen.
However, be wary of its poor battery life. If you are under a $1000 budget, then you can consider buying this laptop.
Pros
Cons
➡Good 17.3" 4k screen.
➡Solid RGB backlit keyboard
➡Sub-par gaming performance compared to peers.
➡Poor battery life.
➡This laptop lacks a webcam.
➡Pretty heavy, making it less portable.