If you wish to save space in your wallet. or dont want to carry one at all, iPhone 7 cardholder cases might be worth your time. These cases are durable, making your iPhone less prone to suffering from any fall damage. Additionally, these cases have special compartments in them, where you can hold lots of cash and cards as well.
Therefore, if you wish to buy one for your iPhone, here are the best cases that you can find in the market right now.
10 Best iPhone 7 Cases
You can buy many different types of cardholder cases that you can buy from the market right now. You can get them easily from online stores as well, like Amazon. The best iPhone 7 cardholder cases that you can buy in 2023:
1. Spigen Slim Armor
Price: $21
The Spigen Slim Armor is one of the best on this list regarding pure ergonomics and looks.
The topmost portion of the case has a striped and textured design, which complements the position of the camera well. The cardholder case roughly takes up the area where the battery of the iPhone is. The best thing – it slides open.
When it slides open, you can see where you can store the cards and some cash in the back. However, once you put in around two cards, there is little space to keep the money there. You can sneak in a few dollar bills.
2. Vena vCommute
Price: $40
If you like an iPhone cardholder case that also has some added bells and whistles to make it more than a case, then the Vena vCommute can be a good option for you. While this iPhone 7 wallet case has an added feature if having an extra kickstand available on the back, which also conceals the cardholder case inside.
In addition, this case has magnetic car phone mounts, which makes it easy to use it for Apple Pay. Therefore, if you need to pay using Apple Pay in any shops, then you can simply touch the rear end of this case instead and the payment will be successful!
Ap[art from these features, its also pretty durable, able to withstand multiple falls. Overall, it looks good, with an ergonomic rear panel cum kickstand for movie lovers.
3. Incipio Stashback Case
Price: $40
The Incipio Stashback iPhone 7 Case is a neat-looking iPhone 7 case with card holder. One of this cardholder case's best modern design aspects is its rear sliding door. Here, you can slide this door to reveal a caring where you can store three cards and cash.
This sliding door mechanic resembles the one you can see behind a remote, which you slide open to remove or put in the batteries. This case is very durable, protecting your iPhone from drops up to 14 feet – impressive! Additionally, its bezels are raised so that your screen has no chance of cracking.
4. Bellroy 3-Card Phone Case
Price: $17
At first glance, I loved the design of the Bellroy 3-Card Case for iPhone 7. This case has raised edges on the sides from where you can enter the cards. This inconspicuous design gives it a futuristic, ergonomic look.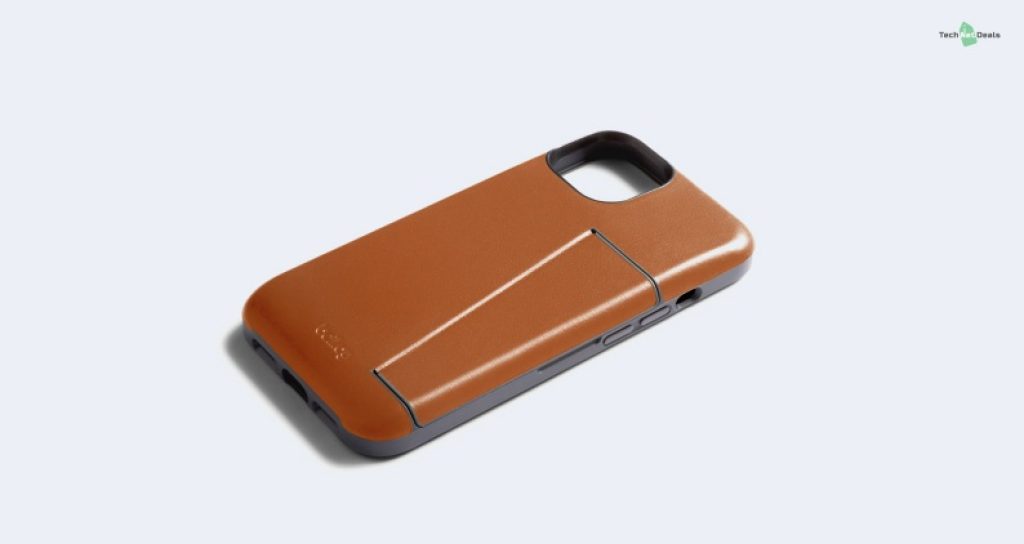 The leather is stated to be eco-tanned, which gives this a touch of eco-friendliness. Apart from the design, you have various color choices as well. The different available colors for this iPhone 7 case are lemon green, lagoon blue, and terracotta brown. This case looks simple and elegant – perfect for professionals.
5. Smartish Wallet Slayer Vol. 1
Price: $25
Like most iPhone 7 cases on this list, the Smartish Wallet Slayer can hold up to 3 cards. Additionally, it has a small space for keeping some cash as well. This well-textured iPhone 7 case is famous since it's among the highest-selling cases.
I loved the design of this case, especially the place where you put the cards. It's on the right side and can hold up to three cards simultaneously. However, this cardholder is not spacious enough to hold any cash.
Regarding its looks, it has a premium feel to it. Additionally, this is available in a few different colors. If you buy this, I recommend trying the "Chef's Special" – a color which I will give no spoilers for!
6. Nomad Modern Leather Folio
Price: $60
I recommend buying this Nomad Modern Leather Pro case if you want an iPhone wallet instead of an iPhone 7 case.
In terms of space to keep all cards inside, this case gives you the most compared to others on this list. It provides 360-degree protection for your iPhone 7, including a protective flip cover in the front. This provides access to the timer on the screen, along with notifications.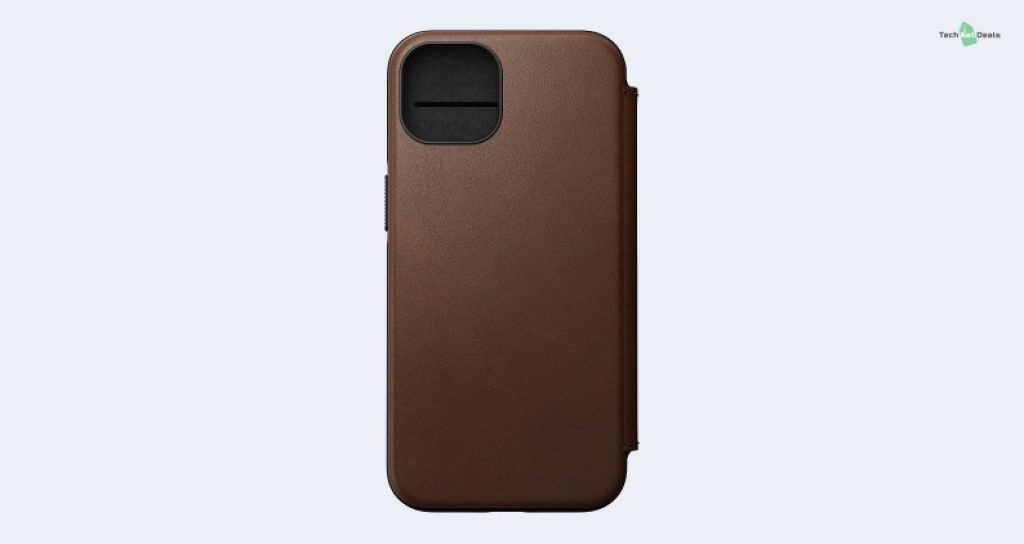 The casing is made with pure leather, imparting a premium look and feel. It might not look premium, but it certainly feels premium when you hold it in your hand. Additionally, in terms of sturdiness, this case is highly durable. It guarantees 10-foot drop protection.
7. OneTop Wallet Case With Card Holder
Price: $20
When it comes to iPhone 8 cardholder cases that also looks like a wallet, the Wallet Case by OneTop is a good choice.
This is a pretty sleek looking wallet case for iPhone 7 users. Unlike the other cases on this list, there is no panel ion the back that you have to slide open. Instead, you can choose to flip open the entire rear panel to open your own mini-wallet.
On the flip cover, you will find the space to keep your own cash. On the back cover attached to the phone, you will find your cardholder cabinet. The flip connects and stays attached to the back cover using a magnetic pin that you can see just beside the camera.
In addition, this cardholder case provides great protection, along with a sleek design as well.
 When Your iPhone Becomes Your Wallet
 iPhone 7 cardholder cases have become popular for their use. You can use them as a normal phone cover, if you want. However, its main purpose is to help you store cash and cards on the back of your phone, removing the need for a wallet. Therefore, I believe these cardholder wallet cases are convenient alternatives to carrying a fat wallet in 2023.
Read Also :