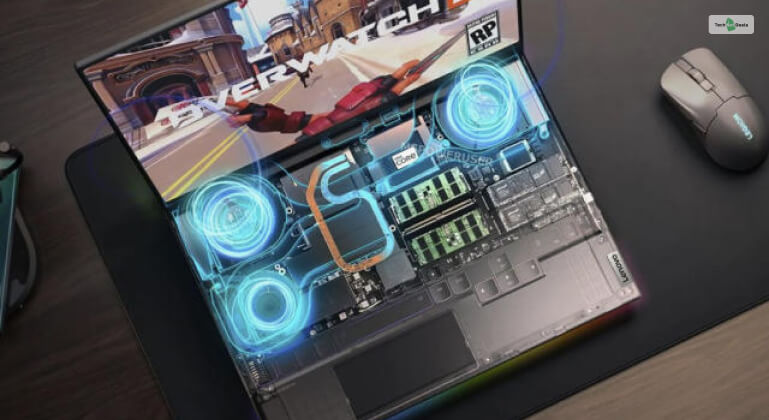 Headlines:
Lenovo recently announced its new liquid-cooled Legion 9i laptop.
This 16" gaming laptop will be one of the first to feature a wholly internal liquid cooling system for a laptop.
The Lenovo Legion release date will be in October, and its price will be $4,399.
Gamers rejoice – only if you can spend $4,399 on other laptops with its new Lenovo Legion 9i. Now gamers will finally get liquid cooling on laptops – for a premium price.
The new Lenovo Legion 9i, priced at a whopping $4,399, is a premium 16" gaming laptop. The main reason why it's priced so high is because of its integration of an internal liquid-cooling system.
So far, gamers have always preferred to buy a gaming desktop over gaming laptops for a multitude of reasons. Even though a gaming laptop and a computer can have the same power, a laptop will eventually slow down because of how fast it heats up, limiting the amount of processing power it can draw.
The future is forged in carbon fiber, the material that protects the best gear, including the all-new Lenovo Legion 9i powered with 13th Gen @Intel® Core™ i9 processors. A unique design pattern (on every laptop) made just for you.
Learn more: https://t.co/VhXCEYEErH pic.twitter.com/u3yWxMFogL

— Lenovo Legion (@LenovoLegion) September 4, 2023
The primary reason why this laptop is priced so high is because of its internal liquid cooling system. Therefore, this will effectively break the curse of gaming laptops not being able to draw higher processing power. I expect to play games at higher frame rates for longer periods of time on this beat of a gaming laptop.
However, I am still skeptical about the difference in performance this laptop will have. If it creates a minimal difference with 5% to 10% more frames, I don't believe paying $4,399 for this laptop will be worth it. I guess only time will tell when I finally get my hands on this laptop for a review.
Here are the Lenovo Legion 9i specs that have been revealed:
| | |
| --- | --- |
| Operating System | Windows 11 Pro |
| Display | 16" Mini LED screen (16:10 aspect ratio, 165 Hz refresh rate) |
| Processor | 13th Gen Intel Core i9-13980HX |
| Graphics Card | Nvidia GeForce RTX 4090 |
| RAM | 64 GB |
| Storage | 2 TB SSD |
More Resources: