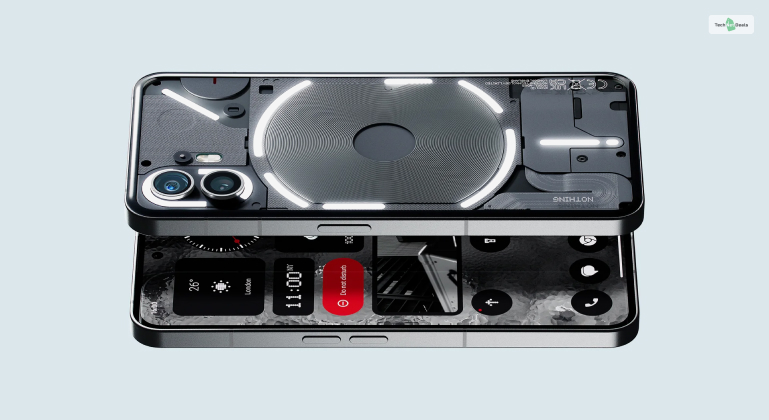 Founded by Carl Pei of OnePlus fame, Nothing is launching its second phone – the Nothing Phone 2 in the US. For $599, it undercuts much of the flagship market, despite offering top-end features. This value proposition is something OnePlus was known for, but the competition for midrange handsets is stiffer these days.
Read this post to learn more about this phone.
Nothing Phone (2) Specifications
The Nothing Phone 2 has been launched in the USA in three variants, which all differ as per their RAM and storage. Its three variants are:
8 GB RAM / 128 GB Storage
12 GB RAM / 256 GB Storage
12 GB RAM / 512 GB Storage
The main Nothing Phone 2 specs that make it different from Nothing Phone (1) are:
| | |
| --- | --- |
| OS | Android 13 with Nothing OS 2.0 |
| Display | 6.7" LTPO OLED screen with 120 Hz refresh rate, 1080 x 2412 resolution, and Corning Gorilla Glass |
| Processor | Qualcomm Snapdragon 8+ Gen 1 Octa Core processor with Adreno 730 GPU |
| RAM | 8 GB / 12 GB |
| Storage | 128 GB / 256 GB / 512 GB |
| Camera | 50 MP Main and Ultra Wide Camera (Rear), 32 MP Ultra Wide front camera |
| Battery | 4700 mAh |
| Dimensions | 162.1 mm (L) x 76.4 mm (W) x 8.6 mm (D) |
| Weight | 201 Grams |
| Price | $599 (USA) |
Nothing Phone (2) Design & Build Quality
One of my primary complaints with the Nothing Phone 2 is its design. It looks exactly the same as the Nothing Phone 1. Everything looks the same – from its color to even the LED Glyph lights on its back. The LED Glyph lights even have the same shapes as well!
So is there anything here that is different from the previous Nothing phone? Fortunately, there is. However, they are not significant enough to make it look all that different. The only difference here is that the Nothing Phone 2 has a curved edge display – bigger than the previous phone.
This phone has a 6.7" display, compared to the previous model's 6.5". Therefore, in terms of looks, you might get confused unless you look carefully enough. In addition, the front camera is towards the middle now instead of towards the left, as seen previously.
The frame is made of aluminum, while the glass on the back has a transparent feel to it. In addition, the glass on the back is Gorilla Glass, which is the same as the front display. This is also a good upgrade compared to the standard glass of the previous model.
Overall, the phone is a bit slimmer now. Plus, it feels more comfortable to hold it in your hand, thanks to its curved edge display. Moreover, it has an IP54-rating, which makes it waterproof and dustproof.
Nothing Phone (2) Display
The Nothing Phone 2 has a bigger 6.7" LTPO OLED display this time around. It also has an increased resolution of 1080 x 2412 pixels. Plus, a major upgrade is its 120 Hz screen, which is a major step up from the 90 Hz screen of the previous model.
The bezels at the side of the screen are thinner this time. Therefore, this made the screen feel larger than the previous one. Plus, the higher resolution improves the image quality and overall brightness better as well.
Overall, this phone has a better screen than last year's. It's also significantly better than the smaller iPhone SE 2023. This display is also as good as other flagship phones like the OnePlus 11 and the Google Pixel 7. However, it's not better than the Retina displays of Samsung Galaxy and iPhone smartphones.
Nothing Phone (2) Camera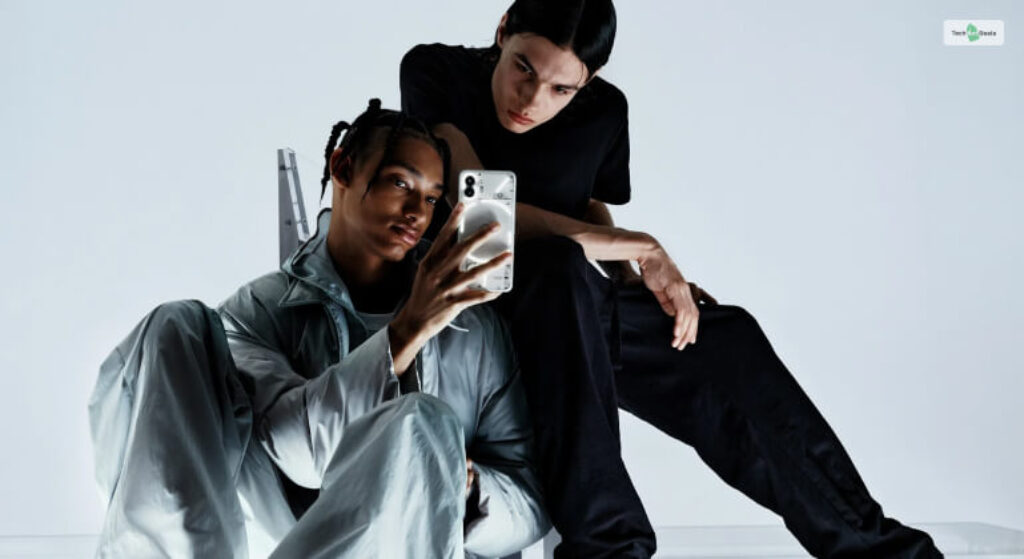 If you think the Glyph lights are all that the Nothing Phone 2 has, then you are wrong.
Two 50 MP cameras – a wide-angle main camera and an ultrawide supplementary with macro capabilities – are located on the rear of the Nothing Phone (2). There are several lighting options, a video recording indication, and three microphones to aid you in the dark.
There is a 32MP Quad-Bayer front camera on the opposite side. The 50MP Sony IMX890 1/1.56 imager, with 1.0 m pixels, is the sensor used as the main camera of the Nothing Phone (2). It features PDAF and is attached to a 23mm f/1.88 optically stabilized lens. By default, this camera records at 12.5MP.
A Tetra Cell color 50MP Samsung JN1 sensor is used in the ultrawide camera. This device's 1/2.76″ type, 0.64m sensor is substantially smaller than the main 50MP imager. Auto aberration correction is always active with a 14mm f/2.2 lens mounted in front of the sensor. This camera has a specific macro mode and supports PDAF, which allows it to focus up to 4 cm distance and allow for macro photography.
Both cameras support Automatic Night Mode. A crescent moon icon will display in the viewfinder if the scene is appropriate for Night Mode, indicating that the mode is enabled (as on iPhones). Both cameras typically employ an exposure duration of 1–2 seconds. However, you can access the Night Mode only through this method.
A 32MP Sony IMX 615 or a 32MP Samsung S5KJD1 sensor powers the front camera. It is attached to a 19mm f/2.45 wide-angle lens. There is a Quad-Bayer color filter on the sensor. It continues to store photographs at the minimum 32MP resolution, which might degrade the level of detail if you look at the images closely.
Nothing Phone (2) Battery Life
Compared to Phone 1, the Nothing Phone 2 features a slightly bigger battery (4,700mAh vs. 4,500mAh). The Phone (2) should have a longer battery life than the Nothing Phone (1) because of its more effective CPU, display, and display technology. Yes, it did!
The Phone (2) had excellent call times and really remarkable screen-on-times, earning a total longevity rating of 103h. Calls may endure for more than a day, online surfing for about 18 hours, and watching movies for more than 23 hours.
Nothing Phone (2) Performance
The Nothing Phone 2 felt identical to a typical high-end phone that was released this year in my regular use, which consisted of shooting a lot of photographs, playing games, and replying to a lot of messages on social media and email. There were no discernible sacrifices.
The review device I tested had greater storage and memory space than the standard 128GB model, so if you intend to keep the phone for three to five years, that model could be the better option.
Nothing Phone (2) Alternatives
The Google Pixel 7A, which costs $100 less, has better cameras, a considerably higher rating for water resistance, will receive security upgrades for a longer time, and is compatible with every significant US carrier.
It offers a better value. The Phone (2) scores higher for its longer battery life, faster performance, and practical (and entertaining) light effects. Which smartphone is really best depends on your choices. I'm just glad there are more options now than before.
However, Motorola's flagship Moto Razr fails to beat the Nothing Phone 2 here, which is a shame considering that both of these phones have similar prices.
Final Verdict: Is The Nothing Phone (2) Worth Buying In 2023?
Compared to the Nothing Phone, the Nothing Phone (2) is a step up in the right direction.
Advanced HDR, for instance, now takes eight photos at different exposures and combines the results into what you see as the final photo. The primary sensor has optical image stabilization (OIS) and electronic image stabilization (EIS). The 2X zoom is better, too, in getting more details.
Overall, the Nothing Phone 2 is a good phone that is worth the $599 price tag. However, there are better phones available in the market that you may also consider, like the Google Pixel 7A and the OnePlus 11.
Pros
Cons
• Unique design
• Glyph LED lights
• Great battery life
• Great rear camera
• Well-designed OS
• Camera performs not up to the mark for low light photography
• Video recording could have been better
• No charger bundled with the phone – must be purchased separately
More Resources: