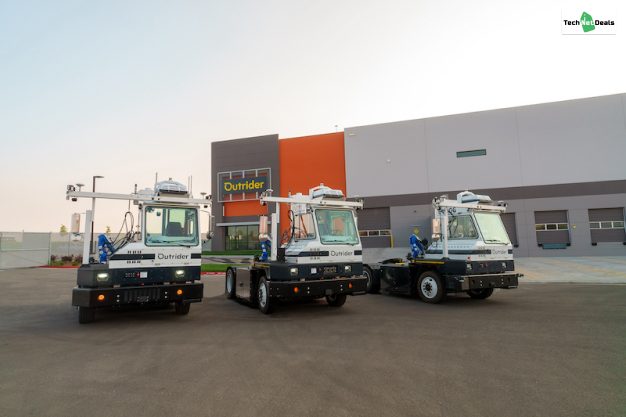 If you have arrived here, we are assuming it is because of two probable reasons. One, you have come here seeking information about Outrider industries, and as a result, you were intrigued to know more. Secondly, you have heard so much about the same that you couldn't stop yourself from finding out more about this company in detail.
The reason does not really matter. What matters instead is the fact that you have landed here. In that case, let's dive straight into the intricacies of this company and explore the same in a more detailed manner. Keep reading to find out all that you need to know about outrider industries.
What Are Outrider Industries: History
For the ones who are wondering 'what is an outrider?' it is a company that specializes in clearing the road for yard operations that are not just human-friendly but also planet-friendly. Founded by Andrew Smith, Outrider Industries is a company that's private and, at the same time, backed by top-tier investors, NEA as well as 8VC.
The website of the company has a fun line for describing what the company does in brief. It says,
"One that goes in advance to clear a passage." The Outrider Industries was launched on the basis of four main principles. These principles are as follows,
Boost the efficiency and safety of cargo or freight movement for letting people prioritize high-in-value tasks.
Yard operations that are advanced and complex should definitely not depend on polluting or contaminating fossil-fuel vehicles.
Deliberate logically and systematically for bringing together the best in robotics, logistics, and software.
Build products that are exceptional in their actual, real-world worth and value.
Outrider Industries And Sustainability:
But you might be wondering how did the outrider demo even worked out to include planet-friendly? There are two important aspects about the same. These aspects are as follows,
Autonomous:
Under this section, Outrider promises autonomy that provides great benefits for your business keeping in mind safety and efficiency.
Electric:
Under this section, zero-emission and electric yard trucks are your best alternative for both autonomy and the environment.
Naturally, with the powerful blend of autonomous and electric, Outrider Industries drives quick adoption of freight movement and transportation that's sustainable. The goal of the company is to make a difference. Thus, the company delivers zero-emission autonomous systems which positively influence,
People
Profit, and
Planet
People:
When you opt for automation, you are naturally opting for safety because automated processes keep humans out of danger. As a result, Outrider specifically works with agencies and companies dedicated to phasing responsibly in autonomy.
Profit:
When you choose to remove repetitive, monotonous manual functions in yards, you are choosing to increase efficiency and productivity in terms of operations. Since the same impacts the supply chain downstream and upstream, companies experience higher profits and lower overhead costs.
Planet:
Did you know that yard trucks running on diesel emit 3.8 million tons of carbon dioxide every single year? When you opt for electric trucks and other yard automation processes, companies can follow a proper systematic structure and replace diesel in the process, thereby boosting their own sustainability profiles.
How Does Outrider Industries Work?
The official website of Outrider Industries, outrider ai states the company's motto as, "Your path to autonomous yards." The company basically works depending on a completely integrated system.
Simply put, a completely integrated system helps companies to assure the safety and productivity of their employees with the help of efficient freight movement. The Outrider Industries in fact exclusively focuses on making yard operations automated with the help of an integrated system that can be divided into three parts.
1. Management Software
Mission control is a cloud-based software for managing and optimizing autonomous yards for dispatching and monitoring several trailer moves, both remotely or onsite. The best part? It can work independently or in collaboration with other different supply-chain software.
2. Autonomous Vehicles
Outrider Industries converts 'electric yard trucks' into vehicles that are autonomous. These autonomous vehicles use their patented TrailerConnect™ robotic arm for coupling the tractor-to-trailer processes. The autonomous vehicles specifically move between parking spots, dock doors, and even areas for any kind of over-the-road pickup.
3. Site Infrastructure 
Controls, communications, and different other capabilities are needed for cost-effectively and quickly deploying automation. And that too across your complete distribution network.
In this context, the experts analysts of Outrider Industries commented,
"In yard automation, safe automated driving is just the start. Outirder understands the workflow of trailer moves within complex freight yard environments and how to effectively apply automated yard operations technology in busy, messy, real-world environments."
Outrider Industries And Safety:
The Outrider USA model believes in pritorizing safety over most things calling it, "Living a safety culture." The company basically believes in a thriving safety culture that pervades business goals, from a design system that's safety-critical and safety-plans that are site specific to the internal functioning of the same.
In fact, the Outrider Industries works in collaboration with several third-party professional experts for carrying out verification, objective development, and validation of their safety cases. The company participates in the development of next generation standards of autonomy, all of which are essential for the adoption of solutions.
Frequently Asked Questions (FAQs):
1. Who Invested In Outrider?
The Outirder Industries is backed by big names like 8VC, NEA, and several top-tier investors. In total, the company has as many as ten investors inclusive of investors like the New Enterprise Associates and GOOSE Capital.
2. Who Owns Outrider?
Andrew Smith is the founder of Outirder Industries. He is also the present CEO of the company. In an interview to GreenBiz, the CEO said in this context, "We're essentially redefining the critical linkages in the supply chain."
3. Who Funded Outriders?
As mentioned earlier, Outrider Industries has ten investors in total inclusive of big names like New Enterprise Associates, and GOOSE Captial. Till date, the company has managed to raise a whopping 118 million dollars.
And It's A Wrap!
While coming up with the Outrider review, we realized that although sustainability is perhaps the best thing that the company brings in but on second thoughts, we realized there was something equally important. And that is not compromising on the idea of safety, which is truly a commendable quality.
Don't forget to leave a comment expressing your thoughts on the same!
Read More: