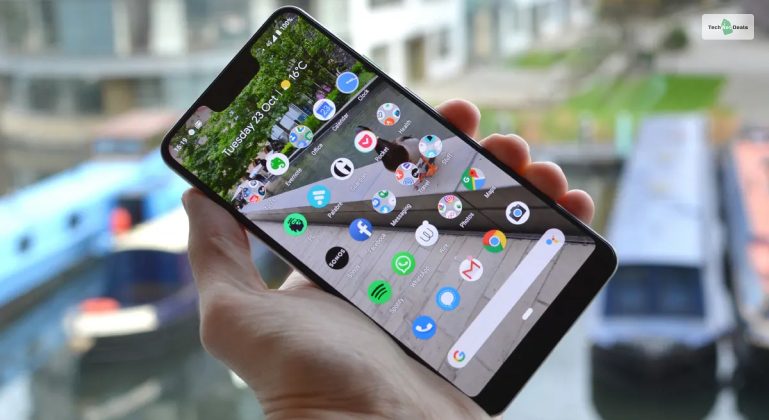 Do you wish to buy the latest Google Pixel 7 or its Pro version? But after looking at its $550 price tag, you wish to consider something cheaper instead? Then I have the perfect replacement for you at only $290 – the Google Pixel 3 XL 128GB.
Sporting an attractive 6.3" screen and an amazing rear and selfie cameras – you can still buy this six year old phone in 2023 and not go wrong with it. Therefore, if you are interested, then keep on reading this review post till the end.
Google Pixel 3 XL 128GB Specifications
The primary specifications of the Google Pixel 3 XL 128GB right out of the box are:
| | |
| --- | --- |
| Operating System | Android 9 (Pie) – Upgradable to Android 12 (Snow Cone) |
| Display | 6.3" (P-OLED with HDR Support, 1440 x 2960 pixels resolution) |
| Processor | Qualcomm Snapdragon SDM845 (Octa Core) |
| Graphics Processor | Adreno 630 |
| Memory | 4 GB RAM |
| Storage | 128 GB ROM |
| Front Camera | 8 MP (wide) + 8 MP (ultrawide) |
| Rear Camera | 12.2 MP (wide) |
| Battery | 3430 mAh |
| Sensors | Fingerprint (Rear), Accelerometer, Gyroscope, Proximity, Barometer, Compass |
| USB Port | USB Type C 3.1 |
| Dimensions | 6.2" x 3.1" x 0.3" |
| Colors | Clear White, Pure Black, Peach Pink |
| Weight | 184 grams |
| Release Date | October 2018 |
| Price (2023) | $289.99 (Amazon) |
Google Pixel 3 XL 128GB Features:
After getting my hands on a Pixel 3 used, which I got in great condition, here is a description of my impression of this six-year-old phone after tinkering with it for three days:
1. Design & Build Quality
As expected from Google, the looks of the Google Pixel 3 XL black does not disappoint. Though the bezels might be a bit thick compared to modern-day smartphones, it's still pretty good.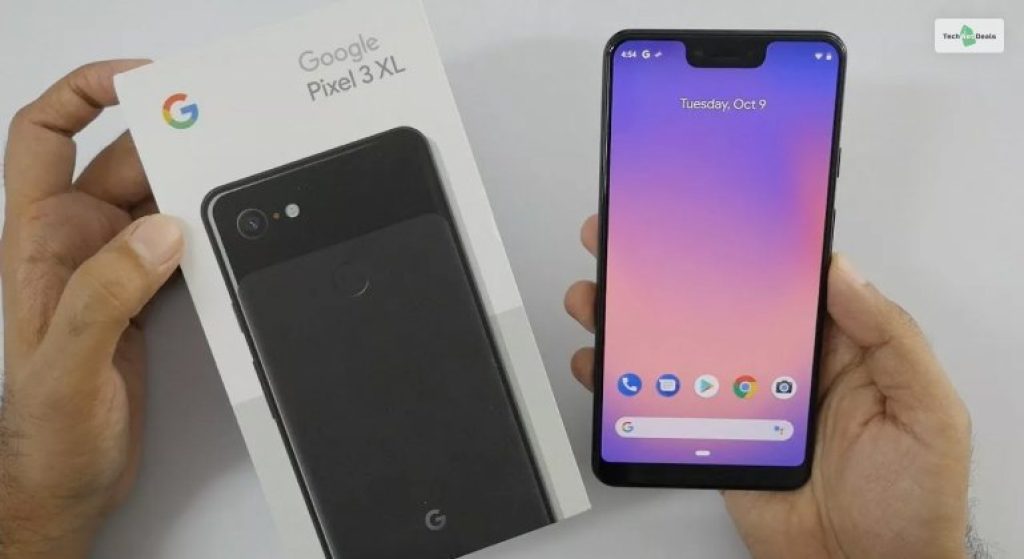 The phone's not too thick and feels light on my palm, owing to its weight of 184 g. Though the screen is a bit bigger at 6.3" compared to the standard 6" screens, I felt using it in one hand to be pretty easy, contradictory to what others might say. At least, it's better than the Magch tablet.
While it's not too heavy, the phone feels like it can survive a dent or two pretty easily. Google has always produced durable smartphones, and a Google Pixel 3 XL white is no different.
However, I felt that the display notch at the top could've been a bit smaller, which I have explained below.
2. Display
Compared to the standard Google Pixel 3 screen size, the Google Pixel 3 XL 128GB ups it up a notch. It now features a 6.3" compared to the previous 6" screen of the Pixel 3. This makes it bigger (which is excellent) and packs in more pixels to produce a higher resolution on the screen.
This smartphone has a pixel density of 523 PPI, which is pretty good. Therefore, the screen is pretty bright. I also felt the screen was pretty smooth and responsive to my touch, owing to its Corning Gorilla Glass 5. However, you will be stuck with a 60 Hz refresh rate, compared to 90+ or 120 fps of modern smartphones.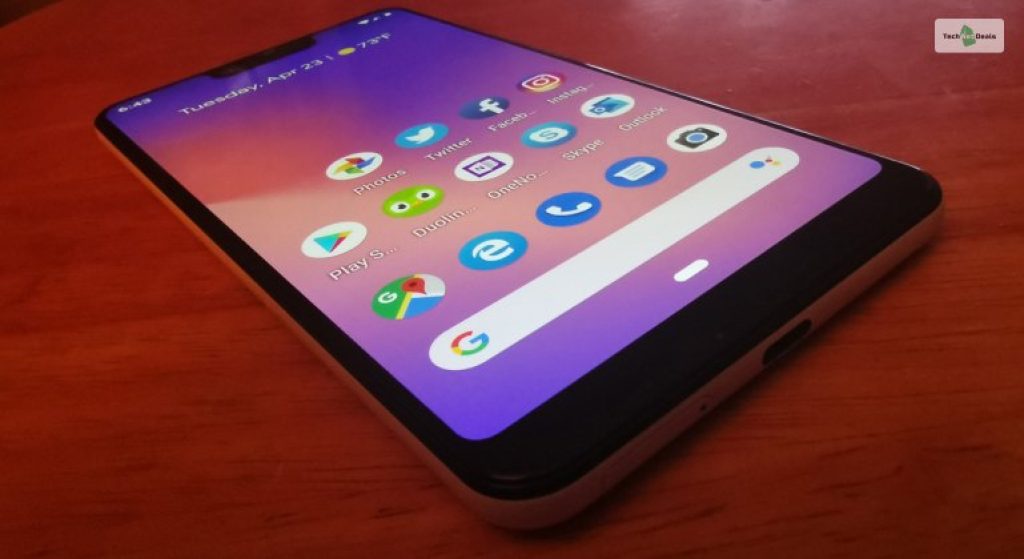 In addition, I feel it could've been brighter. I had to increase the brightness to its maximum when I was outdoors during the daytime and still saw the screen dimly lit. Therefore, daytime brightness could've been better.
However, my biggest concern was the extended notch size on the top. I feel it's a bit too big, which kind of makes the top edge and the notification bar of the screen look packed in. It kind of appears blocky, making it look unaesthetic.
3. Operating System And UI
If you buy a new Google Pixel 3 XL 128GB, you will find it running stock Android 9 after unboxing. However, you can instantly connect it to WiFi and get the option to update it to Android 12 instantly. It's based on GoogleOS.
Since the P-OLED screen makes my touches feel more responsive and smooth, the UI also feels like butter. However, if I have to point out something, it's the fact that other Android smartphones like OnePlus runs the OxygenOS, and Realme runs ColorOS – which feel significantly better to use compared to Pixel's GoogleOS in 2023.
However, I felt that using Google Assistant in this smartphone felt more seamless compared to using it on other phones. This is due to its unique call transcribing feature, which transcribes all calls in real time. Therefore, you can see whether it's a spam call or not simply by the real-time transcriptions on screen.
4. Battery Life
The Google Pixel 3 XL 128GB has a 3430 mHz battery, which is pretty standard compared to modern day smartphones. However, it still falls short of modern day smartphones.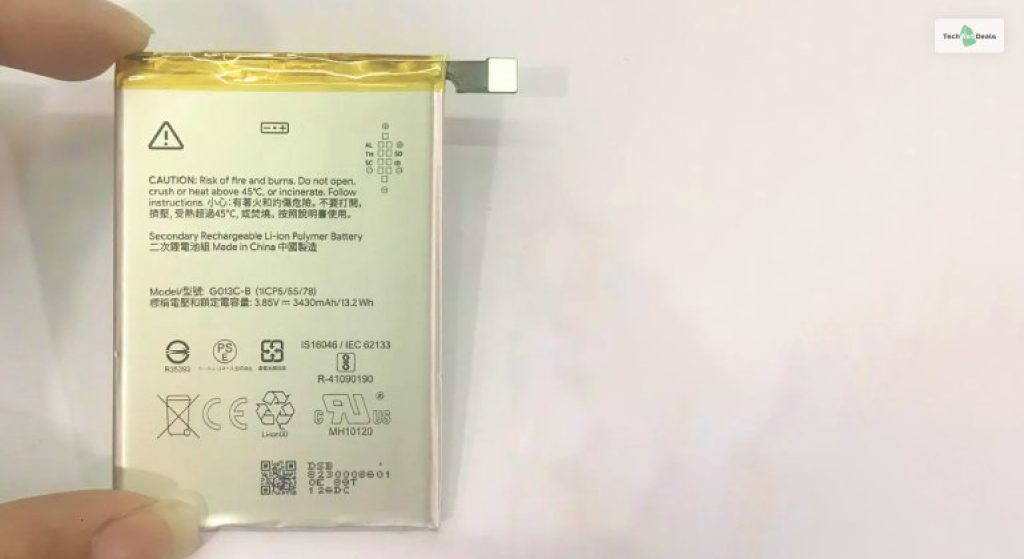 After browsing the web and seeing some videos on YouTube, I had to charge my phone after 9 hours. This is an hour lower than the current average of 10 hours in 2023. Therefore, if you plan to be outdoors for longer periods, don't forget to carry a powerbank with you.
5. Sound
Both the speakers of the Google Pixel 3 XL 128GB can be found in the bottom. These two are pretty loud, whether it's getting notification alert sounds or playing any music. I had no trouble always hearing my ringtone whenever someone called, even in busier and noisier places.
6. Camera
One of the primary reasons this phone, and every Pixel phone till now has been successful so far is because of their cameras. Here, the Google Pixel 3 XL 128GB is no exception.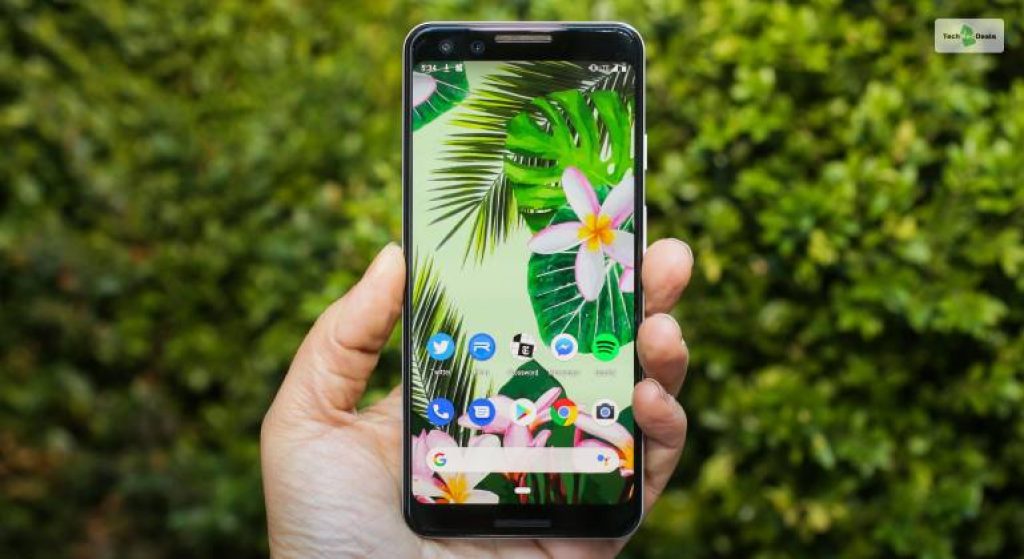 A. Rear Camera
This smartphone sports a 12.2 MP wide angle rear camera, which is amazing in my opinion. I clicked lots of pictures (both normal and wide-angle), and I have been happy with the clicks so far. They have a warm tone without being oversaturated, which is what I prefer.
The colors and hues in reality have been perfectly captured, resulting in some great pictures that are vividly detailed. In one picture that I took of my car, I was able to see a fly on the windshield perfectly! Plus, even the sunlight reflecting on my card body and its glare were captured brilliantly too!
When it comes to taking pictures in portrait mode, the auto-focus to blur out backgrounds is spot on. There was no blur or clarity overlapping each other. Plus, I was happy to see that Pixel's signature AI enhancements were present here, smudging out pimples and freckles on my face.
The Google Pixel 3 XL 128GB also made great use of the AI in photos shot in Night Mode. Here, AI gets used to brighten up areas where it's dimly lit, retaining their original color. In my opinion, this is one of the best cameras for night mode photoshoots (excluding some smartphones released in the last two years).
The videos that I clicked appeared great as well, although still not in the level of iPhone cameras. The videos were all clicked in 4k, and had amazing contrast and detail. There was no delay as well, which is perfect.
B. Front Cameras
In the front, we have two selfie cameras – a normal one and a wide-angle one. Both of them are as good as the rear cameras. They have similar amounts of depth, with perfect depictions of their original color as well.
When it comes to the wide angle lens, I prefer to use it more than the actual one sense it fits more in. Therefore, you can say that this wide-angle selfie camera was made for group selfies, where it does a marvelous job.
7. Performance
Coming to the performance of the device, it still holds up decently in 2023. However, it's best for gamers to stay away from this because of its 4 GB RAM limitation.
Even though it's powered by the octa-core Snapdragon SDM845 processor and an Adreno 630 GPU, they can buckle under pressure. I found this to be more apparent when playing Call of Duty Mobile and Genshin Impact at the highest settings. Here. the average frame rate occasionally dipped below 50.
Apart from gaming, I have no qualms regarding its performance in other regards.
Best Google Pixel 3 XL 128GB Alternatives
If you want some alternatives to the Google Pixel 3 XL 128GB, then I recommend buying any of these smartphones:
OnePlus Nord CE 2 Lite
Realme 10 Pro
Samsung Galaxy A14
Moto G73
Samsung Galaxy F23
Final Verdict: Is It Worth Buying The Google Pixel 3 XL 128GB In 2023?
In my opinion, the Google Pixel 3 XL 128GB is still worth the $290 price tag in 2023, if you want a smartphone with an amazing camera and a big screen. If you expect to click a lot of pictures, then you can go and get this phone.
However, apart from photography, I would not recommend buying this phone. This is mostly because of its annoying top notch in the screen, and its weaker gaming performance. Plus, this phone is over six years old. Therefore, Google will stop supporting this smartphone and stop rolling out new updates as well pretty soon.
PROS
CONS
• Great cameras
• Amazing 6.3" OLED screen
• Decent battery life
• The notch is a bit too big
• No 3.5 mm headphone jack
• No microSD support
• Better alternatives at the same price range
• 4 GB RAM only
Read Also :