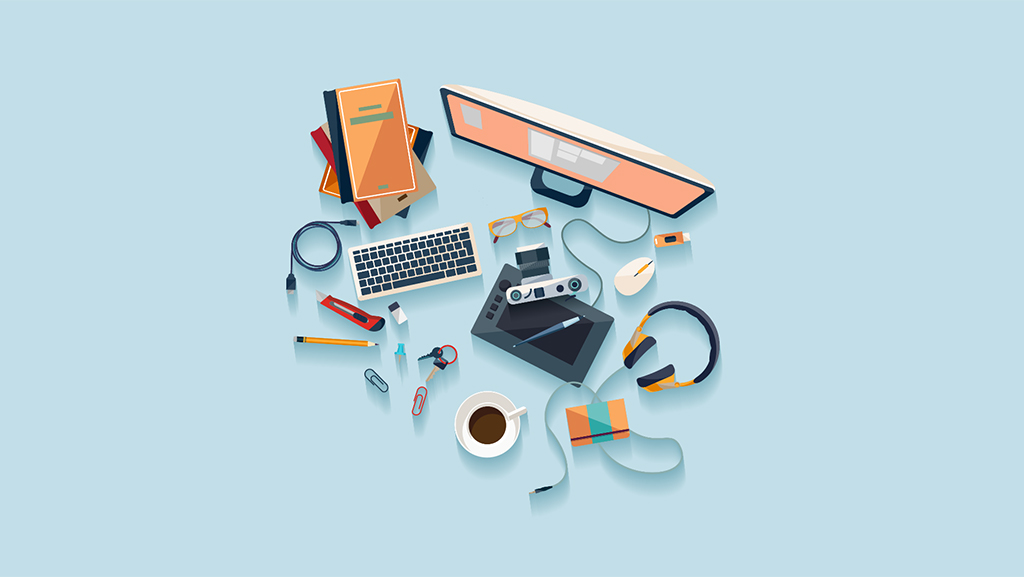 The best online graphics programs for photo editing, traditional graphics, 3D, multimedia, web and other creative professions? Here she is. A guide that wants to be a useful vademecum for those who must buy a graphics suite (and not only) and does not yet know which is the best. On which, in short, focus the investment (many are paid) and on which to pour all your work. Let's see the details.
The best graphics programs from Adobe to Corel Draw
Adobe and Corel Draw, for year's direct competitors, are the best known graphic suites even by non-professionals. Now there are many others on the market, which we will see in this guide, but it is still worth starting right here. From Adobe and from Corel Draw.
Adobe (Suite)
Adobe provides almost everything except a specific 3D program (although many of the programs have a 3D engine, such as Photoshop, After Effect, and Illustrator). And with the sentence it provides practically everything, we mean everything: from vector graphics to the treatment of sounds, from photo editing to post-production and video editing.
Speaking of Adobe and prices, a comparison between the suites with   "classic" licenses and "Creative Cloud" licenses is useful. Of classical licenses there are different, depending on the type of creative: there is that for graphics, that for multimedia, the one for the web, the one with everything … The license CC (Creative Cloud) is like a license SaaS, or pay a fee for use (with the advantages that we explain below), even if the cloud actually has very little because the programs install them and use them locally.
This second option of CC can be very convenient for those who start and do not know if it is worth investing a lot of money for a classic suite, whose updates are still a separate cost. Instead, by purchasing a CC license you do not have to pay everything immediately but "in installments" and updates are not an additional cost. In about 3 years (more or less and depending on the CC plan you choose) spend the equivalent of a classic license but with the advantages, we have just described. Also, if you purchase a CC suite, the license has a unit fee for each device. For the prices of the various combinations of the site of Adobe, visit also the site Adobe.com , on which you can also discover all the news, as Lightroom CC, a cloud-based photography service that will allow you to retouch, organize, archive and share your photos at maximum resolution from any location, on mobile, web and desktop.
Corel Draw (Suite)
This suite has been for years, as we said, the main competitor of Adobe and in some countries has long been the favorite, because it had better management of certain encoding of fonts, for example, those of Eastern Europe. This at least until Adobe has run for cover. Let's see what the Corel Draw suite offers you. The suite offers several Business and Education packages and can be purchased under a perpetual license (pay the software license only once and there are no regular rates.) For small businesses, it is possible to buy a license for only 1-2 seats), be licensed on subscription (offering flexible annual payments based on the number of seats required, offering you the lowest upfront costs). As with Adobe, the subscription license allows you to always use the latest version of the products. The main products are the Graphics Suite, Technical Suite, Corel CAD, and Photo-Paint. On the official website, it is possible to buy some of these programs (with discounts ranging from 10 to 20%), to download free trial versions and to "taste" the news. How (at the time of writing this guide) CorelCAD2018, a software for 2D drawing, 3D design, and support.
Affinity (Graphic Suite)
It offers vector graphics and photo editing. It is currently composed of Affinity Designer and Affinity Photo, but it seems that it is going to exit a program for the layout, a competitor of InDesign. It's a smaller suite (and it's not as solid and stable as Adobe's), but it's still professional. In addition, the pricing policy that practices is giving a hard time to the great monopolists we mentioned earlier. It offers two types of licenses: for companies and for education (called Business and Education respectively). What not to be underestimated at all, in addition to the decidedly advantageous price, is that Affinity Photo is compatible with Adobe plugins. You can then use them if you have previously purchased them.
The best paid 3D graphics programs (or not)
3D graphics are for industrial designers, architects and of course 3D video animators. Here we can complicate it because an industrial designer and an architect also use technical drawing programs like AutoCAD. But let's focus on 3D graphics. There are several very valid programs for processing in three dimensions and the good news is that not all of them are expensive or expensive. There are completely free (but also valid) or with an affordable purchase price.
Autodesk 123D Design is perhaps one of the best 3D modeling software (3D and 3D CAD). Powerful, relatively simple to use, it has an intuitive interface and is compatible with most 3D printers on the market. In addition to the basic features for drawing and modeling, it also has support for STL assembly and constraint and export. It is compatible with Windows, Mac and iOS operating systems. And, not least, it's free. At least, it was until spring 2017, when Autodesk stopped the release of this program even though it still runs on many computers around the world. From the manufacturing company, they know that they are consolidating these tools and functions in key applications such as Tinker cad, Fusion 360 and Recap Pro.
Autodesk Maya, a paid instrument (1952 euros / year or 244 euros / month). It is an Autodesk software, available for Windows, Mac, and Linux that allows you to create animations, modeling, simulations and 3D rendering. It offers a powerful integrated toolset, with which you can create characters, virtual reality, and environments.
3D Slash is another free and easy-to-use 3D modeling software. With 3D Slash it is possible to import and modify pre-existing 3D projects, export the projects created in STL and print them with your 3D printer. The three-dimensional design with this software is easy even for beginners, but this does not mean that it can be used by even the most experienced, thanks to additional features (premium) that are paid, starting from 24 euros per year.
Blender. This is another free 3D design software. Despite not cost anything is a valid (indeed very valuable!) Tool. It is free & open source and supports virtually all 3D modeling: animation, simulation, rendering, compositing, and motion tracking, even video editing and game creation. In short, what is called a complete suite? Blender has a flexible interface controlled by Python. Layouts, colors, sizes and even characters can be adjusted. Currently, we can download (reiterate, for free) version 2.79, but the development team has already made it known that version 2.8 is being processed.
The best online graphics programs: there are also free resources
Now we come to the most suitable programs for those who need to do digital art:
Krita is a free professional open source painting program. It is made by artists who want to see artistic instruments accessible to everyone. Suitable for those dedicated to conceptual art, illustrations, and comics. Like many of the programs we have mentioned in this guide, Krita is also in English (French, Spanish, and Japanese are the options) and does not have a feature in Italian.
Autodesk Sketchbook. Autodesk paid platform for € 29.99 / year and full functionality in Italian. Sketchbook provides the user with professional tools that enable drawing on a desktop and mobile device. Also, thanks to the Education program, if you are a student or a teacher, you can get the full potential of Sketchbook for free for 3 years (offer available for multiple devices and programs).
Corel Painter. This is a digital art & painting software that is not included in the Corel Draw suite described above. It is a paid program, with different purchase options and a variegated free trial, which allows illustrators a rapid transition from traditional to digital art. There is a wide range of artistic materials available, including thick colors, fluid watercolors, and rich textures.
We also report a free Ink Scape vector graphics tool that is ideal for graphics that purely print jobs and one for raster graphics (always free) Gimp.
Those mentioned are just some and perhaps the best graphics software in circulation. Usable and spendable by a series of professionals who gravitate around this world. For example, if you are a graphic designer that does purely print jobs, you may need a tool for vector graphics, one for photo editing and possibly one for layout (e.g. Adobe InDesign ) for books and other paper products bound.
If you are a web designer, you do not clearly need to make a layout, but maybe you need fast graphics software for "cuts", to produce images and pieces of images for interfaces (in many, however, they use Photoshop). So, vector, photo editing, possibly a program like Fireworks (but also Affinity Designer gets along pretty well)
Finally, if you are an illustrator depends a lot on the style, it could be enough even a vector graphics program or just a photo-editing like Photoshop. But there is special software like the Painter already mentioned before paid, very popular by professional illustrators.
Read Also: