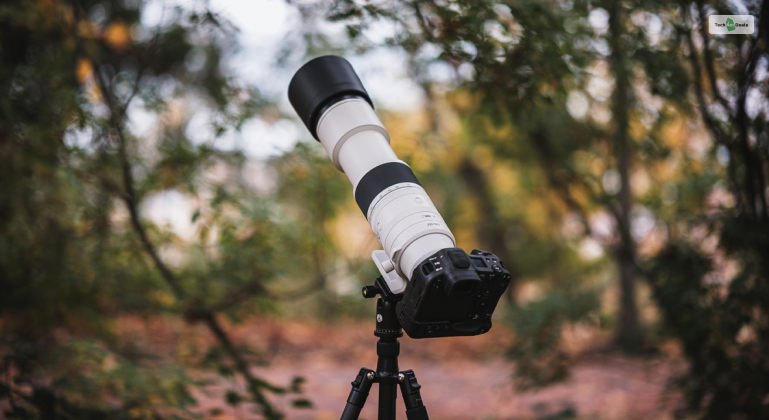 Canon has released three new RF series lenses for mirrorless cameras.
This includes the RF-S 10-18mm, RF 24-105mm, and the RF 200-800mm.
The new RF 200-800mm lenses set a world record for giving the longest zoom on a camera.
Canon has been at the top of the camera industry for quite some time. However, it recently launched three new lenses for its mirrorless cameras. Here, one of the lenses – the Canon RF 200-800mm F6.9-9 IS USM – has set a world record for providing the longest zoom in a camera to date.
This lens is the world's first full-frame zoom lens on a mirrorless camera that goes up to 800mm. It provides the longest zoom on a camera without the need for additional teleconverters. In addition, it also has a hefty weight of 2 kg.
Therefore, if you compare smartphone camera lenses with this lens, it's equivalent to having 30x zoom on your mobile camera!
If you use a flagship Canon EOS R camera, like the EOS R7, using the Canon RF 200-800mm lens on it will provide image stabilization of up to 7.5 stops. In addition, it will also detect autofocus. It has a focal length equivalent to 1200mm since the sensor has a format of 1.5x crop.
Therefore, we recommend buying this lens for your high-end Canon EOS R cameras if you are into wildlife photography. Bird watchers will find this lens to be a dream come true since it gives them unprecedented levels of zoom – perfect for wildlife photographers to take pictures from a distance.
The Canon RF 200-800mm F6.9-9 IS USM has a price tag of £2,299.99 in the UK. While its US price hasn't been announced yet, we expect it to cost around $2,799. This makes it one of the most expensive camera lenses and for all the good reasons!
So what do you think about this deal on this lens? Let us know in the comments below!
More Resources: