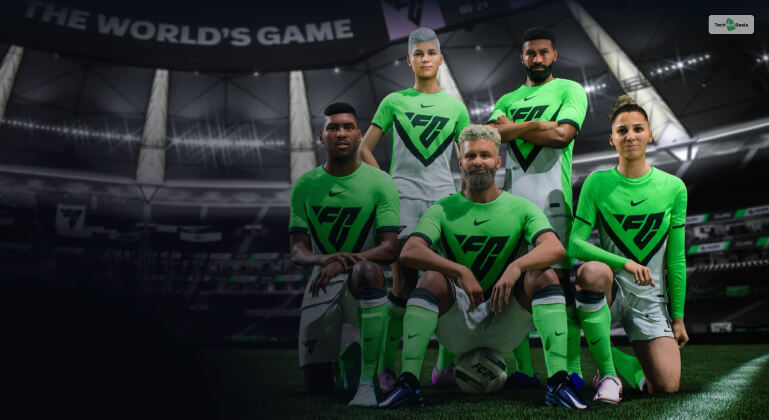 Headlines:
EA Sports bids farewell to the FIFA football video game, which the company was known for.
The company will instead create the same brand of iconic football video games going by the title of FC24.
FC24 is set to release for PC, Nintendo Switch, PS4, PS5, Xbox One, and Xbox Series X & S on September 29.
To all the EA FIFA fans out there who love playing this amazing game of football online and with friends on the couch, it's time to bid farewell.
EA Sports has finally announced the successor to FIFA – FC24. This is the first new football IP that the company has purchased ever since it got the license to use the FIFA name and its players. However, last year, the company lost the license to use the FIFA name but still retained permission to use real FIFA players.
Therefore, instead of dropping its most profitable EA Sports football game series, the company has decided to rebrand it as FC24. This new game will be the same as the FIFA games you grew up playing, but it will just not be named FIFA.
See the new gameplay features in EA SPORTS FC 24.
Pre-order now from https://t.co/dKzgRBAhdS #EASPORTSFC #FC24 #GamesTheShop https://t.co/7rc10DBsT8

— Games The Shop (@GamesTheShop) July 19, 2023
Everything in this game, from the graphics, available teams, player stats, and everything remains the same. It will also sport a significant upgrade to the FIFA Ultimate Team (FUT), which will now be featured as FC Ultimate Team (FCUT).
Upon release, the FC24 will feature additional game modes as well from FIFA, like the street football-esque VOLTA Football. The game will be released on September 29 this year on all major platforms.
EA Sports FIFA football game series was first released way back in 1993. Since then, it has upgraded its gameplay and visuals to new heights to become the behemoth of a video game that it has become now.
However, in the last few years, FIFA had legal disputes with EA Sports regarding its licensing issues, leading to its withdrawal from EA Sports. However, FIFA president Gianni Infantino has declared that it will seek a new video game company to create "the only real, authentic game that has the FIFA name."
More Resources: