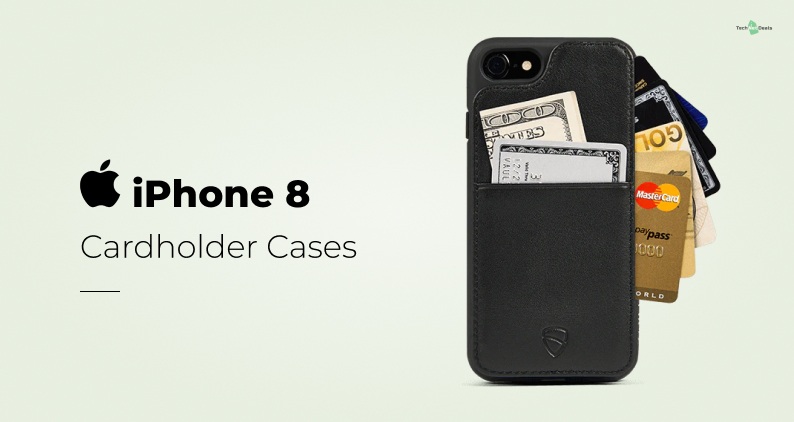 Worry not if carrying a wallet in your pocket is becoming too bothersome. I know that you will not have the same bothersome thoughts about carrying your iPhone in your pocket. Therefore, why not fuse them together with the use of iPhone 8 cardholder cases?
These cases not only protect your iPhone but also have extra spaces to carry your cards and cash. If you wish to buy one of these, read this post till the end.
Best iPhone 8 Cardholder Cases To Use Instead Of Wallets:
The best iPhone 8 cardholder cases in 2023 that you should buy are:
1. Bellroy Leather Case
If you want an iPhone 8 cardholder case that helps you save time preparing your wallet in the morning, this case by Bellroy will be a good buy. This is a popular choice for its chamfered edges.
It has a minimalistic design, which makes it simple and intuitive for everyday use. Like the other cardholder cases on this list, it has the cardholder slot on the back of the phone. You can slide it open, allowing you to keep some cash and up to three cards inside.
However, one of the most thoughtful additions I liked about this case is its dedicated SIM slot. Therefore, if you wish to remove your SIM card, you can do it easily without taking out this case.
2. Smartish Slim Protective Wallet Cover
If you love more posh accents on your phone cover, buy this iPhone 8 case with card holder by Smartish.
The back cover looks pretty sexy, with a unique stripe design placed angularly on the iPhone 8 camera. Plus, this design choice is elevated more when you touch it. It has a textured surface, which gives it an overall premium feel.
Regarding its storage capacity, there is a singular slot behind where you can keep a maximum of three cards. It also has a kickstand for credit cards, enabling a hands-free experience. It also has a compact and durable design, which helps prevent fall damage your iPhone is prone to.
This iPhone 8 cardholder case comes in various colors:
Champagne Gold
Gunmetal Gray
Black Onyx
Rose Gold
3. Spigen Slim Armor Wallet Case
The Spigen Slim Armor Wallet Case is one of the best iPhone 7 cardholder cases. Therefore, their iPhone 8 wallet case is also one of the best you can buy in 2023.
When it comes to looks, this wallet case looks pretty ergonomic and futuristic. It's made with high-quality material, which has a matte texture. Therefore, not only does it look good, it feels good to touch as well! Additionally, it is durable, protecting your phone from undesirable dangers.
On the back, it has a sliding door system that you can open to reveal the cardholder inside. This case on the back can store multiple cards and a few dollar bills as well with ease.
This case is available in the following colors:
Rose Gold
Gunmetal Gray
Blush Gold
Jet White
Red
Matte Black
4. Pasonomi Holster Carrying Wallet Case
Here, I have a different proposition for you – why not buy a literal wallet that stores your iPhone inside instead of an iPhone 8 plus case with card holder?
If you carry a lot of cash and cards, getting this Panasomi iPhone 8 wallet is best. This cardholder case functions more like a flip cover, except the flip is a literal wallet. You can store lots of cash and many cards inside.
But if you think the design is too bulky, you can detach the wallet completely. Doing so allows you to carry only a few cards on the black cover of your iPhone.
5. Panasomi Vintage Flip Wallet Case
Since Panasomi creates such excellent iPhone 8 cases, I want to mention a second one in this list. This is your best bet for a premium-looking iPhone 8 case with a vintage design.
The casing is made with high-quality leather, which is made to look more premium due to its handmade design. When you flip open this iPhone 8 cardholder case, you will find a quote engraved on it that reads:
"Focus on

mobile phone leather

build quality,

pursuit of perfection

simplicity and

Innovation"
While this quote might not be too poetic, it does look good on this leather phone cover! The back flip cover has a socket to store three cards inside, with another compartment underneath for a few dollar bills. This will be a good buy if you want a premium-looking leather iPhone case.
6. Spigen Valentinus Designer Wallet Case
This designer wallet case by Spigen is called "Valentinus." Out of all the wallet cases shown here, this one is the most simplistic in the most effective way possible. This is a very simplistic flip-back cover for an iPhone with a card and cash pouch.
However, while the more extravagant designs might attract today's generation of kids, adults will prefer the more minimalistic designs. This is a very slim iPhone 8 cardholder case, with a pocket for keeping cash and three cardholder cases.
This case is available in only two colors:
7. Tucch Flop Folio Wallet Case
As a lover of vintage designs, I loved the minimalistic design of this flip folio wallet case by Tucch. This case is made with soft PU leather, which gives it a smooth texture. However, I loved that even though this has a very smooth texture, it's not too slippery and can be gripped easily!
As you flip the folio, you will get to see three card cases and a smaller pouch inside for storing cash. It also has a magnetic clasp on the folio that helps it stay attached to the case.
This case is available in these colors:
8. Dockem Executive Wallet Case
This is it if you want an iPhone 8 cardholder cover in the most minimalistic way with a barebones approach. Unlike the other covers on this list, this one has no sliding compartments, nor does it have any flip folio.
If you look at the back of this cover, you will only see two pouches – that's it. You can store anything on these pouches, including cards, cash, and coins. However, it does seem to compromise a bit on the protection it provides to your iPhone.
This comes in only one color – leather brown.
9. ZVEdeng Wallet Card Holder
The Zvedeng Wallet cardholder has a unique and modern design which I liked a lot. This case has a combination of both soft PU and TPU leather. On the back, it has three slots to store a few dollar bills and three cards easily.
However, this case is one of the best on this list regarding durability. Made with a combination of two different kinds of sturdy leather, this case's protection against accidental falls is astounding.
10. Speck Presidio Wallet Case
Speck Products has done an impressive job creating this Presidio wallet case for iPhone 8. With a sleek and ergonomic design, this cardholder case is also built like a tank. It combines TPE and PC materials to create a military-grade iPhone guard, doubling as your wallet.
It has a matte finish that makes it easier to grip in your hand. In addition, you can see clearly that this has a high-quality matte finish that leaves no fingerprint marks or smudges.
This case is available in these colors:
Conclusion: When You Turn Your iPhone Into Your Wallet
Turning your iPhone 8 into your wallet has become easier thanks to the availability of many iPhone 8 cardholder cases. With these cases, you not only get high-quality protection, but you also get various slots to keep your card and cash in one place.
Read Also :