The manufacturer of any smartphone company locks the bootloader by default. But, there is always a way to do anything that you really want. You can unlock it and do some crazy stuff. XIAOMI mobile phones also have a bootloader that is locked by default. But here, I will let you know how to do MI bootloader unlock with a step-by-step guide. 
But there are also some really important things that you should know before you start with unlock bootloader MI phone. Some questions like:
What is a bootloader?

How does the MI bootloader work?

What can you do after MI bootloader unlock?
Here I will give you the answers to all these questions before. After that, we will head towards the main steps that you need to follow to unlock MI bootloader. You have to make sure that you have prepared a backup of all the pieces of data that you have on your XIAOMI phone. All the data will be erased when you will do MI bootloader unlock, so it is really important to create a backup in order to avoid, and data loss.  
What Is Bootloader And How Does The MI Bootloader Work?
In order to get the idea of how to MI bootloader Unlock you first need to know some basic things about the bootloader. When you power on the device, the first program that starts and loads the right operating system in your android phone is Bootloader. You can find the bootloader in all android mobiles, computers, and any other devices that have an operating system.  
All smartphone companies lock the bootloader so that only the installed operating system can be used in their devices. The locked bootloader will not allow you to root mobile, install custom ROM, and also TWRP custom recovery. 
After unlocking Bootloader Things You Can Do
Once you are done with MI bootloader unlock or unlock the bootloader MI phone, you will be able to do some crazy things. Here are the things that you can do after unlock bootloader MI a1 or any other MI phone.
Your android mobile can be rooted.

You also can install custom ROM. 

Unofficial stock ROM also can be flashed.

You can flash custom recovery or TWRP on your MI mobile phone. 

You can edit BuildProp.

And last but not least, you will be able to flash your drive and change the particular IMEI number. 
As of now, you have gotten pretty much information about MI bootloader unlock. The basic information that you really need to know. So, it is time to head to the process of checking the status of the MI bootloader before we start with the main topic of this article. 
How To Check MI Bootloader Status
After enabling the developer mode on your mobile phone, you will be able to check your mobile bootloader status and do the MI bootloader unlock. So, the very first thing that you need to do is enabling the developer mode to unlock bootloader Redmi phone. 
Here are the steps to enable developer mode for MI bootloader unlock:
#Step-1:
Go to the "System Settings" on your MI phone And You will get an option "About phone."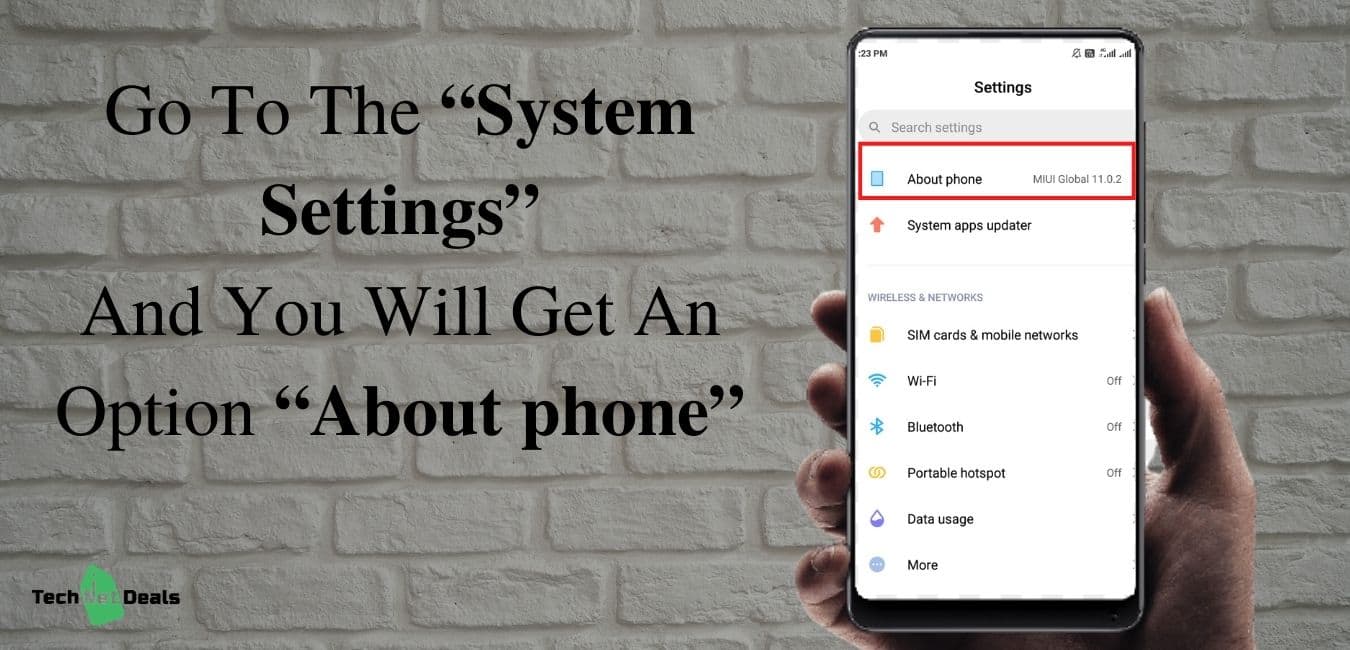 #Step-2:
Now on the MIUI Version, you need to Click 7 Times.
#Step-3:
A small notification will flash, which is saying "You Are Now A Developer."
Now is the time to go to the Developer Mode, and for that, you need to follow the following steps:
#Step-1:
In "System Settings" go to "Additional settings."
#Step-2:
Now Scroll Down and Click on the option saying "Developer Options."
#Step-3:
Click on "MI Unlock Status."
You are also required to install an ADB driver on your desktop or laptop and connect your mobile with it. Only then you will be able to check. And for that, you need to open the cmd prompt and type "fastboot OEM device-info." 
MI Bootloader Unlock With Mi Bootloader Unlock Tool
The Redmi note 5 pro unlock bootloader process will erase all the pieces of data that you have in your mobile to make sure you have a backup of your data. This scenario is also the same for MI note 4 bootloader unlock and all MI phones. This MI bootloader unlock process will delete all your internal storage, SMS, contacts, videos, photos, and mobile settings. 
Enable OEM Unlock and USB Debugging
Now, in your Mi mobile, you are required to enable USB debugging along with OEM unlock in the developer mode. And in order to do that, you need to follow some steps that are.
The very first thing that has to be done is downloading MI unlock app on PC. 

On your PC extract, the zip MI bootloader unlock file that you have downloaded on your PC.

Now open the application, which is named "miflash_unlock.exe."

It will ask you to sign in. use your MI account for signing in.

Switch off your mobile and hold the power and volume down button together to enter in "Fastboot mode."

With a USB cable, connect your Mi phone to the computer and now click unlock. 

Now click on the option that says "Unlock anyway" two times. 

Your Redmi 4 bootloader unlock is done. 

You are done, with all. 
Using a USB cable, connect your mobile with your PC. Open the file named miflash_unlock.exe in MI unlock tool folder after unzipping the MI unlock tool. Now with MI unlock tool, log in to your MI account. Your Mi phone is now connected via USB cable with Mi unlock tool. So, in order to start the bootloader unlocking process, you can click on Unlock in your MI mobile. 
Conclusion
Now you know how to do MI bootloader unlock, you can easily perform to unlock bootloader Redmi Note 5 Pro without permission. You now need to worry in case you are searching for how to unlock bootloader Redmi Note 4 or other Xiaomi phones. Though the process is quite smooth and the steps that are mentioned earlier will help you to do MI bootloader unlock. In case you face any issues, you can also search for Redmi bootloader unlock tool.
Read Also: