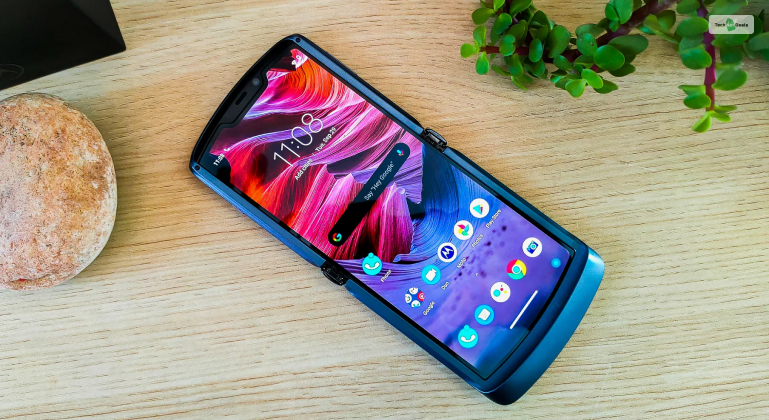 The Flip smartphone segment is ramping up slowly to become its own class of unique premium phones. Boasting foldable flip designs and higher prices, many experts claim that they are the future of smartphones. But what about the Moto Razr?
Whether you are looking for the Razr 2023 or the Razr+, both of these high-end Flip smartphones by Motorola are kicking up quite a storm. But with their unique looks and high-end performance, are these phones ready to take on the competition – and the market?
Let's find out!
Moto Razr Specifications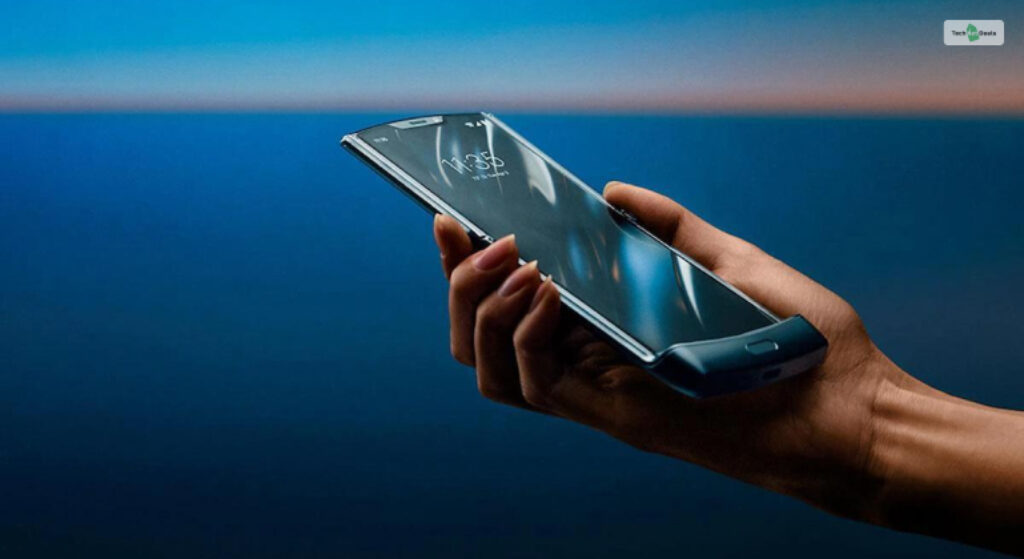 The primary Moto Razr 2023 specs are:
| | |
| --- | --- |
| OS | Android 13 |
| Main Display | 6.9" pOLED FHD+ Display |
| External Display | 1.5" AMOLED Display |
| Processor | Snapdragon 7 Gen 1 |
| RAM | 8 GB LPDDR4X |
| Storage | 256 GB UFS 2.2 |
| Rear Camera | 64 MP main camera + 13 MP Ultra-wide camera |
| Front Camera | 32 MP selfie camera |
| Battery | 4,200 mAh non-removable battery |
| Charging | 33 W wired charging, 5 W wireless charging |
| Dimensions | 73.95 mm x 170.82 mm x 7.35 mm (Open)73.95 mm x 88.24 mm x 15.8 mm (Closed) |
| Weight | 188.6 g (0.42 lb) |
| Colors | Sage Green, Vanilla Cream, Summer Lilac |
| IP Rating | IP52 |
Alongside the Moto Razr 2023 or the Moto Razr 40, we also have the Moto Razr+ or the Moto Razr 40 Ultra, whose specs are:
| | |
| --- | --- |
| OS | Android 13 |
| Main Display | 6.9" pOLED FHD+ Display |
| External Display | 3.6" pOLED Display |
| Processor | Snapdragon 8+ Gen 1 Octa Core Processor |
| RAM | 8 GB / 12GB LPDDR5 |
| Storage | 256 GB / 512 GB UFS 3.1 |
| Rear Camera | 12 MP main camera + 13 MP Ultra-wide camera |
| Front Camera | 32 MP selfie camera |
| Battery | 3,800 mAh non-removable battery |
| Charging | 33 W wired charging, 5 W wireless charging |
| Dimensions | 73.95 mm x 170.83 mm x 6.99 mm (Open)73.95 mm x 88.42 mm x 15.1 mm (Closed) |
| Weight | 188.5 g (0.42 lb) |
| Colors | Glacier Blue, Infinite Black, Viva Meganta |
| IP Rating | IP52 |
Moto Razr Price & Release Date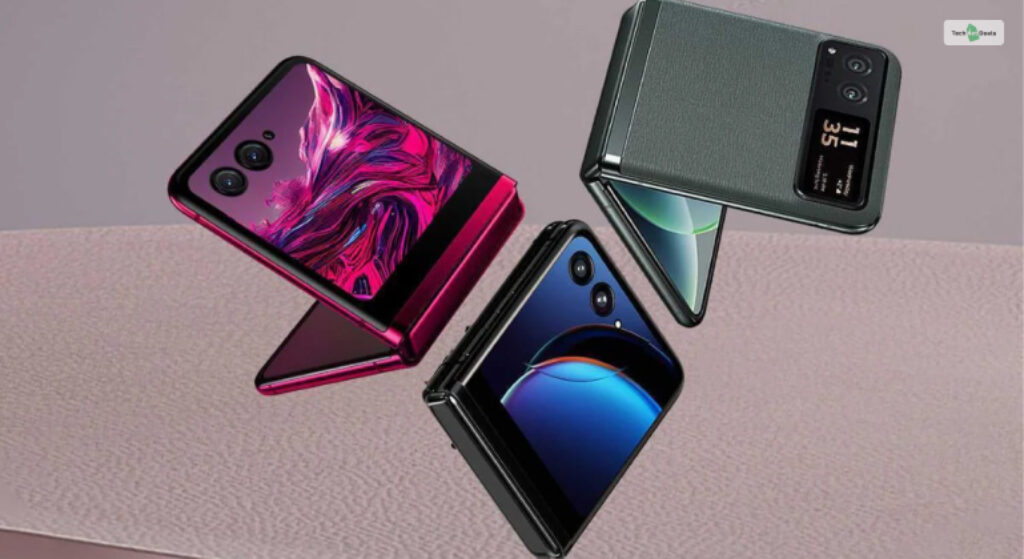 Both the Moto Razr Plus and the Moto Razr release date was on 23rd June 2023. The Moto Razr price in 2023 is around $799, while the Moto Razr Plus price is around $999.
Moto Razr Design & Build Quality
Unlike the protruding chin of the Moto Razr 2022, the 2023 edition completely omits it in favor of a more streamlined design.
The design still retains the clamshell form factor, which makes it pretty easy to hold in your hands. Plus, when you shut your phone, it shuts in the most satisfyingly snappy way possible. In addition, doing so also hangs up any calls, which I felt is pretty cool.
If you analyze the dimensions of this phone above, it's actually slimmer than the Samsung Galaxy Z Fold 4 and the Google Pixel Fold. Therefore, I found this device fit inside my pockets pretty comfortably, without having any noticeable "bulge" on my pockets.
With a weight below 0.5 pounds, it's also pretty lightweight, which makes it a pretty handy device. It has an IP52 rating, making it splash-resistant. However, it's not completely waterproof like an iPhone 13 or above.
Moto Razr Displays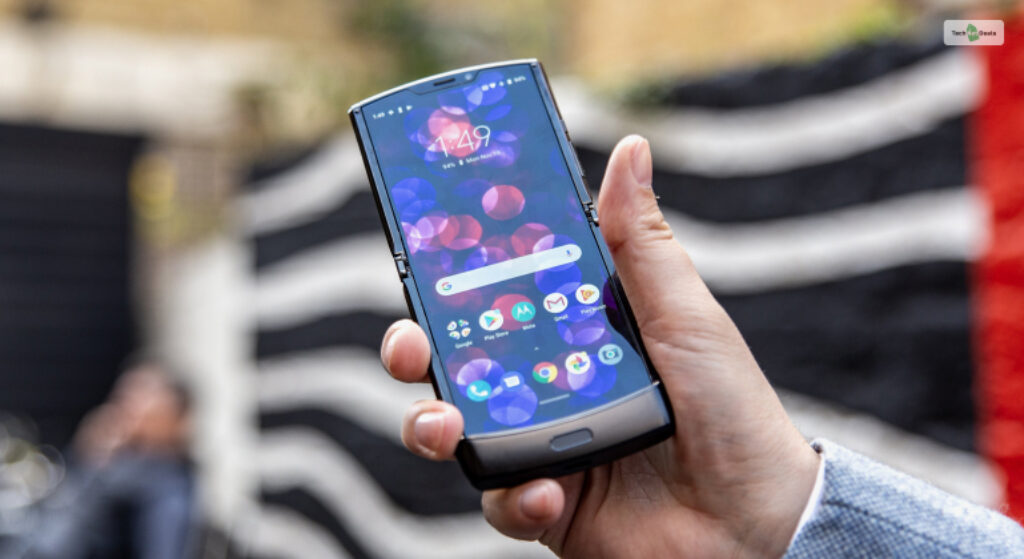 The Moto Razr 2023 has two displays – one on the inside and the other on the outside.
The display on the inside (main display) is a foldable Full HD+ pOLED 6.9" screen. It has a resolution of 2640 x 1080 pixels, with a pixel density of 413 ppi and an aspect ratio of 22:9.
Therefore, images appeared pretty crisp, vivid, and clear. I also loved using the phone to scroll since it has a 144 Hz refresh rate. Therefore, if you play games, you will have a smooth time. However, the Razr Plus steps this up a notch with its 165 Hz refresh rate.
Plus, watching videos also feel amazing as well since this screen supports HDR10+ support. This made HD videos come to life with popping colors and crispy clarity. This experience was made better with a peak brightness of 1400 Nits – pretty amazing compared to competitors in this segment.
The external display is much smaller, being only a 1.5" AMOLED display. It's in this fact that one of the main differences between the Moto Razr and the Razr Plus comes to light. The Razr Plus has a 3.6" pOLED screen instead.
The external screen acts more like a notifications screen on the Moto Razr. However, the Razr Plus takes it a step further by turning it into a full screen. It's even 0.6" bigger than the first iPhone!
This screen lets you see the time, text, and phone notifications, along with other multimedia apps like Spotify and WhatsApp. However, the Razr Plus has the added advantage of being bigger – making the entire experience better.
Since the primary screen is 6.9", it's pretty big enough to allow you to play games and even edit videos smoothly. Editing videos using Filmore Go felt easier. Thus felt a lot more difficult on a smaller iPhone SE 2023.
Moto Razr Camera
The Motorola Razr has a primary camera of 64 MP, which is paired alongside a 13 MP ultra-wide camera. I love how both rear cameras seem like they are punched into the external screen, and everything on the screen seems to be placed accordingly.
I had quite a bit of fun clicking pictures with this phone since I don't typically use a flip phone. I placed the rear camera towards me by placing the phone in an L-shape figure. Clicking pictures by folding really opened up a lot of angles. For once, I can now place the phone folded in weird angles without holding it up myself!
The quality of the pictures is pretty crisp, with great clarity around the edges of objects. However, video recording could have been better. I noticed a slight dip in quality at night time, especially in dimmer areas where I believe the contrast could have been better.
The front camera is no slouch, either, sporting a 32 MP selfie camera. It's a great camera overall. Again, I had fun clicking pictures by folding my phone, which allowed my hands to be better used for posing.
Moto Razr Battery Life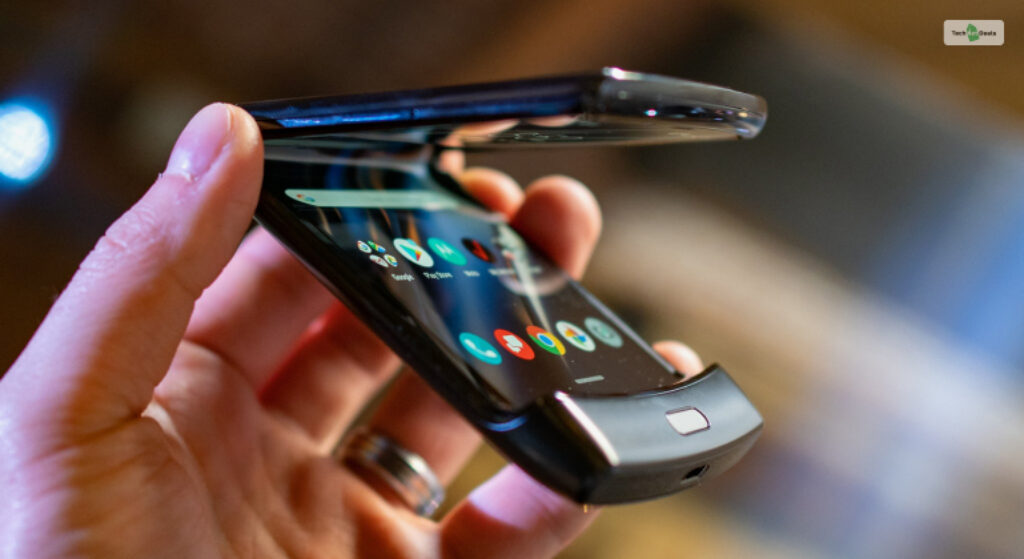 The Moto Razr battery life will last around an entire day due to its powerful 4,200 mAh battery. However, most other flagship phones like the OnePlus 11 or the Nothing Phone 2 have 5,000 mAh batteries. I guess Moto compromised the size of the battery due to its foldable design.
However, the phone does run hot after some use. But it's good to see Motorola providing the charger with the package, which is a 30W charger that charges it up in under 30 mins.
Moreover, the Moto Razr+, the better phone – has a smaller battery of 3,800 mAh. My bet is that this was done to accommodate the bigger 3.6" external screen. It's not bad by any means, but not that great either for a smartphone with a $999 price tag.
Moto Razr Performance
When it comes to performance, the Moto Razr Plus is a step ahead of the standard Moto Razr. The Razr Plus packs in the latest Snapdragon 8+ Gen 1 processor, while the standard Razr has the Snapdragon 7 Gen 1 processor.
However, all operations are still quite snappy, which can also be attributed to its better 144 Hz display. Gaming felt fine, and so did conducting a multitude of productive tasks as well. Video editing using Filmora Go also felt pretty smooth in all aspects.
Storage options and memory are also pretty standard. The Moto Razr has only one variant – 8 GB RAM with a 256 GB hard disk. On the other hand, the Moto Razr Plus has two variants – an 8 GB / 256 GB variant and a 12 GB / 512 GB variant as well.
Moto Razr Alternatives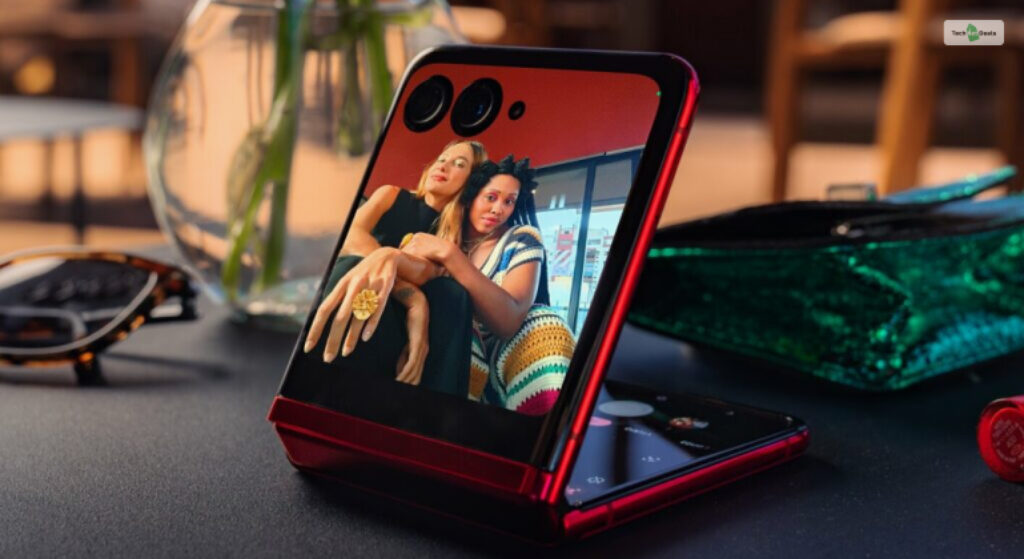 If you wish to know who are the main Moto Razr competitors, then there is only one real competitor – the Samsung Z Galaxy Flip5. I will not be considering the Samsung Galaxy Z Fold5 and the Google Pixel Fold since they are overall better devices with double the price of the Moto Razr ($1899 and $1799, respectively). 
As of now, the Galaxy Z Flip5 is the king of all flip folding phones at this moment. While it can't compete against the double-priced Samsung Galaxy Z Fold5, it's still a pretty good phone. It has a similar 6.7" screen with a 3.4" external screen.
However, it has a better IPX8 full waterproof resistance. Plus, it also has the latest Qualcomm Snapdragon 8+ Gen 2 processor, which ultimately provides better performance.
Final Verdict: Is The Moto Razer Worth Buying In 2023?
Overall, if you are willing to shell out $799 to buy a phone that can make a style and trend statement in 2023, you may consider buying the Moto Razr 2023.
When it comes to foldable flip phones, it's the cheapest in the market right now amongst big brands. It has great performance and will be a treat for Instagram influencers to click pictures that they normally would have not been able to.
Pros
Cons
• Foldability provides great camera angles
• Impressive screen
• Good performance
• Good camera
• Stylish design
• Good battery life with fast charging
• It runs hot after an hour of gaming
• It could have been better with an IPX8 rating
• The processor is old
More Resources: