It's true that robotics is no longer in the future, but it is now the present! And Rethink Robotics Industries is one name you cannot ignore when it comes to trading in low-cost robots. The march toward a more productive future is being led by this futuristic company when you think about it.
So without wasting any further time, let's find out all that you have to know about Rethink Robotics – the company that has changed the face of the robotics industry, at least from a financial point of view. All you need to do? Simply scroll down and find out all about the same in detail.
Keep reading for more information about the same.
All About Rethink Robotics: Company Profile
If you were curious about landing a rethink robotics internship, then it's best that you find out a little about the company first! The company specializes in developing low-cost, adaptive robots useful for manufacturing processes. The solutions provided by this company are designed in a way to be easily programmable and human-safe.
Targeted specifically to the SMB audience and market, Rethink's flagship product is Baxter, which also happens to be the first industrial humanoid low-cost robot. The company is not just transforming manufacturing with collaborative, smart robots that can automate all those tasks that conventional automation failed to get done.
At the moment, manufacturers are gradually recognizing how they have to be relatively more responsive to the different kinds of market changes. And that's not all. Manufacturers are also aiming to be more innovative, fast, and more efficient in delivering customer-friendly services, as compared before.
Company Profile:
The company profile is one of the most crucial aspects by which consumers finally make up their minds before making any purchase. Check out the company profile of Rethink Robotics in the table below.
| | |
| --- | --- |
| Company | Rethink Robotics Industries |
| Founders | Rodney Brooks & Ann Whittaker |
| Founding Year | 2008 |
| Headquarters | Bochum, Germany |
| Website | rethinkrobotics.com  |
| Former Name | Heartland Robotics, Inc. |
| CEO | Daniel Bunse |
| Industry | Robotics |
| Claim To Fame | Robot Baxter |
| Products | Sawyer, ClickSmart, and Intera |
| Current Owner | HAHN Group GmbH |
Now that you have a fair idea about the company profile of this robotics company, you don't need to google 'rethink robotics wiki.' Instead, let's check out the founding history of the company in some detail.
Read More: What Are The Uses Of Robots? 5 Major Uses
History Of Rethink Robotics:
Launched in 2008, Rethink Robotics was a sort of startup venture that aimed to create robots at a low cost. The year was 2012 when the company released their pioneer product, Baxter. Soon, they followed it up with a flexible counterpart known as Sawyer, specifically designed for performing detailed, smaller tasks.
The actual landmark achievement on the part of the company was in 2016 when they released their collaborative robots globally. The fun part about these robots? These were developed for working in collaboration with humans, for instance, in factories – these weren't designed for replacing human labor.
Acquisition And Selling Of Assets: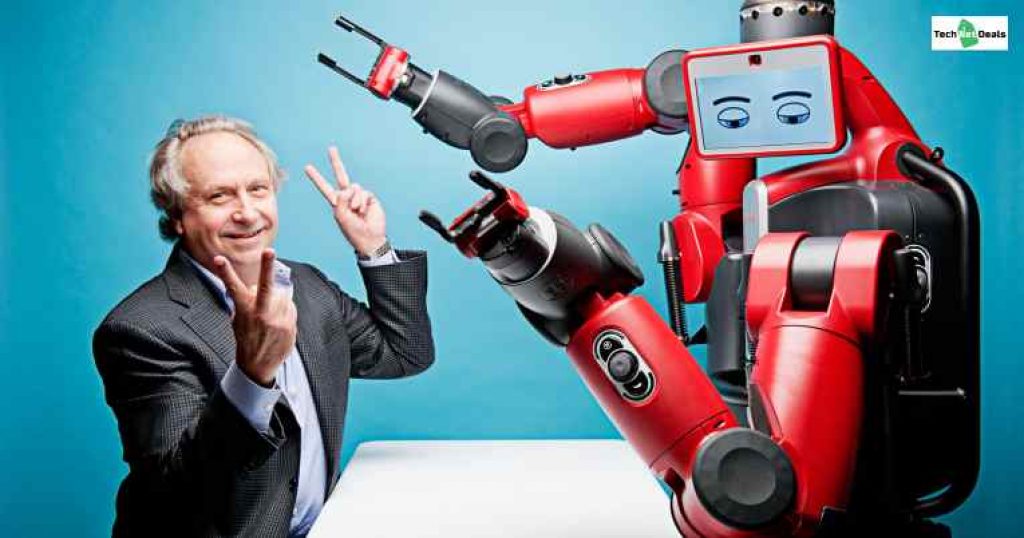 By October 2018, Rethink Robotics was already ceasing operations and selling off assets – other companies immediately started showing their support for the robots. What a day it must have been for people with even a single stock!
In this context, two points are vital!
A majority of Rethink Robotics assets were purchased by the German distributor and automation specialist, the HAHN Group. All trademarks and patents that belonged to the Rethink company were acquired by the HAHN group, including the famous software platform known as Intera 5.
However, the Hunan CoThink Robotics Technology Company not just bought a hundred Baxter robots but also the very rights to even sell them in the United States and entire North America.
Post-Acquisition Story:
Just a year after the HAHN Group acquisition, Rethink Robotics was ready to launch their latest product in the market, the Sawyer BLACK edition! A number of changes were seen taking place after the acquisition, like the change of headquarters to Bochum from Rheinböllen, in the middle of 2020 or the formation of a partnership with a company called Siemens.
Read More: Boston Dynamics Industries – History, Robotics, Profile
Frequently Asked Questions (FAQs):
1. Is Rethink Robotics Still In Business?
In August 2017, the robotics company, Rethink Robotics shut down its business. For people wondering why it hasn't taken off, the answer is the company ended up prioritizing both cost and safety over precision and speed while baking the same decisions into the concerned hardware. Naturally, the design suffered, and the company wasn't even able to improve its products.
2. What Is Rethink Robotics?
The company might have shut down at the moment but Rethink Robotics is technically the pioneer in the whole collaborative robotics solution industry. The company was founded in 2008, and it was the world's first company specializing in creating robotics solutions for the same.
3. Who Created The Baxter Robot?
Rodney Brooks, the founder of Rethink Robotics, created the Baxter robot, one of the first pioneer collaborative robotic solutions in the world. Rodney Brooks used to be the director of the AI laboratory at MIT – he also co-founded a company called IRobot.
4. How Much Does A Baxter Robot Cost?
A Baxter robot basically costs 25,000 dollars or between 19,000 to 22,000 pounds. The amount mentioned is literally equivalent to an average annual salary of a production worker in the United States. You can also purchase additional parts for the robot.
And It's A Wrap!
Now that you have enough information about the company, you can easily look for rethink robotics jobs, and your future will be set. After all, robotics is not just an upcoming industry anymore – instead, it is very much a part of our present.
Imagine the fun of using automation to make life simple. Sounds cool, right? Guess what? You can, but most people don't know the kind of progress we have made in the robotics industry. So it is challenging to deduce for them. However, once you know, then you can easily understand the key highlights of this context.
Don't forget to let us know your thoughts on the same in the comments below!
Read More: