Buying a good headset in 2023 has become very difficult because of the plethora of choices you have available. From well-established brands like Logitech, JBL, Bose, and premium headsets of Astro, everything has its strengths and flaws. This is precisely why you need to check out this Astro A40 TR Headset + Mixamp Pro 2017 review.
Released five years ago for a price tag of $149, this headphone has made some heat due to its performance as a gaming headphone. But how well does it hold up now in 2023? Let's find out!
Astro A40 TR Headset + Mixamp Pro 2017 Review 2023
After using this headset for a week, here is a rundown of what I felt about the Astro A40 TR Headset + Mixamp Pro 2017 headset and its features:
1. Design And Comfort
When it comes to the design of the Astro A40 TR headset, it looks like a gaming headset. This is evident by its flashy yet pretty bulky design.
Due to this design, I would say it's unsuitable for outdoor use, especially on commutes. I felt it was too bulky and tight for outdoor use. This is why I think this headset is not suited for portability.
When I wore this headset, I thought it would be heavy and cause pain after long hours of use. To my surprise, it's pretty comfortable to wear, thanks to its excellent cushioning. They are large and spacious enough to slide my ear in.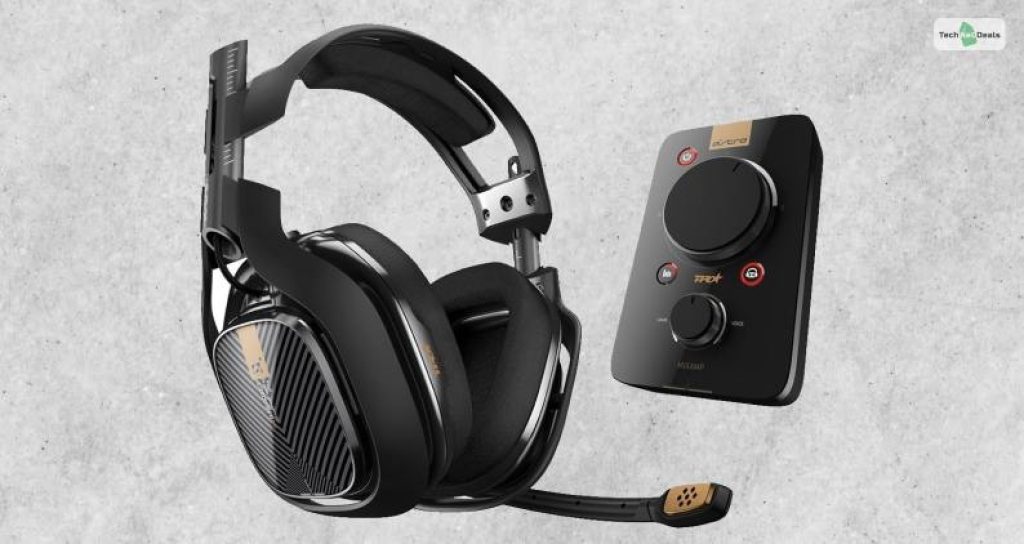 However, it's design makes these headphones pretty hot to wear after some hours. I applied games for 4 hours, and I could feel my ears getting sweaty. This is also why I didn't like using the Astro A40 outdoors.
The Astro A40 headset is built pretty well and has sturdy components. The frame is partially made with plastic, which makes it comfortable and bendy to suit your head and ear size. I dropped this headset twice and found no scratches or problems at all.
However, I found the headset often swiveling sideways while turning my head. This means that this headset has stability issues staying on your head. This makes it even less suitable for use when you are on the move. A true gaming headset, indeed!
2. Connectivity And Controls
When it comes to its connectivity, the addition of the MixAmp Pro made all the difference. The MixAmp has intuitive controls, including the mic mute button and volume control knobs. You also get a switch to turn Dolby Surround Sound on and off.
In addition, you also get a button to cycle between equalizer presets. Therefore, you can have different presets for gaming, music, chatting, and more that you can cycle through quickly.
You will also get a mixer knob to equalize in-game and chat audio separately. I found this knob helpful since I mostly play multiplayer games like Valorant and Rainbow Six: Siege with friends. Adjusting the volume controls for both felt super intuitive while landing headshots.
However, I preferred this headset to have Bluetooth connectivity like the SteelSeries Arctis 3 2019 edition wireless. However, the reduction in latency (20 ms) due to a USB Type-A wired setup is fine by me. The coaxial speaker cable was also long enough (6.8 ft or 2.1 m) for my gaming setup.
3. Noise Isolation And Leakage
Coming to the Astro A40 TR's noise isolation capabilities, it's pretty poor. My elder brother standing halfway across the room, could hear the faint sound of a guitar solo while I listened to heavy metal music. This is significantly louder than the Monoprice 110010.
I found this problem to be due to the open-back design of the Astro A40 TR Headset + Mixamp Pro 2017. It also has poor isolation as I could hear my fan buzzing and even my elder brother talking on his phone. I had to drown them out by increasing the volume.
4. Microphone Quality
If you plan to play multiplayer video games and participate in video calls, a good microphone is necessary. In this headset, you will see a detachable boom mic, which is detachable – perfect for single-player games!
As for the microphone quality, it is pretty good. My friends on Discord and Google Meet could hear my voice crystal clearly. Funnily, the noise cancellation of the microphone is far greater than the noise isolation of its earcups!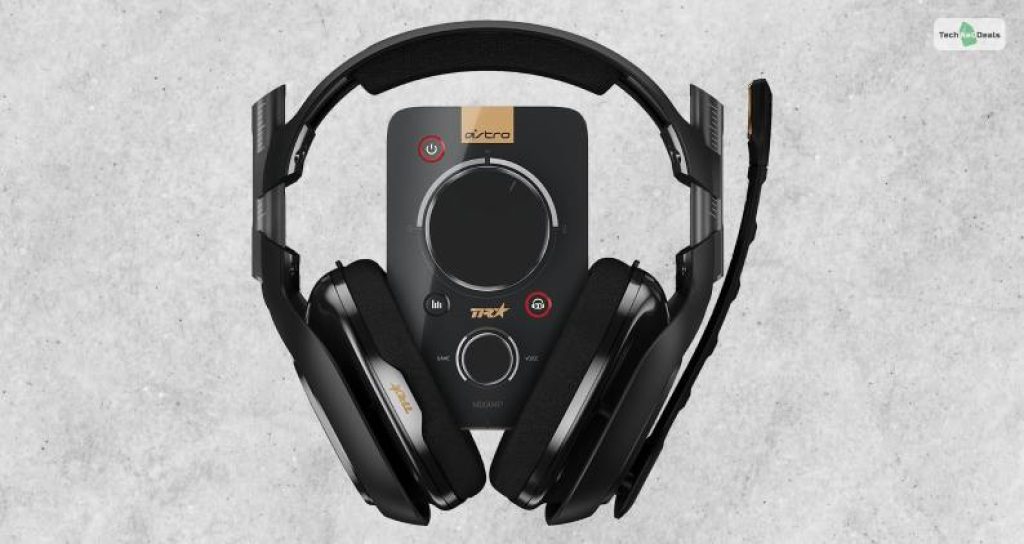 However, after recording my voice using OBS, I found my voice to be a bit muffled. However, this can be avoided with a good sound mix and gain increments. Therefore, it's manageable for people who know how to use audio software.
5. Astro Command Center App Support
Along with the Mixamp Pro, you can also download its companion app – the Astro Command Center. This turned out to be its main weakness.
I faced many problems with this application, like needing help to update the headset's firmware. Plus, various app features didn't work, like saving EQ presets.
However, when it did work, it worked pretty well. The equalizer is pretty good, especially for those unfamiliar with mixes. It is an intuitive and simple-to-use graphical equalizer.
6. Sound Quality
In my opinion, the Astro A40 TR Headset + Mixamp Pro 2017 has a pretty good sound quality. I concluded after using this headset for listening to four types of content – movies, music, games, and voice/video chats.
I watched several movies while wearing this headset, like Dunkirk, Fight Club, Slumdog Millionaire, and more. I found Hans Zimmer and AR Rahman movies the best options to check out the sound quality of any headphones.
For music, I listened to a mix of songs from various genres. This includes bass-heavy tracks like "Feel Good Inc." by Gorillaz and "Look At Me Now" by Chris Brown. In addition, I used to play rockers like "The Pretender" by Foo Fighters and "Wake Up" by Rage Against The Machine.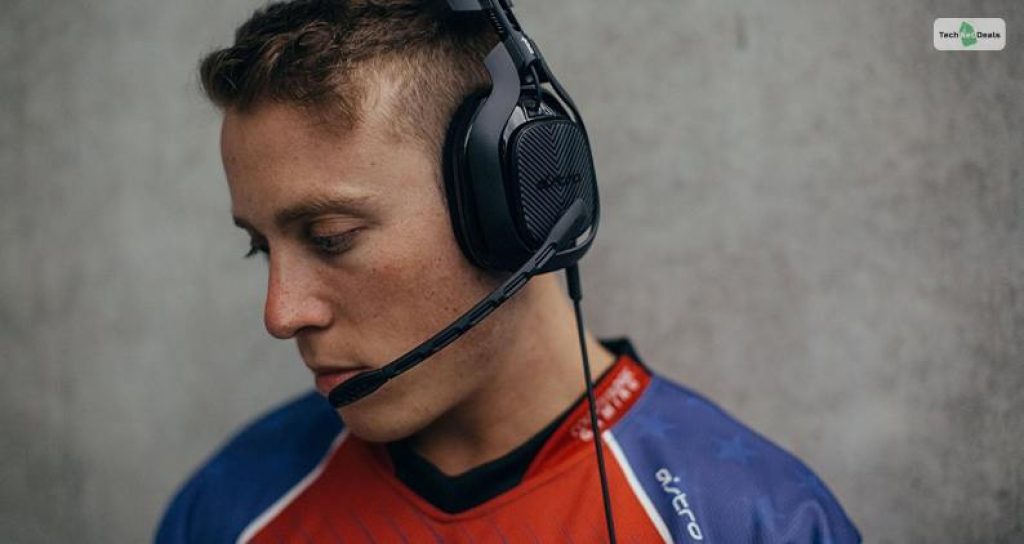 Plus, I listened to "Blacken The Cursed Sun" by Lamb of God for some big numbers. For more instrumentals, I also heard "Lingus" by Snarky Puppy.
For watching movies and listening to music, this headset is good enough. It has a slightly lower sub-bass, with the midrange being a bit more than I want. This sometimes made the guitars louder than the other instruments, especially the drums. Therefore, some EQ balancing is required if you are a true audiophile.
However, this headset shines in gaming, which this headphone is meant for. Everything sounded great, from the somber tones of Elden Ring to the more operatic orchestration of Halo: Infinite.
Regarding in-game sounds, I was pretty happy with their quality. Every thud of bodies dropping to the floor and bullets being fired from a machine gun felt pretty punchy. Multiplayer gamers playing Valorant and Overwatch 2 will be pretty happy with their performance.
Frequently Asked Questions (FAQs):
Gamers have various questions regarding the Astro A40 TR Headset + Mixamp Pro 2017 headset. Here are my answers to their questions:
Q1. What Does The MixAmp Pro TR Do?
Ans: If you use the MixAmp Pro TR with the Astro A40 TR headset, you will notice a significant  decrease in lag and better sound equalization as well.
Q2. Does Astro A40 TR Have 7.1 Surround Sound?
Ans: Yes, the Astro A40 TR has 7.1 surround sound support. However, remember that this is Dolby virtual surround sound and not authentic surround sound.
Q3. Does Astro A40 TR Have 3D Audio?
Ans: Yes,  the Astro A40 has support for 3D sound. However, this is only available when using mixers or playing games on the PS5.
Q4. What Does TR Stand For In Astro A40?
Ans: The TR in Astro A40 TR stands for "Tournament Ready." This is so because these headsets are marketed as gaming headphones.
Final Verdict: Is The Astro A40 TR Headset + Mixamp Pro 2017 – Worth It In 2023?
The Astro A40 TR Headset + Mixamp Pro 2017 is still a good choice of headphones for use in 2023. However, I would suggest using it only for gaming, keeping it always connected to your PC or PlayStation/Xbox console. This is because it's not a portable headset because of its weight and stability issues.
Even though the companion Astro Command Center app has issues, you can still get enough bang for your buck with the intuitive Mixamp Pro TR add-on. If you are ready to pay the price of $189 for a gaming-only headset with the Mixamp, then by all means, go for it. Otherwise, I would recommend checking out other headsets in this price range.
PROS
CONS
• Good gaming sound quality with decent music quality.
• Excellent microphone.
• Even though it's bulky, it's comfortable for long-use sessions.
• The Mixamp Pro TR is a worthy add-on.
• Bulky design.
• Portability issues.
• Noise isolation is poor, with high sound leaks.
• Buggy Astro Command Center application.
Read Also: