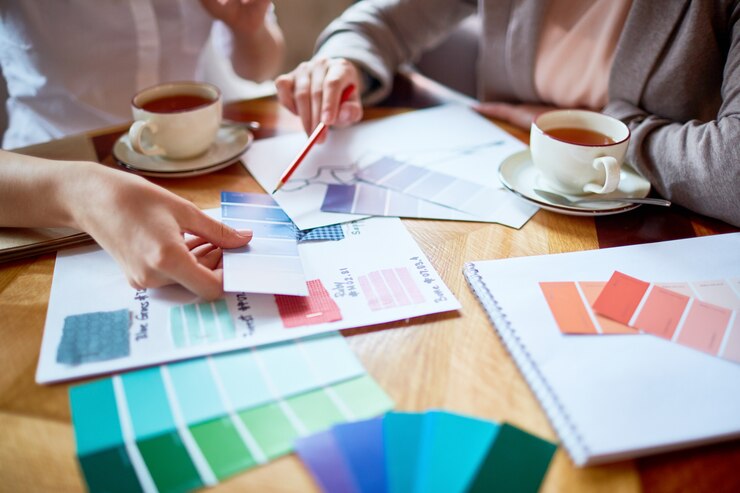 Designing a brochure becomes daunting for anyone as it comes with different perspectives and proportions. You have to work on it simultaneously on various factors. For instance, from choosing the right fonts to delivering a better paper stock, everything comes on stage with a brochure design.
Well, the design elements are not very tough, but what makes it tough is its presentation at one stage. When you have one work to do at a time, you will be able to do it comfortably. However, it becomes tough when you have multiple works to deal with within a single process or timeline.
Preparing a brochure in our modern world for businesses has become a common challenge. Without a better presentation, marketing and promotion will not work. While you need a better presentation, you may think of many things at once.
But you cannot deny the importance of brochures for easy presentations. It is hard to design but still easy to cover ideas and the best way to promote things on the go. If you are careful about quick marketing, the brochure is your only solution right now.
Here, we will focus on brochure designs that people may consider problematic. Brochure designs are difficult without proper attention to critical factors. We would like to cover those ideas here.
Key Factors To Present A Better Brochure Design
When it comes to designing a brochure, there are various factors to consider to engage it. If you want to make it stand out and effectively communicate your message to your audience, you will need to focus on its presence and visuals.
From determining your purpose and knowing your audience, everything comes on one table for brochure preparation. Selecting a particular image may come on stage with different perspectives. If you want to review your copy, you will need to manage its concentration on the go.
However, each of these factors plays a crucial role in creating a successful brochure design.
Here, we will explore these essential elements in-depth to help you create a better brochure design that captures your audience's attention and generates results.
So, let's dive into it!
Determine Your Purpose
What do you want to achieve with this brochure?
Do you have promotional plans for the new service or want to market the old products?
Well, these questions will come your way to find the best solution for the brochure design process. If you do not consider these questions, you will not find any significance in them in the long run.
The purpose of your brochure may find its way into content making and design preparation for the brochure. So, the more you focus on its design, presentation, and purpose, the better it will be for you to manage your concerns on the go.
Read Also: 10 Ways To Use The Internet For Business
Know Your Audience
Knowing your audience is a crucial step in advancing your brochure design process. If you do not know the needs and interests of the audience, you will not be able to serve it through the brochure.
On the other hand, you also need to take care of the geographical area and language to generate relevance.
The more you try to cover the audience's interest and recognize them in advance, the more the brochure will be perfect.
Use High-Resolution Photos
An effective brochure comes with a better product image and quality. So, if you go for jagged and blurry images to just reduce your work, that might be a crime to your brochure and presentation process.
In a brochure, you can add two forms of photos: abstract stock images or product photos. Now, when it comes to selecting stock photos, be mindful of it and ensure it does not look like stock photos.
On the other hand, while choosing the product photos, make sure that you have captured those images with a professional photographer. Here comes the problem!
The photographer will do their work and provide you with better photos of products, but those are of large size with higher quality. So, you will find it difficult to upload it or adjust it to the brochure size.
The brochure template might adjust the image quality on its own and make it fuzzy. Well, don't worry!
Here, you can use a free image cropper to adjust the image size without losing its resolution. So, now you can upload high-resolution photos with ease.
Know Your Brochure Fold
One of the distinguishing features of a brochure is its folds of different styles. If you want to make a statement with the brochure, you need to focus on its folds.
Why?
Well, when you have a proper plan to include some content and photos in it, you need that space for presentation. However, picking the right brochure fold is hard as you need to complement the fold size with the content.
So, it's time for you to give yourself some time to select a particular fold and match it with the content for a better presentation.
Keep It Simple
There is nothing better than simple!
In our modern society, minimalistic styles are becoming prominent day by day. So, if you want to create a better presentation, you will need to have a clear idea of the current trends.
The more you indulge yourself in brochure making, the better you will understand that it is all about setting a tone for your own useful visual impairments. Try to go simple and include only things that you want to showcase.
Review Your Copy
Reviewing the brochure copy will hold your position in the organization. If you neglect this responsibility, it can backfire on your role and also can reduce its effects or consequences.
Try not to deliver anything poor, but review the process before you present.
Try to improve your perception.
Create higher visual appeals.
Include A Call To Action
Try to ensure that call-to-action statements are visible to the audience better. Consider the side of the page and also the fonts on the go.
This will help you manage the attractiveness of the brochure so far. Well, the results are not under your control, but the presentation is. So, it's time to be specific with your presentation and manage the call-to-action part accordingly.
Read Also: