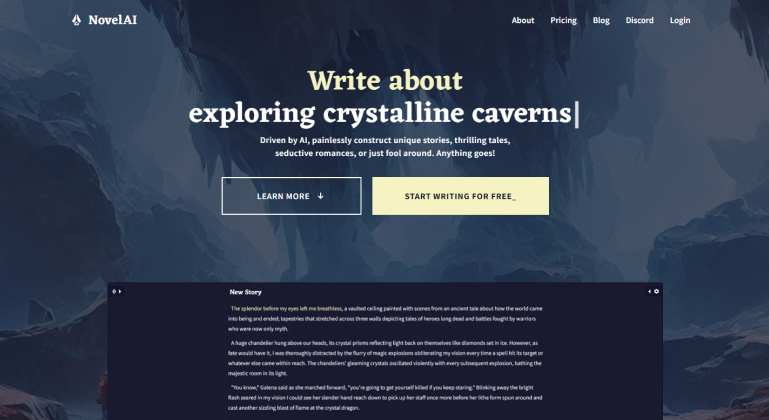 I once read a popular blog post somewhere stating that all our dreams are real. They may not be real in your own world, but it's a connection to a parallel world. Therefore, if you dream about being a sword-wielding hero slaying giant monsters, you probably are in a parallel world. You simply need to use Novel AI to bring it to this realm.
But how? And what exactly is NovelAI?
If you have a story but cannot find the right words to express it, this AI-powered application might become your new best friend. Read this post till the end to learn about your AI storyteller to overcome your writing block!
What Is Novel AI?
Novel AI has become one of the most "novel" AI tools created. If you think AI cannot write stories with the "human touch" to them, then it's time to think again.
NovelAI is a new AI tool that lets you write your stories and generate images that perfectly represent your thoughts. It's a cloud-based SaaS model where you have to pay a specific price to use all of its features.
It was initially launched in 2015 as an AI assistant for writing stories. But its most significant update – text-to-image conversion and generation – came in an update in 2022.
Its image generation allows you to describe something. After you finish your descriptions, the Novel AI image generator will create an image for you – which happens to blow your expectations 90% of the time!
Best Features Of Novel AI
Novel AI has a truckload of features, all of which also have their sub-features as well. The best features of Novel AI are:
1. Storyteller
NovelAI Storyteller is the original feature of this AI tool. This feature lets you get the best ideas for your next epic magnum opus.
Here's how this AI storyteller works:
First, go to the NovelAI website.
Here, click on the "Start Writing For Free" option that appears on the home page.
Now, you will enter a new page where you will get to see lots of options. Simply clicking on the "+ New Story" here is best for beginners.
You will be greeted in the story editor, where you start by typing a line of your story.
After you are done typing, click on Send.
Now, the AI will continue your story by building upon your writing. You can now continue writing more or click on Retry to get a different response from this AI.
I decided to try the Novel AI Storyteller feature by simply typing in one line and checking the AI's response. Therefore, I simply typed, "I woke up with no memories." Here's how the AI decided to expand upon my initial idea:
As you can see from the picture above, Novel AI added four extra lines, even referring to my character (portrayed from a first-person view) as Lina.
To continue the story further, I added one extra line after that – "But that's just my name. So who am I, as a person?" Here's how it went after that: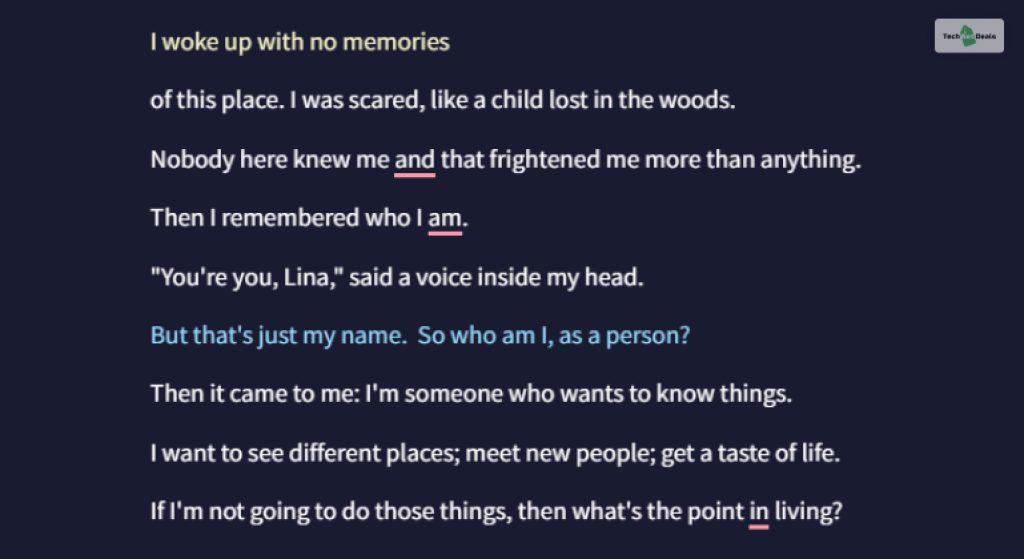 It was interesting to see the AI explain the character as a positive-minded person, which was an excellent "humane" touch.
However, this tool's best touch is its number of customization options. This includes:
AI Model: You have three models to choose from. These models determine the tone that you wish to steer your story towards. So far, you get three options here – Euterpe, Sigurd, and Genji (experimental).
AI Module: If you want your story to follow a specific theme, you need to select an AIN Module. There are lots of AI Models that will help you emulate the style of another author. It will also allow you to dictate the genre of your work. Some styles of these AI modules are – Arthur Conan Doyle, HP Lovecraft, and Edgar Allan Poe. On the other hand, some themes you can choose from are 19th-century romance, dark fantasy, comedy, satire, horror, etc.
However, the most confusing aspect of NovelAI and its advanced settings. There are many settings here that you can change. However, for beginners, it's pretty confusing as to what each of these options means. I didn't play around with these settings much since even I couldn't understand what these options meant!
Another excellent aspect of NovelAI is the option to manage your own Lorebook. Here, you can store data regarding various characters settings, family trees, factions, story beats, etc. If you store these data, NovelAI will start using them to expand your story further automatically!
2. Text Adventure Game
If you want to be a video game story creator, then you can do so by creating a Text Adventure Game in Novel AI.
Here, you first create characters and scenarios. According to the information you provide here, the AI will progress the story forward like a game. You can create scenarios for various actions like Say, Do, and Story that the AI Story Generator takes into account.
3. AI Image Generator
While Novel AI initially started out as a storytelling AI, it's now known to create amazing images of beautiful anime girls for you.
Well, that's just one way of saying it. Here, I am referring to the AI Image Generation Tool. Here, you describe the image that you want the AI to create, and it will create it for you.
This is done using machine learning, which scans all images on the internet and uses them as a basis for creating new ones from scratch.
However, this a pad feature, and only offers the creation of two different types of imagery – images of anime characters and furry animals. More will be added to it since the developers are hard at work!
Is Novel AI Free?
No, Novel AI is not a free AI tool. While it does allow for some functionality for free, they are limited in scope. To get the maximum output from this AI tool, you must opt for one of these premium plans:
1. Paper Plan (Free Trial)
In this free plan, you get:
Access to Euterpe, Calliope, and Sigurd AI Storytellers
Free Text Generation up to 100 lines
1024 tokens (4096 characters) of memory storage
2. Tablet Plan ($10 per month)
In this plan, you get access to:
Access to Euterpe AI Storytellers
Unlimited Text Generation
2048 tokens (4096 characters) of memory storage
Image Generation
Text to speech generation
3. Scroll Plan ($15 per month)
In this plan, you get access to:
Access to Euterpe, Calliope, and Sigurd AI Storytellers
Unlimited Text Generation
1024 tokens (8192 characters) of memory storage
Image Generation
Text to speech generation
4. Opus Plan ($25 per month)
In this plan, you get access to:
Access to Krake AI Storyteller, along with Euterpe, Calliope, and Sigurd AI Storyteller (the best one that they have)
Unlimited Text Generation
2048 tokens (8192 characters) of memory storage
Image Generation
Text to speech generation
Access to newer experimental and Beta features
Final Verdict: Should I Use Novel AI To Write My Own Stories?
Novel AI is one of the better AI tools out there in the market right now. You can create your own stories and text based games here using only a few words. In addition, you can also use it to generate AI-based images too!
Compared to Novel AI alternatives like Jasper AI, Rytr, and Sudowrite, NovelAI is the best for creating fictional stories. However, it's still one of the best AI image generators in the market right now in 2023!
Read Also :