If you dislike carrying your wallet with you at all times, you can try using Samsung Galaxy S8 Plus cardholder cases if you own a Samsung Galaxy S8. With these cases, you might not be able to carry your cash, but you can bring your cards in style!
Therefore, here is a list of five of the best cardholder cases for your Samsung galaxy S8 that you buy online for under $20 in 2023!
Best Samsung S8 Plus Cardholder Cases To Buy In 2023
The best Samsung Galaxy S8 Plus cardholder cases that you can get online are:
1. Toru CX Pro Case
Price: $17.99
Color: Matte Black
If you want Galaxy S8 Plus cardholder cases with a simple yet effective design, you should buy this one.
When anyone looks at their phone donning this cover, it will never occur to anyone that there are credit cards hiding underneath it. From the outside, it seems like a simple phone cover, a bit thicker and bigger than most.
To access the cards that you can put inside, you have to flip the back cover open. Once you do so, it will reveal two slots for storing cards – one on the inside card compartment and the other on the flip cover itself.
But why is this case called the Toru CX Pro? This is because there are two variants of this S8 plus cardholder case:
Two cards + One ID: This variant allows you to keep an ID card of yourself on the flip cover. Inside, you will find the compartment to hold a maximum of two cards.
One card + Mirror: This variant is the most sought-after. Once you flip it open, you will see it sporting a small mirror where the inside compartment used to be. On the flip side, you will find the spot for your ID card being replaced by a single cardholding compartment.
The only downside to this cardholder case (albeit not a major one) is that you cannot hold any cash inside.
2. Goospery Galaxy S8 Wallet Case
Price: $6.99
Color: Midnight Blue
If you want more protection from S8 plus cardholder cases, this one by Goospery is what you need. This dual-layer case sports the firm elasticity of TPU material and the strength of PC material. Therefore, even if you drop it from a high-enough place (approximately 10 meters), your phone will survive scratch-free.
When you flip this case open, you will notice two compartments on the cover and the other on the flap. In the compartment inside, you can store two cards. On the other hand, you can keep only a single card on the flap on top.
However, the secret feature of this cardholder case lies in its hidden mirror. Like the Toru CX Pro Case, this case also sports a mirror. This mirror can be seen on the flap. However, if you are not interested in the mirror, you can keep a card here instead.
Unlike other cases, this cardholder case uses magnetic pins that keep the back clover flip permanently attached. This ensures it doesn't open up accidentally, keeping the cards inside safe.
3. Shields Up Cardholder Case With Kickstand
Price: $11.99
Color: Clear/Translucent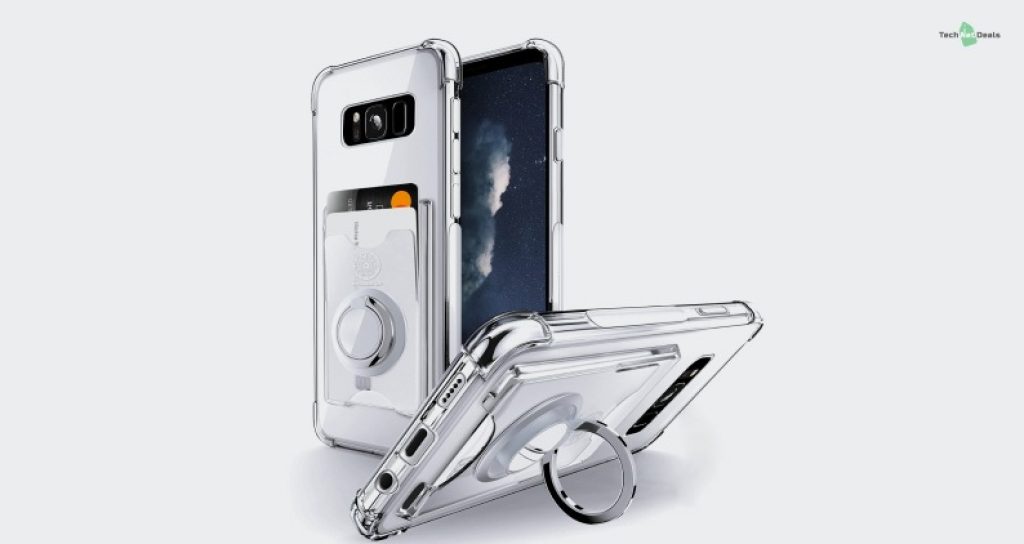 If you want a unique cardholder case, this one by Shields Up will be a good buy.
Unlike the other S8 Plus cardholder cases, this one is fully translucent in color and has a flexible build quality. This translucency is because it combines two different material types – thermoplastic polyurethane and polycarbonate. Plus, it's made specifically for the Samsung Galaxy S8 Plus. Therefore, you won't get a typical Samsung Galaxy S8 wallet case.
However, just because it's flexible and translucent, it doesn't mean everyone can see your cards inside. This case ensures that your cards remain hidden at all times.
Additionally, unlike the other cardholder cases on this list, this one has its card compartment on the outside. This compartment features a unique yet intuitive opening mechanism. Here, a ring juts out, which you can pull to open the cardholding case.
Additionally, you can also keep the ring in a way to make it act like a kickstand for your Samsung Galaxy S8 Plus. I found this feature nifty enough to place it on this list!
4. Vofolen Galaxy S8 Plus Cardholder Case
Price: $9.99
Color: Rose Gold, Steel Silver
If you want to buy a sliding cardholder case similar to iPhone 7 cardholder cases, this is a great buy.
This one looks the most aesthetic compared to any other Galaxy S8 Case with card holder on this list. Its Rose Gold color looks fantastic, perfect for females to go along with their dresses and handbags for a good matching look!
You can slide the case on the back to reveal the card-holding socket inside. Here, you can keep up to two cards at the same time.
Additionally, this case is made with hard-cover PC material and soft-cover TPU material to ensure that this case provides good protection apart from just holding your cards inside.
5. Tough Armor Card Slot S8 Plus Cardholder Case
Price: $14.99
Colors: Dark Green, Light Green, Olive Green, Black, Blue, Gray, Silver, Pink, Red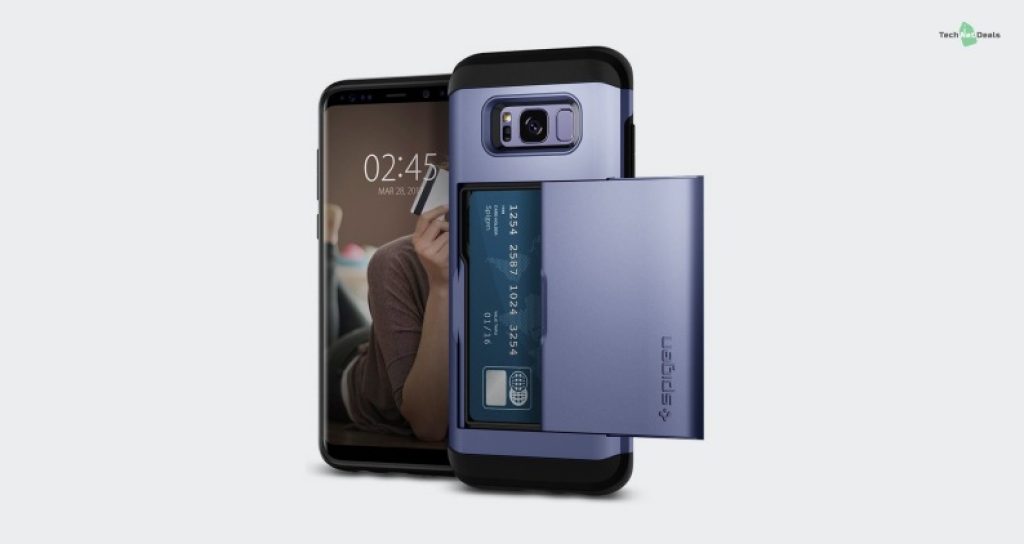 Like iPhone 8 cardholder cases, this case also sports a sliding door design. However, unlike the other S8 Plus cardholder cases on this list, this one is available online in various colors. However, I recommend going for the dark green color.
This is the only case available on this list that provides an additional shockproof cover to ensure your phone remains safe – and so do you. It also offers high-quality protection for your phone. You can thus safely store two cards inside.
Apart from the Samsung Galaxy S8 and S8 Plus, you will get this for other Samsung Galaxy models like:
Samsung Galaxy S7
Samsung Galaxy S9
Samsung Galaxy S10
Samsung Galaxy S10
Samsung Galaxy S20
Samsung Galaxy S21
Samsung Galaxy S22
Conclusion: My Phone, My Cards!
The five Samsung Galaxy S8 Plus cardholder cases that I have mentioned on this list here provide the best card carrying capacity along with the best protection as well. Therefore, if you want the best of both worlds, simply buy one from here and gave fun!
Read Also :