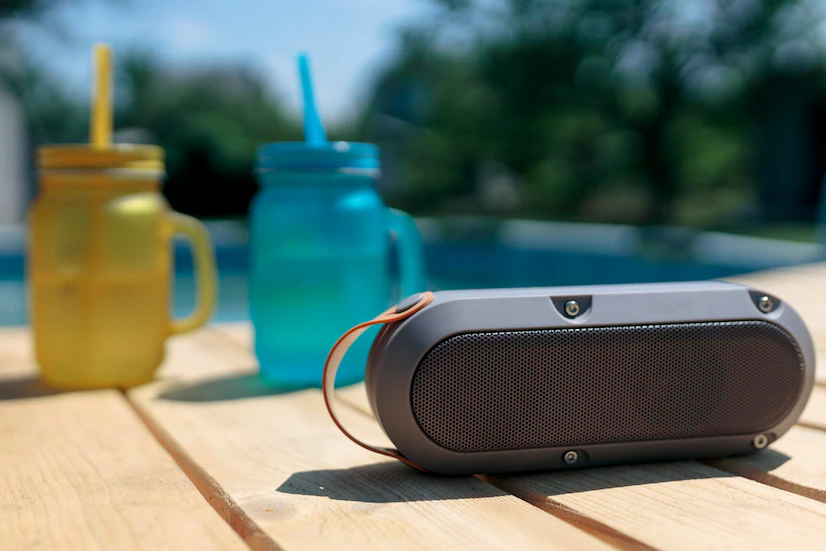 Being a music lover, you would always love to listen to your favorite tracks even when you are on the go, a portable radio speaker allows you not only to listen to the music but to tune in to the radio show you love.
We are currently in an era where smart devices like smartphones, and personal computers have outdated all the interesting devices 60s, 70s, or even 90s people loved to be with, a portable radio speaker can take you on a nostalgic trip while fulfilling your modern necessity. Wondering how? Let's deep dive to clear your understanding – 
Bringing classic aesthetics and cutting-edge technology together in a single device
FM radio was something seriously cool to the people of past generations because of its classic design, sound, and usefulness, it's like how we feel today having the latest version of the Apple iPhone or MacBook.
A portable radio speaker combines vintage style and 21st-century sound technologies that can make feel like living in a bygone era while being connected to modern days. People of this generation may just listen to FM radio in the car, see the device in movies, or get to know about it from the elders, but can't visualize how it created wonderful moments for the people of earlier generations with their loved ones and how important role it played in communicating a portable radio speaker can radiate at least a bit of that sense. Apart from the vintage aesthetics, its sound performance, easy connectivity, longevity, and ease of use are something you would always love to have in a speaker as your sound partner. 
Ease of Use
A portable radio speaker is such a useful device you can use anytime anywhere having no power and no internet connection. The mini size and compact design of the devices allow them to be placed and carried anywhere and keep listening to your beloved tracks. These portable devices can be sized as small to carry in pockets to a bit larger that require a bag or case to carry.
At times, you may not find FM shows interesting, but instantly you can connect them to your digital Bluetooth-enabled devices and listen to something you wish while cooking, driving, working out in the gym, or even taking a shower. A portable speaker is a great alternative to the traditional big-size sound systems, can keep things clean removing the irritation of connecting multiple cords without compromising to the quality of sound. Their compact design saves space, a tabletop radio speaker can keep the place organized and make you more productive. Set up of the portable radio speakers is also easy, you just need to switch on it, search the on smart device, click when found, and that's it. 
Quality of Sound
A speaker is for sound, no other feature can compensate or replace the sound quality of a speaker. A portable radio speaker can deliver crisp and clear sound and balanced audio with highs and lows of various genres of music, thanks to the custom-tuned drivers and digital signal processing. With its sound, the speaker can bring life to the voice and make the listeners lively.
Some portable radio speakers offer easy volume adjustment, switching from one track to another, and even answering calls with a single button. Its bass may not jingle your window but will surely provide enough sound. Moreover, the speakers come with a wide range of playback options. You can expect to sound free of irritation and distortion from the new radio speakers.
Most of the speakers can sync multiple speakers together and deliver loud sounds free of dispersion. It also can offer a variety of sound qualities from high-quality stereo to clear powerful bass you can choose the sound quality you love to listen to, what more someone can look for in a sound speaker?  
Connectivity of the device
Portable radio speakers are very easy to connect with smartphones, tablets, laptops, or mini Bluetooth speakers like smart TVs and allow us to tune in audio without strings attached. This highly compatible device provides you with an economical but enhanced listening experience from many aspects while listening to nice tracks or watching a movie. 
Improved Productivity & Social Connection
A portable radio speaker comes in handy and offers flexible music options, rather than occupying your smartphone or PC, you can just play the audio in the speaker while checking email or updating social media using the phone or laptop. Imagine, you are in a social gathering and how such a speaker can boost the thrill and create a cheerful environment for social interaction. Also it can enhance the experience of your routine activities and add more fun. 
Comes with both AM/FM option
AM radios are being removed from electric vehicles due to the change in technology and consumer tastes by giant automobile companies like MBW, Mazda, and Tesla. A portable radio speaker with both AM and FM radio can keep enjoying the AM. 
Conclusion
Portable speakers have become a part of our lives by making it easy to listen from any Bluetooth-enabled device and with cutting-edge sound technology, the retro-radio style of the speakers added some classic charm. The speaker is definitely a modern necessity but who doesn't want to walk through their memory lane and be nostalgic thinking about his past? 
Read Also: