The Apple HomePod Mini is an interesting device. It's a smaller variant of the original Apple HomePod, which, unfortunately, was not the commercial success that Apple expected. Its commercial mediocrity led to the creation of this device.
So, how does this device hold up in 2023? Is it better than the original HomePod at a smaller size and lower price point? Read this review to find out!
Apple HomePod Mini Review: My Impressions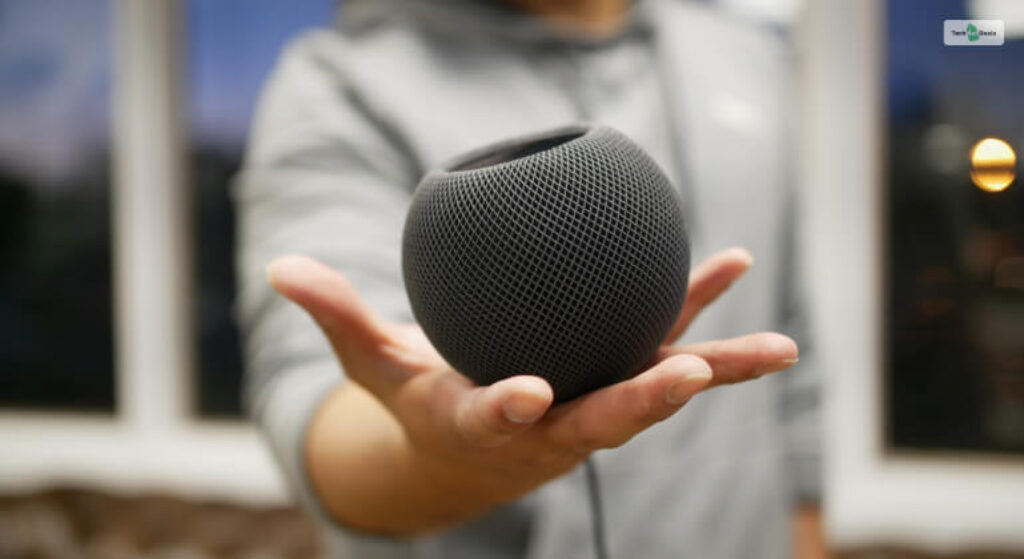 The Apple HomePod Mini takes a different approach from the original HomePod. Since the original one bombed in the market, Apple had to think of things differently. They decided to launch a smaller variant at a lower price point (since the previous one was so expensive).
But is it any good? Did Apple finally hit gold this time? Let's find out!
Specifications
The primary Apple HomePod Mini specifications are:
| | |
| --- | --- |
| OS | audioOS 17.0 |
| Speakers | 1 full-range driver, 2 passive radiators |
| Microphones | 4 |
| Inout | Touchscreen, Siri (voice command) |
| Colors | White, Yellow, Orange, Blue, Space Grey |
| Dimensions (HxW) | 3.3" (85 mm) x 3.9" (98 mm) |
| Weight | 0.76 lbs (345 grams) |
| Connectivity | WiFi 802.11n, Bluetooth 5.0 |
| Sensors | Humidity Sensor, Temperature Sensor, Sound Recognition, Accelerometer |
| Accessibility | Siri |
| Power Adapter | 20W |
| Compatibility | iOS 14 and above, iPadOS 14 and above, tvOS 15 and above |
The Apple HomePod Mini release date was on November 16, 2020. In 2023, the HomePod Mini price is $99 in US markets. This makes it one of the cheapest products Apple has created in its existence. However, do not expect the AirPods Pro 3 to be as cheap as this.
Design & Build Quality: Just About Perfect
Regarding the build quality of this Mini HomePod, it's way smaller and lighter compared to the HomePod (and HomePod 2).
Measuring only a few inches in width and height, it's a small device that will fit easily in your palm. Its size is similar to the Amazon Echo, being slightly smaller than the Amazon Echo Dot.
Just like the original, the HomePod Mini has a premium fabric mesh covering. This made me feel pretty comfortable holding this in my hand. Plus, the fabric mesh makes the bass sound better due to added air pockets between them, causing reverb.
On the top, you have a touchscreen, which has a pretty cool wraparound light strip. I loved the idea of not having any physical buttons on the device, which are all present on the touchscreen this time. This makes it look way better and more premium compared to Amazon's Echo Dot and Google Nest Audio.
If you play music or chat with Siri, the LED light strip around the touchscreen will swirl. This looks pretty cool. However, it's not as bright as the LEDlights of the Echo Dot, which is far brighter and easier to spot in the room.
Connectivity: Only WiFi
The HomePod Mini setup is pretty easy and has pretty good connectivity, although the options are limited. It only has WiFi 802.11n connectivity. Therefore, your iPhone, iPad, Mac, or Macbook must be connected to the same WiFi signal as well.
While a Bluetooth connector would have been great, the strength of your HomePod Mini connection depends upon the strength of your router. The better router you have, the better connectivity you get with this device.
Near the bottom, you get the USB C-Type plug that fits into the 20W adapter. Since this device has no rechargeable battery, it needs to be plugged in at all times.
However, I found it strange that this USB C-Type plug connects only with the adapter. Therefore, you may forget about connecting it directly with your Mac desktop or MacBook. This is because their ports don't provide enough power for this little monster.
If you try to do this, the LED strip glows orange. The HomePod Mini is definitely angry with you for doing so!
I wish it had options for wireless use. Considering that it's 2023 now, I wish it had wireless since all devices are moving towards wireless functionality. Just have a look at the best Skullcandy headphones and the Skullcandy Crusher Evo.
However, the worst offender regarding setup HomePod Mini is its connectivity only with Apple devices. Therefore, if you think you can connect this with your Nothing Phone 2 or Moto Razr. You will be very disappointed. This device is strictly to be used with Apple devices.
One surprise I found was that you do have Bluetooth 5.0 connectivity here – just for Apple Handoff. This feature allows you to transfer your iPhone's output audio to the HomePiod Mini as long as you bring them closer (about 30 cm).
Controls: Touch And Siri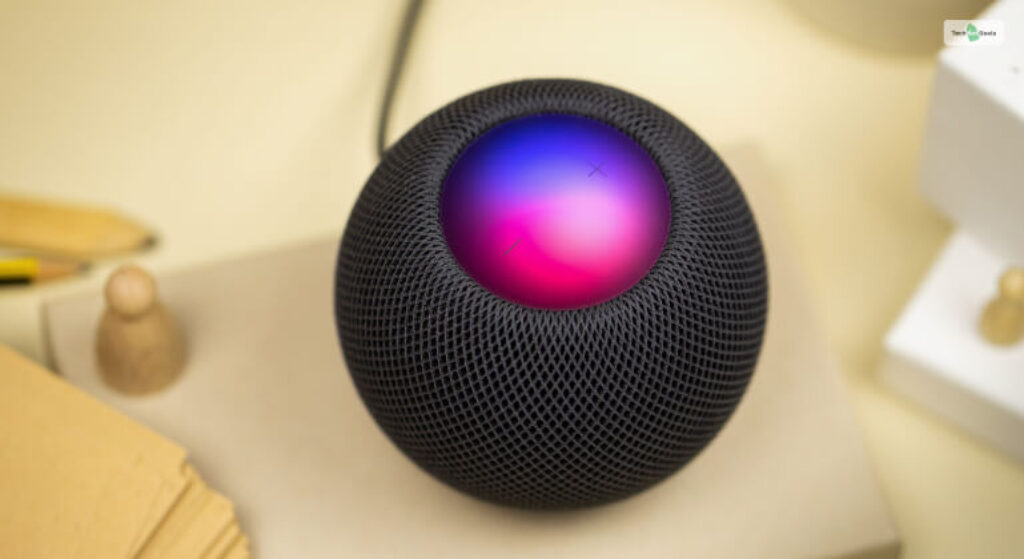 I found the controls of the HomePod Mini to be pretty slick. As mentioned earlier, it has no physical buttons. Instead, it has touchscreen controls on top.
Here, you get the standard "+" and "-" buttons for volume control. However, you tap at the center of the screen, and playback will pause or resume. Double tap and your song will skip forward. Triple tap, it skips backward.
Therefore, it seems that they are following the new control system of the most modern earbuds in the market. This includes the likes of the Apple AirPods. I found it to be pretty intuitive, which is awesome.
Since modern music-playing apps have the ability to stream music on other devices, this device is no exception. For example, you can use the Spotify Player to connect directly with the HomePod Mini from your iPhone or MacBook. However, you cannot use Discord on Xbox with this device.
However, the main means of control for the HomePod Mini is using Siri voice commands. Just say, "Hey, Siri," followed by whatever prompt you have.
Features: Only For Apple
Apart from playing music, the HomePod Mini has various other functions to make it a pretty viable device. This is all thanks to the use of the powerful Apple S5 processor – the same one fitted inside the newer Apple Watches.
You can use Siri to set alarms, timers, and reminders, send texts, call someone, and even control other Apple HomeKit-compatible devices.
You also get to use the TuneIn Radio, which is a nice addition, even though I didn't really use it much.
However, I missed the integration of music streaming services like Spotify, YouTube Music, and more here. Only Apple Music, Apple Music Classical, and iTunes are supported (obviously, Apple). Plus, if you buy a HomePod Mini, you also get six months of free Apple Music subscription!
While you can use Spotify from your iPhone SE 2023, Siri will not be able to control its functions as it would normally be able to do. I wish Apple would soon add support for these music streaming services as well.
Plus, if you have multiple HomePod Mini's scattered across your house, you can use them all together like an intercom.
If you wish to know how to reset HomePod Mini, it's pretty easy to do so. Just follow the steps below:
First, unplug your HomePod Mini. Wait 10 seconds after you do so.
Next, plug in your device again.
Now, keep your finger pressed on its touchscreen for a few seconds.
You will soon see the LED strip light turn red. When this happens, the device will automatically say," Your HomePod is about to reset." Just keep your finger pressed until you hear three beeps, after which the LED turns white, indicating that your device has been successfully reset.
Microphone Quality: Only "Hey Siri"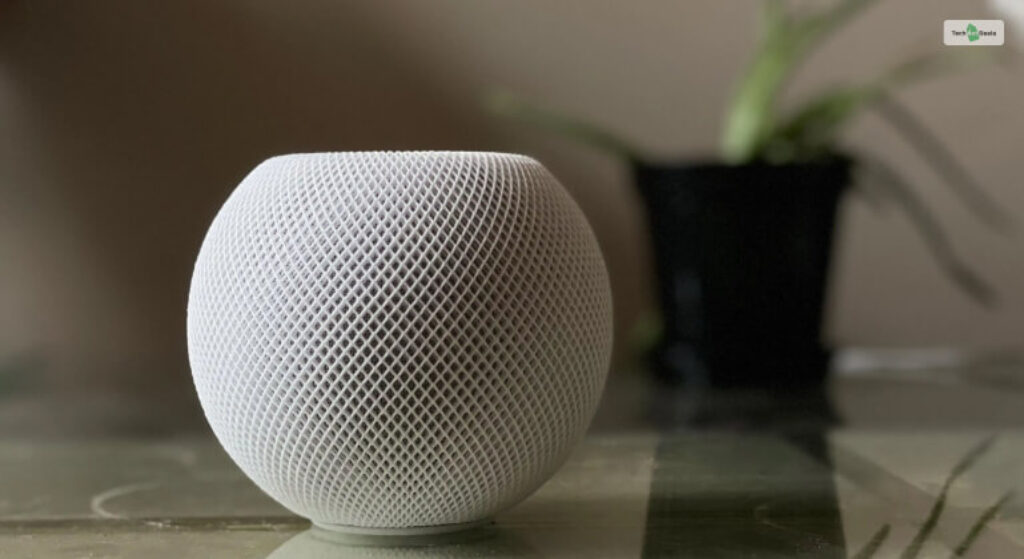 The HomePod Mini has four microphones inside to recognize your speech using Siri. Three of them are standard mics that are made to recognize the "Hey Siri" command specifically. The fourth is an echolocator that makes your voice louder compared to other background noises.
I found it amazing that Siri always knows which device you want to control. It somehow always guesses right when I address the HomePod Mini (even if my iPhone is in my hand). Impressive! This is one area where Alexa can improve a lot!
The voice recognition here is top-notch. Siri has received lots of updates over time, including its voice recognition features. Now, it has become advanced enough to recognize voices individually and respond accordingly as well!
If your family of iPhone users uses Siri to control the HomePod Mini, then it will give different responses for all. This is supported by the use of Machine Learning and Language Learning in Siri's AI. Therefore, it keeps track of all your activities (don't worry – it's kept private since Apple doesn't collect this data).
If you ask Siri, "Hey Siri, play my favorite song," then it will automatically do so for you – based on who you are! When I asked Siri to do so, she automatically played "Lateralus" by Tool! Interestingly, my roommate asked the same, and Siri automatically played "Rap God" by Eminem! Sirir became our new favorite roommate for quite a few days!
Sound Quality: Small Size, Big Sound
Now, coming to the main aspect of the HomePod Mini that you wish to know the most – it's sound quality. Here, I would say it's pretty good. It's not exceptional, but it's pretty good for its size and scope.
Since you will be primarily sticking with Apple Music, I loved the fact that the HomePod Mini supports lossless audio. Therefore, you can listen to your favorite song in its highest possible quality.
Regarding the sound quality in general, it's amazing. I never expected a device this small to produce such a loud and crystal-clear sound!
In my room, I didn't need to go past 70% volume since it was pretty loud enough for me. Plus, even if you go for full volume, there is no audible distortion whatsoever. All instruments and vocals can be heard clearly!
When it comes to its audio equalization, it's perfect. Unlike many other smart speakers, I never felt the bass overpowering everything else. It's balanced perfectly, making it perfect for listening to all genres.
However, if you are a self-declared "basshead," then you will be satiated as well. My roommate (a lover of bass-heavy hip-hop and techno music) loved the bass, even though it's in its default EQ. Perfect!
The same can be said for watching movies and playing games on your iPhone 14 Pro Max. Every gunshot and grenade explosion in Call of Duty made me love the game's sound design even more.
Plus, watching the last Lion King movie made me enjoy its dramatic and swelling soundtrack even more. I literally started shouting, "Naaaaaziveniiaaaaa babadibabada." – and realized this tiny speaker is still louder!
Apple HomePod Mini Alternatives
Some of the best smart home speakers that you can buy instead of the HomePod Mini in 2023 are:
1. Amazon Echo Dot
Price: $49.99
The Amazon Echo Dot with Alexa is one of the biggest competitors of the HomePod Mini. While it's selling at half its price, the sound quality is nowhere close. However, it has overall more features and more connectivity options, making it a good choice irrespective of which smartphone you use.
2. Google Nest Mini
Price: $49.99
Similarly priced as the Amazon Echo Dot, this smart speaker is the best for Android smartphone users. Having integrated YouTube Music, you can also stream songs from other services like Spotify as well. Plus, the sound quality is pretty good as well.
Final Verdict: Is The Apple HomePod Mini Worth Buying In 2023?
Yes, I absolutely recommend buying the Apple HomePod Mini in 2023. It has a small size, along with amazing sound quality as well.
However, this recommendation only extends to Apple users. This is because the best way to take advantage of all the features of this rice is to incorporate it with your Apple ecosystem. All your products should be Apple products, which extends to your family members and roommates as well. If not, any of its alternatives will be better options for you.
Pros
Cons
• Small size
• Affordable price
• Amazing sound quality
• Compatibility with the Apple ecosystem
• Siri knows what you like
• Only compatible with Apple products
• Siri has fewer features compared to Alexa or Google voice
• Direct competitors cost $50 less
• Only WiFi connectivity
More Resources: