Buying an iPhone in any country apart from the US has become a statement of success. Since it falls in the premium smartphone segment, everyone wants an iPhone in their hands. But are they just for show-off, or are they actually the best smartphones in the market? The latter might be true with last year's Apple iPhone 14 Pro Max.
Want to know why? Read this review till the end!
iPhone 14 Pro Max Release Date & Price
The Apple iPhone 14 Pro Max release date was September 16, 2022. It was released alongside the iPhone 14, iPhone Plus, and iPhone 14 Pro. Since it has been a year since its release, iPhone 15 is just around the corner, about to be released by the end of this month.
If you want to know whether this smartphone is available right now, then fret not. You can easily buy this from most stores and even find it online. But what is the Apple iPhone 14 Pro Max price? Its current price in the USA depends on how much storage you want. Here is the price chart as it's presented on its official web page:
| Storage | Price |
| --- | --- |
| 128 GB | $1,099 (installments – $45.79/month for 24 months) |
| 256 GB | $1,199 (installments – $49.95/month for 24 months) |
| 512 GB | $1,399 (installments – $58.29/month for 24 months) |
| 1 TB | $1,599 (installments – $66.62/month for 24 months) |
iPhone 14 Pro Max Specifications
The Apple iPhone 14 Pro Max specs are pretty much the same as the iPhone 14 Pro, with a bigger screen. Here are the specifications of this smartphone:
| | |
| --- | --- |
| OS | iOS 16 |
| Display | 6.7" LTPO Super Retina XDR OLED screen (120 Hz refresh rate ) |
| Processor | A16 Bionic Hexa Core (2 x 3.46 GHz + 4 x 2.02 GHz ) |
| RAM | 6 GB RAM |
| Storage | 128 GB / 256 GB / 512 GB / 1 TB |
| Battery | Li-On 4323 mAh battery |
| Rear Camera | 48 MP (wide), 12 MP (Telephoto), 12 MP (Ultrawide) |
| Front Camera | 12 MP (Wide) |
| Dust/Water Resistance | IP68 |
| Dimensions | 6.33" x 3.05" x 0.31" |
| Weight | 0.55 lbs (0.25 kg) |
| Colors | Gold, Silver, Space Black, Deep Purple |
iPhone 14 Pro Max Design & Build Quality: Top Notch
The design and build quality of the Apple iPhone 14 Pro Max is top-notch. It looks great (thanks to the new Dynamic Island screen cutout) and feels even better on your hand.
On the top, you will get to see the interactable dynamic island screen cut out. In all honesty, it looks incredible. But I believe it takes up a bit more screen space than the notch displays we see nowadays.
The iPhone 14 Pro Max's "rear" is terrific. It has a glassy stainless steel finish, which makes this smartphone look super luxurious. Plus, its soft matte finish also makes simple things like simply holding this phone a joy. Plus, it's pretty grippy, making it easy to hold as well.
However, the edges of the screen still feel relatively "straight" – a design that has existed since the OG iPhone 1. It still hasn't adopted the rounder sides of other phones (like the OnePlus 11).
Once you take this phone in your hand, you will instantly notice that the camera bump behind is a bit bigger than before. This is not exactly something bad, and almost all phones nowadays have bigger camera bumps (a new aesthetic trend). There are three cameras at the back and a pretty big flash on the top.
Instead of a SIM card tray, we get an eSIM port. However, not all carriers provide eSIM.
Overall, it looks great, making premium and iPhone purists smile with joy. However, it's by far the heaviest iPhone I've ever had. But this was not much of an issue for me. It also comes in four color options, which all look great. Plus, you have IP68 water resistance as well, which will make swimmers smile.
iPhone 14 Pro Max Display: Dynamic Island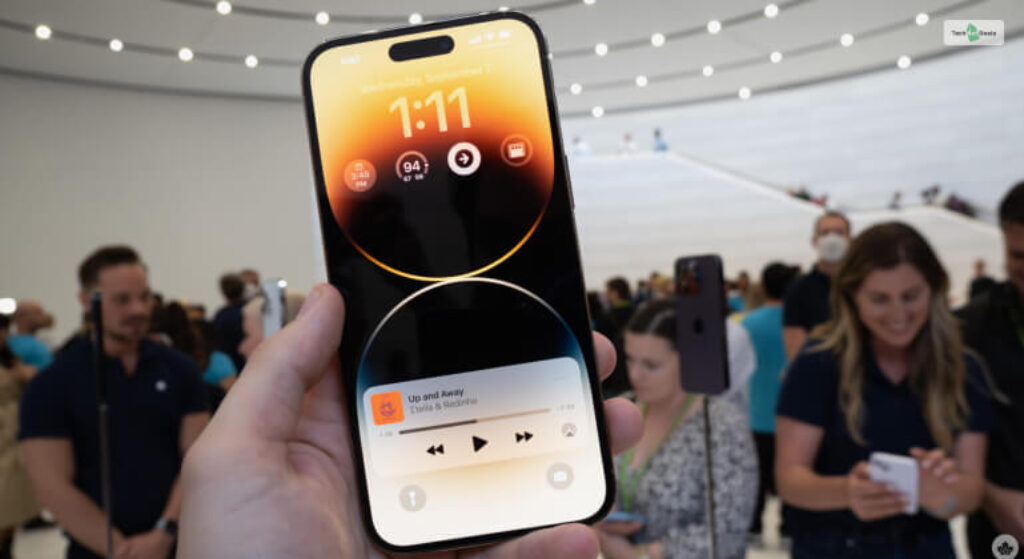 In all honesty, I thought the Apple iPhone 14 Pro Max Dynamic Island would be nothing more than a gimmick at launch. Never have I been so wrong.
Sure, the screen cutout on the top looks big and unnecessary. I thought the smaller top-notch was far better. As I started to use its features more, I actually started enjoying it. While I was on a call, I was able to see my call timer on the "island" at the top. It also showed spatial waveforms while I listened to music, along with the track timeline. Isn't that cool?
Enough talking about the Dynamic Island, and let's go back to the screen in hand. Overall, it's a great screen, as expected from Apple. It has a resolution of 1290 x 2796 pixels, supporting HDR10 Dolby Vision. This makes everything on the screen appear more vivid and crisp.
Another feature is it's always on screen. This means you will always be able to see something on your screen, be it an analog clock or your notifications. However, it turns off automatically if you put the phone in your pocket or place it screen-down on your table or bed, it automatically turns off. Nice!
Watching movies and playing games is a blast on the Apple iPhone 14 Pro Max. Due to its high resolution, brightness (1,565 Nits), and retina AMOLED display, everything on my screen came to life. Games looked bombastic, and it ensures somber movies stay somber. Perfect!
iPhone 14 Max Pro Audio: Crystal Clear
Regarding audio quality, the Apple iPhone 14 Pro Max speakers are more or less the same as the iPhone 13. There's a row of speakers at the bottom of this phone, near its Lightning USB port.
Regarding its loudness, it was loud enough for my taste. Sure, it's not as loud as the Nothing Phone 2 speakers, but loud enough. Plus, I liked what I listened to. Movies and YouTube videos sounded as glorious as they should, along with music that sounded punchy enough.
But to get the best experience, I recommend buying the AirPods Pro 3 when they come out in the future. Listening to Apple Music Classical should feel "classical" if you have such great earbuds.
iPhone 14 Pro Max Battery: Better Than Before
iPhones have received much slack for their batteries not performing up to the mark. Android phones simply lasted longer in this segment, even if they have the same mAH rating.
Many claimed that it was poor iOS optimization that resulted in faster drainage. Whatever the case was, iPhone batteries have come a long way since their oft-begotten iPhone X days. Here, the battery life of the iPhone CE 2023 and Apple iPhone 14 Pro Max are proof of that.
This phone has a 4,323 mAh battery, which does its job pretty well. On average, a single charge would last around 13.5 hours of normal usage. Normal usage to me means attending the regular calls, WhatsApp texts, and some social media doomscrolling.
However, if you decide to binge-watch the new episodes of the One Piece Netflix live-action series or play some high-end games like Genshin Impact or Call of Duty: Mobile, then expect it to go down to around the 8-hour mark.
However, charging is still painfully slow due to its 15 W charging capacity. Most modern Android chargers are far better, like the OnePlus 11 having a 100 W charger that makes charging complete in a matter of minutes. Here, the Apple iPhone 14 Pro Max takes roughly an hour for a full charge, while the OnePlus 11 does so in 25 minutes.
Funnily, its battery life is still better than what most smartphones provide. Therefore, I was pretty satisfied with what wizardry Apple has pulled off here. The battery is amazing, and that's great news if you are an iPhone user! However, I wish they could show their charger some love.
iPhone 14 Pro Max iOS 16: Dynamic Than Before
iOS is miles ahead of Android, and that's not something new that you should know. Everyone knows this. And it's also the exact reason why people will buy the Apple iPhone 14 Pro Max.
One of the best accomplishments of Apple lies in the fact that iOS is still one of the easiest and most user-friendly OS in smartphones. The UI is intuitive and bound to make even your not-so-tech-savvy grandpa a loyal iPhone user.
However, the biggest addition to iOS 16 lies in its use of Dynamic Island. Now, you can see all your info in one space.
Located at the black bar at the top of your screen in place of the standard notch, it shows various information like call timer, FaceID prompts, album artworks of the music you are listening to, AirPods connection pop-ups, Apple Maps directions, and more!
This is an interesting concept that I have never really seen before, and I fully support it. Even though it has fewer uses than I initially thought. (or didn't), I have to give it some time. I expect Apple to create new features for it and make it its USP.
iPhone 14 Pro Max Camera
I know that everyone reading this wants to know more about the Apple iPhone 14 Pro Max camera. If you are one of them, you are in the right place.
Rear Camera
The first on the list is its primary 48 MP wide-angle camera, which is amazing. I thought that the Google Pixel 7 might have the best camera in a smartphone, but this one blew my mind.
The pictures and videos it clicked are amazing, especially its videos. With great features like a sensor-shift optical stabilizer and a 2x optical zoom lens, even the horizon will be in your sight!
No matter the camera's lighting conditions, it will still take some of the best photos you can click on a smartphone. The colors pop out vibrantly from each photo, with high detail. Even if you zoom in on an image, it still doesn't appear as blurry as expected.
When clicking pictures, the natural depth of field detection is excellent. Taking portrait shots will naturally blur out the background with utmost precision to keep the subjects in focus.
Low-light photography is fun since the cameras do an excellent job of automatically brightening up darker areas. Therefore, if you think low-light pics will appear dim, then the natural bokeh will make it seem bright, maintaining a high quality of detail.
The 12 MP ultrawide camera is also excellent. While its level of detail is not as good as the main camera, it's still pretty good. At least there is no unnecessary distortion and fish-eye effect on ultrawide shots this time. Zoom it closer to an object, and it will automatically shift to macro mode – which is one of the best there is now.
The 12 MP telephoto camera is pretty decent with its 3x zoom. However, it's still weak compared to the 30x and 100x zoom on the Samsung Galaxy S22 Ultra. At least the photos are not blurry.
Front Camera
The 12 MP selfie camera is pretty good, clicking great selfies that require no edits to be posted on Instagram.
I loved the snappy autofocus of this camera, which automatically blurred my background. It also does the same if you take a group selfie. The front camera photos are well-detailed and bright, a significant step up from the iPhone 13 Pro selfie camera.
Overall, I am impressed by both the Apple iPhone 14 Pro Max rear and front cameras, which are some of the best on any smartphone right now.
iPhone 14 Pro Max Performance: The Best There Is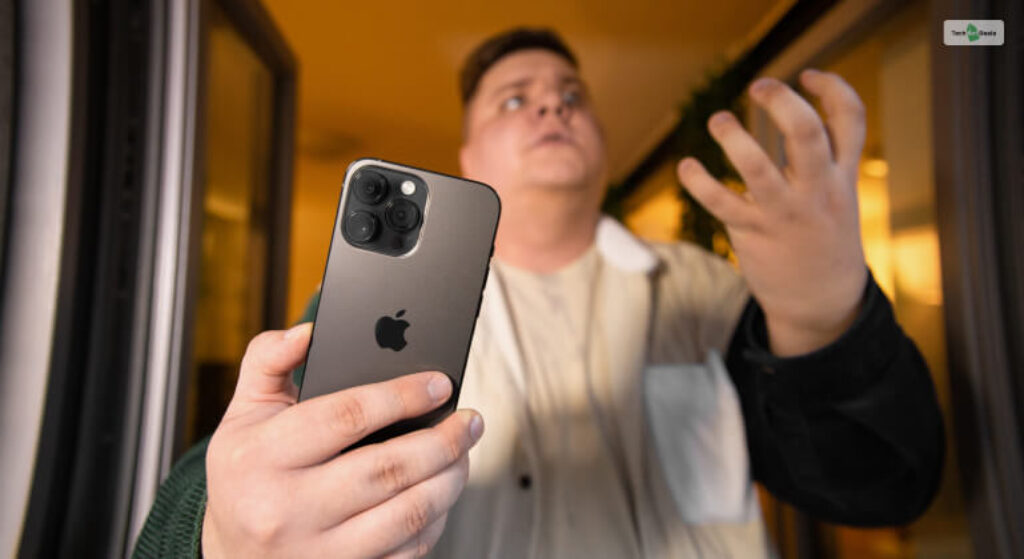 There is little to say about the Apple iPhone 14 Pro Max performance. It's fast, snappy, and gets everything done effortlessly.
While using heavier apps like Canva and iMovie, it ran flawlessly, even while editing high-resolution pictures and 4k videos. Multitasking is also fun with this smartphone, as everything opens and closes with a snap. Seriously, it's as smooth as butter.
Regarding gaming, you will never face lags. I played Call of Duty: Mobile and Genshin Impact at their highest graphical settings, and I was amazed by their performance. Its smooth 120 Hz screen indeed makes your experience even better. As a gamer, I loved playing games in this at the highest quality and performance.
While recording my gameplay, I got zero frame drops, which is an impressive feat. I love how the processor handles the tasks so effectively, even if the phone has only 6 GB RAM, comparable to Android phones' powerful 12 GB models.
Overall, its A16 Bionic Chip makes every task smooth as silk. Multitasking feels like a breeze, and it's snappy even while multitasking with many active apps simultaneously.
Best iPhone 14 Pro Max Android Alternatives
If you want an Android phone with a similar level of power and speed comparable to the Apple iPhone 14 Pro Max, here are the three best Android phones of 2023 I recommend:
1. OnePlus 11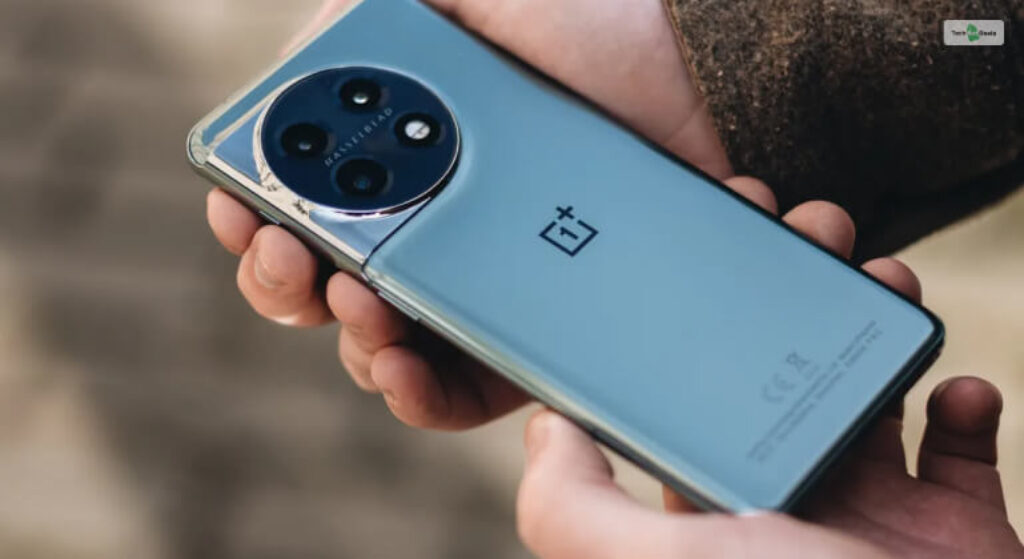 Price: $699 – $799
OnePlus has cemented its reputation as one of the best Android smartphone manufacturers. Even though its Oxygen OS is more or less the same as Oppo's ColorOS, the 50 MP Hasselblad camera, 6.7" 120 Hz curved edge display, 5000 mAh, and Snapdragon 8 Gen 2 processor make it a pretty good choice.
2. Google Pixel 7 Pro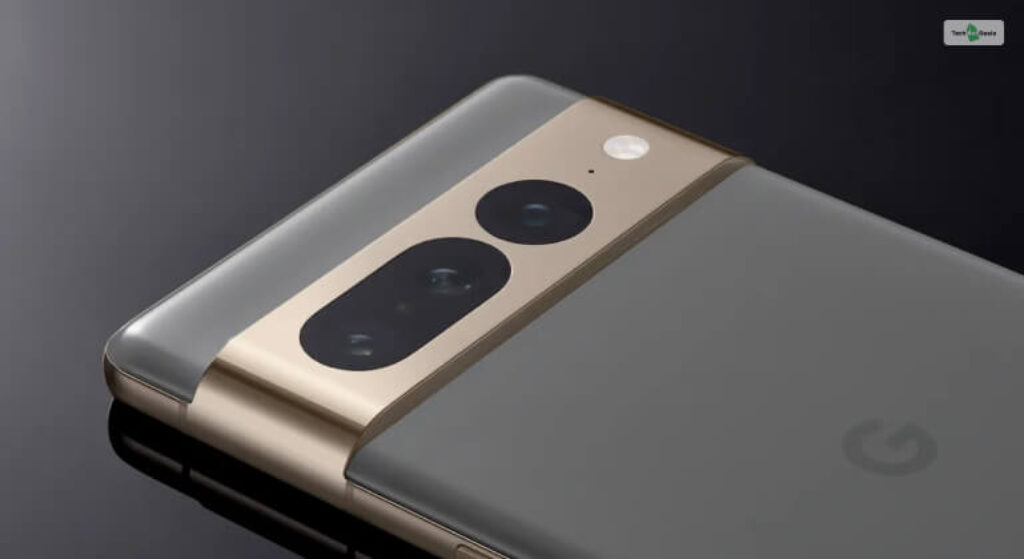 Price: $899
The new Tensor G2 processor, packed with one of the best triple camera systems, 12 GB RAM, and an impressive 6.7" screen, makes this phone a great choice. Also, keep your eyes out for the upcoming Pixel 8 variants.
3. Samsung Galaxy S23 Ultra
Price: $1,199 – $1,699
Being one of the strongest Android smartphones, this phone has a camera and a vivid display that rivals the likes of the Apple iPhone 14 Pro Max at a slightly cheaper price. With beefy specs and an amazing 6.8" screen, go for this if you can pay for it.
Final Verdict: Should You Buy iPhone 14 Pro Max In 2023?
Should you buy the Apple iPhone 15 Pro Max now? I would say yes. And no, as well.
Yes, because it's by far one of the best smartphones I've held in my hand. From its premium design, fast and snappy performance, and its Hollywood-worthy camera, it's a no-brainer to buy this phone if you can afford its $1,099 to $1,599 price tag.
However, I prefer reserving my thoughts about asking anyone to buy it now since the new iPhone 15 variants will be released soon. I expect the iPhone 15 Pro Max variant to be better than this. So check that out when it is released before buying a new smartphone.
Pros
Cons
• Amazing cameras
• Great 120 Hz display
• Top-notch performance
• Looks amazing (and very premium)
• Intuitive always-in display
• Dynamic Island is a joy
• Good battery life
• This phone is a bit heavy
• This is one of the most expensive smartphones
• Slow charging speed
• Dynamic Island needs more features and updates
More Resources: