Even though Western classical music is centuries old now, the music of Mozart, Beethoven, and Paganini, and still relevant even today. With modern Western classical artists like Hans Abrahamsen, George Benjamin, Tigran Hamasyan, Jacob Collier, and Chopin making names, it's no surprise that Apple decided to launch Apple Music Classical – a classical-only version of Apple Music.
But is this app really necessary when you can get its entire library in standard Apple Music? Read this review post to find out!
What Is Apple Music Classical?
As the name suggests, Apple Music Classical is a unique version of Apple Music. This version is made specifically for classical music lovers who have a fine ear for soaring melodies and operatic grandiosity.
Apple chose to go this route to serve a special section of its user base because it had already acquired Primephonic – a music streaming service specifically for classical music – in early 2021.
From 28th March 2023, Apple decided to re-launch the library and metadata of all its tracks under Apple Music Classical. However, Android users will be disappointed since Apple Music Classical Android doesn't exist yet. Just use Spotify or YouTube Music like you normally do! Or you can look at this smartphone buying guide to buy best Apple phones in India!
How Big Is The Apple Music Classical Library?
Now that you already know that Apple Music Classical has integrated the entire library of Primephonic – it's safe to say that Apple Classical has a vast library.
Apple has stated that this streaming service has more than 5 million songs as of now, with new tracks being added upon release. However, Apple has also stated that it has partnered with various opera and orchestra companies. This means that you might see Apple Music Classical exclusive tracks sooner rather than later.
To do a check, I consulted a few friends of mine who were into classical music. Since I am mostly into hip-hop and rock music, my knowledge of classical music is a bit on the lower side of engaging conversations regarding it.
After he suggested to me quite a few "rare oddities" in the classical musical catalog – I did a search. To my surprise – I did find those songs in the Apple Classical library. I guess they did spend a lot to get licensing rights to get these tracks on their streaming platform!
However, as I searched for these songs on other platforms – it seems that they're there as well. Therefore, it's safe to say that the Apple Music Classical music library is equally big as that of Spotify and YouTube Music. Amazon Prime Music was never in the league of these three, and it will never be. Sorry, Mr. Bezos.
Moreover, I loved the fact that video game music is included in its catalog.
I was happy to find tracks from video games like The Legend of Zelda (by Koji Kondo), Final Fantasy (by the legendary Nobuo Uematsu), and Ghost Of Tsushima (by Ilan Ehskeri). If you are interested in classical music, give these songs a try. You might like them.
Features I Liked In Apple Music Classical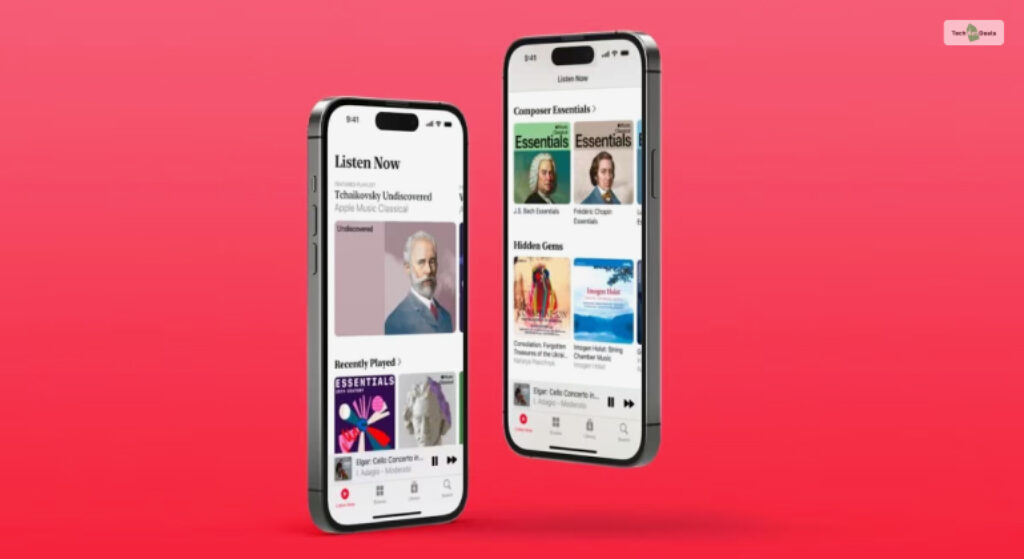 While Apple Music Classical might not be my jam, it does have all the noteworthy features that make Apple Music great. It's more or less similar to Apple Music, with a few additions.
First off, let me start by explaining some of the differences. The app's home page is now called "Listen Now," which features new tracks that you might like. It also includes curated recommendations based on the type of classical music you listen to, along with your favorite artists.
Aside from the unusual segregations in other apps in the form of Artists, Genres, Moods, etc., Apple Music Classical offers a lot more. The "Browse" page now offers many more categories:
Composers
Conductors
Orchestras
Choirs
Soloists
Ensembles
Periods
Genres
However, the best addition to Apple Music Classical that's not in iTunes is its detailed metadata. Transferred over directly from Primephonic, you can click on the title of a song to see more info. Here, you will be able to see the bios of the artists, their most popular songs, and recommendations of similar artists.
In addition, I loved the overall UI of Apple Music Classical. Apple has always been the champion of aesthetics, and this app is no different. It's clean and very user-friendly, which will be perfect for boomers, who constitute the majority of classical music lovers.
How Good Is The Sound Quality?
One of the most unique aspects of Apple Music Classical is its support for spatial audio tracks. These are tracks that are higher in quality than the standard 320-bitrate tracks that you hear. However, spatial audio can only be played and heard using AirPods.
Another great quality feature that this app borrows from iTunes is the availability of high-resolution lossless quality. From its settings, you will get three options to choose from – Low Quality/ Data Saver (128 kbps), Normal (256 kbps), High Quality (320 kbps), and Lossless (1,411 kbps).
However, the option for Lossless quality tracks is not available in the app by default. To have this option turned up in the app settings, you need to go to iPhone settings and enable "Lossless Audio" from the Audio Quality option in Settings.
When I turned on Lossless Quality, the difference I felt was noticeable. I could hear every instrument clearly, and the mx appeared to be a lot more balanced. I blasted it to bliss on my Google Home Max White speakers.
Apple Music Classical Price And Subscription
While Apple Music Classical appears to be a standalone app on its own, you need to have the standard Apple Music subscription to avail of this version for zero cost. You will also get this if you have subscribed to the Family and Student plans of Apple Music.
However, if you just want an Apple Music Classical subscription without Apple Music, you are out of luck. You have to pay $9.99 per month for individuals and $14.99 for family subscriptions.
Final Verdict: Do You Really Need The Apple Music Classical In 2023?
As a music lover, Apple Music Classical seems to be a love letter to classical music lovers. Featuring an extensive collection of the best classical music has to offer. This is a great classical music-only app for classical purists who already have an Apple Music subscription.
However, if you are not interested in classical music, stay away. Simply having Apple Music will do it for you.
Pros
Cons
• Extensive catalog of classical music
• High-quality lossless audio
• More metadata on artists
• Only available on iPhones and Mac/Macbooks
• Lossless quality is hidden behind the actual iPhone settings
More Resources: