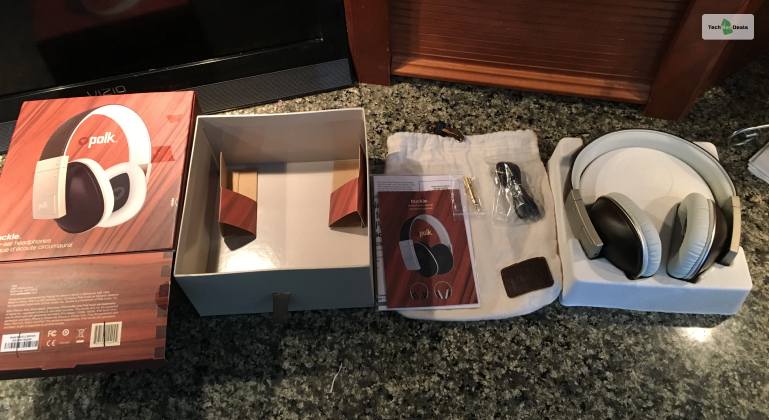 If you want a headset that you can wear comfortably for extended periods, then the Polk Audio Buckle headset might be what you are looking for. With a premium design made out of faux leather and selling for $168, its good sound quality justifies its price – or does it?
Read my in-depth review of this headset by reading this post till the end.
Polk Audio Buckle Specifications
The primary specifications of the Polk Audio Buckle are:
| | |
| --- | --- |
| Headset Type | Over-ear |
| Controls | Volume, Call/Playback |
| Weight | 0.8 pounds |
| Dimensions | 7" (L) x 7" (W) x 3.3" (H) |
| Microphone | In-line |
| Connectivity | Wired (4 feet) |
| Compatibility | PC, Smartphones |
| Colors | Black on silver, Brown on white |
| Release Date | March 2018 |
| Price | $168 (Amazon) |
Polk Audio Buckle Features:
After fiddling around with the Polk Audio Buckle headset that I received, here's how impressed I am, put in words.
1. Design
Like other headsets in this price range, the Polk Audio Buckle has a premium design that looks flimsy. When I looked at this aluminum headset for the first time, I thought it might not be a premium one. However, I was proved wrong after actually using it.
The headband itself is covered in premium faux leather, which looked terrific on brown (the version I tested). The earcups also had premium foams, which seemed pretty good. Here, the earcups hang from the headband using swivel hinges, giving it an old-school feel rarely seen today.
However, since the ear cups and the headphones are pretty big in size to cover the entire ear, they are heavy. In addition, considering that this is a wired headset, I did not find it to be portable. It's best used while on the desk, not while jogging down the streets. This is also accentuated by the fact that you cannot fold it.
Regarding noise isolation, the Polk Audio Buckle makes quite a few compromises. Noise isolation is pretty poor with this headset. I was traveling on the bus one day wearing this. Even though I blasted heavy metal music at full volume, I could still hear bystanders speak, and car honks pretty easily.
However, judging from the passenger sitting beside me, I guess this has relatively lower noise leakage, even at full volume!
However, I appreciate Polk Audio for including a cloth pouch which you get for free. This makes me worry-free while carrying it in my bag. However, it's not a durable case. Therefore, try to carry it around peacefully!
2. Comfort
I loved the foams used in the pads of the Polk Audio Buckle, which makes them pretty comfortable. I wore this headset for five to six hours at a stretch without feeling any discomfort in my ears.
However, they might be a bit too heavy for people with smaller head sizes. Since my head size is pretty average, you can only wear and feel it for yourself. Again, these are not made with portability in mind, as the headset often swiveled sideways when I turned my head a bit too fast.
3. Connectivity
The Polk Audio Buckle has no wireless Bluetooth connectivity. It's a fully wired headset, which you can connect to your system using a very long 4 feet cable. This is one of the most extended 3.5 mm cables I have seen that comes pre-packed with a headset.
Regarding connectivity, you can connect it to any system that uses a 3.5 mm audio jack. However, it works best on computers and smartphones. I experienced several disconnection issues while this was connected to my PlayStation 4.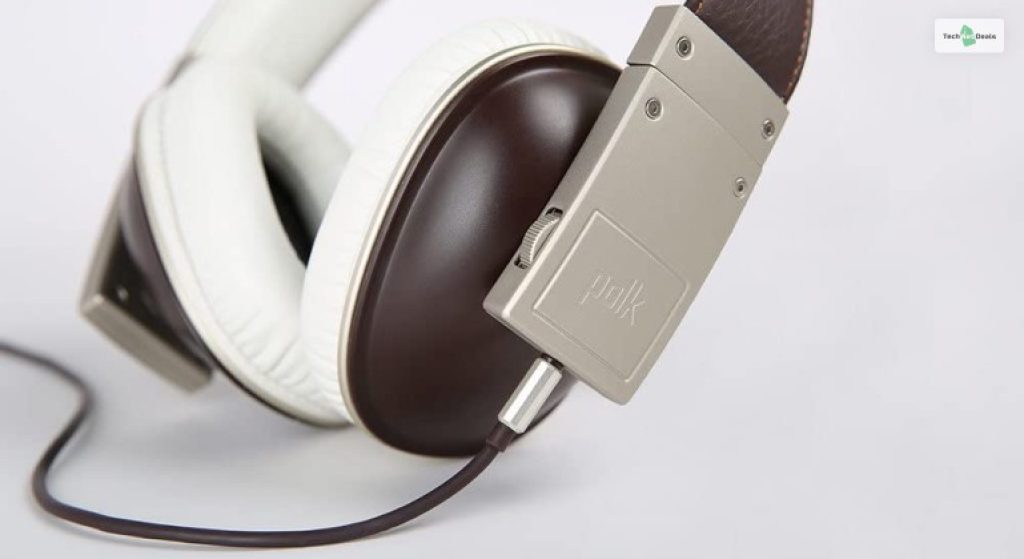 However, I am pretty sure this headset was designed with iOS devices in mind. This is proved by the iOS control dial present in the connector cable. You can only use it while this is connected to an iPhone, iPad, or Macbook. You can use it for music playback, receiving calls, and even adjusting the volume.
4. Microphone
Unfortunately, the Polk Audio Buckle headset has no boom mic. Therefore, if you are a gamer like me, it might hamper your online multiplayer communication if you have no mics. This is purely made with music listeners in mind.
However, it has a microphone inside – an in-line microphone. It's present on the connecting cable, similar to old-school earphones. After asking my friends on Discord about how my mic sounded, they all said the same thing – "very muffled and almost inaudible."
5. Sound Quality
Now, we finally come to my impression of the sound quality of the Polk Audio Buckle. Here, I will say that it's pretty good.
I used this for both listening to music and gaming as well. While listening to the music, it sounded pretty good. I liked how balanced the bass and the treble were equalized, which is pretty good. Although I like my sound to be a bit bassy, this was still good enough for me.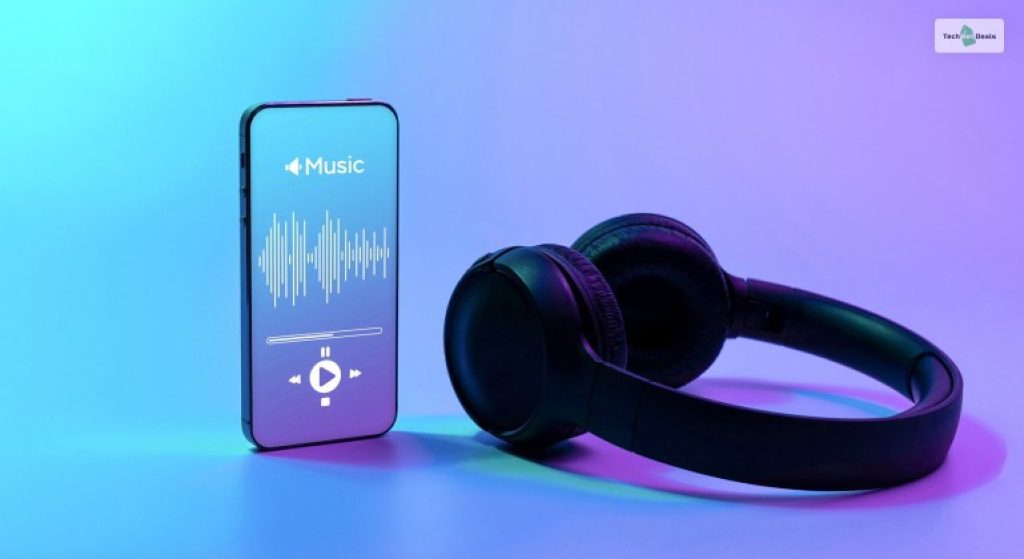 On the other hand, gaming also felt pretty good here. Since I mostly play shooters like Valorant and Rainbow Six: Siege, I could hear enemy footsteps and gunshots pretty clearly. Plus, it was clear enough to help me understand from which direction the sound was coming.
Best Polk Audio Buckle Alternatives:
If all the features of the Polk Audio Buckle I mentioned above did not excite you, then I have some pretty good alternatives in mind.
If you want something similarly priced, then the SteelSeries Arctis 3 2019 edition wireless will be a wise choice for its superb sound quality at $130. In addition, you can also have a look at Sennheiser Game One Gaming Headset, which is another good headset that sells for $110.
In addition, if you want better sound quality at a higher price, go for the Astro A40 TR headset + MixAmp Pro 2017 for $189. Also, if you want something cheaper, the Monoprice 110010 for $50 can also be a good grab.
Final Verdict: Should I Buy The Polk Audio Buckle In 2023?
The Polk Audio Buckle headset will be a good choice for iOS and macOS users for its in-line controls. Otherwise, it's still a pretty decent buy.
This headset has good sound quality and a comfortable design that looks pretty premium. However, its poor noise isolation and lack of a boom mic leave much to be desired, considering its $168 price tag compared to other competitors.
PROS
CONS
• Good sound quality
• Better controls for iOS devices
• Sturdy design with a premium feel
• Comfortable and soft earcups
• Not meant for portable use
• No dedicated boom mic
• Poor noise isolation
• Better alternatives in this price range
Read Also: