If you require a gaming headset in 2023 under the $100 to $150 price range, then the SteelSeries Arctis 3 2019 edition wireless will be one of your best choices. Featuring wired and wireless connectivity, this is an excellent headset for people who wish to game comfortably at a $130 price tag.
Learn more about this headset by reading this post till the end.
SteelSeries Arctis 3 2019 Edition Wireless Specifications:
The primary Steelseries Arctis 3 2019 edition wireless specs are:
| | |
| --- | --- |
| Type | Over the ear |
| Connectivity | Wired (3.5mm and USB) + Wireless (Bluetooth) |
| Weight | 0.65 pounds |
| Battery Life | 42 hours |
| Bluetooth | v4.1 |
| Latency | 99 ms |
| Microphone | Yes (Detachable) |
| Controls | Volume, Call/Playback, Microphone Mute/Unmute, Bluetooth |
| Colors Available | Black, White |
| Release Date | 2018 |
| Price (2023) | $129.99 |
Steelseries Arctis 3 2019 Edition Wireless Review:
The main features that I will go through in this SteelSeries Arctis 3 2019 review are:
1. Design
When it comes to the design of the SteelSeries Arctis 3, it looks big and hefty. At first glance, I thought it would be pretty heavy, and my ears would start aching after some time.
However, when I finally opened the box and took this headset in my hand, I was surprised by its weight. It's light, weighing only 0.65 pounds. This is because of its entire plastic body, which appeared to be flexible and bendy.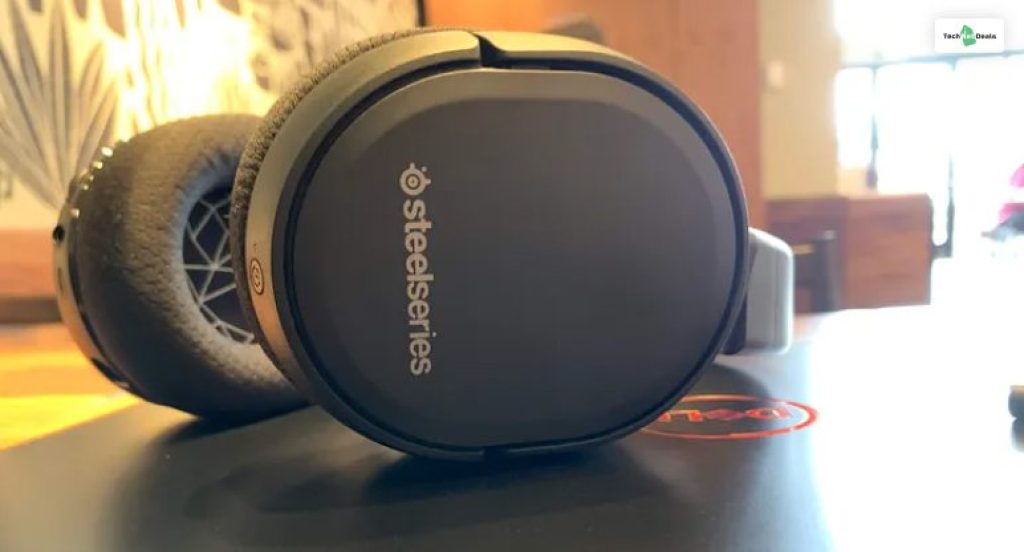 The overall outer finish feels very rubbery and matte-like, which I loved a lot. This finish gives this headset a premium feel, which it should have, considering its price point.
The earcups are flexible and can be turned around a lot since it's attached to the headband using metal hinges. This allowed me to rest the headset on my head, ears, and cheeks easily without many adjustments.
However, regarding the sturdiness of the design, SteelSeries could have done a better job here. It sometimes feels clunky, especially the band and the rotating ear cup hinges. There have been many times when I felt a good twist to the earcups, or the band would break it.
In addition, if you are using it wirelessly for jogs and gymming, the headset can feel wobbly. Although it didn't come off entirely on my early-morning running test, it can still feel a bit too loose.
2. Comfortability
Upon wearing the Arctis 3 on my head, I was surprised by its comfort despite its big earcups. The earcups are made of memory foam, covered with a fabric cover. The fabric cover is a great addition since it keeps our ears from getting too warm while wearing this for long hours.
It felt soft, and I had no problem wearing it and gaming for 6 hours straight. My ear didn't ache at all when I did so. However, since the ear cups are so big, the space inside for wiggling our ears feels cramped. My ears brushed with the drivers inside, which might feel uncomfortable for many.
3. Portability
Since this is a Bluetooth headset like the Monoprice 110010, it should be tuned for portability. After using it for a few days, I can say it's rightfully not so.
Regarding portability, I want a headset that I can wear outdoors pretty comfortably. Along with this, I should be able to carry it around easily too.
In the case of this headset, the latter is where it fails. Since this sports a very bulky (albeit lightweight) design, its non-bendable nature makes it difficult to carry it around. Sure, you can put it in your backpack, but it will be challenging to do so if there are other things in it.
4. Connectivity And Controls
The SteelSeries Arctis 3 Bluetooth headset features both wired and wireless connectivity.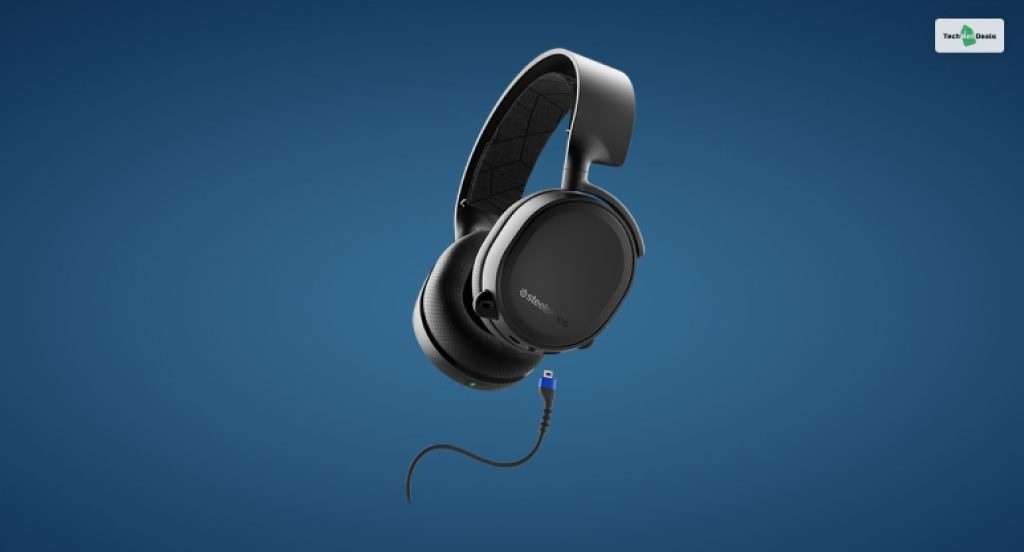 As a cross-platform gaming headset, you can connect it via Bluetooth with your smartphone, computer, or gaming console. Here's a list of all the devices you can connect this gaming headset with:
Bluetooth-enabled smartphones
Computers
Laptops
PlayStation 4/5
Microsoft Xbox One, Series X/S
Nintendo Switch
If you wish to use it as a wired headset, you can either use the 3.5 mm aux cable or the 8 mm audio input port. Both will provide the same latency and similar sound quality and feedback. The cables provided on the box might not be braided, but they are of pretty high quality.
Regarding controls, you get the following:
A mute and unmute button for the mic
The volume dial wheel
Micro USB charging port
3.5 mm aux cable port
Bluetooth on and off button
5. Microphone Quality
Regarding gaming headset mics, I do not expect a high-quality mic to be present in any of them. However, the mic of the Arctis 3 is surprisingly good, way better than the Sennheiser Game One Gaming Headset.
When I played online games like Valorant and Fortnite, along with using them for voice chats on Discord and Google Meet, I asked others about the sound quality of my voice. They all agreed it was pretty good as if I was speaking using a separate mic. I had the same thought after I heard a few voice samples I have taken of myself.
6. Battery Life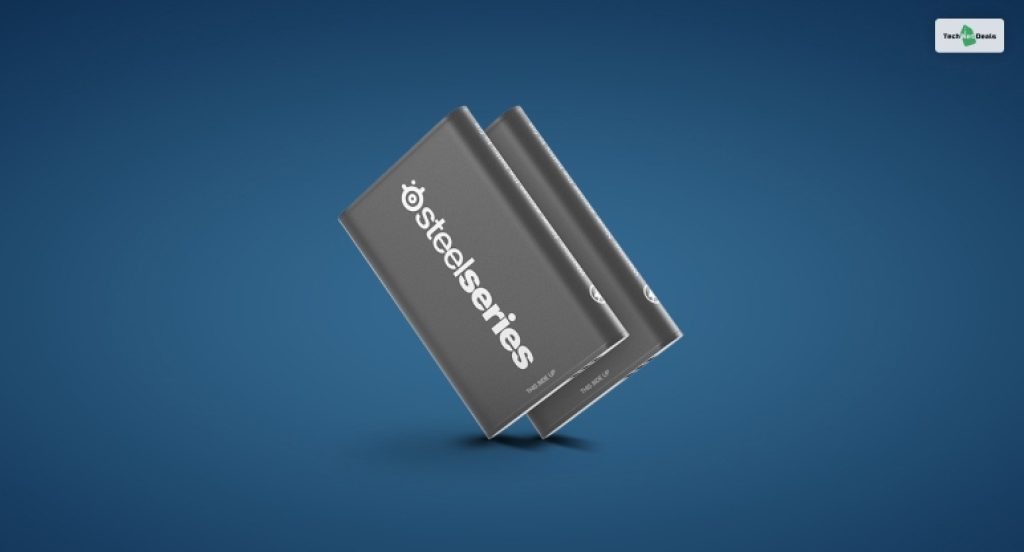 As a Bluetooth headset, the SteelSeries Arctis pro provides a long-lasting battery life. While SteelSeries claims that it will run for 42 hours, it lasted me 40 hours. In my opinion, this is pretty good for a Bluetooth gaming headset.
7. Sound Quality
To determine its performance in sound output and battery life, I conducted lots of tests on it.
Regarding music and movies, the SteelSeries Arctis 3 review sound quality is pretty good. While it may not be as great as the Astro A40 TR headset + MixAmp Pro 2017, it still delivered great sound overall. As a lover of rock, heavy metal, jazz, hip-hop, and noir movies, I was happy with their sound quality.
In terms of gaming, it's still a great performer. Although its 7.1 virtual surround sound didn't make too big of a difference, my multiplayer gaming sessions turned out to be pretty good. While playing Valorant and Rainbow Six: Siege, I could hear enemy footsteps and the drop of a grenade pretty clearly.
However, I noticed a lot of lag and latency while using this headset in Bluetooth mode across all devices. Therefore, if you are gaming, I would highly suggest using it plugged in.
In addition, I would recommend using the SteelSeries Engine software for the best results. With this application, you can tweak various sound settings, using which you can get a better experience.
Final Verdict
The SteelSeries Arctis 3 2019 edition wireless is a pretty high-quality headset, in my opinion. It features a very comfortable design, a fantastic mic, and nifty controls on the earcups. This headset also provides a high-quality sound output on all systems and scenarios.
It also has a 40-hour battery backup time, which is pretty impressive for a Bluetooth headset. Plus, you can improve everything using the SteelSeries Engine software for computers.
However, the main cons come in the form of its portability and increased latency while using wireless. In addition, its plastic body also makes it seem less durable.
Overall, I recommend buying this headset if you are willing to pay the $130 price for it.
PROS
CONS
• Great sound quality
• Outstanding mic
• Very comfortable
• Nifty earcup controls
• Seems to be less durable
• Not very portable
• Higher latency in wireless mode
Read Also: