Do you want a robotic name? I know robotic names can sound awesome, as if it came from the future. They can be wacky and exorbitant, as well as be weird and nerdy at the same time. If by any chance you want to be a robot (hypothetically), you will need the help of a robot name generator.
Therefore, to find the best robot name for yourself, I would highly suggest reading this article. Here, I have stated seven of the best robot name-generating websites that you can try out, for free. Therefore, keep reading to find out your robot name!
How To Find Your Robot Name Using A Robot Name Generator?
You can use a robot name generator to find the perfect name for your robot. Therefore, I would recommend you to visit these websites to find good names for robots.
1. Adazing
If you want an easy robot name generator, you can visit Adazing. This website allows you to choose robot names after you select a few options. To do so, you have to go through the following steps in order: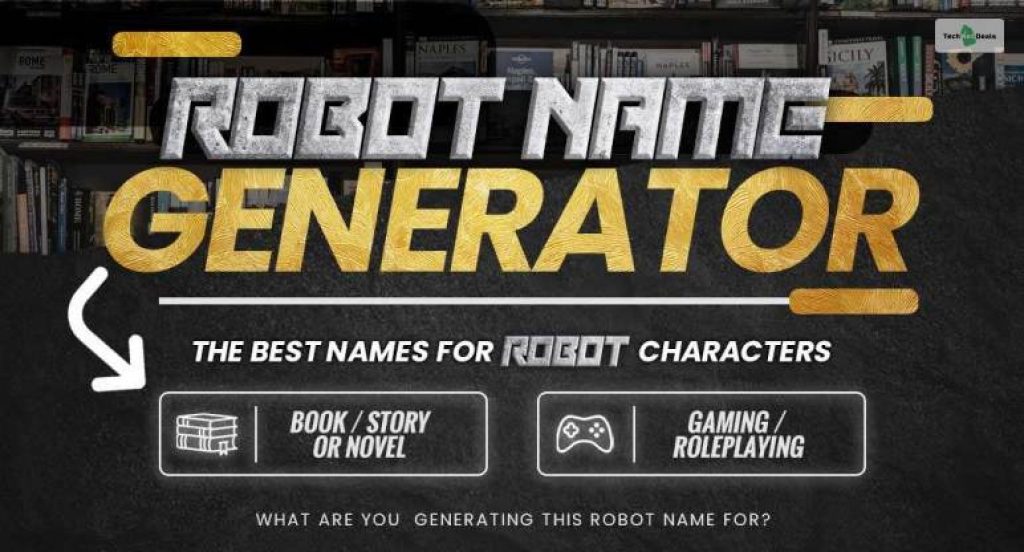 Go to the official website of Adazing.
When you open the page, you need to answer the first question – What Are You Generating This Robot Name For? You will get two options – Book/Story or Novel and Gaming/Roleplaying.
After you select one of the two options above, a new screen will pop up, asking you to Press "Generate" to create a random Robot name. The "Generate" button is below it, which you need to click.
When you click on "Generate", you will get one robot name shown on the screen. You can click the button as many times as you want. You will get a new robot name every time you do so.
2. Fantasy Name Generators
Fantasy Names Generators is another easy-to-use random robot name generator. Even simpler than Adazing, this robot names generator already has names generated immediately as you visit the website.
When you open this website, you will see a list of robot names generated. If you want new robot names, you can simply click on the Generate button at the bottom of the page. This will refresh the list, and a new set of names will be generated.
In addition, the first four names generated will be acronym names based on a purpose (for example – Strategic Expedition Emulator). The next four names will be robot nicknames (for example – Anne Droid). The final two names on the list will be random names, These will have a high chance of ending with 'roid', 'ator', 'oid', 'x', and 'tron'. This will definitely make the name sound like it's taken straight from a comic book or a video game.
3. Brainfall
Brainfall is another great question-based robot name generator. If you want a robot name for yourself, then this website is best for you. This website will ask you a series of questions from which you need to choose the answers. 
This is a great technique since it personalizes your robot name better according to who you are. Also, you can share it directly on Facebook after your name gets generated.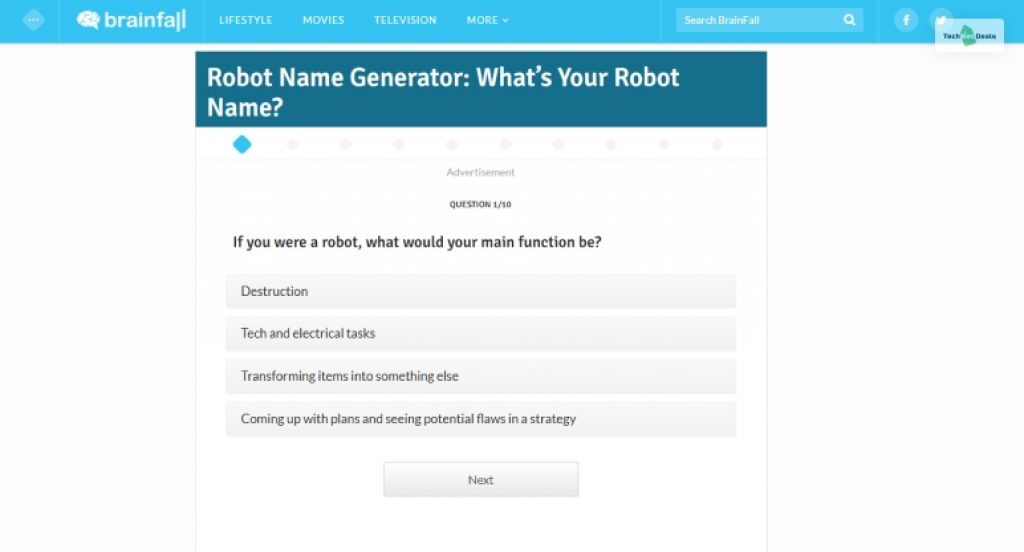 To generate robot names from Brainfall, you need to:
Open the Brainfall website.
Then, you have to start answering a series of ten questions.
After the last question, Brainfall will automatically scan the answers to these questions and generate the Get Result! Option. Click on it.
4. Name Robot
Name Robot is a website from which you can generate robot names and lots of other names as well. Unlike the other robot name generators on this list, you need to download the application called the NameRobot Toolbox from the website to start generating names.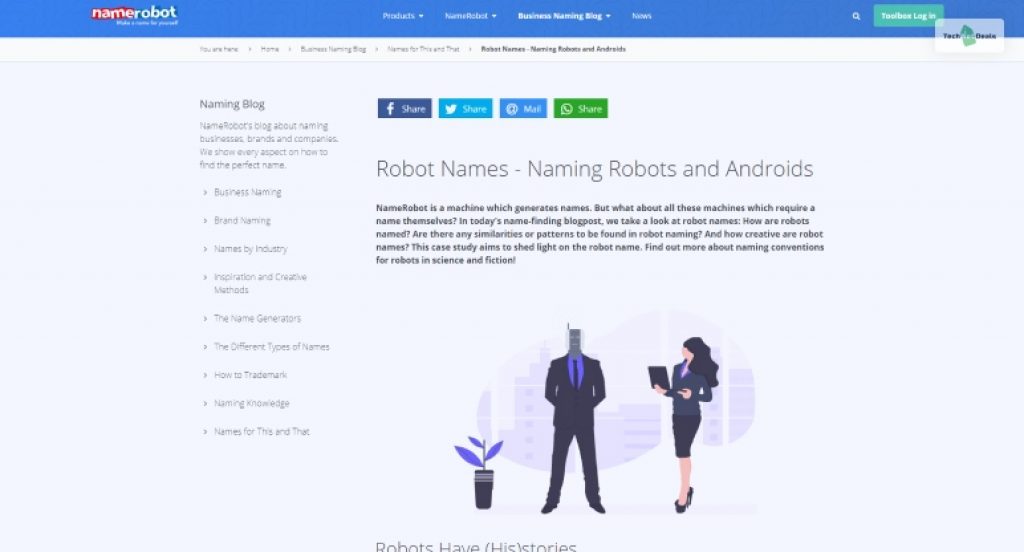 Then, you need to open this application and go through a series of questions to generate the robot name. It's pretty simple to use and often generates some weird and nerdy robot names for you!
5. Super Droid Generators
If you want to see a Robot generating Robot names for you, then you can consider your wish fulfilled. Super Dropid Generator exactly does what I just explained – generate robot names by a robot.
When you open this website, you will be greeted by a cute white robot called Super Bot. This bot is responsible for generating all the names related to its brethren.
To generate robot names , you need to click on the "Generate" button beside Super Bot. This will reload the page, after which you will be able to see a robot name generated by this bot. Each time you hit the "Generate button, you will be shown a new name, one at a time.
6. Quizony
As the name might suggest, Quizony is a great robot name generator that does its job perfectly. This website also has lots of questions with lots of answers for you to choose from. All in all, you will be asked 29 questions before this website generates a list of robot names for you.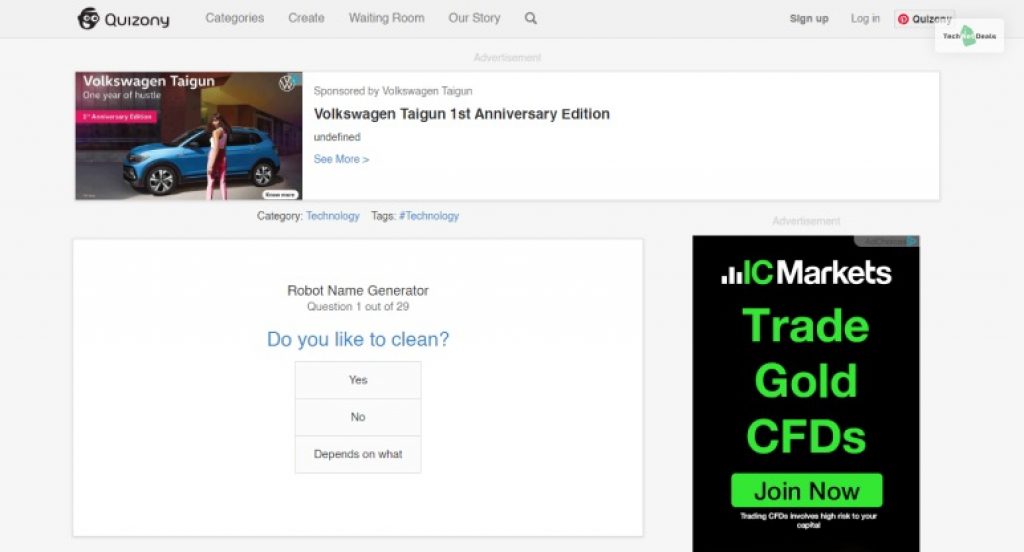 Apart from generating Robot names, this website also does a lot more. Quizony hosts a collection of quizzes and name generators that you might want to try out.
7. Generator Fun
If you want to have fun with multiple name generators, then Generator Fun has got you covered. This website has many name generators, including a robot name generator. In addition, it will also generate an image for you, so that you can get inspired to name yourself.
To generate robot names using Generator Fun, you need to:
Open the website.
Click on the "Generator" option above.
Select Robots from the list, or simply search for it there.
After selecting Robots, a new page will open up with lots of robot names.
You can click on Generate multiple times to generate new names every time. 
Frequently Asked Questions (FAQs):
Some frequently asked questions related to robot names generator are:
Q1. How Do You Come Up With A Robot Name?
You need to keep in mind a few things and ask yourself some questions to come up with the best robot name. They are:

1. Purpose of your robot.
2. The personality of the robot.
3. Decide on whether you want to. a "human-like" robot name.
4. Think about the gender of the rob.
Q2. What Is The Most Popular Robot Name?
Some of the most popular robot names are:

1. Optimus Prime
2. Robby the Robot
3. Wall E
4. HAL
5. The Terminator
6. Marvin The Paranoid Android
Q3. What Is A Good Name For A Female Robot?
If you use a female robot name generator, you will get some great female robot names like:

1. Cassandra
2. Ophelia
3. Dot
4. Eve
5. Freya
6. Emma-2
7. Dorothy

Q4. Is Siri A Robot Or A Human?
If you are an iOS user, you might get confused about whether Siri is a robot or a human. However, the answer is none of the above. Siri is an AI that has the robotic voice of a woman. The same can be said for Alexa also.
Conclusion
There are lots of robot name generator websites that will turn up if you search on Google. From the list, you can simply visit the best ones like Adazing, Quizony, and Brainfall to get the best names. 
If you found out your robot name, tell us what was generated for you down in the comment section below. Also, don't forget to visit TechNet Deals for more tech-related information!
Read Also: