I get it – your toddler is undeniably attracted to your smartphone. You fear they might drop it and break its screen or get too addicted to using it. Therefore, you have decided to fool them by using a toy phone. This is why I believe the YPhone can be your child's best friend in such situations.
Available for only $13, this toy phone has some exciting features to make it seem real. If your child has not used your smartphone a bit too much, you might even be successful in fooling them into believing that this is a real phone!
To learn more about this toy phone, keep reading until the end.
What To Look For In Toy Phones As A Parent?
I know that parenting is tough. But considering the way and how fast the technological landscape is changing around us, it's essential to embrace them from a young age. Therefore, it's vital that kids nowadays should know how to use a smartphone in the most responsible manner possible.
While I think kids should not be given smartphones until they are at least 13 years of age, some parents might think otherwise. Therefore, if you are a parent who wishes to educate your children about the use of smartphones, buying a toy phone might be a good idea.
Or, as in most cases, you see your child getting attracted to your expensive smartphone and trying to fiddle with it whenever possible. Therefore, parents are now in dire need of a phone that imitates a smartphone to keep their baby's hands off their phones.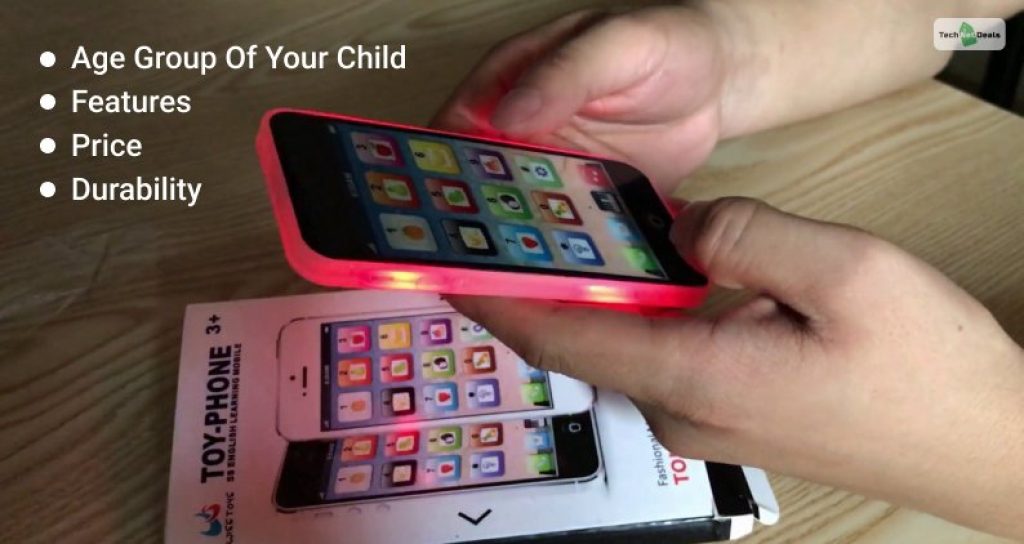 But which toy phone like YPhone will be a good buy for you? Keep on reading to learn about four essential factors to consider here.
1. Age Group Of Your Child
It's crucial to consider the age range that a toy smartphone is intended for, as well as the games and applications that are suitable for that age range.
For instance, a toy phone designed for children ages 3-5 might have fewer capabilities than one for children ages 6–8. Also, you can make games and applications on some phones, which may be an excellent pastime for big kids.
2. Features
The features of the particular model you're looking at are crucial factors to consider when picking a toy phone. Specific versions could come with cameras, music players, and other features. It is generally a good idea to compare the specifications of several products when purchasing one.
3. Price
If you plan on buying a toy phone for your toddler, it's best to learn how much they cost. Since these phones will have fewer features than fully-fledged smartphones, their costs must reflect and justify their features. Here, I believe spending too much on a toy phone is pointless since it will not have too many features.
4. Durability
Finally, it's essential to consider durability while choosing a play phone. Due to their design and the materials they are made from, certain phones might be more prone to shattering. Therefore, when purchasing, it is essential to consider how much use a specific model will receive.
YPhone Specifications:
The primary specifications of the YPhone are:
| | |
| --- | --- |
| Operating System | Android 4.0 Ice Cream Sandwich |
| Display | 3.5 inches |
| Battery Life | 20 hours |
| Available Colors | Blue, Pink, Green |
| Material | ABS Plastic |
| Dimensions | 12.5 cm (L) x 5.8 cm (W) x 0.8 cm (D) |
| Weight | 90 grams |
| USB Type | Micro USB |
YPhone Features
Before you decide to buy the YPhone for your child, it's best to know what you are signing up for. Therefore, here is a brief explanation of all YPhone features: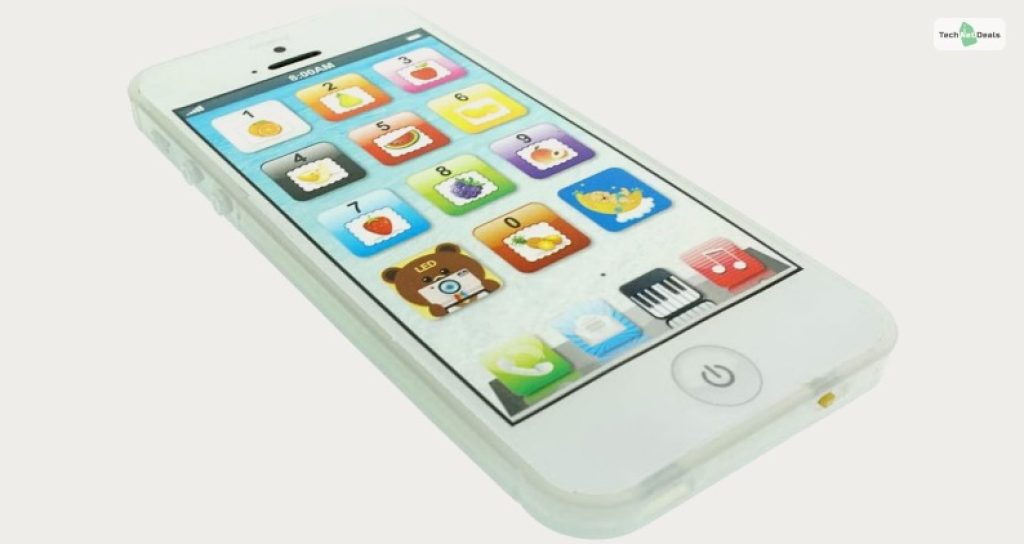 1. Display
The YPhone has a display of 3.5 inches. Therefore, if you want a comparison, let's say it's smaller than an iPhone Mini. The touch screen is nothing special since it's a fake screen!
If you have a look at the screen, you can see that it looks exactly like an iPhone. However, it does not have the user interface of an iPhone! It has no home screen, and it always shows the menu screen with 16 icons (3 x 3 grids + 1x 4 grids).
2. Lights
By pressing the power key on the bottom of the screen, your child can change the lighting around the phone's edges. Therefore, they will be able to toggle through various different lights or randomize them by long pressing the power button.
Applications – Music And Images
One of the primary highlights of the YPhone is what your child can do with it. Since it's a children's phone that imitates an actual smartphone, there are only a few limited applications here.
One of the primary applications of the YPhone is the availability of music that your child can play anytime.
Here, your child will get a selection of 10 tracks to play from. These tracks are composed in a "lo-fi" way to help your child fall asleep fast, like a lullaby. Using the volume keys on the sides, your child can change the songs if they want. Otherwise, the tracks will play on a loop if played.
In addition, there are a few ringtones and message alert notification sounds that can be triggered by tapping on the icons. Plus, your child can see pictures of fruits on the fake phone.
Charging Time
You can charge the YPhone toy phone with the micro USB charger provided on the box. It takes anywhere around tenuto twenty minutes to charge this phone. You can notice its current charge percentage by the color of the power button. It will turn from green to red as the charge gets depleted slowly. The YPhone will stay on for 3 hours at max.
Final Verdict – Is YPhone The Best Toy Phone For Toddlers?
If you want a toy phone for your children to keep their hands off of yours, the YPhone can be an excellent choice for you. Costing only $13, this phone has some basic features like changing lights and lullabies to help your children stay busy.
Check also: