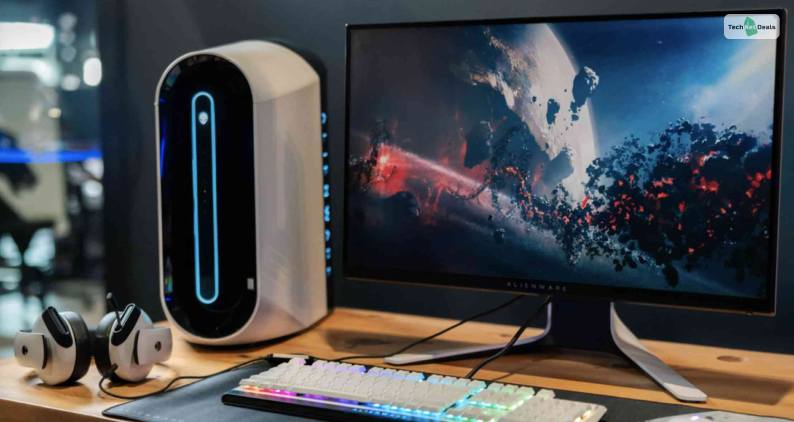 Most gamers think that assembling all the computer parts is the best way to build your gaming PC. However, there's an exceptionally dedicated sect of gamers that feels buying an upgradeable prebuilt PC is the way. If you are one of the few who belongs to the latter group, then have a look at this Dell Alienware Aurora 2019 gaming desktop review.
In this review, I will go over some of the main features of this beefy computer and also run some performance tests. In the end, In will give my personal opinions as to whether this computer will be good in 2023 or not.
Dell Alienware Aurora 2019 Specifications:
The primary specifications of the Dell Alienware Aurora 2019 R9 mid tower gaming desktop computer are:
| | |
| --- | --- |
| Release Date | 13th September 2019 |
| Operating System | Windows 10 Home (can be upgraded to Windows 11 Home) |
| Processor | 9th Generation Intel Core i7 9900k (8 cores, 5 GHz turbo boost) |
| Graphics Card | NVIDIA GeForce RTX 2080 Super 8 GB DDR6 OC |
| Memory | HyperX Fury 64GB DDR4 RAM (3200 MHz, 2 x 16 GB) |
| Storage | 2 TB HDD (7200 RPM), 256 GB M2 SATA SSD |
| I/O Ports (Front) | 1x USB 3.0 Type C, 3x USB 3.0 Type A, 1x Headphone Jack, 1x Microphone Jack |
| I/O Ports (Rear) | 1x RJ45 Ethernet Port, 5x USB 3.0, 3 x USB 3.1 Type A, 1x USB 3.0 Type C, 1x DisplayPort |
| Dimensions | 8.4" x 18.6" x 14.9" (W x H x D) |
| Weight | 33 lbs (14.9 kgs) |
| Price (2023) | $3,699 |
Dell Alienware Aurora 2019 Features
The unique features of the Alienware Aurora 2019 gaming PC are:
1. Easy Accessibility
You can easily access all the components of this beast in just a few simple steps. The best feature – you don't even need any tools to do so. Just open the latches on the cabinet and pull them out. Now, you can simply swap out and change any part you want!
2. Pre-Overclocked
If you want the best performance from your computer, then you have to learn how to overclock your system. Your processor and graphics card can be overclocked pretty easily. However, this is typically done using overclocking software.
But, in the case of Alienware Aurora 2019, you don't need to do so because the system is factory-overclocked from the beginning. Therefore, from the first moment you switch on this desktop – it's already overclocked to provide maximum performance from the get-go.
Here, all eight cores of the Intel Core i7 9900k processor have been individually overclocked from the start.
3. Intel Optane M2 Memory
This computer comes equipped with the Intel Optane M.2 Memory for your hard drive. You probably already know that SSDs are any day faster than the standard hard disk.
Therefore, to tweak the speeds and responsiveness of the hard disk and make jit closer to the performance of an SSD, Alienware has used this feature based on 3D Xpoint technology.
4. Alienware Command Center
The Alienware Command Center will provide you with lots of options to customize your needs better. Here's a quick rundown of what you can do with it:
Control calibration: To allow you to have total control over your gaming environment, Alienware allows you to have complete control over calibrating your computer in any way you wish.
Access all games in one place: With Alienware's Command Center, you can now change the settings of each game and create custom profiles for each too. Here, you can do so without even entering the game and changing these settings from the in-game menu.
AlienFX lighting: If you have other devices and peripherals that have RGB lights on them and support AlienFX lighting, you can control the lighting patterns and zones by using this Command Center – in any way you wish.
5. VR Ready
If you love the world of virtual reality or are fascinated by the idea of it but have never tried it out, you can do so pretty quickly now. The top of the cabinet has an attached stand where you can place your HTC Vive and Oculus VR headsets.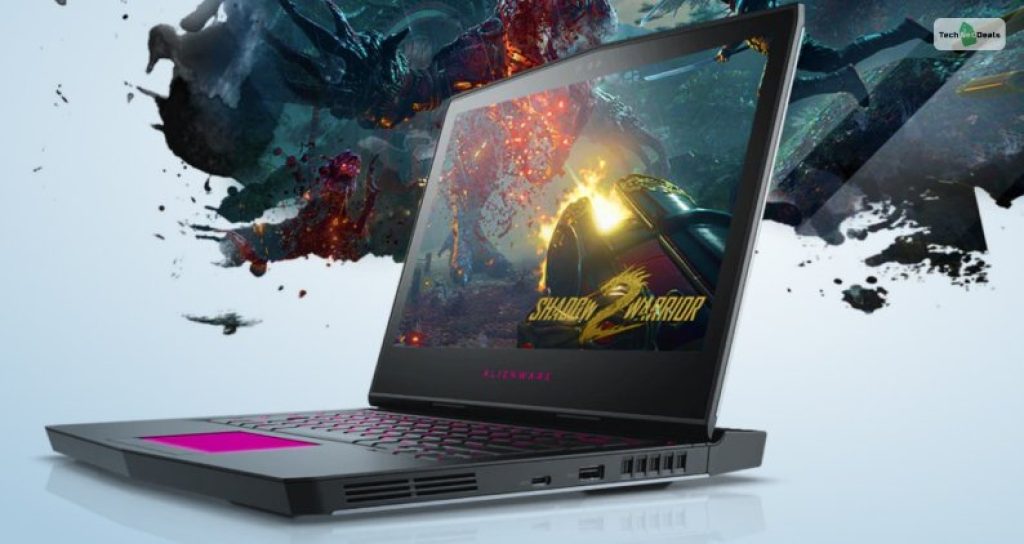 Plus, there's a handle here that lets you organize all the wires in one place. In addition, you have a total of 15 USB ports to handle the connections to all your devices. Therefore, this device is more than capable of handling all your VR equipment and more!
6. Area51 Liquid Cooling
Similar to the Alienware Area51 Threadripper, this computer follows the same ergonomic cooling design with its liquid cooling system. The fans and the exhaust are all placed in ways that cool the system down in the most optimal way. Here, the fans are placed on the front panels and the right panels of the cabinet for maximum airflow.
Dell Alienware Aurora 2019 Upgradeability
One of the biggest concerns that any person interested in buying a desktop computer have is its upgradeability. Many people think that if you buy a pre-built desktop computer, you cannot change or upgrade any of its parts.
However, be happy to know that you can do so here. Some parts of this system can also be upgraded to your liking. However, it can be a hassle to change all the parts. Only the graphics card, storage drive, and RAM can be upgraded right out of the box. To change the other parts, you might need to change the motherboard as well, depending on its compatibility.
Dell Alienware Aurora 2019 Performance
To better determine the power of this computer, I ran various tests on this system. The first thing that I did was run an MSI Afterburner check.
Here, I found out that the CPU clock speed went all the way up to 4.2 GHz. This is the maximum it can reach since it's already overclocked. When it comes to its temperature, the average CPU temperature was 52 degree Celsius. However, the GPU heated up to 75 degrees.
If you are in the field of content creation, then you will find the Dell Alienware Aurora R8 serving all your needs perfectly. The Dell Alienware Aurora 2019 is more than capable of rendering 4k videos I edited using Adobe Premier Pro and After Effects in under 8 minutes.
When it comes to its data transfer speeds, this device transferred approximately 5GB of files in under 8 seconds. The rendering and transfer speeds are pretty impressive, in my opinion.
Gaming Performance
Since this is a gaming desktop, I can assure you that it lives up to its moniker. I played games like Battlefield 2042 and Metro Exodus to test their gaming prowess. In addition, I played both these games with RTX ray tracing turned on.
When I played both these games at 1080p resolution, I got 100 fps and 85 fps, respectively. Then, I played them at 4k settings, where I averaged around 60 fps and 50 fps, respectively.
Therefore, when it comes to 1080p gaming, you can expect this computer to dish out more than 60 fps, even on the latest games. However, this mark was not possible at 4k gaming, which is more taxing.
Essential Alienware Aurora 2019 Accessories And Peripherals
Since the Alienware Aurora 2019 is built explicitly for high-end competitive gaming, you need the best keyboard, mouse, monitor, and headphones to become the next Shroud. Therefore, arm yourself to the teeth with these unique Alienware accessories that you should also buy to level up yourself as a gamer (at least system-wise!).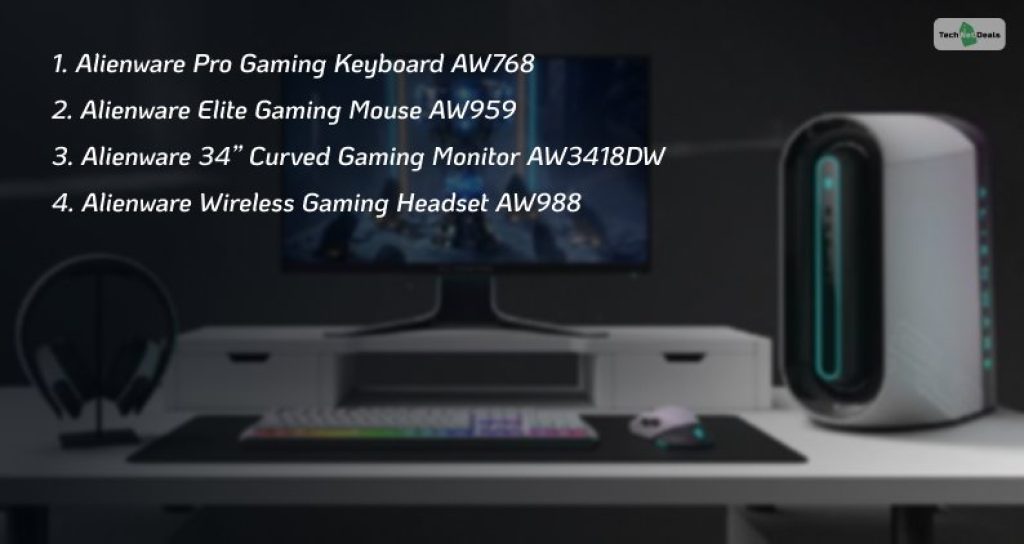 1. Alienware Pro Gaming Keyboard AW768
Price: $160
This mechanical gaming keyboard with AlienFX RGB lighting will become a must-have for Alienware gamers. Featuring 15 macro buttons that can be programmed, you will have all the keys you need in one place. In addition, it's built using brown switches, which provide the same feedback as CherryMX blue switches but are less noisy.
2. Alienware Elite Gaming Mouse AW959
Price: $128
If you want a mouse that can make your aim more accurate than it has ever been, then this is it. This is an excellent RGB mouse with a DPI button below the scroll wheel. Here, you can customize the DPI, which can go as high as 12,000 DPI. In addition, it has an optical sensor and an improved grip style to ensure you don't miss those clutch-worthy headshots.
3. Alienware 34" Curved Gaming Monitor AW3418DW
Price: $999
To get the most visually stunning experience while playing graphically intensive games like Metro Exodus, Red Dead Redemption 2, and Cyberpunk 2077, you need to have a good monitor that can make these games come to life along with your Alienware tower desktop. This monitor here will be perfect for your demand. With a massively curved 34" screen, 2k resolution, and support for NVIDIA G Sync, you cannot miss this one!
4. Alienware Wireless Gaming Headset AW988
Price: $169
While playing online games like Fortnite, Valorant, Warzone 2.0, and Rainbox Six: Siege, you need to hear enemy footsteps as clearly as possible to predict their location. However, will you buy a 7.1 virtual surround sound headphones if you can do precisely that, along with listening to lossless music, and have a crystal clear mic as well? Also, this is significantly better than the Monoprice 110010 headset.
Dell Alienware Aurora 2019 Reviews: What Customers Say
To get a better idea about the performance and worthiness of the Dell Alienware Aurora 2019, I have compiled some helpful reviews from Amazon. Have a look at what other customers are saying about this mid-tower gaming desktop computer:
Zoltan Kalmandi (3 stars):
"I like the Dell brand! I was so excited to get this Gaming Pc! That was working well! But basic problems. My main problem was the RTX 2080 Super temperature, under full load, was 80-82 Celsius! That's too much! The excellent airflow they say about this PC does not cool down the video card! Only one front fan in the front of the Pc. The CPU cooler works excellently. The temperature was around 50-55C. If you are looking for a quiet Pc, this is not your PC! The CPU fan is a little noisy, but it works great! I have no problem at all with the I7 9700k and RTX2080 Super video card performance! This PC is a beast! Just the temperature is high."
Nerd Alert (5 stars):
"Booting up the computer after all the initial setup stuff is fast, but not as fast as my similar PC build. I think part of that is having a spinning disk hard drive, which always slows things down as it initializes. It is not slow enough to be an issue. Because of this, I usually don't use internal hard drives, keeping the internal storage in a solid state.

The SuperPosition benchmark at 1080p Extreme settings was 7061 with no optimizations. That fits well into similar builds that were not prebuilt. In practice, this computer can handle any Steam game I have thrown. It is not the absolute top-of-the-line, but it comes close. The front ports and speed make this a pleasure to use with VR. The Intel CPU also does well with Matlab computation, which can be further optimized with Vulcan calls.

So, I still feel odd using a prebuilt computer, but it is a good kind of odd. The clean cable management is undoubtedly superior to anything I have done. If you want something fast, reliable, and ready to go, then the Aurora R9 is a good choice."
Frequently Asked Questions (FAQs):
Here are my answers to some of the most frequently asked questions regarding the Alienware Aurora 2019:
Q1. Do Alienware PCs Overheat?
Ans: This answer depends on what tasks you are running and for how long. While the Alienware Aurora computers have excellent cooling systems, they can still get hot after hours of use.
Q2. Is The Alienware Aurora Pretty Loud?
Ans: Yes, there are instances where the Alienwar4e Aurora PC will get loud. This happens because the computer has overheated and the fans are running faster.
Q3. Can Alienware Aurora Run Cyberpunk 2077?

Ans: Yes, the Alienware Aurora 2019 can easily run Cyberpunk 2077. It can run the game at 25 fps on 4k and 60+ fps on 1080p at the highest settings.
Final Verdict: Is The Dell Alienware Aurora 2019 Worth Buying In 2023?
After using this desktop for a few days, I was heavily impressed by its performance. I would highly suggest you buy this computer if you are a hardcore gamer or a content creator. However, I would recommend you do so if you can afford this beat in the first place!
In addition, you will also receive extra benefits like the excellent customer service that Dell provides. However, keep in mind that it can become a hassle to change some of the parts. This is because many parts will require you to change the motherboard as well.
If you are OK with what you read about the Dell Alienware Aurora 2019 here, then you can definitely think about buying this bestial gaming computer! Also, I would recommend you buy the additional Alienware accessories and peripherals mentioned here to get the best Alienware gaming experience!
PROS
CONS
➡ Amazing gaming performance
➡ Many connectivity ports
➡ Can be upgraded freely
➡ Dell customer service is good
➡ The chassis looks incredible
➡ Pretty expensive
➡ The size of the cabinet is pretty big
➡ Upgrading or changing some parts can be
significantly more complicated than the others
Read Also: