Now that the Google Pixel 8 and 8 Pro have come into your nearest store, it's still out of the budget of many. Therefore, many are still settling for the Pixel 7 and 7 Pro for now. But why don't I hear people discussing its younger sibling – the Google Pixel 7A?
Branded as a budget Pixel 7, it has a smaller screen and a plastic body. It's also $100 less than the OG Pixel 7. But what changes warrant its $100 price drop? In addition, is this phone worth buying now, six months after its release? Let's find out!
Google Pixel 7A Specifications
If you decide to buy a Google Pixel 7A, then this is what you get inside:
| | |
| --- | --- |
| OS | Android 13 (Upgradeable to Android 14) |
| Display | 6.1" OLED screen (2400 x 1080 resolution @ 90 Hz refresh rate) |
| Processor | Octa Core Google Tensor G2 |
| Graphics | Mali-G710 MP7 |
| Memory | 8GB RAM |
| Storage | 128GB – 512 GB |
| Rear Camera | 64 MP (main), 13 MP (ultrawide) |
| Front Camera | 13MP |
| Battery | 4385 mAh |
| Dimensions (H x W x D) | 5.9" x 2.9" x 0.35" |
| Weight | 0.43 lbs (195.3 grams) |
| Colors | Charcoal, Dea, Snow, Coral |
The current Google Pixel 7A price is $499. The Google Pixel 7A release date was earlier this year, on May 10, 2023. Therefore, it's been six months since its release.
Google Pixel 7A Review: My Impressions After Using For 6 Months
Okay, I won't lie here – I don't own a Google Pixel 7A, nor did I use it for six months.
Therefore, you might wonder, how can I review it after using it for six months? For today's review, I will test out my cousin's Pixel 7A – which he has used for six months.
However, apart from my impressions after using it for four days, I will also consider my cousin's experience. Since he bought this smartphone when it was released back in May 2023, he used it for approximately six months. Perfect!
Therefore, keep on reading about my Google Pixel 7A review, done after my cousin used it for six months.
Design And Build Quality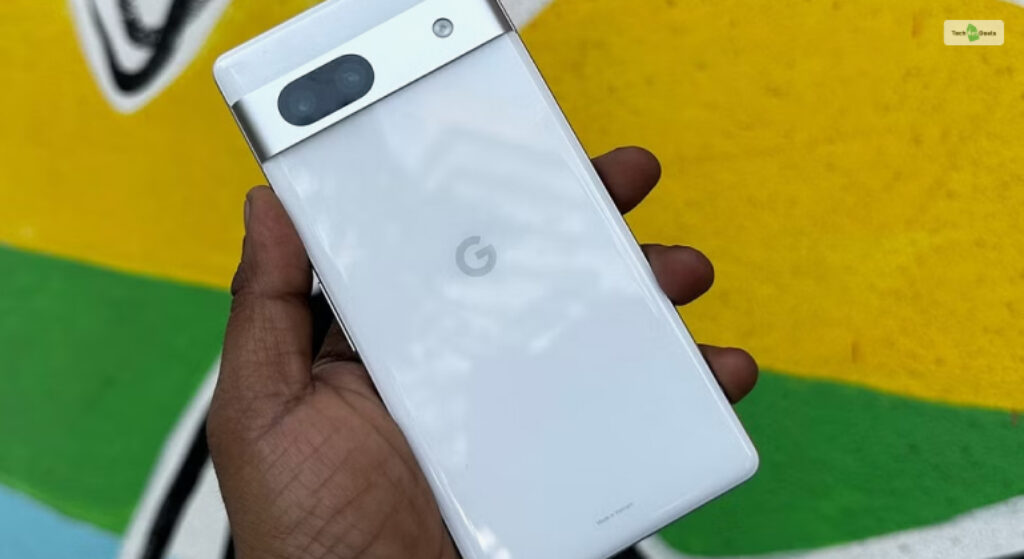 I adore the Google Pixel 7A design. Taking cues from its elder sibling – the Pixel 7 – it has a professional look. I love the Coral Red color of this phone, which looks classy but not too flashy.
It's also light in weight, weighing under half a pound. In addition, since it has a 6.1" screen, it never felt too much for my pockets (unlike the bigger iPhone 15 Pro Max).
However, I do not adore its glossy, plastic finish. As an advocate of matte finishes, the Pixel 7A's glossy finish makes it susceptible to smudges everywhere. This is the first where the Pixel 7A has cut costs compared to the original Pixel 7 – its back cover.
Fortunately, my cousin never noticed this since he always had it under a Google Pixel 7A cover. I used it without a cover, and it soon started to look dirty with smudges and scratches. Moreover, it's plastic body makes them more prominent as well.
Display
The display of the Pixel 7 was good. So, how does the Google Pixel 7A display differ from its older sibling?
First off, the screen is smaller by 0.2". However, the touch quality and responsiveness have remained the same. In addition, it has a Corning Gorilla Glass 3 cover with IP67 dust and water resistance – which is great.
However, the bezels are a bit thicker this time. Therefore, it's more prominent here than the Pixel 7 or the latest Pixel 8.
In terms of picture quality, it's amazing. The screen has an FHD+ OLED screen (2400 x 1080 resolution) with 429 PPI brightness that makes colors pop. In addition, it has a 90 Hz refresh rate, making it significantly smoother than the Google Pixel 3 XL. Additionally, videos are fun to watch with the HRD 10-supported screen.
Battery Life
The Google Pixel 7A has a good battery life of 4,385 mAh. This slightly misses the 5,000 mAh standard for other phones in this segment (like the Nothing Phone 2).
Regarding my daily use (lots of calls, WhatsApp messages, and slight YouTube and gaming) – this phone lasted around 12 hours. It's not bad by any means, but it could've been a lot better compared to its peers. It also comes with a 30W charger, which is slower than the 100W charger of the OnePlus 12 I am currently enjoying.
If you decide to game, expect it to last around 8 to 9 hours tops. However, playing graphically intensive games like Call Of Duty: Mobile and League of Legends: Wild Rift drains the battery much faster than I expected.
In addition, another issue with the Google Pixel 7A is the heating issue. Therefore, if you play games or click pictures and videos, this phone heats up fast.
Cameras
If there is one thing that this phone gets right bang on – it's the cameras.
On the back, we have a 64MP wide-angle primary camera – which is fantastic. The pictures I clicked were super clean and sharp, with spot-on contrasts and vivid colors. The same goes for the videos as well.
We also have a secondary 13MP ultra-wide camera on the back – which is excellent. I clicked a few images using its long exposure shot mode, and the results satisfied me. The Night Mode is good as well. However, sometimes pictures get a bit too bright in this mode.
However, the best addition was the Photo Unblur mode, which made moving photography a breeze. Here, the phone uses AI to unblur blurred parts of the images. So bye-bye, shaky hands!
On the front, we have a 13MP selfie camera, which does a great job. The selfie camera is perfect and is as good as the Pixel 7 and 7 Pro selfie cameras. Finally, I can upload my selfie on Instagram without hesitation!
In addition, both front and back cameras use Super Res Zoom, which deletes the film-grain effect completely from zoomed-in images. Nice!
Performance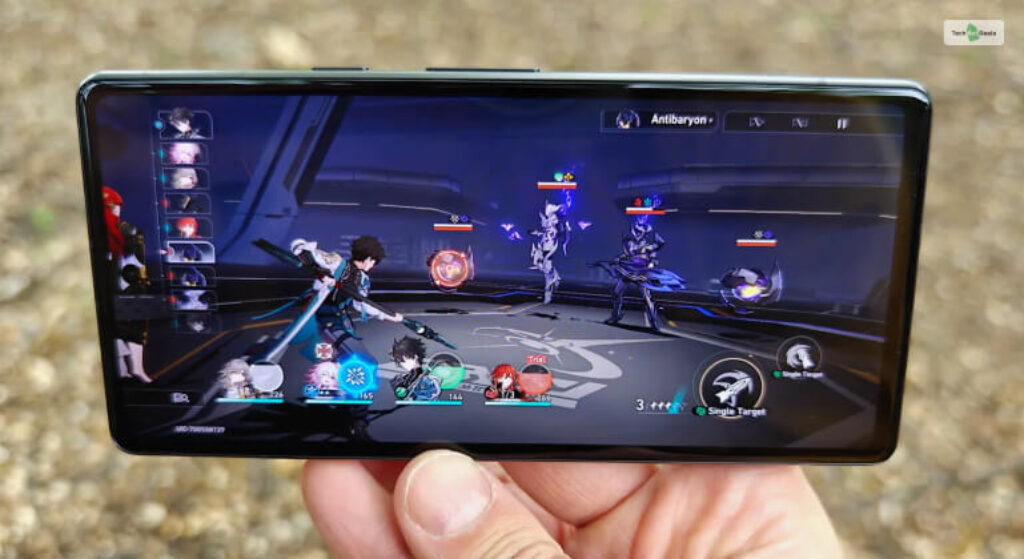 Apart from the Google Pixel 7A camera, its performance is also excellent. It performs like any other high-end smartphone (like the Moto Razr 40) – which is impressive at this price point. The new Tensor G2 chips do a fantastic job of running everything you do without a single lag.
Gaming felt super smooth at high frame rate modes, thanks to its 90 Hz screen refresh rate. Call of Duty Mobile and Wild Rift worked flawlessly here. Therefore, I have zero complaints here. It's great.
Google Pixel 7A: Deal Or No Deal?
The Google Pixel 7A comes in lovely colors, clicks good pictures and videos, and performs well. Therefore, I can confirm that this is the best A-series budget Pixel phone ever released.
It's only an issue? The plastic cover feels somewhat cheap, along with fast heating issues. Therefore, if you buy this smartphone, ensure that you buy a Google Pixel 7A back cover as well.
Therefore, should you buy the Google Pixel 7A now that the Pixel 8 and 8 Pro have been released? If you have a tight budget of $500, go for the deal. Otherwise, I recommend paying $100 extra for. its elder sibling.
Pros
Cons
• Great display
• Good range of available colors
• Powerful price
• Affordable price
• Amazing camera
• The battery could've been better
• Fast heating issues
• Plastic cover is susceptible to smudges and scratches