I have one recommendation if you have ever desired a sizable and mighty machine for your ideal PC setup. Even if it's a little dated, it has a lot of force. Here, I'm referring to the supercomputer known as the Alienware Area51 Threadripper.
These pre-built Computers will be a godsend if you find that purchasing each component individually and putting the computer together is somewhat laborious. This computer boasts a large cabinet chassis that is packed with just about everything you could want.
Find out if it's worthwhile to purchase this $2,000 PC by reading the rest of this review.
Alienware Area51 Threadripper Specifications:
The primary specifications of the Alienware Area51 Threadripper pre-built desktop PC are:
| | |
| --- | --- |
| Operating System (OS) | Windows 10 Home |
| Processor | AMD Ryzen Threadripper 1950X (16-core, 32MB cache, 3.4GHz to 4.2GHz) |
| Graphics Card | NVIDIA GeForce GTX 1080 Ti |
| Memory | 32 GB DDR4 RAM (2,667 MHz) |
| Storage | 2 TB HDD (7,200 RPM)256 GB SSD |
| Motherboard | AMD X399 |
| Power Supply | Alienware 1500 watt 80-plus Gold |
| Optical Drive | Tray-loading Blu-ray reader |
| I/O Ports (Front) | 2x USB 3.1 Gen 1 Type-A1x 3.5mm Headphone Jack1x USB 3.1 Type C1x SD Card Reader1x 3.5mm Microphone Jack |
| I/O Ports (Rear) | 6x USB 3.1 Gen 1 Type-A2x USB 2.01x USB 3.1 Gen 2 Type-A3x DisplayPort1x USB 3.1 Gen 2 Type C1x HDMI Port3x 3.5mm Optical audio out jacks |
| Weight | 61.73 lbs (28 kgs) |
| Dimensions | 10.7" (27.2 cm) x 25.2" (56.9cm) x 22.4" (56.9cm) |
| Price (2023) | $2,049 |
Alienware Area51 Threadripper Features:
Here are the main features of Alienware Area51 Threadripper:
1. Design
I wouldn't characterize the Alienware Area51 Threadripper for being a compact system. It's not as big as certain system cases (EVGA DG-87), including the resurrected Cooler Master Cosmos II. Every aspect of this desktop is significant, from its 28kgs (62lbs) weight to the hollow chassis' potential usage as a heatshield in the future.
For optimum ventilation, every interior element of Area 51 is tilted at a slanted angle. This enables the GPU's blower fan and CPU liquid cooler to be directly obstructed from and drawn towards the air, respectively, by the cabinet.
2. Cooling System
When heated air departs the device's rear, cold air seeps in from the front and cools down the processor. Even when I performed various tests, the fans hardly ever generated a lot of noise due to adequate ventilation. Its fans automatically reduced noise to lower levels, making it quiet for its size.
3. Connectivity
The Alienware Area51 Threadripper has many connectivity ports to satisfy your connectivity needs.
The many connectivity ports are:
1x 3.5mm Headphone Jack
1x 3.5mm Microphone Jack
8x USB 3.1 Gen 1 Type-A
1x USB 3.1 Gen 2 Type-A
1x USB 3.1 Gen 2 Type C
1x USB 3.1 Type C
1x SD Card Reader
3x DisplayPort
1x HDMI Port
2x USB 2.0
However, Thunderbolt 3 cannot be used with USB-C, which prevents it from helping move files between SSD drives. Wireless communications are controlled by Killer products utilizing 802.11ac Wi-Fi and Bluetooth 4.1.
4. Upgradeability
The Alienware Area51 Threadripper may be updated with almost no additional tools. Users just need to release the slots for expansion.
The thumbscrews can be twisted for an easy release for the GPU supporters to update or install a second graphics card. It is simple to plug in memory and data storage devices. In this case, the water-cooled brackets also have thumbscrews in them.
For those who purchase this lavish 1,500-watt PSU, replacing the power supply is the only item that requires a screwdriver.
5. Performance
AMD's top-tier Processor in the Alienware Area51 Threadripper may be set to Creative or Gaming Modes. To achieve higher in-game frame rates, the latter shuts off half of its CPU's cores and changes to a more conventional memory access system.
After testing, except for RTS games, and discovered that the Gaming Mode improved performance slightly.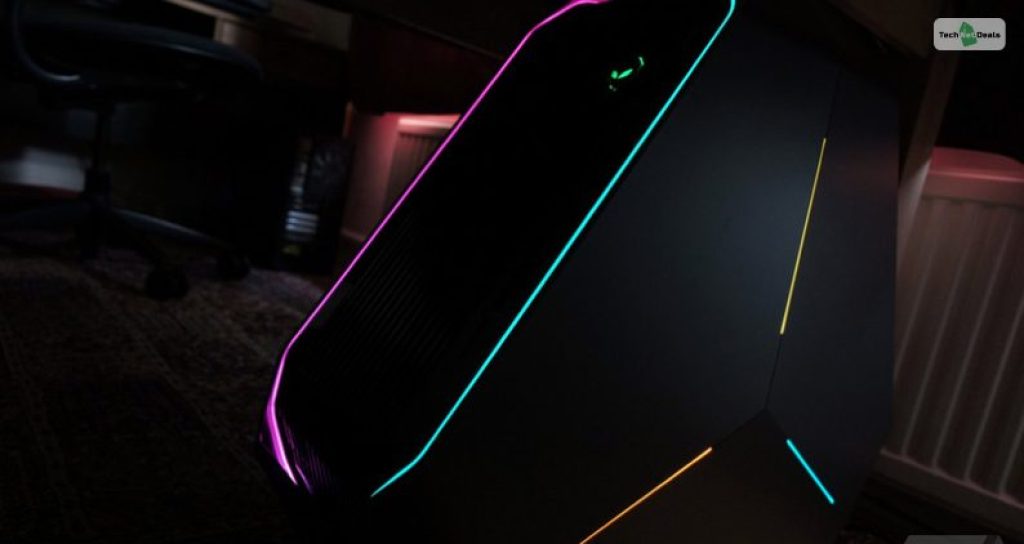 The Area 51 Threadripper is a powerful gaming PC outside of benchmarks. It meets our requirements for editing photos and videos and playing games.
I enjoyed playing Overwatch 2 at max settings without seeing any frame drops. With God of War at max settings, I clocked 27 fps in 4K and 58 fps at 1440p.
Frequently Asked Questions (FAQs):
Here are some answers to queries about Alienware Area51 Threadripper:
Q1. Is The Alienware Threadripper Too Much For Gaming?
Ans: Every gaming or computer expert will tell you that Ryzen is too powerful for gaming. With the mainstream AMD Ryzen CPUs, you can play all contemporary games. The Threadrippers are designed for extremely powerful computation, which is advantageous for cryptocurrency mining.
Q2. Is Ryzen Threadripper Better Than The i9?
Ans: There is no doubt that the Threadripper outperforms the Intel i9. Here, the Threadripper just outperforms Intel regarding clock speed and processing power.
Q3. Which Is The Best CPU Ever Made?
Ans: The AMD Ryzen Threadripper 3990X CPU is the best CPU ever produced. Its maximum clock speed is 4.3 GHz, with 64 cores and 128 threads.
Final Verdict
A setup like this will be helpful for gamers who want to thrive on Twitch or YouTube streaming and content creation, especially if they are veterans and know what they want to do.
This machine is capable of doing multiple tasks concurrently, including gaming, recording, streaming, and more, thanks to the multitasking capabilities of the Alienware Area51 Threadripper.
Except for this particular machine, Area 51 is a flexible desktop despite its high cost. This desktop PC differs from others because of its cooling, which is subpar and it isn't as versatile, so it's worth looking into.
Read Also: