If you are on a budget and want a cheap laptop, you will get a lot of options. However, if you are an Apple fan, what cheap MacBooks can you buy? Turns out, there is only one under the $1,000 price range – the MacBook Air M1 (2020).
Therefore, read this review to find out whether this laptop will be worth the price or not.
Apple MacBook Air M1 Specifications
The primary specifications of the Apple MacBook Air M1 (2020) are:
| | |
| --- | --- |
| OS | macOS |
| Display | 13.3" IPS Retina display (2,560 x 1,600 resolution) |
| Processor | Apple M1 (8-core CPU) |
| Graphics | Apple M1 (8-core GPU) |
| Storage | 8GB Unified PDDR4X RAM (4,266 MHz SDRAM) |
| Storage | 256GB NVMe SSD |
| Webcam | 720p HD FaceTime Camera |
| Ports | 2x Thunderbolt 3 USB-C ports, 1x 3.5mm jack |
| Dimensions | 11.97" x 8.36" x 0.63" (W x D x H) |
| Weight | 2.8 lbs (1.3 kg) |
| Colors | Silver, Space Grey, Gold |
The Apple MacBook Air M1 price is between $979.95 and $999. The MacBook Air M1 release date was on November 17, 2020. In addition, you can get a more expensive model with 16GB RAM and 512GB to 1TB storage space.
Apple MacBook M1 Air Review: My Impressions
After using the Apple MacBook Air M1 2020 for a few days, I was impressed by the overall value it provides at a lower price point.
Being one of the cheapest laptops provided by Apple, I had to try this out for people wanting to buy a budget MacBook, apart from the MacBook 12in M7.
Keep on reading below to find out how my experience has been.
Design And Build Quality
Regarding the design of Apple MacBooks, you can tell that they prefer keeping the design minimalistic. They do so to give it a more premium and classy feel. You can also see this design philosophy in the iPhone SE 2023 and the iPhone 14 Pro Max.
This laptop has a glossy surface which doesn't feel slippery to touch, contrary to its looks. Its build quality is also superb since the chassis is reinforced with aluminum plating.
It has a compact and lightweight design, which makes carrying this MacBook around in your bag comfortable. In terms of colors, I love Space Grey and Silver the most. Interestingly, it offers this laptop in Gold, which they don't for the MacBook Pro models.
Therefore, if you want a laptop with a premium design, this is the one you should focus on. However, I believe the bezels on the screen could have been thinner than laptops like the best 4k laptops in the market.
Display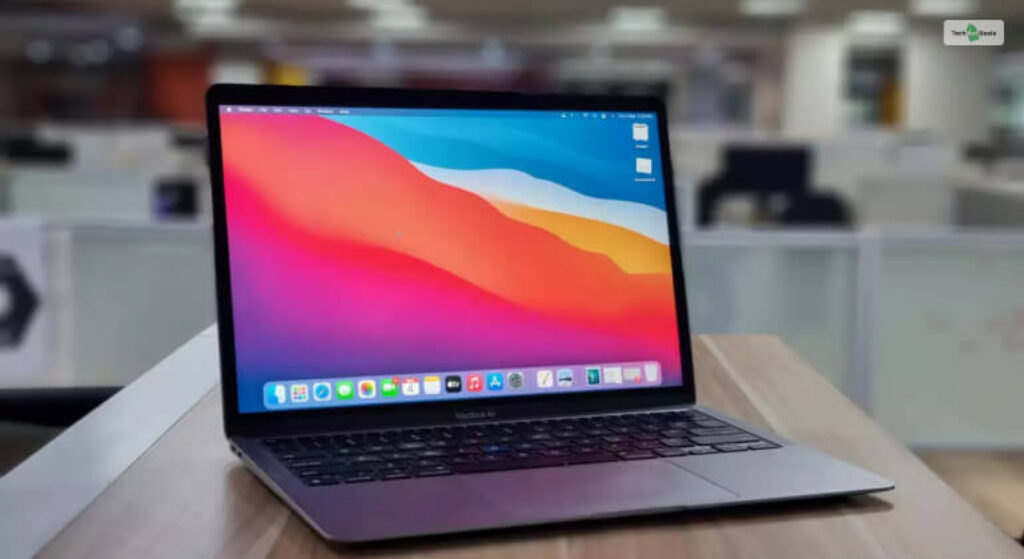 Even though the MacBook Air (13″, M1, 2020) has a smaller 13" screen, it's still one of the best in the market. Everything on the screen looks fluid and crisp, with colors popping out vibrantly. I believe this is due to the amazing Retina display having True Tone properties.
It has a 60Hz refresh rate, 2560 x 1600 resolution with 227 PPI, and a brightness of 400 Nits. In addition, the screen also has a wider P3 color gamut, making the colors ooze from the screen with utmost precision.
Therefore, if you love watching movies or you are a designer, the screen will benefit you greatly. Every detail in movies, like the texture of wooden furniture to skin pores seeable in closeups – gets rendered finely. Watching "Into The Spiderverse" really felt immersive with all its zany colors and animations.
Plus, when I used this laptop outside in the daytime, it was bright enough not to see a dark screen. Nice!
Keyboard And Touchpad
Apple has always provided a high-quality keyboard that always confuses Windows laptop users with its Options and Command buttons. The MacBook Air M1 keyboard is no different, having a tactile keyboard that functions pretty smoothly.
While it does not have a gaming keyboard found on laptops like the Asus TUF Gaming F15, it's still amazing. If you have a job that requires a lot of typing (especially for students), it will feel smooth. I felt like my typing speed increased while using this keyboard.
While it does feel soft to the touch, unlike the clicky feel of mechanical keyboards, it's pretty sturdy.
This MacBook Air M1 also has a 4.8" x 2.3" Glass Force touchpad, which is great. Its responsiveness is accurate, with no input lag. Plus, it feels smooth as silk to use. Nice!
Webcam
I was skeptical to see the same 720p HD FaceTime camera making its way into the MacBook Air M1. It's still the same as previous generation MacBooks. However, they have upped the game by including the M1 processor's image signal processing enhancements.
Therefore, this makes the 720p camera feel like a 1080p one. The graininess of 720p cameras is gone, replaced by accurate colors and utmost clarity.
Therefore, if you wish to use this MacBook for online classes and a lot of Zoom meetings, it will make you appear brighter than everyone else! Awesome!
Speakers
The MacBook Air M1 speakers are great. At max volume, it was loud enough to be audible in other rooms of my 2BHK house! Plus, the sound quality doesn't crackle at the loudest volume, which is really amazing. I noticed this the best while using Apple Music Classical.
As I shift between my hardrocking' metalhead, jazzman, and gangster rapper moods, listening to all these genres feels great. I really enjoyed listening to the instrumental Impossible Tightrope by Steven Wilson, with every instrument popping brilliantly. Even the bass of Can't Leave The Night by BadBadNotGood felt punchy. 
Overall, the speakers are great, providing a nice soundscape. However, for the best experience, you should use an Apple HomePod Mini. You may also opt to use Skullcandy headphones like the Skullcandy Crusher Evo or wait for the AirPods Pro 3.
Ports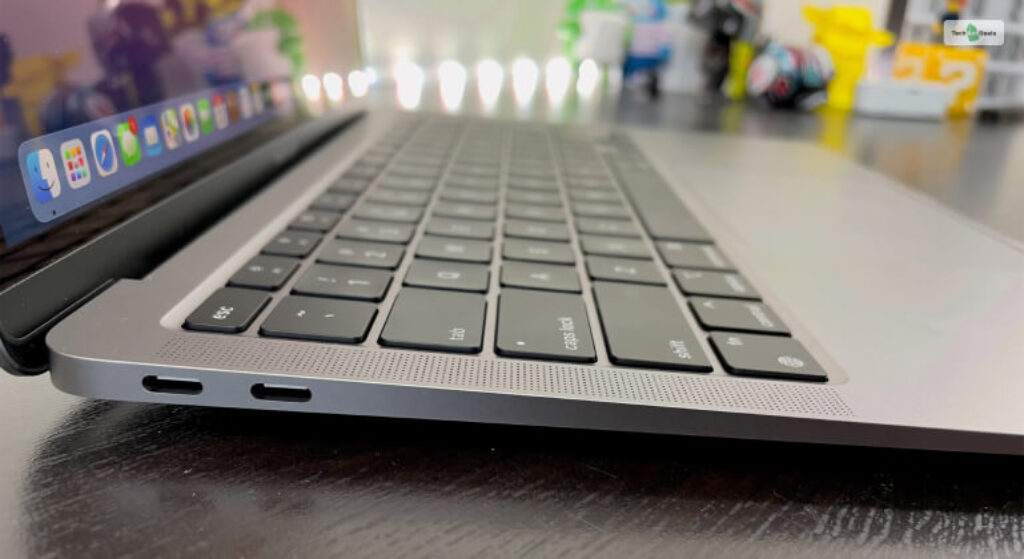 If the MacBook Air M1 has any limitations, its ports are one of them. It just has two of them.
While I appreciate that it provides 2x Thunderbolt 3 ports on the left, other laptops provide lots more. While it might not be an issue for many, I used several USB devices and felt limited. Not good.
Plus, it has no RJ45 ethernet port! Are you kidding with us, Apple?
Battery And Thermals
Apple has always provided amazing battery life, and the MacBook Air M1 does too. On normal use (writing articles with YouTube running in the background with many tabs open), the battery lasted me for 14 hours on a single charge. This really blew my expectations off!
While watching movies and doing some gaming, it lasted for 9.5 hours, which is amazing! Most gaming laptops, like the Asus ROG Strix Scar II and the Acer Predator Helios 500 17 AMD, last only a few hours.
Regarding its thermals, it never heated up enough under any circumstances, always remaining around the 70-degree mark. Amazing!
Performance
Now, let's get to the most crucial section of this review – the performance of the MacBook Air M1. While it's not a gaming laptop, its performance is good enough for most users.
If you wish to use the MacBook Air M1 for your office work, the M1 processor makes the laptop run fast. Paired with macOS, which is questionably better than Windows, corporates can see an improvement in their workflow and productivity. However, it ultimately depends on how you utilize this power.
Multitasking felt like a breeze as I simultaneously opened multiple apps and the Safari browser with 20+ tabs. Lag and slowdown? Nonexistent.
If you are a designer using apps like Photoshop and Final Cut Pro, editing 4k videos will have no hiccups. Everything felt smooth, and the intuitive macOS makes everything better. This is where this outshines one of the best cheap laptops in the market right now – the Acer Aspire 5.
The only reason why you would go for a Windows laptop over this MacBook is gaming. MacBooks are never marketed as gaming devices and never try to be one. However, that doesn't mean the M1 processor with a 7-core GPU cannot be gamed on.
I played Bioshock: Infinite, which ran flawlessly. Moreover, I also tried out Shadow of the Tomb Raider – which had major lags at the highest settings. I had to turn it down too low to get even 30+ fps.
Best Apple MacBook M1 Air Alternatives
If you didn't find the MacBook Air M1 interesting enough, here are two other laptops that you might:
1. Apple MacBook Air M2 (15")
Price: Starting from $1,299
If you want the current-gen MacBook Air with a bigger 15" screen and a tetter M2 processor, $300 more will not harm. The difference between MacBookAir M1 vs M2 is not that high, but it will be noticeable to longtime Apple users.
2. HP Laptop 17
Price: $649.99
If you want a big 17" screen for Netflix, you should go for the HP Laptop 17. It has a great screen, with 16GB RAM and 512GB SSD + 1 TB HDD storage. However, it has an older 11th Gen i7 processor with the same Intel Iris Xe processor.
Final Verdict: Should You Buy The Apple MacBook M1 Air (2020)?
Yes, you should go buy the Apple MacBook Air M1 (2020) now since it's a great laptop.
It has a fast M1 processor with 8GB RAM, which displays the charm of macOS at its fullest potential. It's great for multitasking and designing. Therefore, this will be an excellent buy for corporate professionals for $999.
However, gamers should not even think about this laptop. Get a Windows gaming laptop instead.
Pros
Cons
• Fast and snappy performance
• Amazing battery life that never runs too hot
• Vivid retina display
• Goof webcam
• Smooth keyboard
• Premium design and build quality
• The bezels could've been thinner
• It has only two ports
• Not meant for gaming
If you own or have used a MacBook Air M1 refurbished or fresh, then tell us about your experiences in the comments below!
More Resources: