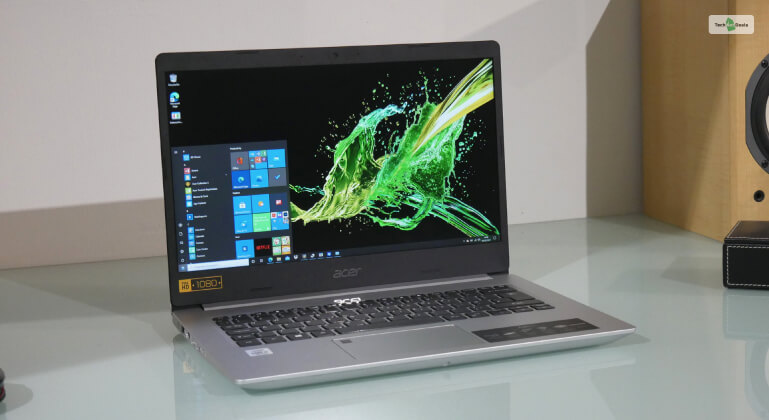 Do you want a cheap laptop for students that can help your child do their studies easily? Or do you want a decent notebook for your desk job? If you have a tight budget, the Acer Aspire 5 might be what you are looking for!
This laptop is pretty good, striking a fine balance between performance and productivity. Even though it's not meant for gaming, it gets everything else right. Read this Acer Aspire 5 2023 review to find out why.
Acer Aspire 5 Specifications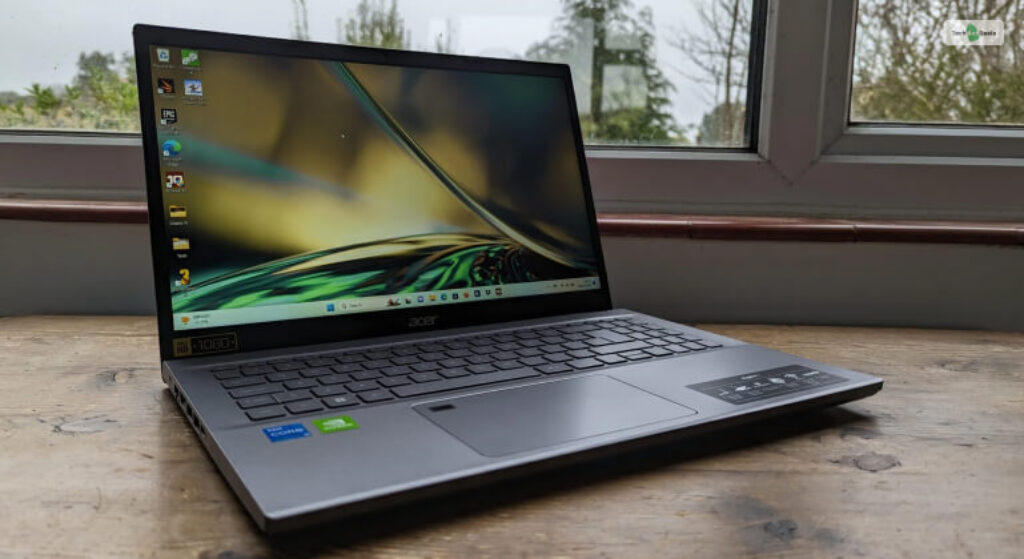 The main specifications of the Acer Aspire 5 A515 are:
| | |
| --- | --- |
| OS | Windows 11 Home |
| Display | 15.6" IPS display (1920 x 1080 resolution, 60 Hz refresh rate) |
| Processor | 13th Generation Intel Core i5 – 1335U (10 cores @ 4.6 GHz) |
| Graphics | Integrated Intel Iris Xe |
| Memory | 8GB LPDDR5 RAM |
| Storage | 512GB NVMe SSD |
| Ports | 2x USB 3.2 Type-A, 1x USB 2.0 Type-A, 1x USB 3.2 Gen 1 Type-C, 1x RJ-45 Ethernet port, 1x HDMI 1.4, 1x 3.5mm jack |
| Webcam | 720p HD webcam |
| Battery | 65 W, 3220 mAh Li-Ion battery |
| Dimensions | 0.74" x 21.5" x 9.4" (H x W x D) |
| Weight | 3.9 lbs (1.8 kg) |
| Colors | Steel Grey, Charcoal Black |
The Acer Aspire 5 price is currently at $549.99. The initial Acer Aspire 5 release date was in April 2019. However, I have tested the latest 2023 variant, released in May 2023.
Acer Aspire 5 Review: My Impressions
After using this laptop for a few days and putting it through all kinds of torturous tests, I can say that it is pretty good – compared to other cheap laptops.
Let's dive deep into what it has to offer!
Design And Build Quality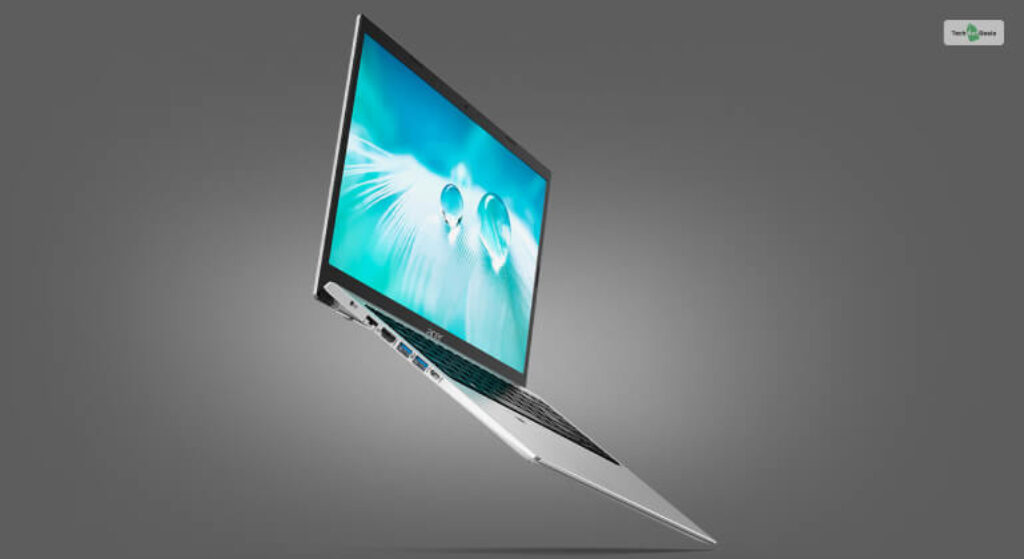 Regarding the design and build quality of this laptop, its chassis looks pretty solid and sturdy from the outside. However, its design is not attractive and is simple and minimalistic.
It has a clamshell design, and the borders are pretty proportionately chunky. Its bezels are also somewhat thicker than the higher-end laptops that I have reviewed in the past. Even cheaper laptops like the HP Chromebook x360 have thinner bezels.
However, I found it to be pretty portable, thanks to its 4 lbs weight. I carried it around in my bag and felt no discomfort after long hours with it slinging behind me. Plus, its hinges are pretty average, being neither too flexy nor too un-flexy.
Display
The Acer Aspire 5 has a standard 1080p FHD 15.6" display, much like the Acer Aspire Nitro 7. While it may not have a high-quality retina display like the MacBook 12in M7, it's still pretty good.
The colors are bright and clear, with the default contrast being perfect for my eyes. Plus, I liked the addition of a matte finish on top of the screen, which makes it cool on my eyes and doesn't strain them too much, considering that I am a night owl.
Keyboard And Trackpad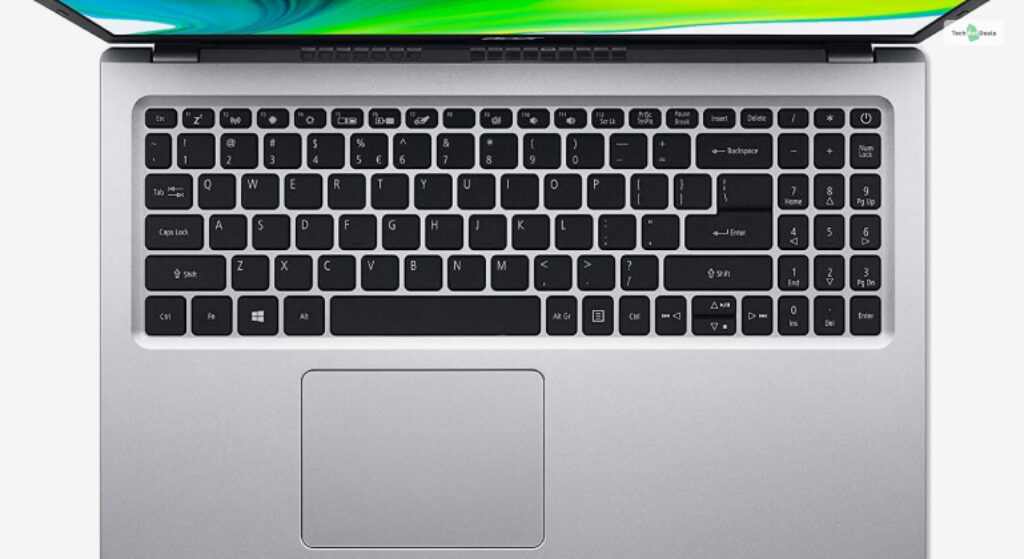 Gamers and writers (like me) love mechanical keyboards. While laptops don't typically have one, a decent keyboard does the job most of the time.
However, I found the Acer Aspire 5 keyboard to be pretty solid in terms of tactile feedback and durability.
The trackpad might not be large enough (4.3" wide and 2.5" deep) for most people. Therefore, it might not be comfortable and responsive enough for your needs if you have a big hand.
In addition, the trackpad has multi-touch gesture support. However, gesture shortcut users will not like it a lot due to its overall more petite size. This didn't matter to me much since I hate using trackpads and prefer an old-school mouse instead!
Audio
The speakers of this budget laptop are in the front, facing downwards. Fortunately, even if you place this laptop on a table, they are not blocked. This is great since many budget laptops (like the OWS Laptop) are at fault for this.
However, its overall sound quality is subpar at best. Sure, it's loud, but I found the sound to crackle at a higher quality. Its overall mix is pretty balanced, where the treble and the bass don't end up drowning each other.
I recommend using Skullcandy headphones, like the Skullcandy Crusher Evo, for gamers and movie lovers. Too bad you cannot use an Apple HomePod Mini with this.
Webcam
The Acer Aspire 5 slim laptop has a fairly basic webcam. It's sufficient for video calls as long as the lights are bright. If you have dimmed your lights, then the video and image quality appears to be grainy.
Ports
The sturdy chassis of the Acer Aspire 5 has enough room to fit quite a few parts on the sides. It has enough USB ports (see the specification section above) to satisfy most regular users. Considering this is a budget laptop, you should not attach too many USB peripherals.
Regarding wireless connectivity, it has the standard Wi-Fi 6 and Bluetooth 5.0. They are pretty reliable, and I had no problem connecting to my Wi-Fi router from a different room.
Battery Life
The battery life is pretty decent, unlike gaming laptops like the Asus TUF Gaming F15 or the Asus ROG Strix Scar II.
It will easily last you approximately 7 hours in most situations. However, if you plan gaming using Xbox Cloud Gaming, it will go down to the 3-hour mark while it's unplugged.
In terms of heating, I didn't face too many issues here. However, after the three-hour mark, I did notice the fans getting a bit louder, emanating hot air on my lap.
Overall, the Acer Aspire 5 battery life will benefit most users.
Performance
The Acer Aspire 5 performance is pretty good if you don't plan on gaming a lot.
When it comes to handling day-to-day tasks, it proves to be pretty efficient. I opened many tabs on multiple browsers like Google Chrome, Opera, and Firefox – without any noticeable lag. Therefore, students and corporates will find this laptop to be good enough for their workloads.
If you are a designer, you might run into some slowdowns. Since I sometimes need to design and edit the images of my posts, I use Adobe Photoshop. Using it on this laptop worked fine. However, I ran into some slowdowns using GPU-extensive apps like Premier Pro and After Effects. While I faced no issues editing 1080p videos, I did face some problems editing 2k and 4k videos.
Even if its performance is pretty good for such work, gaming is something where it stumbles. I reckon this is due to its Intel Iris Xe graphics card. While older games will work fine thanks to its 13th Gen Intel i5-1335U processor, its Iris Xe GPU ends up bottlenecking it. It's no Xbox One S, for sure.
I played quite a few games at their highest graphical settings to test the Acer Aspire 5 gaming performance. Here is a list of all the frame rates I got:
| Games | FPS (Average) |
| --- | --- |
| Grand Theft Auto 5 | 65 |
| The Witcher 3: Wild Hunt | 45 |
| Red Dead Redemption 2 | 32 |
| Cyberpunk 2077 | 18 |
| Valorant | 98 |
| Counter-Strike 2 | 88 |
| Fortnite | 106 |
Best Acer Aspire 5 Alternatives
If you didn't like what you read about this laptop now, then here are some other alternatives you may consider:
1. Lenovo IdeaPad Slim 5
Price: $554.99
If you would prefer a laptop with similar performance and a slimmer design, then the Lenovo IdeaPad Slim 5 would be a good choice. It has a slightly bigger 16" screen, AMD Ryzen 5 7530U processor, integrated AMD Radeon HD graphics, and 16GB RAM.
2. HP Laptop 17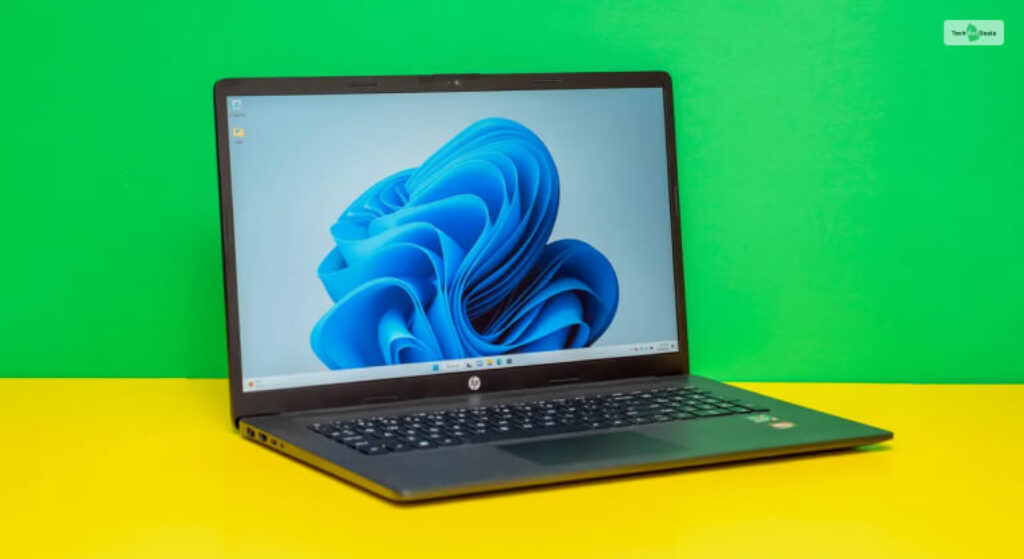 Price: $649.99
If you want a big 17" screen for Netflix, then you should go for the HP Laptop 17. It has a great screen, with 16GB RAM and 512GB SSD + 1 TB HDD storage. However, it has an older 11th Gen i7 processor with the same Intel Iris Xe processor.
Final Verdict
If you want a lightweight laptop for students that fits your budget easily, then the Acer Aspire 5 will be a good choice. It gets the job done well With good battery life, decent performance, and a great screen. However, if you want a budget gaming laptop, it's best to look elsewhere (and increase your budget as well).
Pros
Cons
• Good display
• Good keyboard
• Nice battery life
• Lightweight and sturdy design
• Not meant for gaming
• Small trackpad
More Resources: