With the rise in popularity of ChromeOS-based Chromebooks amongst students and office professionals, it's no surprise that you would want to purchase one as well.
While it may not have great gaming performance and is meant for people who only use Google Chrome and Google apps, the HP Chromebook x360 might be a viable option for you.
To learn more about this budget Chromebook and whether or not it's worth buying in 2023, read this post till the end.
HP Chromebook x360 Specifications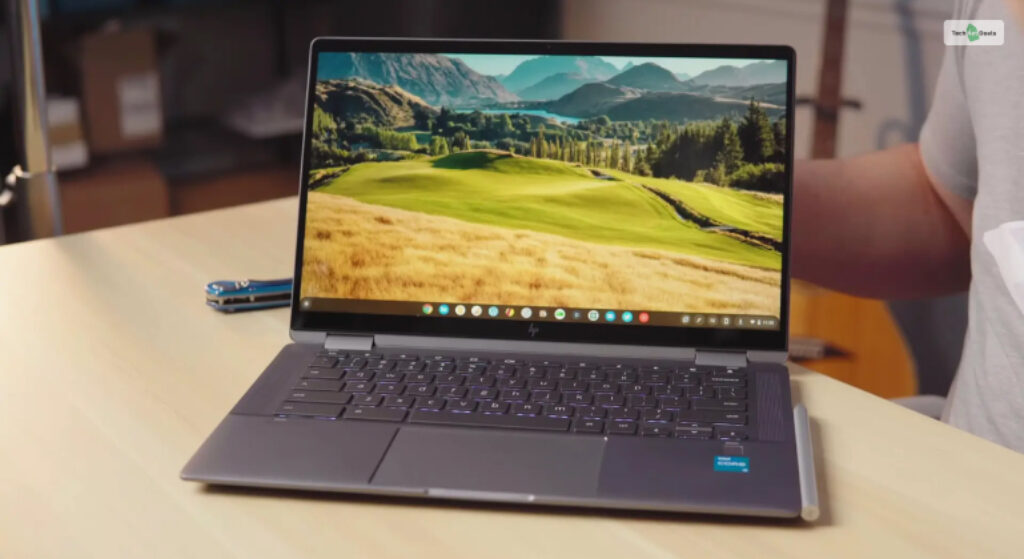 The primary HP Chromebook x360 14C specs are:
| | |
| --- | --- |
| OS | Google Chrome OS |
| Display | 14" FHD IPS Micro-Edge WLED Touchscreen (1920 x 1080p resolution) |
| Processor | 11th Generation Intel Core i3-1125G4 (Four Cores, max 3.7 GHz) |
| Graphics Card | Integrated Intel UHD Graphics 620 |
| RAM | 8 GB DDR4 SDRAM (3200 MHz) |
| Storage | 128 GB PCIe NVMe M2 SSD |
| External Ports | 2x USB 3.1 Gen 1 Type C, 2x USB 3.1 Gen 1, 1x 3.5mm Headset Jack, 1x MicroSD Card Reader Slot |
| Battery | 3-cell 58 Wh Li-on battery |
| Webcam | HP Wide Vision 720p HD Camera with Integrated Dual Microphones |
| Dimensions | 12.66" (W) x 8.11" (D) x 0.7" (H) |
| Weight | 3.4 lb (1.54 kg) |
The HP Chromebook x360 release date was in April 2022. Here, I am referring to the HP Chromebook x360 14a model – the latest one. However, the release date of the original version was back in October 2021.
The HP Chromebook x360 price in 2023 in the US markets is approximately $269. It was initially released for $299 when it first came out back in 2021.
HP Chromebook x360 Review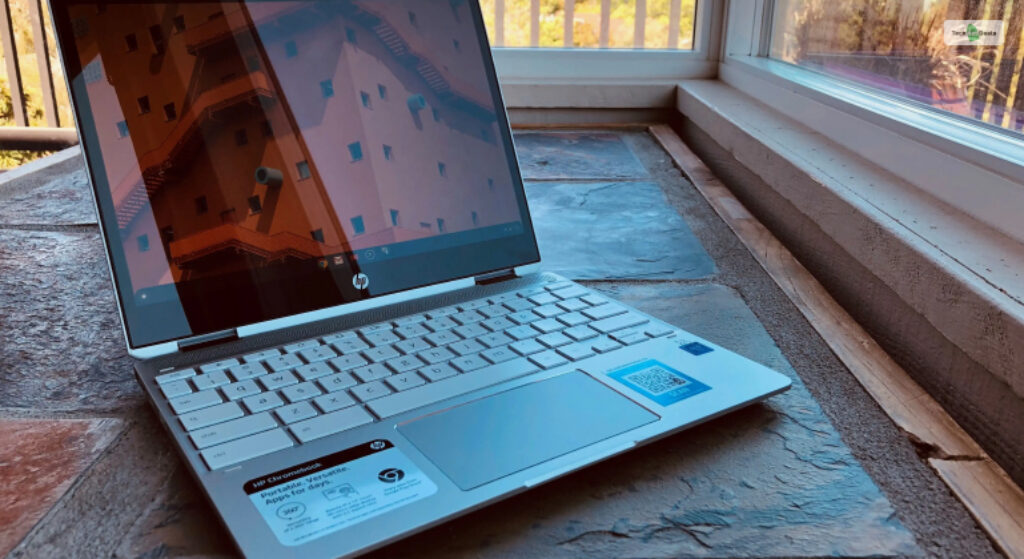 After getting my hands on this laptop, I tested it for three days to check whether it was worth buying in 2023 or not.
Here are my impressions of various aspects of the HP Chromebook x360 14C.
Design And Build Quality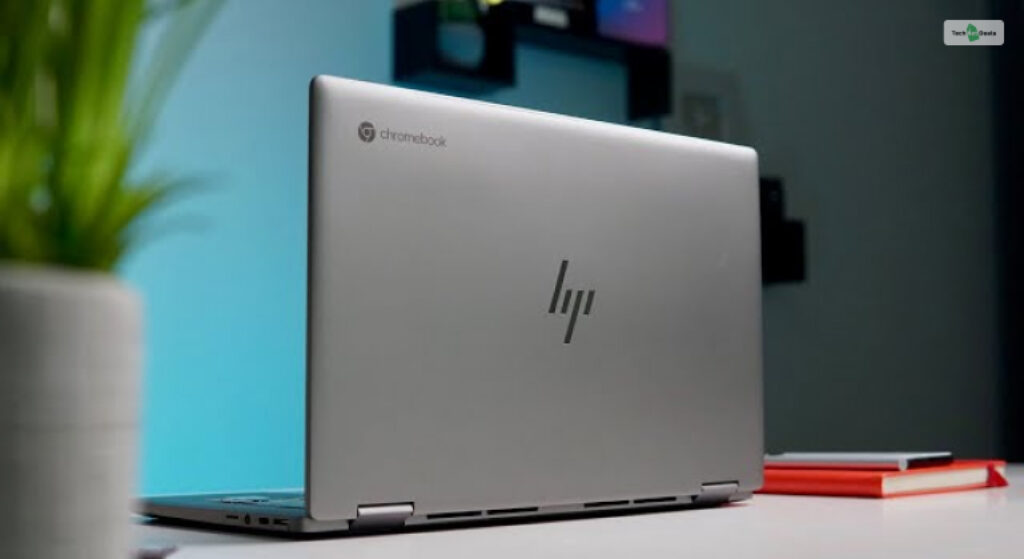 Upon first look, I understood its style statement – this is a budget 2-in-1 convertible touchscreen laptop. It looks like a fairly standard laptop, with its silver-gray color due to its aluminum frame.
It has no flashy RGB colors that you would find in a 2-in-1 gaming laptop like the Asus 2-in-1 Q535. However, the design is kept simple on purpose to give it a more professional look. This makes me believe this 2-in-1 laptop is targeted toward employees who want a touchscreen laptop for making presentations.
I was also taken aback by its durability, which seemed to be pretty tough. While it may lie on the heavier side (even by non-gaming laptop standards), it actually makes it more durable. Though I haven't tried it myself, this laptop might survive a fall or two from your hand. Therefore, requesting an HP Chromebook x360 screen replacement might not be on your bucket list!
In addition, I found the display hinge to be on the tighter side, often requiring a bit more effort to open and close.
Plus, the addition of the speakers at the side of the keyboard on the same panel (instead of at the side of the panel) was a welcome change, in my opinion.
Display
The display is a good one – while being an equally bad one as well.
While the HP Chromebook x360 touchscreen has a standard 1080p resolution, it has good colors and saturation levels. All images and videos on the screen looked smooth and crisp, which felt good with the added touchscreen. It also has thin bezels, which makes the screen look nice.
However, the display aspect ratio was still at 16:9. Most modern laptops have a 16:10 aspect ratio. This makes most modern laptops (even in the same price range) have a crispier display than the HP X360 Chromebook.
Plus, it's also pen-enabled. Therefore, artists who love to sketch digitally will feel right at home here with its smooth and responsive touchscreen.
However, my primary complaint about this touchscreen comes in the form of its brightness. Having a brightness of 250 Nits is simply a bit too low since most laptops have brightness above 300 Nits.
Therefore, using this at the brightest settings during daytime still made it inadequate. I still had to almost stick my eyeballs to the screen to see things clearly.
Keyboard And Touchpad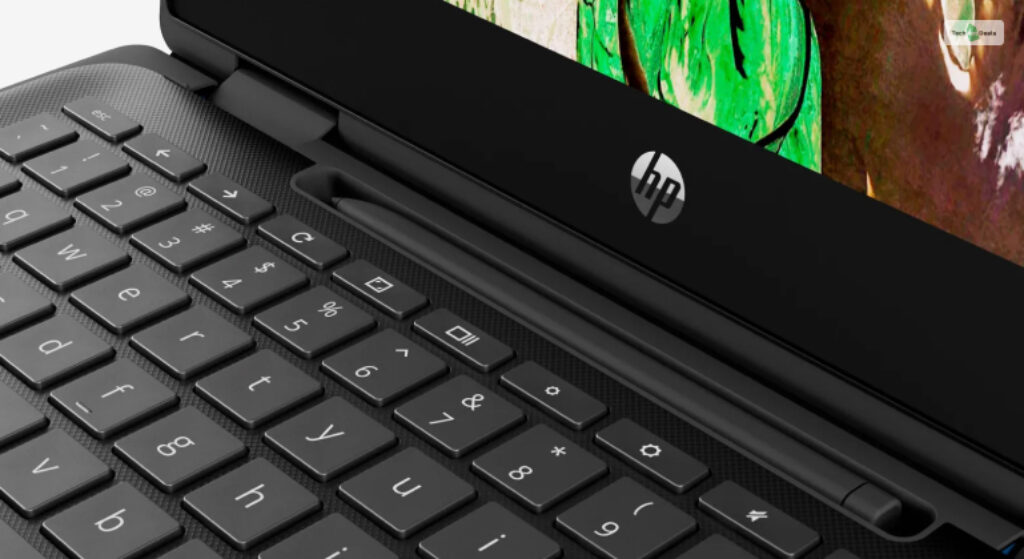 The keyboard and touchpad of the HP Chromebook x360 are pretty standard fare. The keyboard and touchpad combo is pretty simple, with nothing being out of the ordinary.
The keyboard is decent enough for most employed professionals, and typing feels fluid. While it's definitely not a mechanical keyboard, it still does its job as it's supposed to.
However, I felt that the sensitivity of the touchpad was a bit on the lower side. I had to go to Chrome settings to bump it almost to the max before I could find it to be usable. However, that is my personal sensitivity preference, and you might like it as it is.
Webcam
The HP Chromebook x360 webcam is one of the strongest suits of this laptop. While it might be a pretty average 720p HD webcam, the videos it records are of pretty high quality. It's not as bad as the one I got to see in the Google Pixelbook 12in.
The mic quality of the webcam is pretty amazing. My colleagues could hear me pretty clearly. I was in a Google Meet video conference with them, where I held this touchscreen laptop in its touchscreen mode, with the keyboard flipped back. I enjoyed the overall video-calling capability since I was able to do this.
External Ports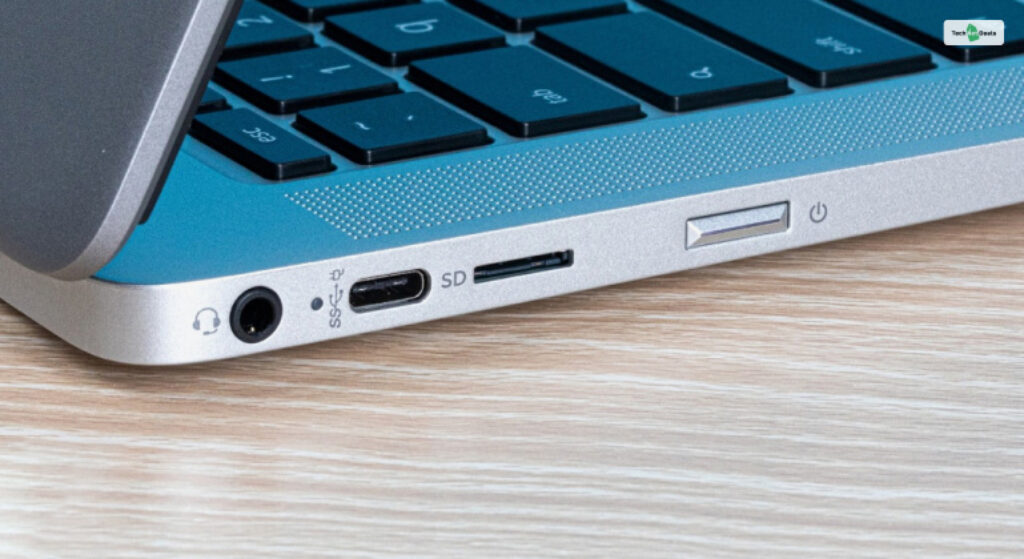 For a laptop that has portability in mind, the HP Chromebook x360 has too few ports. It only has two USB-type C ports and one standard USB 3.1 port. It's still missing a Thunderbolt port which is available on most laptops released after 2020.
However, one of my biggest concerns with this laptop is the fact that it's missing an Ethernet port. Therefore, if you have wired internet connectivity in your workspace or home – too bad you won't be able to use it.
Battery Life
The HP Chromebook x360 has a somewhat decent battery life. Most of the time, while doing my day-to-day work as a blogger on Google Chrome (primarily using Docs, Sheets, WordPress, and the Spotify Web Player) – I averaged around six hours.
Since this is not a gaming laptop and is meant for working professionals dependent on Google Chrome, I expected more juice. Binge-watching Netflix lowered this number further down to 4.5 hours. Sadly, you might have to reach out for the HP Chromebook x360 charger more often than you think.
ChromeOS
The ChromeOS of Chromebooks might not match the power and effectiveness of Windows and macOS, but it is improving at a steady pace.
While most essential apps for professionals, like the Adobe Creative Suite and other apps, might not be available on the Google Play Store, the existing apps perform without any hitches.
Performance
The performance of this laptop is decent enough for a blogger like me. If you wish to use more heavy apps like the Adobe Creative Suite, Blender, or even play video games, this laptop is not what you are looking for.
However, if you wish to use the Chrome browser and all its web-based apps and extensions to its full potential, you can feel confident about the HP Chromebook x360.
Plus, it never heated up a lot, as it does with most gaming laptops. The cooling fans inside seem good enough to make this laptop run cool most of the time.
HP Chromebook x360 Alternatives
Since the US laptop market has been flooded by Chromebooks ever since students started to buy them during and post the Covid lockdowns in 2020, the best Chromebooks in the market (apart from the x360) are:
Acer Chromebook Spin 311
Price: $200
If you want a budget Chromebook with the cheapest price tag, this is the Chromebook that you are looking for. It has an 11" screen with 4 GB RAM and 64 GB storage. If you want the most portable Chromebook, there's no harm in buying this Chromebook.
Google Pixelbook 12in
Price: $999
In my opinion, the Google Pixelbok 12in is a great laptop if your study or work revolves around using Google applications. This is a pretty good laptop based on ChromeOS, with great build quality and performance under $1,000 ($999).
Final Verdict: Is The HP Chromebook X360 Worth Buying In 2023?
If you want a cheap ChromeOS-based Chromebook in 2023, if you want a dedicated device for using Chrome apps for work or for your studies, the HPChromebook x360 might be worth buying. It has a fairly decent touchscreen with decent performance as well.
However, I have never really liked Chromebooks -primarily because of the undercooked ChromeOS. It still has a long way to go to rival the likes of Windows and macOS.
Therefore, if you want a budget gaming laptop or a budget laptop with the intention of using Windows-based apps, this laptop is not the one you are looking for.
Pros
Cons
• Portable and durable build and design
• Decent touchscreen display
• Good budget performance
• It doesn't heat up that much
• Excellent webcam with mic
• Affordable price
• Battery life could have been better
• The screen could have been brighter with a better aspect ratio
• The weight is on the heavier side
More Resources: