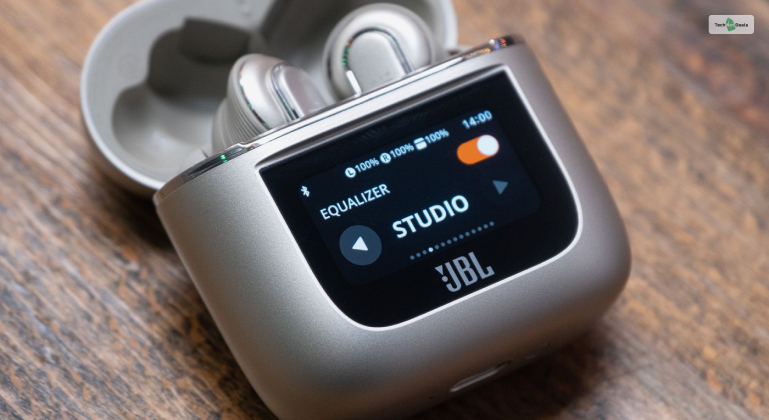 Everywhere I go, I see everyone using earbuds. As the generation shifts to wireless technology more and more, earbuds are all the rage. Therefore, it makes sense to buy one in 2023. So, is the JBL Tour Pro 2 worth buying in 2023?
With good overall impressions and a novel feature in the form of a smart touchscreen on the case, read this review to find out more about these $249 earbuds before you buy them!
JBL Tour Pro 2 Release Date And Price
The JBL Tour Pro 2 release date globally on April 26, 2023. It's the latest installment in the Tour Pro series after JBL Tour Pro 2 came out on May 14, 2021.
The JBL Tour Pro 2 price is currently $249. You can get these JBL in ear headphones in most electronics shops. Plus, you can also buy it online from Amazon or the official JBL website.
JBL Tour Pro 2 Specifications
The primary JBL Tour Pro 2 specs are:
| | |
| --- | --- |
| Type | In-ear (in canal) |
| Connectivity | Wireless (Bluetooth 5.3) |
| Driver Size | 10 mm |
| Driver Frequency Response Rate | 20 Hz – 20 kHz |
| Impedance | 16 ohms |
| Microphones | Yes (6) |
| Battery Life (Buds) | 8 – 10 hours |
| Maximum Battery Life (Including Case) | 40 hours |
| Charging Time | 2 Hours |
| Waterproof Rating | IPX5 |
| Weight (Buds) | 12.2 g |
| Weight (Charging Case) | 73 g |
| USB Charging Port | USB Type C |
My Impressions After Using The JBL Tour Pro 2
After I got my hands on these recently released wireless earbuds, I was immediately ecstatic after I saw their case. The reason? It has a screen on the charging case. That too, is a touch screen! This is the first time I am seen one on any earbud case that I have tested so far.
Therefore, after using it for a few days, here are my impressions of this highly coveted earbud.
Design & Build Quality
The first aspect that I would like to cover is the JBL Tour Pro 2 design. I can describe it in one word – unique.
This is the first time I have seen an LCD screen on an earbud charging case. It functions similarly to the second screen of the Moto Razr smartphone. Its job is to provide you with necessary information like the time, time, charge remaining, and the current equalizer setting.
Now, let's face it – you will see all of this info on your phone anyway when you connect it. You can see the battery on the drop-down notification bar, set the equalizer you want from your music player (or settings), and the time – this needs no explanation. Plus, you get the JBL Headphones app as well. Which – does everything for you.
Ultimately, I started to question myself – is the touchscreen on the charging case just a gimmick? Does it serve any purpose at all?
I mean, when I am listening to music after connecting these buds, I won't even touch the charging case as long as my session is on. I would have done so if the screen was bigger and actually allowed me to use Spotify.
Since this was not the case, my excitement automatically died down a bit. In the end, it felt like a gimmick and nothing much else. Or am I missing something? I didn't even use it much, and I instead relied on my iPhone SE 2023 to control everything.
Apart from the screen, everything else is top-notch. The material is sturdy (aluminum), and the buds fit inside pretty perfectly. There's a snap feedback when you close the case, and it doesn't look like it will open up on its own if the case slips from your hand or pocket.
Comfort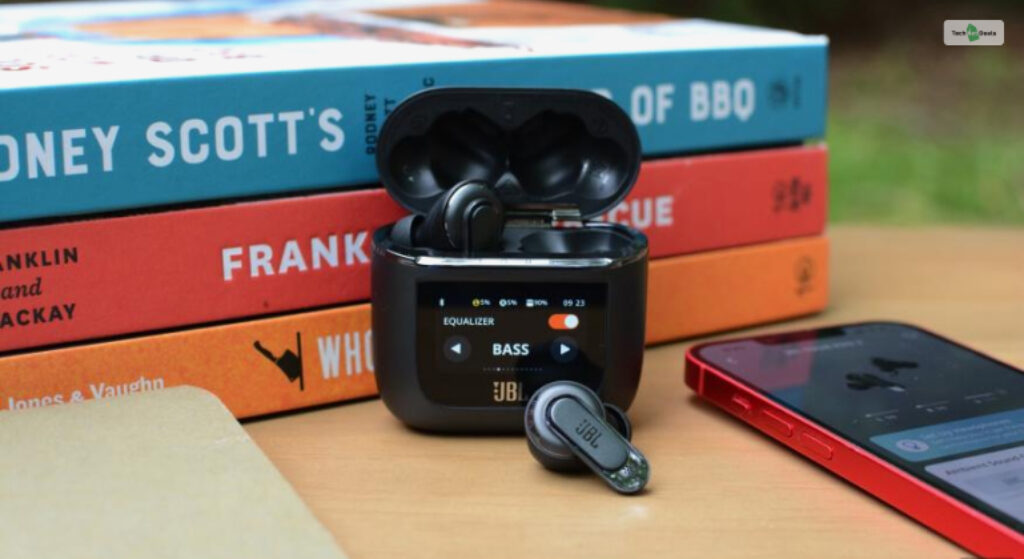 When it comes to the JBL Tour Pro 2 comfort level, it pretty much matched my expectations. After listening to music for 4.5 hours straight, I felt no pain or discomfort at all in my ear canals.
I expect earbuds to fit my ear canals perfectly, and it does so pretty comfortably. One of my biggest woes with some older earbuds is the fact that a bump with a random stranger on the street can send my buds flying off. Fortunately, you can rest easy knowing that such is not the case with the JBL Tour Pro 2.
In addition, if the earbuds don't seem to justify the size of your ear, then you also get three extra ear earbud tips for you of varying sizes. Therefore, if you think these buds are a little too loose for your ear shape and size, you can easily switch them out for any of these three from the box!
Noise Cancellation
When it comes to noise cancellation, the JBL Tour Pro 2 ear buds are pretty good. You can turn its ANC (Active Noise Cancelation) mode on using the JBL Headphones app. However, do note that turning this in will deplete your charge faster.
Turning ANC on did make my experience better. While on the commute, I could hear car honks while on the bus. But the moment I turned ANC on – it was gone! Plus – my friends told me how clear my voice sounds on calls.
In addition, the ANC has two distinct modes you can select from – which I have explained below in the "Special Features" section.
However, I wonder when we will get ANC by default without having a setting to toggle it on or off. I hope the AirPods Pro 3 has this feature by default (on at all times) when it comes out in the future.
Battery Life
The battery life of the JBL Tour Pro 2 is pretty good. While it's not anything Earth-shattering, it still offers a maximum of 10 hours of music playback on a full charge. However, it goes down to the 8-hour mark if you turn on ANC.
Regarding the case of the earbuds, it provides up to 30 hours extra on a full charge. Therefore, it makes the entire experience on a single charge worth 40 hours. This is pretty good, in my opinion, lasting me for almost two days. on a single charge.
Plus, charging was pretty quick. In just two hours, I was able to fully charge my case. This is comparable to the quick charging feature that you get in the Nothing Phone 2. 
JBL Headphones Companion App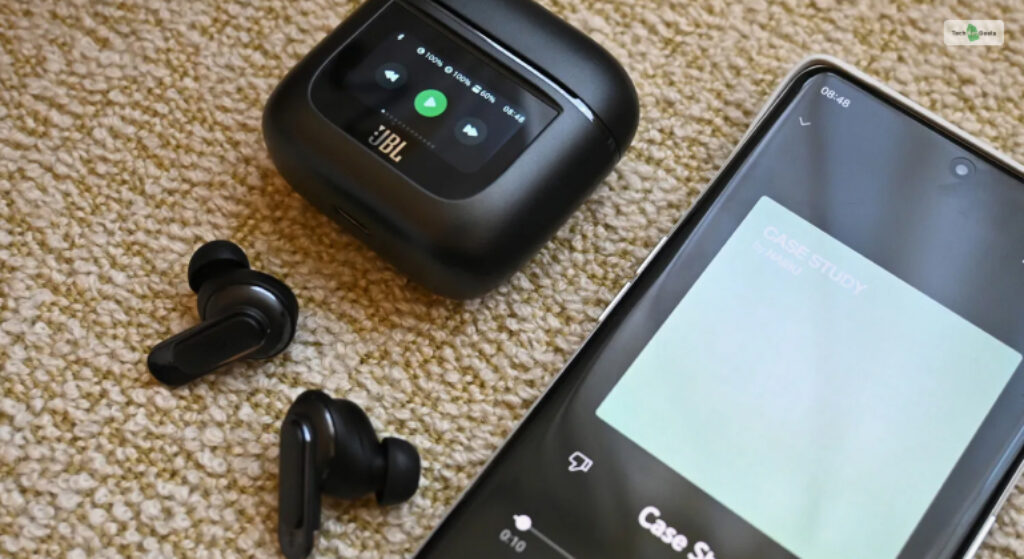 When it comes to additional features, most can be unlocked using the JBL Headphones app. While some can be controlled using the touch screen on the charging case, not all of them are supported by it (furthering my point of it being more of a gimmick).
Regarding the ANC, these JBL TWS earbuds let you choose two different modes – Ambient Aware and TalkThru. Ambient Aware is best used while listening to music or watching videos. On the other hand, the TalkThru mode is to allow you to hold conversations with others around you.
In addition, you can turn on Adaptive ANC Settings (on by default), allowing you to equalize the playback volume. Plus, you get the inbuilt equalizer as well. While you can toggle between EQ presets using the touchscreen on the case, they can only be customized from the app.
In the EQ settings, you can also turn on Surround Sound for an immersive experience – which I enjoyed a lot while watching "Netflix and Chill" in its literal sense.
The app also allows you to turn on Leakage Compression (to prevent noise leaking outside and potentially disturbing others). Additionally, you get the Ear Canal Compression test as well, letting you know exactly how well the earbuds fit your ear canals.
Plus, if you suffer from hearing problems, the app lets you take a Personi-Fi Hearing Test as well. If you are worried about others getting to know your hearing problems. Your test results are not collected online and are instead stored in your device offline as a file.
You also get the Voice Aware test and Smart Audio settings. VoiceAware lets you understand how clearly you sound on calls (to others), while SmartAudio lets you switch to low-latency video mode (increasing battery drainage).
Controls
The touch control on these wireless JBL earbuds is simple – pause/resume playback and pick up and hang up calls. However, the charging case touchscreen gives you a few more doses.
The screen on the smart charging case has these features in the form of slidable widget screens:
Home screen (shows changeable wallpaper, time, earbuds charge, case charge, and phone charge)
Playback control
Toggle ANC settings (Ambient Aware or TalkThru)
Adjust screen brightness
Toggle between EQ presets
Flashlight Mode(the entire screen turns bright white)
Notification screen
Find my Buds (helps you locate your buds in case you lose them – needs the Headphones app to be usable)
Timer (auto turn off earbuds – best used while trying to fall asleep to ambient music)
Spatial Audio Control
Voice Aware
Silent Now (enabled ANC without any music playback – best of you feel disturbed by external noise)
Mic Quality
The JBL Tour Pro 2 mic quality is pretty good. All calls I partook in were pretty good, as the other person on the call exclaimed in my voice clarity. Plus, you get amazing Noise Suppression to top it all off. Nothing much to say here.
Sound Quality
Now, coming to the main section you are interested in (apart from the "smart" charging case) – sound quality.
The JBL Tour Pro 2 buds have 10 mm drivers, which are pretty standard for most earbuds at this price. Therefore, I expected pretty good quality. sound – which is what I got.
Listening to music is a blast with these earbuds, especially the more instrumental ones. As a self-proclaimed metalhead and jazzhead who occasionally delves into hip-hop music – the sound quality gave a wide grin across my face.
If you like rock music, then rejoice. There is a "Rock" EQ preset for rock and metal songs. It worked perfectly as I headbanged along to the track Break Those Bones That Sinews Gave It Motion by Meshuggah in full gusto.
When it came to vocals, everything could have sounded better. Listening to Rap God by Eminem was decent, as the punchy bass and beats got in the way of Em's lyrical wizardry. However, in jazz, tracks like Lingus by Snarky Puppy sounded brilliant, as every instrument sounded clear.
The EQ is good as it is, with clear treble and punchy bass. However, if you want more bass for your techno playlist, then the JBL Headphones app will do the job for you.
Even gaming feels awesome, as every gunshot in Call of Duty: Mobile makes me feel like I'm actually in the warzone. However, I would recommend using it in low-latency mode for the best gaming experience.
Overall, I was satisfied with the JBL Tour Pro 2 sound quality, which could have been better for its $249 price tag. Instrumentals sound good, while vocal-based tracks don't, as the music gets in the way. Even if you use your EQ knowledge, it's still not good enough compared to other earbuds in this price range.
JBL Tour Pro 2: Best Alternatives
Here are some JBL Tour Pro 2 alternatives that you may buy instead if it's not available in your region:
1. Apple AirPods Pro 2
Price: $199
Battery Life (Earbuds): 6 hours
The Apple AirPods still holds the crown for being one of the first earbuds in the market – and the best one too. With an assortment of features, durable build quality, and sleek looks, they are tough to beat.
However, most of its benefits lie when used with an iPhone since Android devices don't support its companion app.
2. Bose Quiet Comfort 2 Pro
Price: $249
Battery Life (Earbuds): 6 hours
Bose has retained its name for creating some of the best sound systems, and its TWS earbuds are no slouch. These earbuds really live up to their "Quiet Comfort" tagline. They are comfortable to wear for longer sessions, and their ANC is by far the best I've experienced. Sound quality? Amazing as usual.
3. Sony WF-1000XM5
Price: $299
Battery Life (Earbuds): 8 hours
While Sony has been trailing behind Bose for some time now, it came close with these earbuds. These have a small and compact size, perfect for all ear sizes. In addition, its mics are by far the best, with amazing recording quality. However, its price should have been $50 lower to justify its price compared to the highly superior Bose Quiet Comfort 2 Pro.
Final Verdict: Is The Extra Screen Of The JBL Tour Pro 2 Worth It?
In my opinion – yes, the JBL Tour Pro 2 true wireless earbuds are worth the price. However, it all lies in how much you expect to utilize the smart touchscreen case.
When it comes to features, sound quality, design, and comfort, it's pretty good. However, the case can be a hit or miss depending on how you use it. It's one of the essential factors, considering it's the main reason these earbuds have a price tag of $249.
If you don't like the case, you can easily go for any of the three alternatives I have mentioned above.
Pros
Cons
• Smart touchscreen case
• JBL Companion app has a lot of features
• Good battery life
• Sound quality could have been better
• Decent ANC
• Better alternatives found at the same price
More Resources: