Buying a laptop can become pretty confusing if you don't know which laptops to look for. Many people just buy laptops after having a look at them, and their display looks. However, there are various other things you need to consider too. This is why I have decided to create a Google Pixelbook 12in review for you all.
If you are interested in the Google Pixelbook or Chromebook laptops (especially as a student), then you have come to the right place. Here, you will find all the information related to the Google Pixelbook touchscreen laptop and have a look at my experiences in using this $999 laptop.
Google Pixelbook 12in Specifications
The primary specifications of the Google Pixelbook 12in are:
| | |
| --- | --- |
| Operating System (OS) | ChromeOS |
| Display | 12.3" touch screen (2400 x 1600 resolution) |
| Processor (CPU) | 7th Generation Intel Core i7 7Y75 (dual-core, 3.6 GHz speed) |
| Graphics Card (GPU) | Integrated Intel HD 615 |
| Memory (RAM) | 16 GB |
| Storage | 512GB NVMe SSD |
| Speakers | 2x speakers (with 4x mics) |
| Camera | 720p HD camera (30 fps recording) |
| Ports | 2x USB Type C ports, 1x 3.5mm headphone jack |
| Dimensions (H x L x W) | 10.3 mm x 290.4 mm x 220.8 mm |
| Weight | 2.45 lbs (1.11 kg) |
| Colors | Aluminum Silver |
| Release Date | 30th October 2017 |
| Price (2023) | $999 |
Google Pixelbook 12in Review: My Experience
After using the Google Pixelbook 12in for a week, I tested its features, ranging from its performance to its durability. Have a look at what I experienced after using this laptop.
1. Design
With an aspect ratio of 3:2, I felt that this laptop has a relatively smaller size compared to other 12/13" laptops. However, even though it's smaller and compact, it actually made it easier for me to carry it around. This is also due to its lightweight design (1.1kg).
Coming to its design, it has a pretty lustrous design, accentuated by its aluminum silver color. This combination makes the Chromebook dimensions look pretty smart and slim, which I prefer more than seeing RGB lights everywhere.
The accents of this laptop are also done using silicon, which gives this Chromebook a sharper edge over others.
2. Operating System
The Google Pixelbook 12in runs on ChromeOS, developed by Google specifically for its Chromebook and Pixelbook laptops. ChromeOS has been touted to be way more secure than Windows laptops due to its security features.
I was happy to see its fast boot times, with the OS loading in under 10 seconds on startup. I would highly recommend using ChromeOs as a student since it supports a slew of Google apps like Drive, Docs, Sheet, and more right from the get-go. You don't need to open a browser to access them anymore.
In addition, since it's running on Google's ChromeOS, it has native support for running all Android applications. Therefore, you don't need to download BlueStacks to run these apps on your laptop anymore.
3. Display
The display of this laptop is smaller compared to most of its Windows counterparts, with a 3:2 aspect ratio. This can be attributed to its smaller screen size of 12.3" compared to most laptops having bigger 13" or 15.6" screens. The Acer Predator Helios 500 17 AMD looks gigantic compared to this laptop.
I found the viewing angles of this laptop screen to be good enough for a laptop under $1,000. Its colors are vibrant, with each YouTube video I saw popping off in its shade. However, the screen has a pretty bright surface, which makes seeking anything on the screen more difficult under daylight. This can be attributed to its use of Corning Gorilla Glass.
The Google Pixelbook 12in touchscreen is also pretty good. I found scrolling through the menus to be pretty responsive. Plus, I liked how comfortable it felt using my fingers to draw on Google Drawings compared to a touchpad or a mouse. In addition, using the Pixelbook Pen also feels excellent for drawing.
Therefore if you wish to use it for watching Netflix, YouTube, and more, this is a good option. However, I would prefer to use it indoors during the daytime as much as possible. The screen has a brightness of 400 nits – brighter than an average laptop.
4. Keyboard, Touchpad, Speakers, And Camera
The Google Pixelbook 12in has backlit keyboards. Since it's a smaller laptop, you will not find the num pad on the right side here. The keys are pretty smooth to press down since their travel time and required accentuation force is pretty low. Plus, the keys are spaced out evenly, making typing easier.
The touchpad of this laptop is generously big, making it easier to use it for all purposes. In addition, I found its responsiveness good enough, as it accurately recognized all mouse gestures I made.
The speakers of this touchscreen laptop are pretty decent at close ranges. However, there is nothing special about them, and I preferred using my Monoprice 110010 most of the time. 
The same can be said for its webcam, which is pretty poor, in my opinion. Every video I recorded for video calls appeared to be dark and somewhat grainy. Plus, it has no autofocus feature as well.
5. Battery Life
Most laptops I have used tend to have poor battery life, especially gaming laptops like the Dell Alienware 15 R4 and the Asus ROG GL753. However, it's not as high as the Macbook 12in M7 as well.
I used this laptop for up to 10 hours efficiently when it came to carrying out routine tasks like using Google Docs and Sheets. However, this went down to 8 hours when I started streaming Netflix and YouTube at 1080p settings.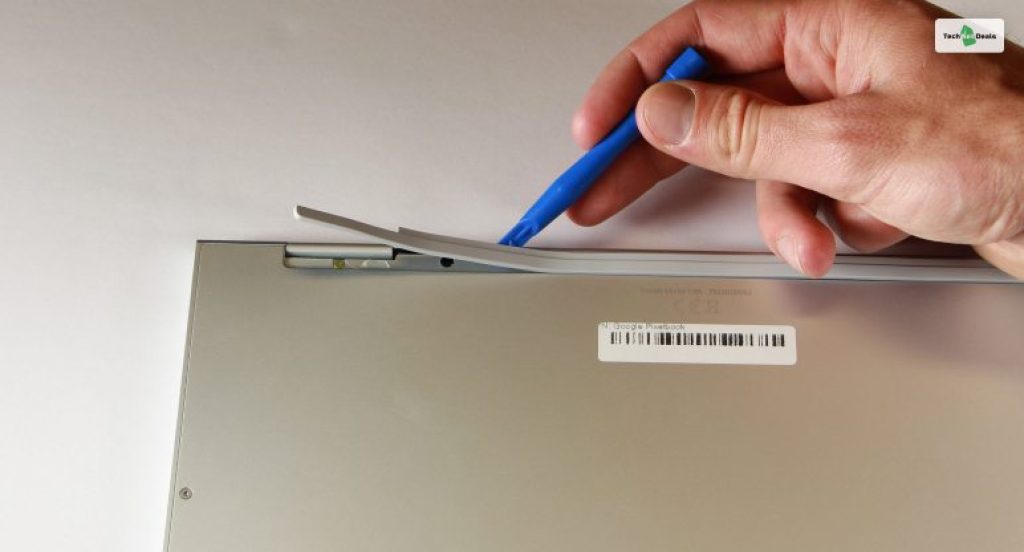 In addition, the battery and its charger are pretty good. I charged the Google Pixelbook 12in under 2.5 hours – a pretty standard laptop charging time. This can be attributed to its 41 Whr battery and 45W battery charger.
6. Connectivity
This laptop failed to impress me from any angle when it came to its connectivity options and its ports. I was disappointed to find only two USB 3.0 Type C ports on this laptop. However, I was surprised to find it has an SD card reader.
In my opinion, this laptop could have benefited a lot if it had used more connectivity ports. One of the most important ports that are missing is the RJ45 ethernet port. Therefore, I could only connect to the internet through WiFi.
7. Performance
The performance of the Google Pixelbook 12in is pretty varied, depending on what purpose you are using it for.
If you are using this laptop for mostly office work using Google Docs and Sheets, then this laptop is fantastic. The same can be said for students who will be relying on Docs, Sheets, Meet, and some other Google apps a lot.
I used this laptop in a variety of situations, most of which included the use of some Google applications. However, as I expected, Google Meet was a mess. This was primarily due to the poor-quality 720p camera. I appeared very dark and blurry, even though all the lights in my room were turned on.
When it came to browsing, everything went perfectly, with no lags or anything whatsoever. I watched lots of YouTube videos at 4k resolution, which were all rendered on the screen in stunning detail. The same can be said for watching movies on Netflix, which have crisp picture quality.
One aspect I love about Chromebook and Pixelbooks is their seamless integration with Google Assistant. Since this laptop has four inbuilt mics, it picks up your voice and recognizes it clearly. Therefore, because of this, I can simply say, "Ok, Google" and ask it to run some commands for me with ease. If this can be broadly used in future laptops, it can lead to a more pleasant and productive hands-free experience for users.
However, since this runs on ChromeOS, the support for various applications is vastly limited. Therefore, creative producers who are in tune with apps like the Adobe Creative Suite and many more. Since most of these applications are not supported in ChromeOS, they will not run.
The same can be said for video games as well. Apart from browser games, all other PC Windows games are not supported here. However, you have the ability to stream them using NVIDIA GeForce Now, even though the performance and frame rates will not be up to the mark.
Therefore, gamers and creative producers who need these Windows apps to work will not find this laptop worth it.
Frequently Asked Questions (FAQs):
Students, office professionals, and parents have lots of queries regarding the Google Pixelbook 12in. Here are my answers to their queries:
Q1. Is Google Pixelbopok Discontinued?
Ans: Yes, Google has officially canceled all future releases of any laptops under the Google Pixelbook banner. Current Pixelbook laptops will still get support and updates till 2025. This was done to cut the costs of manufacturing these laptops.
Q2. Is Pixelbook The Same As Chromebook?
Ans: If you have a look at their specifications, then you will notice that the Google Pixelbook and Chromebooks are not the same. Chromebooks are basically entry-level laptops primarily made for school students. On the other hand, Pixelbooks are slightly more expensive and powerful, made primarily for office workers and college students.
Q3. Do Google Pixelbooks Come With A Pen?
Ans: No, the Pixelbook Pen has to be bought separately from the Google Pixelbook or Google Chromebook. This pen costs $49 and can be bought separately at the time of purchase.
Final Verdict: Is The Google Pixelbook 12in Worth Buying In 2023?
In my opinion, the Google Pixelbok 12in is a great laptop if your study or work revolves around using Google applications. This is a pretty good laptop based on ChromeOS, with great build quality and performance under $1,000 ($999).
However, its main drawback lies in the fact that it's based on the still primitive and still in its infancy ChromeOS. While it's pretty decent, it lacks the accessibility and customization of Windows, albeit being more secure. Its lack of industry-specific applications will have many users on edge.
Therefore, if you plan on using various work-related applications that are not supported on ChromeOS, this laptop will not be a worthy buy for you. However, as a student and casual laptop user, this laptop will suffice your needs nonetheless.
PROS
CONS
• Small but amazing 12" touch screen
• Good keyboard
• Pretty aesthetic design
• Good battery backup
• ChromeOS has support for limited apps so far
• Too few ports
• Bad 720p webcam
Read Also: