When it comes to budget gaming, there is hardly anyone that beats Asus. The Asus ROG GL753 is a close example of what a budget gaming laptop can be. However, when it comes to high-intensity gaming, the Asus ROG GL753 struggles a bit.
Asus ROG Strix GL753 is a gaming PC that comes with VR-ready features and can play most of the games available in the market. As per various Asus ROG GL753 reviews, performance-wise, the machine is excellent and comes with Nvidia's GTX 1050 Ti GPU. With the brilliant design and RGB backlit keyboard, the device looks great as a laptop.
Currently, it is priced at $1099. However, it is 2023, and you will get other options (even better ones) with similar configurations and specifications by paying less than $1000.
Brief Specifications – Asus ROG GL753
Here are the specifications in brief:
Specifications
Price
$1099 – $1299
Brand
Asus
CPU
Intel Core i7-7700HQ CPU (Clock Speed: 2.8 GHz)
HDD
1 TB
HDD Speed
5400 rpm
HDD Type
Serial ATA
SSD (Type)
256 GB (M.2 SSD)
RAM
16 GB (Upgradable to 32 GB)
VRAM
4 GB
Display
17.3 inches
Resolution
1920 x 1080
Optical Drive
BD-ROM / DVD
Optical Drive Speed
8x
Touchpad dimensions
4.1 x 2.8 square inches
USB Ports
6
Ports (Types)
HDMI, Mini Display, USB 2.0, USB 3.0, USB 3.1 with Type C, Mic/Headphone, Ethernet.
Bluetooth
4.0
Weight
6.4 lbs
Wi-Fi
Intel 2×2 802.11 ac
Warranty
1 year.
External Features – Asus ROG GL753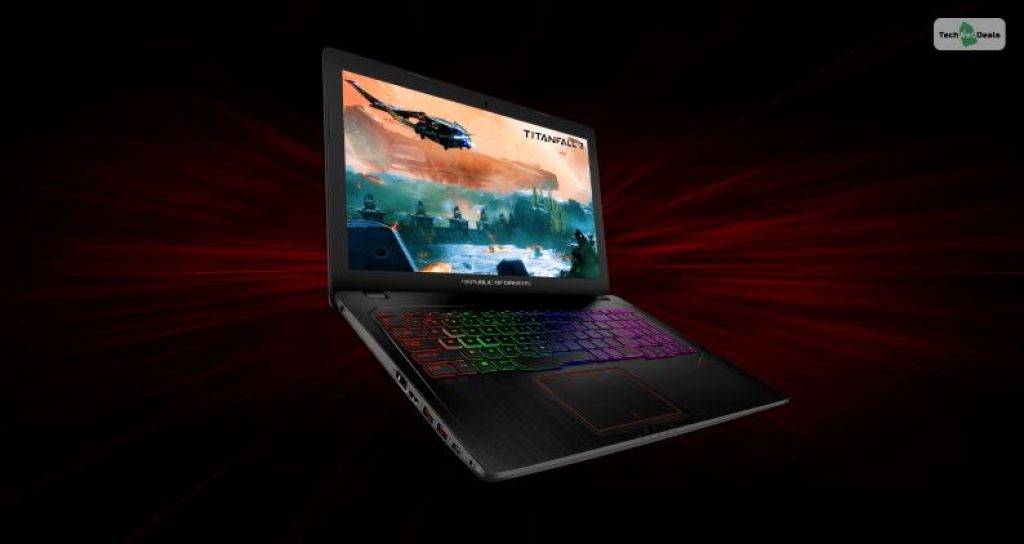 If you look at the hardware of the Asus ROG GL753, it is actually a great option if you look at the $1099 price. Here are the basic details of hardware features:
1. Design
The laptop has a great design, and the sleekness aspect is kept away to keep the 'beast-look' alive. The logo sides have glowing lights, and the lid is made of black plastic and patterned with faux aluminum. It also comes with an island-styled keyboard. In terms of heaviness aspect, the laptop's weight is a bit high at 6.4 lbs.
You will also get two USB 3.0 ports and one USB 3.1 port, along with a Blu-ray drive and ethernet, HDMI, and mini-display ports. Under the palm rest, you will find a hidden SD card reader.
2. Display
With a giant 17.3-inch screen, it comes with a 1080p display. The details and picture quality are sharp. However, in terms of brightness, the Asus ROG GL753 loses out to its competitors. You can also view the screen clearly from the sides due to its 178-degree viewing angles.
3. Audio
Considering the Asus ROG GL753 as a laptop, the speakers you get with it are pretty powerful. It comes with a preloaded ICEpower AudioWizard powered by Dolby. On these speakers, you will get to listen to clear foreground sounds. However, the background sounds will not be apparent if you carefully listen.
4. Battery Life
The Asus ROG GL753 has a high battery life, and it clocks almost 5.5 hrs. on our test, where we continuously performed web browsing by connecting it to Wi-Fi. This is more than most of the top-quality gaming laptop options you will get in the market.
5. Webcam Quality
Honestly speaking, the webcam quality is not up to the mark at all, provided the quality of the machine we have talked about on other features. The video is full of noise and blurry at the same time. Furthermore, without an additional light on the front, everything will come dark.
6. Heat
The comfort threshold of laptop heat is 95 degrees Fahrenheit. In this case, after streaming videos of HD quality on Facebook, we have encountered that the temperature at the laptop bottom, keyboard, and touchpad are quite low in their 80s degrees Fahrenheit. Hence, the Asus ROG GL753 performs well here.
7. Keyboard + Touchpad
The keyboards are solid, powerful, and extremely comfortable in comparison to the price point. In terms of design, the keyboard comes with an RGB-backlit glow that makes the laptop look great from a distance. The touchpad dimensions are quite comfortable at 4.1 x 2.8 square inches. However, they are fussy and not actually good for gaming. So, we would recommend you get a gaming mouse.
Internal Features – Asus ROG GL753
You will only get a manufacturing warranty of one year for the Asus ROG GL753. However, considering the price, the performance of the ROG GL753 laptop is quite good and can be viewed as a good option for budget-friendly gaming.
The following are some internal features of the Asus ROG GL753:
1. Gaming Graphics
With the Nvidia GeForce GTX 1050 Ti GPU along with a Video RAM of 4GB, the Asus ROG GL753 is really good for high-quality gaming. However, if you are looking for intense gameplay at optimum settings, you might encounter some trouble at the time of gaming. In terms of the FPS range, Asus ROG GL753 only reaches up to 28 fps, as compared to other gaming computers.
2. VR- Readiness
In terms of the benchmark created by Stream VR gaming, the laptop earned a low score of 2.4. Hence, it is suitable for low-end VR, while the high-end VR tiles will be unplayable on this machine. However, if you consider the price point of the laptop, Asus ROG GL753 actually comes with a VR option at a lesser price.
3. Performance
The Asus ROG GL753 has an Intel Core i7-7700HQ processor with a clock speed of 2.8 GHz. Apart from that, with 16 GB RAM, 1TB HDD with 5400 rpm, and 256 GB SSD, the Asus ROG GL753 is relatively fast, considering only $1099.
4. Software
In every Asus gaming laptop, you will get much-preloaded software in addition to beneficial utility applications as well. In the Asus ROG GL753, you will get software known as ROG Gaming Center. Here, you will get a complete status of the gaming performance of the computer, including GPU memory, CPU, temperature, fan speeds, and other factors.
Other useful apps include Asus Splendid Utility, GameFirst IV, and XSplit Gamecaster.
Bottom Line – Asus ROG GL753 Review
If you are looking for an affordable gaming laptop, Asus ROG GL753 is among the best options that you will get in the PC and notebook market. The Nvidia GTX 1050 Ti GPU makes it one of the best-performing laptops. It is actually hard to get a laptop that comes with this GPU at this price. Furthermore, the comfort factor, along with the RGB-backlit keyboard and brilliant design, makes the laptop popular among budget gamers.
Read Also: