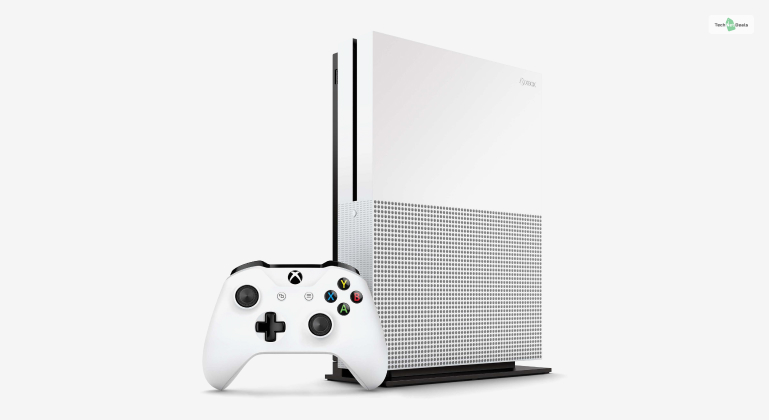 Microsoft's Xbox One S gave Sony's Playstation 4 Pro – both upgrades to the original consoles – a run for its money. While everyone thought that the PS4 Pro would beat Microsoft, the latter came flying with this console, followed by an even better Xbox One X.
But seven years have passed since this console was launched, along with the next generation Xbox Series X & S and PlayStation 5 consoles being launched as well.
Therefore, is buying the Xbox One S worth the money in 2023, considering it's way cheaper now? Read this post to find out!
Xbox One S Specifications
The primary specifications of the last gen Xbox One S gaming console are:
| | |
| --- | --- |
| Processor | AMD Jaguar 1.75 GHz Octa Core processor |
| Graphics Card | AMD Radeon Graphics Core NEXT Engine (914 MHz) |
| RAM | 8 GB DDR3 RAM + 32 MB eSRAM |
| On-board Flash Storage | 8 GB |
| Internal Storage | 1 TB |
| Optical Drive | None |
| Input/Output Connectors | 3 x USB 3.0 ports, 1 X IR-out port |
| Ethernet | RJ-45 LAN (max 1000 Mbps) |
| WiFi | WiFi 5 (802.11 ac) Dual Band (2.4 GHz, 5 GHz) |
| Video Outputs | 1 x HDMI-in 1.4b, 1x HDMI-out 2.0a |
| Maximum Resolution | 4K UHD (2160 x 3840 resolution @ 60 Hz) |
| HDR | HDR10 |
| Audio Outputs | 1x S/PDIF |
| Controller Support | Upto 8x wired or OR controllers, 3x wired controllers |
| Power Supply | 120 W |
| Dimensions | 11.6" (L) x 9.1" (W) x 2.6" (H) |
| Weight | 6.4 lb (2.9 kg) |
| Price (2023) | $200 – $249.99 (Refurbished) |
Xbox One S Review
Even though I have played on the Xbox One before, I never got a chance to play on the upgraded Xbox One S. Therefore, I decided to try out my friend's console after being spoiled by the current-gen Xbox Series X and a 4k laptop for gaming.
Here are my impressions as to how well it holds up in 2023, seven years since its release in 2016. However, it's not to compare it with gaming giants like the Alienware Area51 Threadripper.
Design And Build Quality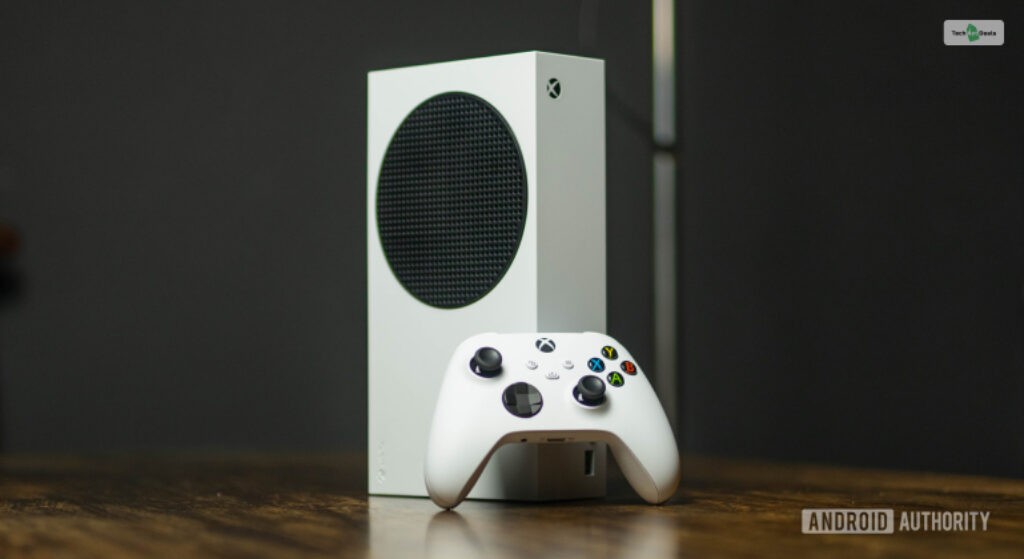 The Xbox One S was lauded at launch for its revamped design of the original Xbox One. Revisions here include the overall smaller form factor. Compared to the original Xbox One, the size of this console is almost half.
However, while the overall look might be sleeker, it's still not better than the PS4 design. The upper is divided into two segments, with half of it acting as a heat vent. In the front, the Xbox logo is towards the right, while the Blu-Ray drive lies towards the left.
Overall, it's a pretty solid upgrade to the Xbox One in terms of design. It's smaller and more compact, with durable build quality comparable to the PS5 Slim.
Controllers
If you are a PC gamer like me (all hail the "PC Master Race!"), then the Xbox One controller needs no introduction. This time, the Xbox One S features the same original Xbox One controller. However, the only notable difference I felt was that the thumb analog sticks felt a bit more durable and responsive.
The battery lasts for quite some time before it needs charging. So far, all my gaming sessions have lasted from four to six hours, and the battery never died on me once during these sessions. But that's because I already had the controller fully charged before playing.
Therefore, in terms of controller upgrades, that's the only one. This didn't bother me much since the Xbox One controller is already perfect, to begin with. If it's not broken, why fix it?
Interface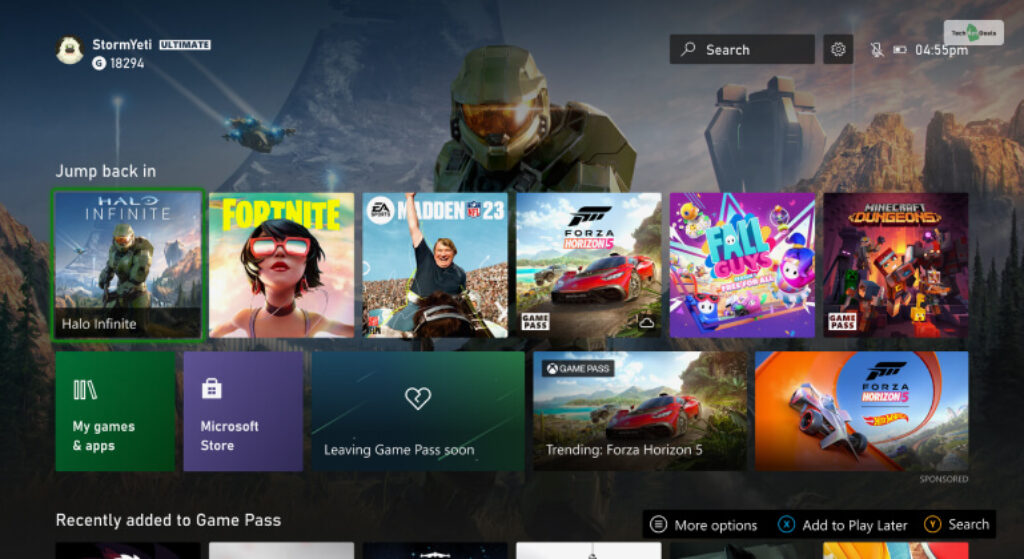 Compared to the interface of the PS4, I feel the Xbox UI is a cluttered mess. While its design is great in general in terms of its looks, I always felt that way too many icons cluttered the screen.
In addition, I realized that the Xbox One S UI and the Xbox One UI are the same. No upgrades were made in this regard. Making the UI a bit less cluttered would have worked wonders.
As a Blu-Ray movie player, the UI feels less cluttered because there are fewer icons and buttons on the screen.
Performance
Apart from its design, the Xbox One S gaming performance makes it truly shine and stand apart from the original Xbox One.
The Xbox One S has more power this time, thanks to its inclusion of a more powerful AMD CPU and GPU. This addition enabled Native Upscaling in all Xbox One games. Tus means that all the games that you could play on the Xbox One previously at 1080p or 2k resolution can now be played at 4k resolution.
Here, I had a wide smile as I played my favorites, The Witcher 3: Wild Hunt and Red Dead Redemption 2, at 4k settings. And – the games looked amazing. I also played a bit of Shadow of the Tomb Raider as well, where the lighting and reflections became way better after seeing it in all its glory in 4k HDR.
However, when it comes to the frame rate, it has been increased as well – only for 1080p. 2k and 4k games will be capped out at 30 fps.
However, watching movies felt really great as I was able to see 4k Blu-ray movies with amazing visual fidelity. I enjoyed watching Dune, which looked fantastic in 4k. Therefore, movie lovers with a big screen (40"+) will enjoy the experience a lot better.
Xbox One S: How Does It Hold Up Against Other Consoles?
It has been seven years since the Xbox One S was released. While it might have been a great console at its time, considering that it was an upgrade to the previous generations' Xbox One, it fails to do anything worthier than other consoles of its generation.
In this regard, I will compare the Xbox One S with the Xbox One X and the PlayStation 4 Pro. Both those consoles are upgrades to their previous-generation consoles – the Xbox One and the PlayStation 4.
Here, the Xbox Series X is the ultimate winner – in terms of performance, that is. However, when it comes to console-exclusive games, the PS4 Pro has the upper hand here.
Sony has better and more exclusive titles, like Uncharted 4: Thieves End, The Last of Us 2, Ghost of Tsushima, Horizon: Zero Dawn, Marvel's Spider-Man, and God of War.
In this regard, the Xbox One S only has Gears 5, Sunset Overdrive, Halo: Infinite, Sea of Thieves, Quantum Break, and the Forza racing games.
While performance wise, the Xbox One X is the clear winner, costing almost 30% more. However, if you wish to play the best games, then the PlayStation 4 Pro gets the edge in this regard with better exclusives.
Final Verdict: Is It Still Worth It To Buy The Xbox One S In 2023?
In all honesty, it's not worth it to buy the Xbox One S in 2023. With next-gen consoles like the Xbox Series X & S and the PlayStation 5 being available more in the marketplace after recovering from a semiconductor shortage, it's best to spend more to get something better that will be relevant, at least for the next few years.
Plus, the Xbox Series X & S have backward compatibility as well, allowing you to play Xbox One games on them. Therefore, best save up to buy the Xbox Series S instead.
More Resources: