If you go to an electronics shop to buy a new gaming laptop, you will see that all the latest ones have prices above $1500. Therefore, if you want something under the $1000 range, then you can have a look at older laptops like the Acer Aspire Nitro 7.
Therefore, if you are interested, read this post till the end to find out everything about this 2019 gaming laptop.
Acer Aspire Nitro 7 Specifications
The primary specifications of the Acer Aspire Nitro 7 AN715-51-76LS are:
| | |
| --- | --- |
| Operating System | Windows 10 Home (upgradeable to Windows 11) |
| Display | 15.6" FHD IPS (1080p resolution, 144 Hz refresh rate) |
| Processor | 9th generation Intel Core i7 9750H (2.6 GHz – 4.5 GHz) |
| Graphics Card | NVIDIA GeForce GTX 1660 Ti 6 GB GDDR6 |
| Memory | 8 GB DDR4 RAM (upgradeable to 32 GB) |
| Storage | 256 GB SSD |
| I/O Ports | 1x USB 2.0, 1x USB 3.1 Gen 1 (Type C), 2x USB 3.0, 1x HDMI Port, 1x DisplayPort, 1 x 3.5 mm plug, 1x RJ45 ethernet port |
| Dimensions | 259 mm x 230 mm x 190 mm |
| Weight | 2.5 kgs |
| Colors | Matte Black, Glossy Aluminum |
| Release Date | August 2019 |
| Price (2023) | $899 |
Acer Aspire Nitro 7 Features
My impressions regarding the primary features of the Acer Aspire Nitro 7 that I tested out are:
1. Design
I appreciate the fact that the Acer Nitro 7 gaming laptop doesn't have a showy exterior. The sleek monolithic construction and the black finish deter smudges easily. The display is further protected by the aluminum coating on the lid. There was some lid flex, but not enough to start distorting the display. Instead of RGB LEDs or illuminated branding, the lid has some straightforward, glossy diagonal stripes. The display can stretch to around 170 degrees outwards, and the dual-hinge construction seems solid.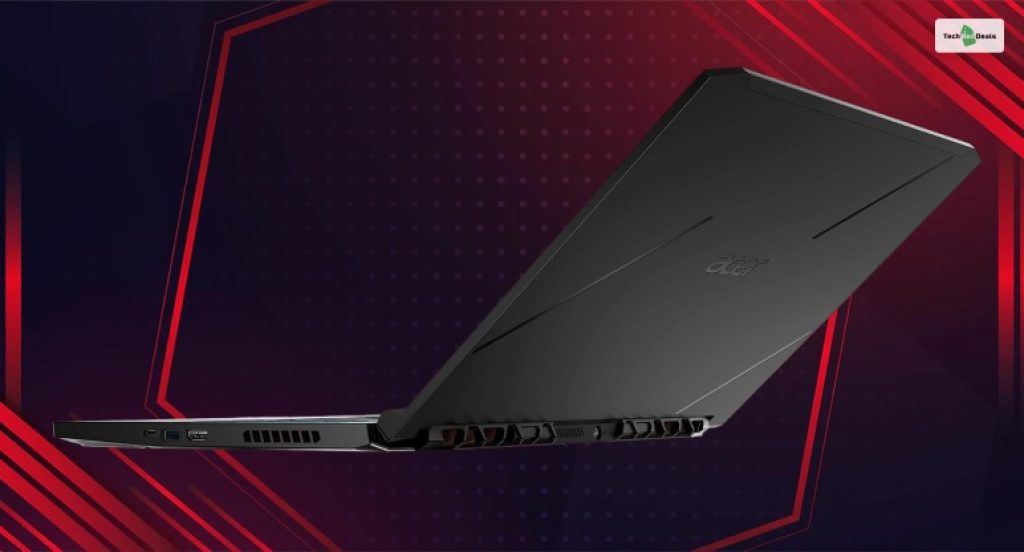 The Aspire Nitro 7 has a generally stylish, subtle appearance, so you might be able to use it at work without standing out too much. It is around 19mm thick at its narrowest point, yet it weighs 2.5kg, making it on the heavier side. Fortunately, it is rather small for a 15.6-inch laptop, so I had no issue fitting it into a backpack.
2. Display
However, the 15.6-inch, 1920×1080 IPS screen of the Nitro 7 looks pretty darn fantastic. Undoubtedly, it is still a pretty basic display. The Nitro 7 readily clears the 250-nit barrier I use for battery testing, though, and viewing angles are somewhat wide. Color reproduction is also surprisingly accurate. This stands true as one of the few distinct benefits the Nitro 7 has against the Acer Predator Helios 300 17 AMD, which is known for having a poor display.
3. Keyboard & Touchpad
Given that the keyboard occupies almost the whole width of the chassis, one may forgive the somewhat crooked number-pad keys. The right Shift and number pad "0" keys are shortened as a result of the full-size arrow keys being crammed into the main keyboard region. The large red border that surrounds the W, A, S, and D key clusters as well as the arrow keys is another subtle gaming detail.
A Precision touchpad made by Elan is included with the Nitro 7. Because there are no specific buttons, the pad's slick matte-finish surface allows for superb, accurate finger tracking, and its tactile clicks aren't too loud to annoy nearby users.
4. Connectivity
Along the left edge of the Nitro 7, three USB 3.1 ports are provided (2x Type-A variety, 1x Type-C port).
A Kensington-style cable-lockdown notch, an Ethernet port, and an HDMI 1.4 video output are all located on this side. In public spaces or a college dormitory, having the last thing is usually convenient. An audio combo jack and a vintage USB 2.0 Type-A connection on the right edge complete the connectivity.
This is slightly mitigated by the oddly positioned AC power connection in the center, which features a right-angle power connector that allows you to run the wire down the laptop's edge (as opposed to it sticking straight out the side). On the Nitro 7, there is no place to be discovered for a flash card reader.
5. Battery
Although Acer advertises a battery life of up to 7 hours, I got approximately 4-5 hours of non-stop use. Remember that this was just with a little amount of usage, mostly functioning in the Opera browser. The battery of this Acer Nitro gaming laptop is poorer than the Asus ROG Strix Scar II GL704GM.
The keyboard lighting was turned all the way down, and the screen brightness was set to about 40%. I wasn't running any graphics-intensive applications at the time, thus the discrete Nvidia GPU was dormant. The Battery Eater Pro benchmark took 1 hour and 49 minutes to complete, which isn't bad but might have been shorter.
6. Performance
It didn't let us down when I needed to put it through its paces. The top-tier specification I examined produced a really pleasurable gaming experience. Even in certain demanding games, the GeForce GTX 1660 Ti had no issue driving the higher refresh rate display thanks to its excellent 1080p gaming performance. However, it's still weaker than the Asus ROG FX503 and Dell Alienware 15 R4.
When I used the High graphics setting and DX12, older games like Deus Ex: Mankind Divided produced a steady 56.8 frames per second. Doom's demon-infested alleyways were a breeze to navigate because the Nitro 7 averaged 78 frames per second with the visuals set to "Ultra."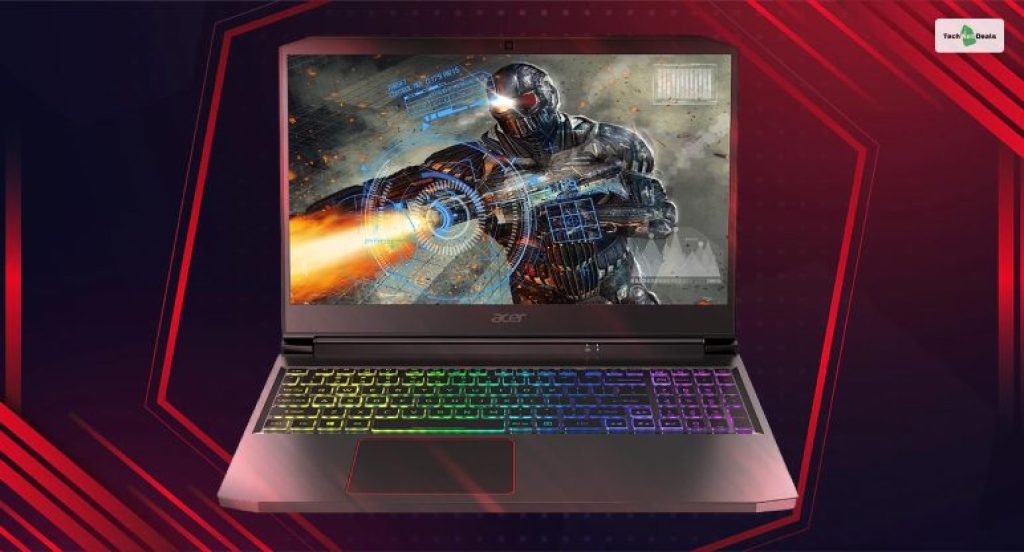 With all the bells and whistles turned up, the more recent Shadow of the Tomb Raider averaged 58 frames per second. With the "Ultra" graphics setting, the Nitro 7 averaged 61 frames per second in Far Cry 5. Battlefield V also performed well, averaging 64 frames per second on the "Ultra" preset.
I advise wearing Monoprice 110010 headphones when gaming because the exhaust fans might be heard when the system was under strain, and this could occasionally be distracting. While the keys themselves remained cool, the region above the keyboard became extremely heated.
Frequently Asked Questions (FAQs):
Here's the answer to some questions asked by gamers interested in buying the Acer Aspire Nitro 7 gaming laptop:
Q1. Is Acer Nitro 7 Good For Gaming?
The Nitro 7 is pretty decent when it comes to gaming. However, the latest games and the ones to be released in the next couple of years must be played in low to medium graphics to hit the 30+ fps mark.
Q2. Is Acer Nitro 7 Good For Video Editing And Animation?
Yes, this laptop is pretty good for video editing. You can run apps like Adobe Premiere Pro with After Effects simultaneously to edit 1080p videos easily. In addition, you can use Blender without any hiccups to create amazing 3D animations.
Q3. Does The Acer Aspire 7 Have Heating Issues?
This laptop does have heating issues, which is the same for all other gaming laptops as well. This laptop heats up pretty fast, along with the battery going down the drain quickly too.
Final Verdict: Is The Acer Aspire Nitro 7 Good?
The Acer Aspire Nitro 7 looks great and performs pretty well too for a 2019 laptop. Even though it lacks the latest generation Intel Core processors and RTX graphics cards, it performs pretty well overall. Gamers will be able to play all the latest games and new ones to come, albeit at low to mid settings. As for productivity tasks like video editing and Photoshop, this laptop performs great in those tasks.
However, the poor battery life is a major concern with this laptop.
PROS
CONS
➡ Decent gaming performance
➡ Classy design
➡ Quiet coolers
➡ Pretty bright 144 Hz screen with 3ms response time
➡ Pretty big and heavy
➡ No card reader
➡ Poor battery life
➡ Slowly becoming outdated
Read Also: