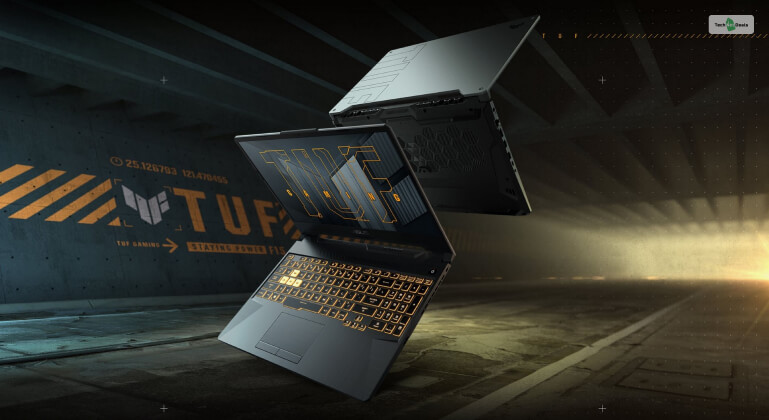 Asus has been pumping out one excellent gaming laptop one after the other with its series of TUF and ROG gaming laptops. They all provide fantastic performance at affordable rates – which gamers (and consumers in general) want.
Therefore, let's have a look at the Asus TUF Gaming F15 gaming laptop. Armed with 12th-generation i7 processors and the latest RTX 40-series graphics cards, this seems to be a good laptop for a price slightly above $1,000.
But how good is this laptop in reality? Let's find out!
Asus TUF Gaming F15 Specifications
The primary specifications of the Asus TUF gaming F15 gaming laptop are:
| | |
| --- | --- |
| OS | Windows 11 Home |
| Display | 15.6" IPS screen (1920 x 1080 resolution, 144 Hz refresh rate) |
| Processor | 12th generation Intel Core i7-12700H (14 cores, upto 4.7 GHz) |
| Graphics Card | NVIDIA GeForce RTX 4060 8GB DDR6 |
| RAM | 16 GB DDR4 3200 MHz (expandable upto 32 GB) |
| Storage | 512 GB PCIe NVMe M.2 SSD (expandable upto 1 TB) |
| Ports | 1x Thunderbolt 4, 1x USB 3.2 Gen 2 Type-C, 2x USB 3.2 Gen 1 Type-A, HDMI 2.1 FRL, Ethernet, 3.5mm headphone jack,1x RJ-45 LAN port |
| Connectivity | Wi-Fi 6 (802.11ax), Bluetooth 5.2 |
| Webcam | 720p HD |
| Battery | 90 Whr |
| Dimensions (WxDxH) | 13.94" x 9.88" x 0.78"(354 mm x 250 mm x 20 mm) |
| Weight | 4.8 lbs (2.2 kg) |
The Asus TUF Gaming F15 2023 release date was in May 2023. The current Asus TUF Gaming F15 price in the USA is approximately $1,099.99.
Asus TUF Gaming F15 Review: My Impressions
I had a lot of fun using this laptop for a week. It has good power and performance for the price you are paying, asserting its value-to-cost ratio.
Here are my thoughts regarding this laptop:
Design & Build Quality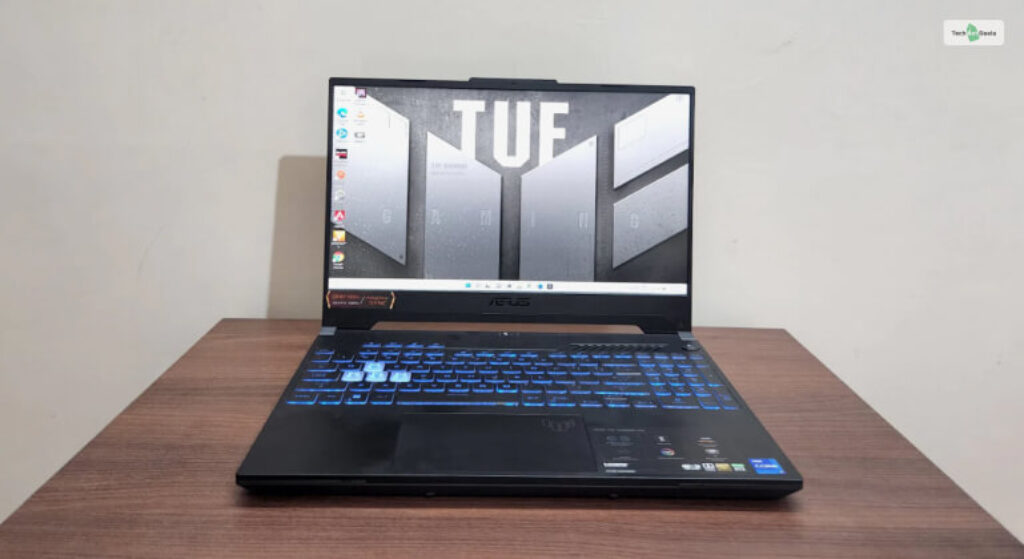 The Asus TUF gaming F15 2023 design has remained the same as its 2021 and 2022 variants – which is cool. I never really disliked its simplistic design, with subtle edgy tidbits poking out here and there. It's a gaming laptop, after all!
Ths laptop is available only in one color – Gunmetal Grey. While it's not bad, it looks dull compared to a matte black laptop (or any other colorful laptop). However, you will not stare at your laptop design instead of its screen, will you?
The back of the lid has the signature Asus TUF logo. The bezels beside the screen are also pretty slim, except for the top bezel, since it houses the webcam. There's not much in terms of "gamer aesthetic" going on here, which is great for a minimalist like me.
The Asus TUF Gaming F15 build quality is really good. Fitted with an aluminum chassis, it seems to be pretty durable to withstand a fall or two. Even though I didn't test this by throwing it around, you shouldn't.
With a weight of almost 4.5 lbs, I dare say it's in the upper-medium range. Not too light nor too heavy. It's just heavy enough. It's still pretty lighter than older Asus laptops, like the Asus ROG FX503 gaming laptop (weighing around 6 lbs).
Display
The Asus TUF Gaming F15 display is pretty good. With a 15.6" screen with a 144 Hz refresh rate, gamers will find it to be good enough. Since you will be playing at 1080p anyway to get more frames, it's more than good enough for multiplayer gamers. However, size addicts will find the 17.3" Asus ROG Strix Scar II GL704GM to be a better choice.
As a gamer, I have two settings for playing games – the highest quality on single-player games and the lowest on multiplayer games (to squeeze out more frames). Therefore, Valorant and CS2 players rejoice. You will get high frames (and headshots) with a 144 Hz refresh rate screen!
Regarding visuals, the screen of this laptop is pretty good. It has a vibrant color gamut, with the perfect balance of contrast and brightness right out of the box. I didn't tweak a single display setting since I prefer it as it is.
Using the laptop outside with the sun on it hindered my experience, as it darkened the screen too much. Even if you crank up the brightness to max, you will still want it to be brighter.
In addition, watching movies and other videos on YouTube and Netflix feels good as well. The colors appear vividly on the screen, and there appears to be no lag as well. Nice!
Keyboard & Mouse
As a PC gamer (and a professional blogger), I love using mechanical gaming keyboards. They just feel perfect for typing and gaming, thanks to their tactile feedback and everyone's favorite "clicky" sound.
I didn't expect the Asus TUF Gaming F15 keyboard to be mechanical (or feel mechanical like membrane keyboards) – and it isn't.
But as a laptop keyboard, it does feel better than most. I liked the addition of the NumPad on the right side of the keyboard, which most gaming laptops ditch for more keyboard space. The reduced space between the keys made the keyboard feel a bit cramped compared to what I am used to.
However, after using it for a few days, I kind of got used to its key spaces. Therefore, if you use standard-sized keyboards, this will become less of an issue as you get used to it.
The keyboard has a matte finish to it, along with more pronounced WASD keys. However, one issue I have with this keyboard is its RGB lighting. It's very bright, and I didn't find any means to adjust its brightness.
Sometimes, the keys light up a bit too bright to make it feel glaring to look at. This happened especially at night time when I was gaming alone in my dark room.
The Asus TUF Gaming F15 trackpad seems pretty good. It's bigger compared to most laptops and has a pretty smooth finish. It's accurately responsive to my taps and gestures, and that's perfect.
Audio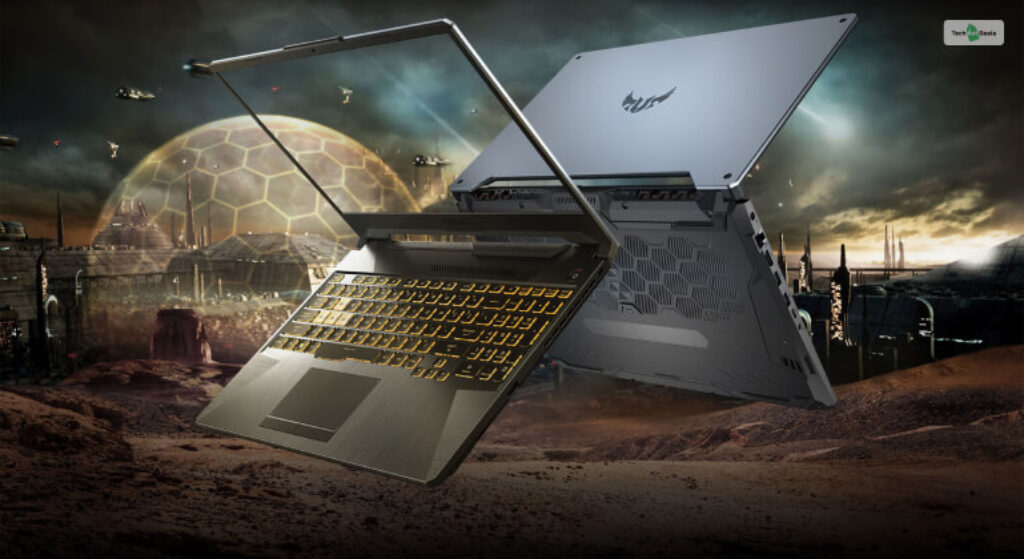 The Asus TUF Gaming F15 speakers are pretty loud. Actually – it's a bit too loud at max volume.
While I do enjoy booming speakers, I also prefer the sound output to be of higher quality as well. Here, the output quality was bad at higher volumes. There were audible audio distortions, especially with the bass, as I notched the volume up to the 70% mark. Keeping it below this mark seems to be loud enough with no distortions.
For the best gaming experience, I recommend using wireless Skullcandy headphones (like the Skullcandy Crusher Evo). If you want wired gaming headsets, you can also opt for the Astro A40 Tr Headset + Mixamp Pro 2017 or the Sennheiser Game One Gaming Headset.
Webcam
I don't expect laptop webcams to produce DSLR-quality pictures and videos (like the Canon Eos R). However, the Asus TUF gaming F15 webcam is abysmally bad.
While I video chatted with my friends over on Discord, the video quality was worse than a smartphone's front camera.
Everything appears blurry. Even my face appeared to be pretty dark even though the lights of my room were on. It's significantly worse than the HP Chromebook x360 webcam, which is a cheaper laptop. I guess this is what Asus compromised to make this laptop more affordable.
Connectivity & Ports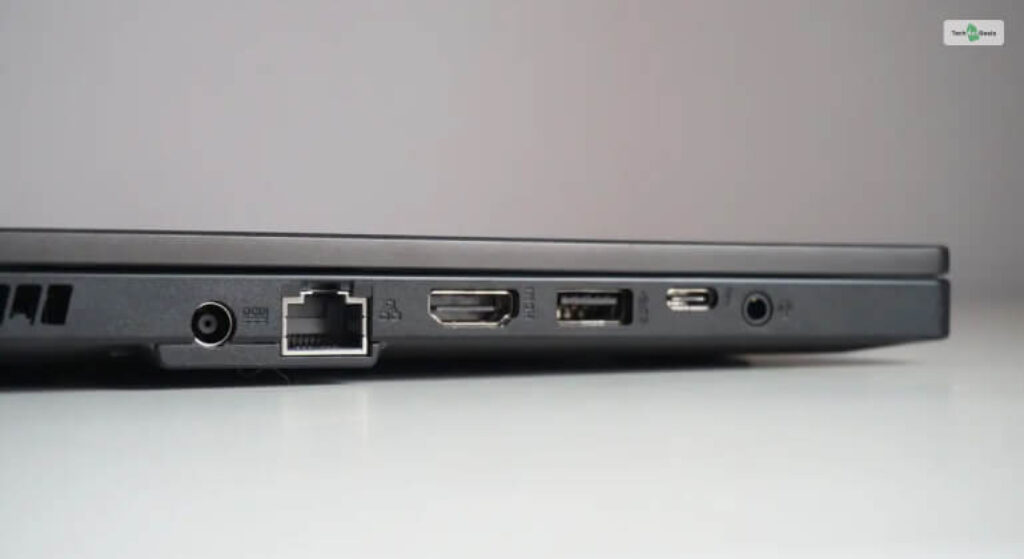 Regarding wireless connectivity, Asus TUF Gaming F15 has two – Bluetooth and WiFi. This gaming laptop supports Bluetooth 5.2 and Wi-Fi 6 (802.11ax). These are good enough and compatible with all routers and Bluetooth wireless devices.
In terms of ports, this Asus gaming laptop has a decent number of them. You get one Thunderbolt 4 port, along with multiple USB ports on its sides. It has a DisplayPort and an HDMI 2.1 port for attaching external displays, making it perfect for content creators.
You also get the standard RJ-45 LAN cable and a 3.5mm AUX port as well. However, I would've preferred if some of these ports were on the back of the laptop. It does make the right side feel a bit cramped with a row of USB ports and more.
Plus, I would've loved to see an SD card reader port here as well. Many professional photographers prefer using gaming laptops for photo and video editing. In such cases, an SD card port for connecting with the camera is a necessity for them.
This would've completely removed the hassle of them always carrying an SD card reader with them at all times. This is what the Asus ROG GL753 gets right.
Battery Life & Thermals
Everyone has this notion that the battery life of a gaming laptop is always bad. This has been one of the main reasons why people prefer using gaming desktops instead of gaming laptops. Plus, there is an overheating issue as well.
While I'm not gaming, the Asus TUF Gaming F15 battery life lasted me for 8 hours – which is pretty commendable. Most laptops die out within 5 hours of just browsing the web and chilling with Netflix.
However, in terms of gaming, the battery lasted for around 4 hours – which is good. Most gaming laptops last around the 3-hour mark, so I guess it does a good job in this department!
However, I did have an issue with its thermal cooling system. After gaming for over 3.5 hours, the fan inside got really loud. Plus, the middle of my keyboard heated up slightly. While the heat was not much of an issue, I still have to point this out.
While I played for a maximum of 4.5 to 5 hours with this laptop, I wonder what would happen if I played for 8 to 10 hours straight. Do I need a fire extinguisher for my keyboard? I don't wish to find out. And I hope you don't need to as well.
Performance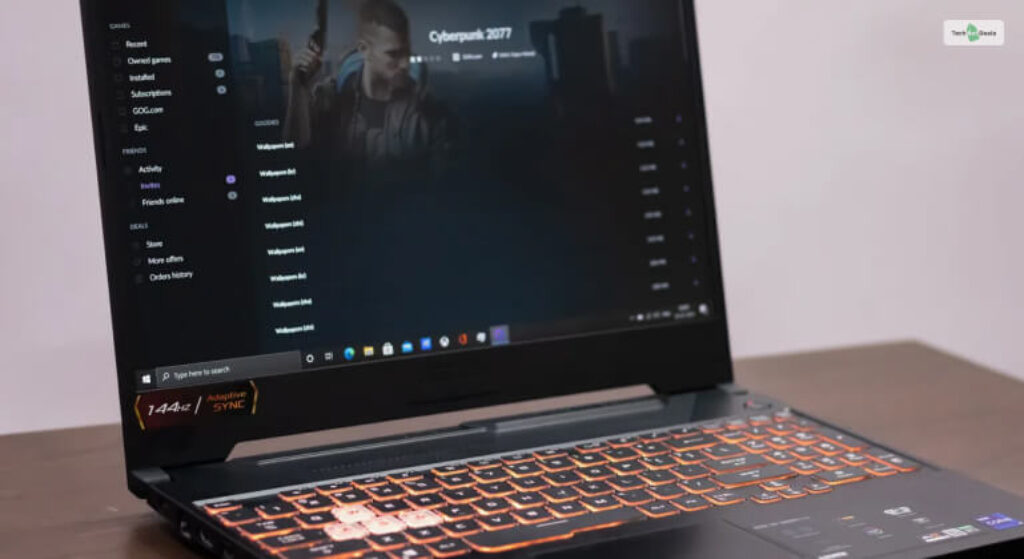 Now, let's talk about the main aspect of this review – Asus TUF Gaming F15 performance. I know that you are itching to know about its gaming performance. However, as a reviewer, I cannot simply cover that aspect only, can I?
The performance is pretty good for a gaming laptop with a $1,499 price tag. It might not be on par with giants like an Alienware Aurora 2019 or the ultra-fast Alienware Area 51 Threadripper, but it's still pretty good.
This laptop has the latest 13th Generation Intel Core i9-13900H 14-core processor and an NVIDIA GeForce RTX 4060 GPU. Plus, adding in 16 GB RAM and 1 TB SSD gives you both speed and power in your hands.
Just by looking at the specs, you can tell it's better than the pricier (and older) Dell Alienware 15 R4.
In terms of non-gaming performance, it's pretty solid. I got no lag while using Adobe apps (like Premiere Pro and After Effects). Even Blender ran smoothly enough while rendering 3D animations. Therefore, f non-gamers will find no performance issues at all.
However, as a gaming laptop – built for gamers – this laptop is good enough for its price. I played a few games (all at max settings with RTX turned on and no DSR). Here is the list of frame rates I got:
| Game | Average Frame Rate (FPS) |
| --- | --- |
| The Witcher 3: Wild Hunt | 102 |
| Cyberpunk 2077 | 92 |
| Starfield | 45 |
| Valorant | 320 |
| Counter-Strike 2 | 280 |
| Metro: Exodus | 198 |
| God Of War | 156 |
| Assassin's Creed: Valhalla | 105 |
As you can see from the table above, the Asus TUF Gaming F15 is more than capable of running all the latest games, even with RTX on. Since the screen also enabled G-Sync, I faced no screen stuttering.
The performance was smooth for all games. The only exception was Starfield, which is a new game with poor optimization. Bethesda really screwed it up this time!
If you want to check its performance on other games as well, check this video out:
Asus TUF Gaming F15: Best Alternatives
While there are better Asus laptops (like the upgraded Asus TUF Dash F15 and the Asus ROG Zephyrous models, I decided to name some non-Asus laptops here.
With so many RTX 4060 laptops entering the market in 2023, here are my recommended Asus TUF Gaming F15 alternatives that you may consider:
Lenovo Legion Y9000X (2023)
Price: $1,599.99
If you can spend around $500 more, you can buy this laptop instead. It has a similar configuration as the Asus TUF Gaming F15, just with a better RTX 4070 graphics card and a newer 13th-generation Intel Core i9-13900H processor. In addition, it also has a slightly bigger 16" display as well!
MSI Katana 15
Price: $1,399.99
If you can spend $300 more, I recommend you get the MSI Katana 15. This is a gaming laptop that has the exact same specifications as the Asus TUF Gaming F15. However, it gets more power since it uses the newer 13th Generation Intel Core i7-13620H processor. Plus, it has double storage with 1TB NVMe SSD.
Final Verdict: Should I Buy The Asus TUF Gaming F15 In 2023?
You should definitely go for the Asus TUF gaming F15 gaming laptop in 2023. It has impressive performance and battery life for a gaming laptop, just over 1,000 bucks, with a price tag of $1,099.
You can easily play all the new games at their highest settings with ease, with RTX ray tracing turned to the max. However, I wish its screen was just a bit better, along with less cramped keyboard key spacing as well.
Also, its heating issues can be problematic, especially if you game on this laptop for several hours. Plus, don't use the webcam. Just don't.
Overall, it's an excellent buy for the price you are paying!
Pros
Cons
• "TUF" build quality
• Great gaming performance
• Good battery life
• Heating issues
• Screen could have been brighter
• Per-key RGB would've been better
• Poor webcam
More Resources: