Samsung Galaxy S24 Ultra has prepped and hyped itself up to become one of the best Android smartphones ever. Many speculations and rumors are circulating on the internet like wildfire. Since the Galaxy S23 was so successful, everyone expects the S24 to one-up it.
However, recent speculations and rumors suggest that Samsung is introducing a massive overhaul for the S24. Therefore,e will it become a new benchmark for what Android smartphones should be in 2024?
Let's find out!
Samsung Galaxy S24 Ultra: Rumored Specifications
With so many rumors and fake "leaks" on the internet about the Samsung Galaxy S24 Ultra on the internet, it's difficult to trust which ones are genuine.
However, I scoured the World Wide Web and came up with what is possibly the most genuine "representation" of what the S24 Ultra specs might be like. Therefore, what you will read is a culmination of everything on the internet.
Therefore, this is what I believe Samsung has put inside the Galaxy S24 Ultra:
| | |
| --- | --- |
| OS | Android 14 |
| Display | 6.8" AMOLED screen (3088 x 1440 p resolution, 120 Hz refresh rate) |
| Processor | Octa-Core Qualcomm Snapdragon 8 Gen 3 (3.3 Ghz) |
| Graphics | Adreno 750 GPU (Snapdragon 8), |
| Memory | 8 GB RAM – 16 GB RAM |
| Storage | 256 GB |
| Rear Camera | 200 MP (primary), 10 MP (telephoto with 3x zoom), 50 MP (telephoto with 5x zoom), 12 MP (Ultra-wide) |
| Front Camera | 12 MP ultra-wide |
| Battery | 5,0000 mAh Li-On Battery |
| Dimensions (H x W x D) | 6.39" x 3.11" x 0.34" (162.3 x 79 x 8.6 mm) |
| Weight | 0.51 lbs (233 grams) |
Most leaks suggest it will have only one internal storage spec – 256 GB. However, this phone could launch with a 512 GB and 1 TB internal storage variant. Therefore, this would make it more in line with the S23 Ultra.
In addition, many have suggested that it might have a screen refresh rate of 144 Hz. However, I still believe it will be 120 Hz instead.
Additionally, no rumors about its speculated colors have surfaced so far. It might remain the same as the Galaxy S23 Ultra.
Samsung Galaxy S24 Ultra Release Date And Price Rumors
The Samsung Galaxy S23 Ultra price is currently at $1,199. However, if you are lucky, you might get deals, dropping the price to $899. The top model with 12 GB RAM and 1 TB storage space will cost you around $1,619.
Therefore, judging from these rates, I believe the Samsung Galaxy S24 Ultra price will be $1,699.
As for the Samsung Galaxy S24 Ultra release date, Samsung confirmed it's on January 17, 2024. That is when the Samsung Launch Event 2024 will take place.
Samsung Galaxy S24 Ultra Rumors And Speculations
Here is a rundown of all "possibly genuine" speculations and rumors we know about the Samsung Galaxy S24 Ultra:
Design
According to what we have seen, the Samsung Galaxy S24 Ultra will have a sharper design. Most smartphones have rounded edges, like the iPhone 14 Pro Max and the Moto Razr 40.
However, Samsung is sticking true to its design philosophy. Therefore, it will have chiseled edges like the S23 Ultra. In addition, they are further reducing the bezels by 40% this time. Plus, it also has a stylus port at its bottom.
This is the correct design. pic.twitter.com/x19F7uKnMn

— ICE UNIVERSE (@UniverseIce) November 1, 2023
However, the biggest draw here comes from its inclusion of a Titanium frame. This is ripped straight off from the iPhone 15 Pro Max. It looks the same as the Galaxy S23 Ultra, which is all right. Why fix the design if it's not broken?
Display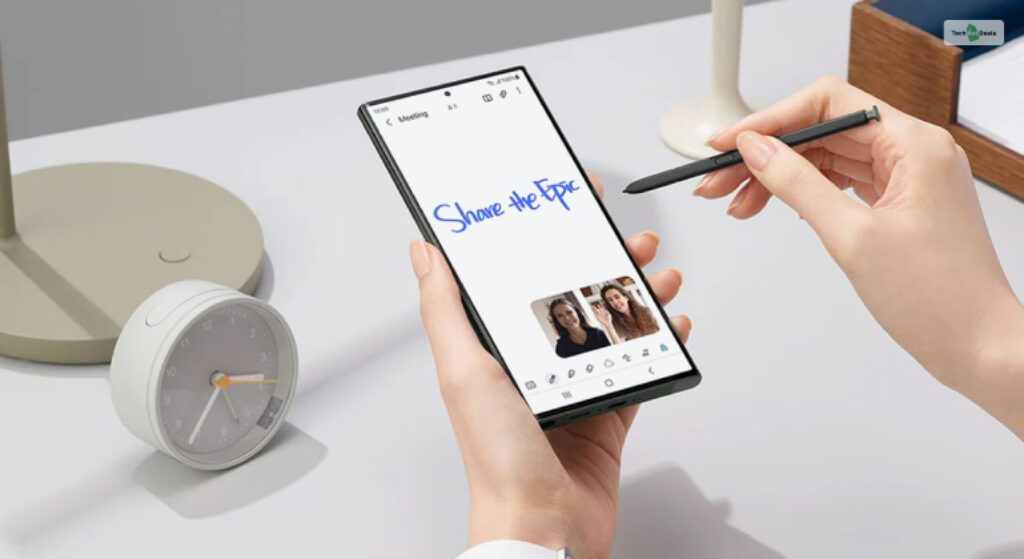 Speculations suggest the Samsung Galaxy S24 Ultra display will remain the same as the S23 Ultra. Therefore, it will have a 6.8" Dynamic AMOLED display with QHD+ resolution (3088 x 1440 pixels).
Regarding its fluidity, it will sport the same 120 Hz adaptive refresh rate. However, many believe Samsung will smoothen it up to 144 Hz, which is highly unlikely.
It will still sport the same 500 ppi pixel density. However, the famous leaker Ice Universe claims that the brightness can go as high as 2,500 Nits. This will be significantly more than the 1,750 Nits brightness of the S23 Ultra.
Battery
The battery life will remain the same as the S23 Ultra – 5,000 mAh – which is excellent. However, it might also sport the same 45 W charging, with wireless charging capabilities.
This is where Samsung needs to implement a 100 W charging support like Nothing Phone 2.
Camera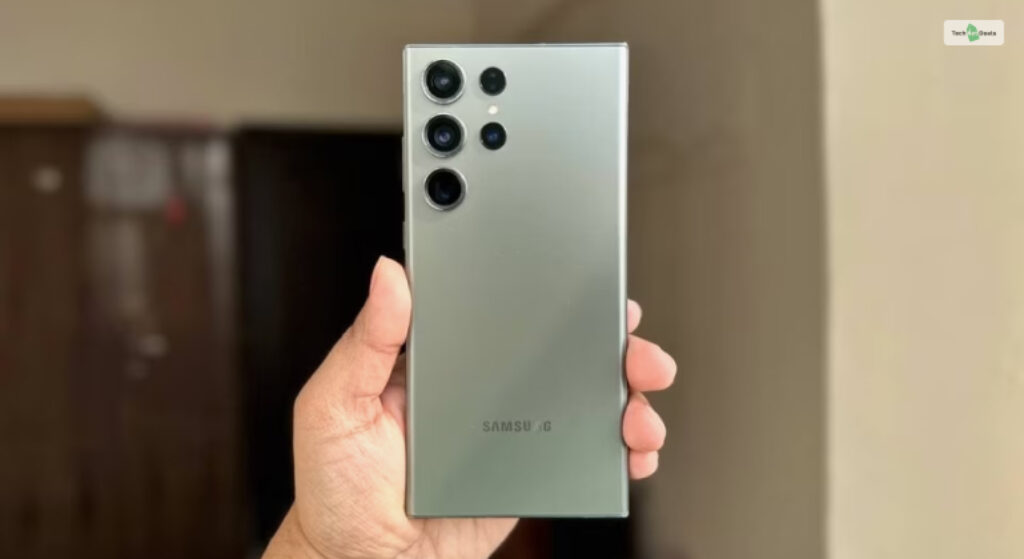 The Samsung Galaxy S24 Ultra camera will get the most significant upgrades speculated so far.
While it will have an improved 200 MP primary wide-angle camera and a 12 MP ultra-wide camera, its telephoto lenses will get the most significant changes.
Samsung will shuffle it up this time. We will not get the S23 Ultra's dual 10 MP telephoto lenses with 3x and 10x zoom. Instead, we will get a 50 MP telephoto lens with 5x zoom and the same 10 MP telephoto lens with 3x zoom.
Therefore, to compensate for the loss of the 10x telephoto zoom, Samsung will use "Pixel Binning." to make it as good. It's worth noting that the iPhone 15 uses the same camera tech.
Plus, Samsung is incorporating the use of AI in the S24 Ultra. Therefore, the camera will have two super-cool AI features, as you can see in the video above:
Zoom Anywhere: With this feature, you can zoom anywhere on your images and videos.
Motion Tracking: With this feature, the camera will use AI heavily to track moving objects on the screen to a certain extent. Budget smartphone cinematographers, rejoice!
Samsung Gauss AI: A New AI Revolution For Smartphones?
With smartphones all set to integrate AI, Samsung has therefore announced the introduction of Samsung Gauss Generative AI. This will likely be a highlight feature of the new and updated Galaxy One UI 6.1 modeled after Android 14.
This AI tool will be your new personal AI assistant, replacing Bixby (so long, Bix). Unlike other generative AI tools like ChatGPT, it will not require a constant internet connection. However, they believe that this feature will be locked behind a paywall, unlike the Bixby Text Call feature.
While speculations do not mention this a lot, it's supposed to have lots of generative AI features like:
Auto-compose emails and text messages
Auto-translate content
Summarize documents
Convert text to image
Samsung Galaxy S24 Ultra: Can This Become The "Android King" Of 2024?
While the specifications and leaks about the Samsung Galaxy S24 Ultra have been impressive so far, the use of Samsung Gauss is its main USP. Integrating generative AI into the OS hasn't been tried on any smartphone and is bound to revolutionize the smartphone industry.
Improving on the already impressive S23 Ultra specs with a "subjectively" better camera, this phone has a good shot at becoming the best Android smartphone, if not the best smartphone, in 2024.
Tell us your thoughts about the Samsung Galaxy S24 Ultra in the comments below. Also, will you be buying one? Let us know your answer!