Getting a 17" laptop on a budget might sound ludicrous to some. However, there are particular laptops out there in the market – like the HP Laptop 17 – that are really affordable. With a price tag of only $649.99, it's one of the cheapest 17" laptops money can buy.
Therefore, to better understand whether you wish to buy this or not, read this review till the end!
HP Laptop 17 Specifications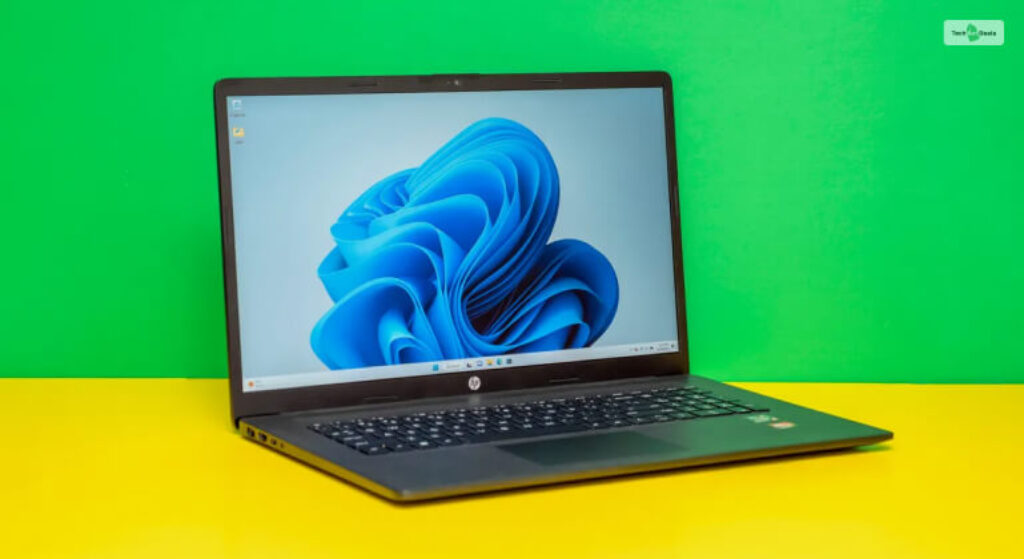 The main specifications of the HP Laptop 17 – CN3097NR are:
| | |
| --- | --- |
| OS | Windows 11 Home |
| Display | 17.3" IPS anti-glare display (1,920 x 1,080 resolution, 60 Hz refresh rate) |
| Processor | Intel Core i7-1355U (10-core processor @ max 5 GHz) |
| Graphics | Integrated Intel Iris Xe Graphics Card |
| Memory | 16 GB LPDDR4 RAM (3,200 MHz) |
| Storage | 1TB NVMe SSD (5,400 rpm) |
| Ports | 1x USB 3.2 Type-C, 2x USB 2.0 Type-A, 1x HDMI 1.4, 1x 3.5mm jack |
| Webcam | HP TrueVision 720p HD webcam |
| Battery | 41 Wh Li-Ion battery |
| Dimensions | 15.78" x 10.15" x 0.81" (W x H x D) |
| Weight | 4.6 lbs (2.2 kg) |
| Colors | Jett Black, Natural Silver, Pale Gold, Pale Rose Gold, Snow Flake White |
The current HP Laptop 17 price is $649.99. The HP Laptop 17 release date was on March 15, 2023.
HP Laptop 17 Review: My Impressions
I used the Intel variant of the HP Laptop 17. Therefore, all I have to say is that this HP laptop is pretty good for its price.
But why do I say so? Read on to find out!
Design And Build Quality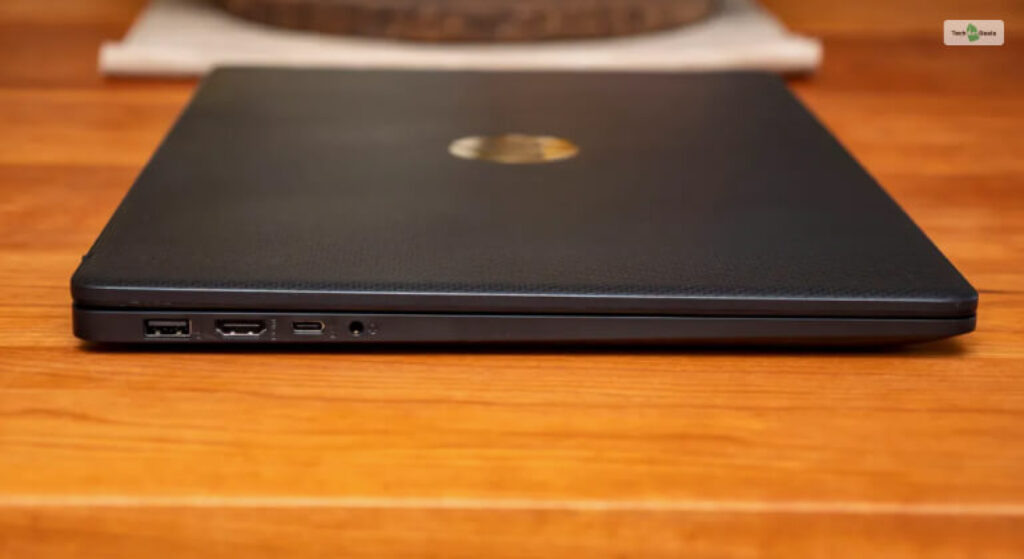 When I opened the laptop lid of the HP laptop 17, I found its design pretty simplistic.
While it doesn't look like a gaming laptop by any means, I actually like its minimalist design. It's cool on the eyes and looks professional from all angles.
However, it definitely isn't as professional-looking as MacBooks like the Apple MacBook 12in M7 or the Apple MacBook Air M1.
While many found its so-called "dirty-looking" exterior to be of poor taste, I found it to be okay-ish. It doesn't look dirty to me, giving it a rough and tough exterior.
However, I thought there was dandruff and dust on the laptop at first! Therefore, whether you like it or not will boil down to personal preference.
Regarding build quality, I have no complaints here. The build quality of HP laptops has always been good, and the Laptop 17 is no exception. The lid hinges are flexible but don't wobble when the fan's on.
In addition, it has a bit of weight to it, with the 4.6 lb weight making it feel durable. Overall, it looks good, and the build quality is also good.
However, I wish the keyboard was backlit – a common sight in almost all laptops in 2023.
Display
When it comes to cheap laptops, I was excited to test the HP Laptop 17 since it has a huge 17" screen. This is a rarity in this price range. However, getting a big screen on a budget does have some compromises.
The screen is decent enough, boasting an IPS anti-glare screen with 250 nits of brightness. This falls a bit on the lower-middle brightness levels, with 300 Nits being the norm in 2023. Therefore, it became prominent for me since the screen appears dark when I use it outside during the daytime.
However, its color gamut also falls on the lower side of things, having only 45% color support. This is far below the average 85% in this price range. This – is terrible.
Therefore, when I watched Spiderman: Into the Spiderverse, I did feel like the color appeared a bit washed out. It was not vivid at all, ruining my overall experience.
Keyboard And Trackpad
The HP Laptop 17 keyboard is pretty decent. It feels sturdy, even though it has a plastic-like feel to it. Typing on it was nothing compared to a mechanical keyboard, but it was not bad either. Compared to other cheap laptops, the Acer Aspire 5 is better.
However, one of this laptop's most disappointing features was that it's not backlit! Since I am a night owl, I stay more active in front of the screen at night than during the day. Therefore, I prefer working with my lights off.
However, the saddest thing here is that you can't do so with this laptop since it has no backlights. You have to turn the lights on to type! I believe this should've been in this laptop since backlit keyboards have become essential in laptops of all price ranges.
As for the trackpad, it's also as standard as you would expect. No extra bells and whistles here. It's pretty responsive, with support for finger gestures as well. Nuff' said.
Webcam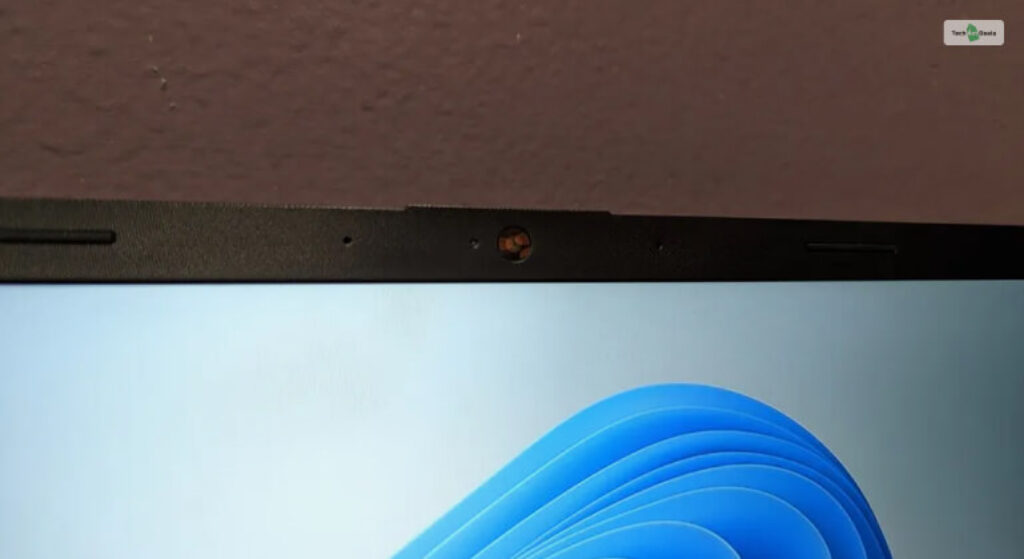 The HP Laptop 17 has a 720p HD webcam. If you have read my reviews about laptops with such cameras, like the Google Pixelbook 12in, they are typically poor in quality, with a grainy recording that makes you look ugly. I have no idea what HP's "TrueVision" means here since it felt very much artificial to me!
However, not all 720p webcams are bad. Some of them are pretty good, like that of the HP Chromebook x360.
Speakers
While the 17" screen of the HP Laptop 17 is the main USP of the laptop – which is also its weakest aspect – the speakers might be its saving grace.
Unlike other laptops, the speakers are located above the function keys of the keyboard. Therefore, since it's facing upwards (towards you), you get to experience the full soundscape. 
This is why watching videos and listening to music is a blast with this laptop. It feels like carrying around a large speaker with you in your bag! While they sounded good at loud volumes, they are definitely better than the Asus TUF Gaming F15 at max volume.
My advice is to go for the best Skullcandy headphones, like the Skullcandy Crusher Evo, if you like bass. You may also opt for a JBL Tour Pro 2 if you want earbuds or the Sennheiser Game One Gaming Headset if you are a gamer.
Ports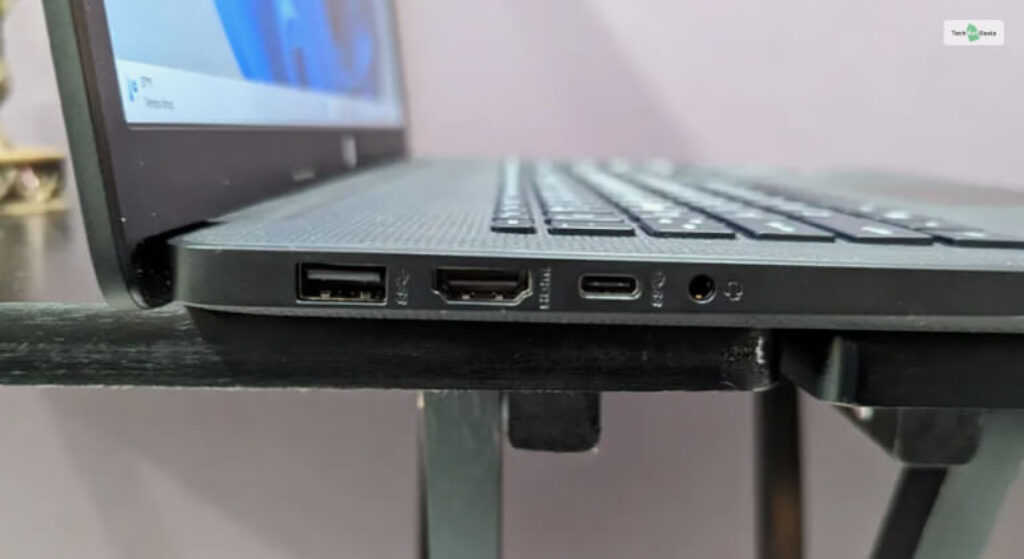 If you thought having a big 17.3" HP Laptop 17 would give you lots of ports, you're wrong. While there is space to add a few more, it's a budget laptop at the end of the day.
On the left side, you get the USB Type-C and Type-A ports and an HDMI 1.4 port. On the right, you just get one USB Type-A port.
Pretty underwhelming, is it? Even I thought so, too.
Battery Life
Probably due to its 17" (but ultimately poor) screen, I believe it draws much power. Therefore, the HP Laptop 17 battery life is nowhere near its budgeted peers.
Normal browsing, Spotify, and YouTube made this laptop last around 7 hours. I expected a lot more here, considering it's not a gaming laptop.
While playing Counter-Strike 2, I could only game for 2.5 hours. It's decent but still poor compared to its competition.
Moreover, this laptop's fans are loud and get heated quickly. Watching a 4k video on YouTube for 10 minutes made it roar like a jet engine, heating it up like a coal chamber.
My recommendation – don't use this laptop when it's in your lap.
Performance
The performance of the HP Laptop 17 is very good – as long as you are not gaming.
This laptop is perfect for office tasks and studies. Even if you open 20 tabs for your research and prepare final balance sheets – the 16 GB RAM and 1 TB SSD hold their ground. Pair that with the amazing 13th Gen i7 – it's pretty good.
If you are a designer and use the Adobe Creative Cloud applications, this laptop will provide good performance. The only time I saw some of it was while editing a 4k video. However, I believe this is due to the performance bottleneck caused by the underwhelming Intel Iris Xe graphics card.
Due to this integrated GPU, gaming falls short as well. You cannot play modern AAA games with 30 fps on even the lowest settings. Therefore, I do not recommend this laptop for gaming. 
The only modern games that are playable here are competitive FPS games like Valorant, Counter-Strike 2, Rainbow Six: Siege, and Overwatch 2.
HP Laptop 17 Alternatives
If this 17-inch laptop didn't interest you, then here's what you can buy instead:
1. Lenovo IdeaPad Slim 5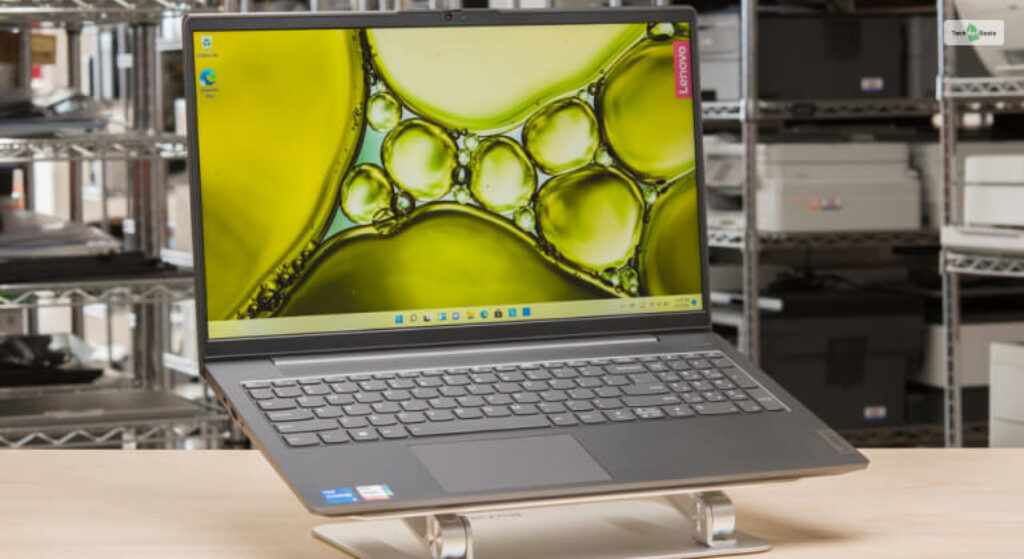 Price: $554.99
If you want cheap laptops that provide fast and snappy performance for all your corporate pressure, the Lenovo IdeaPad Slim 5 will be an excellent buy.
It has an impressive 16" display with a fast Ryzen 7 7530U processor and 16GB RAM. Therefore, no matter how many apps you open in one go, your performance will never drop!
2. Acer Predator Helios 500 17 AMD
Price: $1,699.99
The Acer Predator Helios 500 17 AMD isn't a cheap laptop. It's rather pretty expensive compared to the HP Laptop 17 (almost triple its price!) It's a pretty good 17-inch gaming laptop with an AMD Ryzen processor and a beefy AMD Radeon RX 560X 8GB DDR5 graphics card.
Final Verdict
If you wish to buy a 17-inch laptop, then you may go for the HP laptop 17 if you are on a budget. Otherwise, it's best to get something else instead.
The design of this laptop might not be everyone's cup of tea, with a big but ultimately lackluster 17" screen. However, it provides good performance compared to its aptly budgeted peers.
Pros
Cons
• Large 17" screen
• Good speakers
• Affordable price
• Lightweight
• Decent performance
• The screen might be large, but it's of poor quality
• The keyboard is not backlit
• This laptop's exterior design might not be everyone's cup of tea
• Needs more ports
More Resources: