In 2022, Data science is becoming more and more critical, as most industries and businesses are producing a massive amount of data on a regular basis.
Companies have started to incorporate data science techniques to further grow their business and increase customer satisfaction.
Here in this article, we are going to talk head-to-toe about data science.
What Is Data Science?
This is a new domain of study that studies vast amounts of data using modern techniques and tools to detect unseen patterns, make business decisions, and derive meaningful information as well.
It uses complicated machine learning algorithms to build different predictive models. The data that is used for the analysis comes from other sources and are presented in various formats.
Now that we have an understanding of what data science is, let's see how it is incorporated into today's IT world.
Read More: What Are Rescue Robots? A Brief Guide In 2022
The Data Science Lifecycle
Since now we know what data science is, let's move on to the next part, which is the data science lifecycle. The data science lifecycle has five distinct stages. They are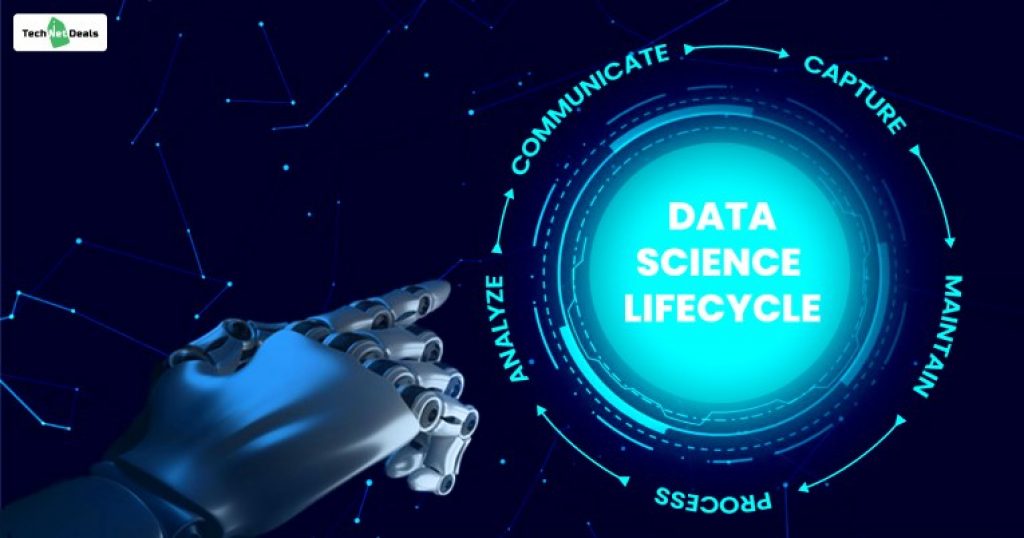 1. Capture
This is the step where data acquisition, data entry, data extraction, and signal reception happen. In this stage, raw structured and unstructured data are collected.
2. Maintain
Data cleansing, data warehousing, data staging, data architecture, and data processing are done. This is the stage where the raw data is placed in a form where it can be used.
3. Process
Data summarization, data mining, clustering/classification, and data modeling. Data scientists examine this prepared data for its pattern, ranges, and biases to determine its usefulness in predictive analysis.
4. Analyze
Confirmatory/Exploratory, regression, predictive analysis, quality analysis, and text mining. This is the life of the lifecycle. In this stage of performing, various studies of the data are done.
5. Communicate
Data visualization, data reporting, business intelligence, and decision making. The final stage is where the analyst prepares the analysis in a readable format. Such as charts, graphs, and reports.
Read More: Secure Data Disposal & Destruction:3 Methods to Follow
Data Science: What Do You Need To Know?
Here are a few concepts you need to know before you start learning about data science.
1. Machine Learning
This is the backbone of data science. If you are willing to become a data scientist, you need to have a firm grasp of machine learning.
2. Modeling
Mathematics modeling will enable you to make relatively quick calculations and predictions based on the known data. Modeling is a part of machine learning as well. It involves identifying which algorithm is best suited to solve a problem and how to train the models.
3. Statistics
If machine learning is the backbone, then statistics is the brain of data science. A good grasp of statistics can help you extract more intelligence than you thought and more meaningful results.
4. Programming
You need to know programming to conduct a successful data science project. The most common programming language you can learn is Python and R. Python, in particular, is very popular, as it is easier to understand. It also supports numerous libraries for data science and machine learning.
5. Database
A professional data scientist should know how a database works. Even how to manage it and how to extract data from it.
Read More: Vicarious Industries – History, Robotics, Profile
Data Scientist: What Do They Do?
If you are wondering what type of a scientist a data scientist is? Here's the answer.
A data scientist analyses business data to extract meaningful information from them. In other words, they solve specific business problems through these steps,
Before dealing with the analysis, the scientist asks specific questions to determine the problem and understands them.
Then they determine the correct set of variables and the data set.
Then they gather structured and unstructured data from many disparate sources- public data, enterprise data, etc.
Once the data collection is done, the next step is to process this raw data and convert them into a suitable format for analysis. This includes validating and cleaning the data and guaranteeing uniformity, accuracy, and completeness.
After the data are converted into a usable format, it is sent to an analytic system, which is a machine learning algorithm model. It is here where the data scientist analyzes and identifies the patterns and the trends.
Now the scientist interprets the data and finds opportunities and solutions.
The scientist then prepares the results and insights, which are then shared with the concerned person.
Read More: Righthand Robotics Industries – History, Robotics, Profile
Data Scientist: Why Become One?
After knowing everything about data science, if you are still wondering why you should become one. Then here are a few reasons why Glassdoor and Forbes predicted that data scientists will be in high demand by 2026.
This profession is durable and promises longevity, and it is a secure career option. Also, on monetary terms, the average data science salary is about $127,500 yearly.
Furthermore, if you have a query about where to become a data scientist, then here are a few options. NYU data science master, and Columbia data science master. Here in these reputed colleges, you can easily apply to become a data scientist.
Business Intelligence Vs.Data Science
| Data Science | Business Intelligence |
| --- | --- |
| Uses both structured and unstructured data. | Use only structured data . |
| Scientific in nature. | Analytical in nature. |
| Provides in-depth statistical analysis of the data. | Provides a historical report of the data . |
| Leverages sophisticated statistical and predictive analysis and machine learning. | It uses basic statistics with extra emphasis on visualization. |
| Combine the historical and current data to predict the future outcome and performance. | Compares the historical data to current data to identify trends. |
Data Science Application: Where Can I Use It?
1. Healthcare
The healthcare industries use this technique to build sophisticated instruments to detect and cure diseases more precisely.
2. Gaming
The gaming industry is using data science to create games to take the gaming experience to the next level.
3. Image Recognition
It is used to identify certain patterns and objects on images, it is one of the most popular ways to use data science.
4. Recommendation Systems
Netflix and Amazon, recommend products and movies based on the ones you liked on other platforms.
5. Logistics
Data science is popularly used by logistics companies to properly optimize their routes for faster delivery of packages and increase efficiency.
6. Fraud Detection
The banking and financial institutes use data science technology and similar to detect any fraudulent behavior.
Read More: Artificial Intelligence And Data Science: Differences & How They Work?
Frequently Asked Questions (FAQs):
1. What Does A Data Scientist Do? 
A data scientist analyzes your business data to extract and provide you with meaningful insights.
2. What Is The Data Science Course Eligibility?
The course for data science is a master's degree in that particular course.
3. Can I Learn Data Science On My Own?
Since it is a complex with a lot of complicated technicalities, so it is recommended to learn from an expert in the field.
Extracting Data!
Data is going to be the lifeline of the business world in the foreseeable future. Data is the active form of knowledge, which can create the difference between a company's success and failure.
If you incorporate the knowledge of data science into your business, then you can forecast your future growth and can predict the problems in advance. Data science is the present and the future of your company's success.
Read Also: