Tablets have become as popular as regular smartphones in this day and age. If you fancy a smartphone with a big screen, then, by all means, get yourself a tablet. It's the perfect for content creation and mobile gaming in the market. But recently, one budget tablet has become famous in the market recently – the Magch Tablet.
If you have never heard about this tablet, then fret not. Since it's not made by a trendy brand, it hasn't been advertised much yet. Therefore, read this review to learn more about this tablet that sells for only $136!
Magch Tablet Specifications
The primary specifications of the Magch Tablet are:
| | |
| --- | --- |
| Hardware Platform | Android |
| Operating System | Android 11 (Red Velvet Cake) |
| Standing Screen Display Size | 10 Inches |
| Display Screen | 10.1-inch 1920 x 1200 IPS FHD 1080P Display |
| Max Screen Resolution | 1920 x 1080 (FHD) |
| Processor | Octa-Core Processor up to 1.8GHz |
| RAM | 4 GB |
| USB Type | Type C |
| Camera | 13MP rear camera, 8MP Front Camera |
| Wireless Connectivity | 2.4G + 5GHz Dual Band WiFi |
| Bluetooth Version | v5 |
| Storage | 64 GB (expandable up to 256 GB) |
| GPS | Built-in |
| Dual Speakers | Yes |
| Google Assistant Voice Control | Yes |
| Color | Gray |
| Item Weight | 2 pounds |
| Item Dimensions LxWxH | 9.3" x 6.2" x 0.35" |
| Battery | 6000mAh |
| Release Date | 14th October 2021 |
| Price (2023) | $135.99 (Amazon) |
Magch Tablet Features
The primary features of the Magch Tablet are:
1. The Operating System
Since it was released in 2021, it comes equipped with the then-latest version of Android – Android 11 (Red Velvet Cake). Therefore, it's safe to say that its use of Android is certified by GMS (Google Mobile Services).
Since it runs on Android, the Magch Tablet will be able to run all the Android apps that you wish. Google PlayStore comes preloaded on this tablet, allowing you to download various Android applications and games.
However, compared to other Android smartphones produced by Chinese brands, this phone doesn't come preloaded with bloatware. This is a significant pro, in my opinion.
2. The Hardware
When it comes to the Magch tablet's hardware, it delivers decent specifications for a lower price tag. This includes the T10 chipset, which is rife with 8 cores set at 1.8 GHz.
The use of this core makes this tablet a decent performer in the sub $150 category. You can do almost all the basic smartphone tasks you wish to do. This includes browsing the internet, playing games, clicking photographs, watching YouTube, and more.
However, since this device has only 4GB RAM, it bottlenecks its multitasking capability a lot. Therefore, if you intend to use multiple tasks at once constantly, expect to see some lag and slowdowns.
When it comes to its design, this tablet feels relatively light due to its lightweight aluminum design. This can be seen in its weight, weighing only 2 lbs.
3. Display
The display of the Magch tablet is pretty big, boasting a 10.1" screen. Coming to its resolution, it supports a resolution of 1920 x 1200p, which is pretty standard in this price range. This tablet has 224 PPI (pixels per inch) and a somewhat familiar 16:9 aspect ratio.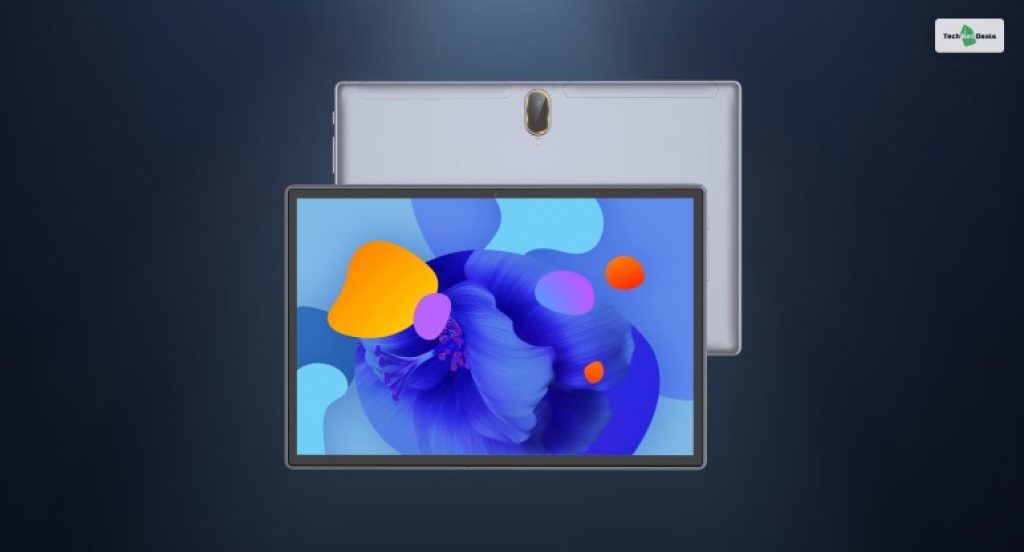 However, one feature that stood out in terms of display quality is the Eye-Care Comfort view. This feature allows you to have a more pleasant reading experience, where your eyes don't get strained while looking at the screen for too long. This is a pretty good addition since other tablets in this price range do not have this feature.
4. Battery
One of the most attractive features of this laptop is its battery capacity. The Magch tablet boasts a pretty sizable 6000 mAh battery, which is considerably larger than its competitors. Therefore, you can use this tablet generally for more than 10 hours on a single charge.
However, if you are a gamer or a binge-watching Netflix addict, this tablet's battery will last 7.5 hours.
5. GPS/Radio/WIFI
The Magch tablet has all the essential portable features you can expect from an Android smartphone tablet. This includes built-in GPS, radio, and WiFi support.
Here, you will get support for 5G WiFi, along with Bluetooth 5.0 connectivity. Therefore, whenever you are, this tablet will ensure that you get fast and secure connectivity.
6. Memory And Storage
Most casual smartphone users prefer buying phones with larger storage spaces to hold all theory files. This includes thousands of photos and videos, along with various games as well.
If you want a tablet for such needs, then the Magch tablet has you perfectly set up. This tablet sports 4GB RAM, along with 64GB internal memory (ROM). While it may be lacking in RAM, its storage is pretty decent by today's standards.
However, you can expand the storage of this tablet using SD cards up to 256GB. Therefore, if you find yourself running out of space, just buy an SD card and place it inside!
7. Speakers And Camera
There are two speakers on this tablet – one at the bottom (primary speaker) and the earpiece for calls. The rear speaker is pretty decent, although it will not please audiophiles. At higher volumes, you can hear distortions and noise in the music.
This MAGCH tablet has a front camera of 8MP, which is pretty decent. Nothing noteworthy here. On the flip side, this tablet sports a 13MP rear camera, which is pretty sub-par, in my opinion. The pictures and videos you click will not be of high quality, as visual noise and grainy effects are present.
Magch Tablet Review
Upon using this tablet for the first time, I was pretty skeptical at first since I had never heard of Magch tablets before. In addition, it's a Chinese company, which makes its authenticity even more dubious, especially as a budget tablet.
However, after I used it, I would say it's a pretty decent tablet for the price you will be paying. If you want a decent enough cheap tablet for web browsing and using social media, this tablet will suffice your needs.
However, if you wish to use it for photography and videography, its cameras are not good enough. Its camera resolution seems pretty low compared to other tablets in this price range. There was a grainy texture and visual noise in most of the videos and pictures I clicked. Plus, the zoom focus to make the background blurrier was pretty bad, in my opinion.
When it comes to gaming, this is good enough for playing less graphically extensive games like Clash of Clans and 8-Ball Pool. However, when it came to heavier games like PUBG Mobile and Call of Duty, I had to play them at the lowest settings to play them at 30+ fps.
However, I would like to praise the 10" screen for making gaming and watching Netflix easier. Since I have long fingers, I felt more comfortable playing games here than on a standard 6" smartphone. Plus, the amazing battery made the fun last all the while longer.
Magch Tablet Customer Reviews
To better understand how good this Magch tablet is, here are some Amazon customer reviews of this tablet:
Review 1:
Review 2:
Frequently Asked Questions (FAQs):
Here are some frequently asked questions (and their answers) regarding the Magch tablet 2021:
Q1. The Magch Brand Is From Which Country?
Ans: Magch is a Chinese brand that specializes in selling budget electronic products like smartphones, tablets, earphones, and more.
Q2. Can I Upgrade The Magch Tablet To Android 12?
Ans: As of now, you cannot upgrade this tablet to Android 12. Whether or not you can upgrade to Android 12 in the future is unsure as it's not been announced yet.
Q3. Does The Magch Tablet Have Any Ethernet Ports?
Ans: No, the Magch tablet does not have any Ethernet ports. It only has a 3.5mm earphone jack and a USB Type C port for USB charging and connectivity.
Final Verdict: Is The Magch Tablet Worth Buying In 2023?
The Magch tablet is a pretty decent tablet for its budget price range of $135.99, which you can easily buy from Amazon. In terms of performance and looks, there is nothing special about this tablet.
I will only recommend buying this tablet for its screen size, larger-than-life battery life, and expandable storage options. Also, its camera is not that great. When it comes to gaming, this tablet is not that great, either.
PROS
CONS
➡ Big battery life
➡ Lots of expandable storage space
➡ Pretty outdated in today's gaming and performance standards
➡ Poor camera quality
Read Also: