Finding budget smartphones can be a hassle since so many of them exist. With most of these budget phones being Chinese, many are skeptical about buying them. Therefore, they stick with Samsung or the cheapest iPhone that they can find. However, the Xiaomi Redmi Note 13 Pro can change this perception for the better.
This phone packs an amazing display, a 200 MP camera, 16 GB of RAM, and more for a price tag of around $250. However, was this phone worth buying? Or should you spend more (or less) for a better deal?
Therefore, to get the most comprehensive buying guide, read this Xiaomi Redmi Note 13 Pro review post to find out!
Xiaomi Redmi Note 13 Pro Specifications
The primary specifications of the Xiaomi Redmi Note 13 Pro are:
| | |
| --- | --- |
| OS | Android 13 (MIUI 14) |
| Display | 6.67" OLED screen (2712 x 1220 pixels, 120 Hz) |
| Processor | Octa-Core Qualcomm Snapdragon 7s Gen 2 |
| Graphics | Adreno 710 |
| Memory | 8 GB RAM – 16 GB RAM |
| Storage | 128 GB – 512 GB |
| Rear Camera | 200 MP (wide) + 8 MP (ultrawide) + 2 MP (macro) |
| Front Camera | 16 MP |
| Battery | 5,100 mAh Li-Po |
| Ports | USB Type C 2.0, 3.5 mm Headphone Jack |
| Dimensions | 6.35" x 2.93" x 0.31" (H x W x D) |
| Weight | 0.41 lbs (187 grams) |
| Colors | Star Sand White, Midnight Black, Time Blue, Light Dream Space (Violet) |
The Xiaomi Redmi Note 13 release date was on September 21, 2023. However, if you wish to know about the Xiaomi Redmi Note 13 Pro price, then you must have a look at all its available models below:
| | |
| --- | --- |
| Variant | Price (USD) |
| 8 GB RAM + 128 GB ROM | $189 |
| 8 GB RAM + 256 GB ROM | $199 |
| 12 GB RAM + 256 GB ROM | $219 |
| 12 GB RAM + 512 GB ROM | $239 |
| 16 GB RAM + 512 GB ROM | $269 |
Xiaomi Redmi Note 13 Pro Review: My Honest Impressions
Conjuring up this Xiaomi Redmi Note 13 Pro review was an interesting one for me. Considering the fact that this is a budget smartphone that is not primarily targeted toward the American market, I had to create it for the broader Southeast Asian audience.
In addition, I had to keep in mind the Realme 11 Pro+ smartphone, which came out a few months back. Therefore, the Realme 11 Pro+ appears to be the primary rival to this budget smartphone.
However, even though I did not get the chance to review that phone, I still have its impressions and reviews from my friends and many followers of this blog.
Therefore, keep on reading to learn what I think about this smartphone after using it for three days.
Design & Build
One of the most striking features of the Xiaomi Redmi Note 13 Pro is its vegan leather cover. It's soft and feels as smooth as a matte finish.
It looks charming, especially considering its budget price point. In addition, the phone has narrow edges, which makes it appear very slim. This is definitely a plus point.
However, the phone vibrates a lot. Here, I don't mean the vibrations when you are receiving a call or a notification. Therefore, the entire phone shakes even if you listen to music at above 50% volume.
Consequently, it might sometimes feel like the speaker is a part of the back cover. Or maybe it's just me. In addition, the cameras protrude from the back a bit more than usual – which you might not like.
Overall, this budget smartphone looks and feels premium on my hands.
Display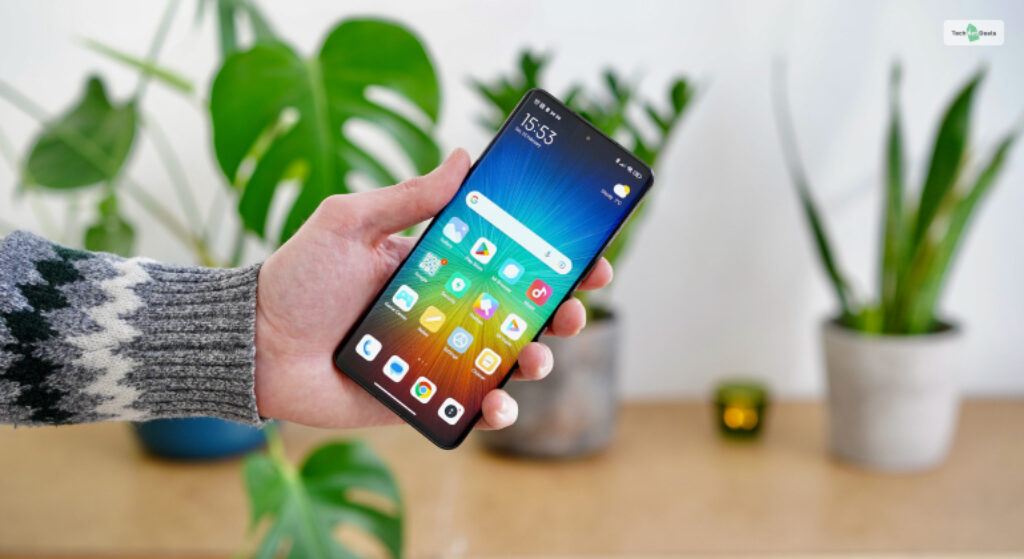 The Xiaomi Redmi Note 13 Pro has a fantastic display, one of its main selling points. It has a 6.67" OLED display with a 2,712 x 1,220 p resolution. Therefore, its 1.5k screen produces crisp visuals and nice colors.
However, I was surprised to see a curved screen at this price point. It responds accurately to my touch and gestures and overall feels pretty smooth thanks to its impressive 120 Hz refresh rate. It has a 446 ppi density (pretty average) with a 1,800 Nits peak brightness – which is pretty great!
Therefore, I found its screen to be similar to the Nothing Phone 2, which is a premium Android smartphone.
However, in some aspects, it's even better than the latter. This is because the Xiaomi Redmi Note 13 Pro has higher resolution – for less than half its price!
Overall, I am satisfied with this phone's screen, keeping its price in mind. In addition, you also get a TUV Rheinland Display Certification, which means it reduces the strain effects caused by low blue lights and strobe effects. Amazing!
Camera
The Xiaomi Note 13 Pro has a triple camera startup on its back. The first one is its primary 200 MP wide camera, which is pretty decent. It has an HP3 sensor, which takes great images even if you zoom in a lot.
However, this leads to its first caveat – its picture quality.
I took two ultrawide pictures from my rooftop. One was a normal click, and the other one was zoomed in. To my surprise, when I tried to zoom in on the first photo, the restaurant near my house appeared blurrier compared to taking a zoomed-in image of the restaurant.
Therefore, if you are clicking pictures from a distance, try to zoom in first before clicking.
The Xiaomi Redmi Note 13 Pro camera has another downside: its poor low-light images. It's dark, and zooming in creates a blurry mess.
I guess Xiaomi's idea of removing the telephoto camera by integrating it into the main camera didn't pan out in the way they expected it to. Or maybe my standards got higher after clicking photos with the iPhone 14 Pro Max or the Moto Razr.
Overall, this phone has a pretty average camera, which will not impress camera junkies. Therefore, consider me a little bit disappointed with this phone's camera.
Battery
I thought that the Li-Po batteries would perform weaker than the Li-On battery. However, while it certainly does, the battery level is much closer to each other than what I expected.
If you use it usually – browsing YouTube, calling, clicking pics and videos, etc – it will last you all day. However, my primary concern here is when you game on this device. I could play League of Legends: Wild Rift for only 2.5 hours.
Therefore, looking at its battery life, I expect Redmi to get new battery optimization updates soon. Otherwise, gamers (like me) will be disappointed. In addition, gaming microwaves this phone, which might get uncomfortable to hold after some time.
However, battery charging is fast, charging to 100% in 45 minutes with the boxed 45W charger you get. Therefore, the charging speed is decent.
Performance
If you plan to buy the Xiaomi Redmi Note 13 Pro without gaming in mind, it's a great phone. It works fluidly, and the camera is decent for its price. Therefore, non-gamers will enjoy what this phone has to offer.
However, it struggles in gaming, especially in higher-end games. While you can play multiplayer games like Wild Rift and Call of Duty Mobile in higher settings, you must tone it down for Genshin Impact.
Therefore, in Genshin Impact, I got around 45 fps on average on the lowest settings, which is decent at best. Plus, not to mention, it heated up the phone like a boiling pot. However, do not compare it with the Xbox One Series S.
Deal Or No Deal: Should You Buy The Xiaomi Redmi Note 13 Pro?
Overall, the Xiaomi Redmi Note 13 Pro is a good phone for the price that you will be paying. With an excellent screen, good battery backup, and a decent camera, I say go for this deal for a piece for around $250. It's much better than its main rival – the Oppo Realme 11 Pro+.
Therefore, if you are on a tight budget, I recommend buying the Xiaomi Redmi Note 13 Pro. However, if you can bump it up a bit, I recommend you buy the Xiaomi Redmi Note 13 Pro+ with better specifications and $50 – $100 extra, depending on the model you choose.
Pros
Cons
• Excellent display
• Good battery life
• Good camera
• Decent performance
• Sleek and elegant design
• Camera could have been better
• Gaming performance should have been better