I was in awe after going on a great trip to Berlin in time for the IFA 2023 annual tech symposium for the first time. Not only did I get to lots of new and exciting tech products, but I also got to meet a lot of like-minded geeks and nerds as well!
However, this post is not about my trip. This post is entirely about what I witnessed there. Therefore, without much ado, let's start with ten tech products revealed at IFA 2023 that got me hyped!
Lenovo Legion Go Handheld Gaming PC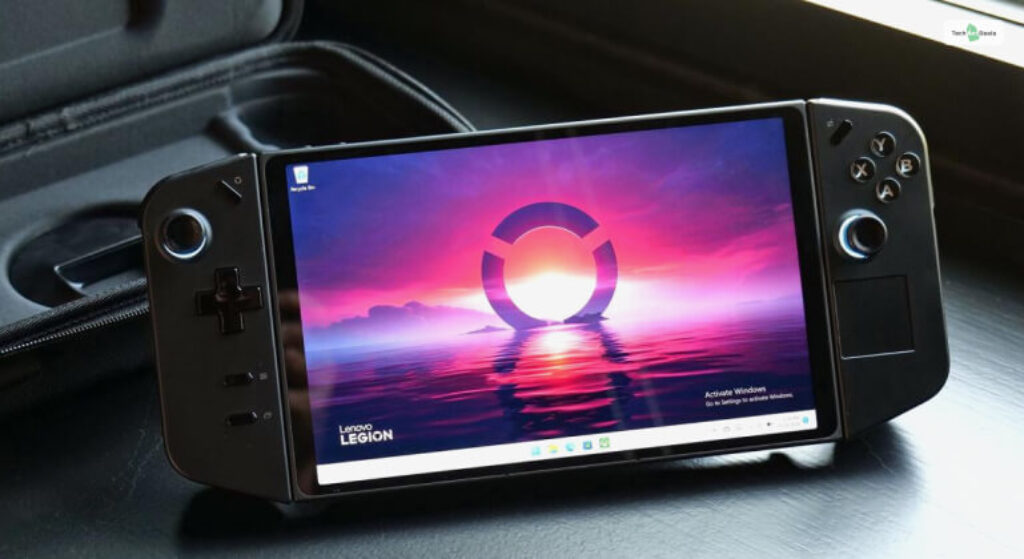 First off is my favorite reveal at the IFA 2023 annual conference 2023 – the Lenovo Legion Go. To rival the likes of portable gaming computers like the Steamdeck and the Asus ROG Ally, Lenovo has decided to pitch in their share of the pie as well.
With the Steamdeck being a hit amongst gamers looking for a decent handheld gaming PC, the Asus ROG Ally followed suit.
While it was better than the Steamdeck in some areas, while lacking in others, the Lenovo Legion Go is the real challenger here.
The Legion Go comes packed to the brim with computing power, with the powerful AMD Ryzen Z1 Extreme processor inside. In adoption, it also has 16 GB RAM – which is enough for most gaming desktops nowadays.
If you want lots of storage to easily store all your games, then you also have that covered. You can get this with three storage options – 256 GB, 512 GB, and 1 GB. Plus, you get detachable controllers as well. Sweet!
In addition, if you want a big screen for playing games and seeing every nook and cranny inside it, then it has an 8.8" QHD+ screen with a 16:10 aspect ratio and 165 Hz refresh rate.
The visuals that you will get on the screen will be a lot better than what you would get in the Steamdeck and the Asus ROG Ally.
The Lenovo Legion Go release date will be released in October 2023 (TBD). The Lenovo Legion Go price will be $699 for the base version, as stated at IFA 2023.
Lenovo Legion 9i Gaming Laptop
Lenovo had two surprises for us at the IFA Conference 2023. Apart from the amazing Lenovo Legion Go, it had another product on display – the uber-cool (and uber-expensive) Lenovo Legion 9i.
The Lenovo Legion 9i might be considered revolutionary since it is the world's first liquid-cooled gaming laptop. While there are quite a few gaming laptops with external liquid cooling features, this is the first to come equipped with it internally.
Since it's internally liquid-cooled, you can expect a massive performance in gaming power. For example, you will no longer get lags and slowdowns when the battery gets heated. Gone are those days, are they?
However, things might not have been interesting if the Lenovo Legion 9i was just an internally liquid-cooled gaming laptop.
However, the fact that Lenovo is equipping it with the most devastating weapons to prove how cool it is seemed like a bold statement to me. Here are the Lenovo Legion 9i specifications:
| | |
| --- | --- |
| Display | 16" 4K screen (120 Hz refresh rate) |
| Processor | 13th Gen Intel i9 – 13980HX processor |
| Graphics Card | NVIDIA GeForce RTX 4090 16 GB |
| RAM | 32 GB / 64 GB |
| Storage | 512 GB / 1 TB SSD |
The Lenovo Legion 9i release date will be October 2023 (TBD). The Lenovo Legion 9i price will be $4,323 for the base version, as stated at IFA 2023.
Philips Hue Secure Home Security Camera
With the rise of IoT (Internet of Things) technology being on the rise, it's no wonder that a lot of developments are taking place in this sector. With more and more modern homes installing IoT security solutions, Philips has stepped in the perfect time.
The Philips Hue Secure is a line of home security products that are all connected using the internet.
While you will already get Philips Hue Secure smart lights in the market, now you also get the camera for the full security package!
However, that's not all. While the new cameras are great, their greatest potential lies when it's connected to the Hue Secure lights as well. As long as they are connected to each other in the "Hue Secure Network," they can work in tandem with each other.
But how?
As demonstrated at IFA 2023, if the camera spots any suspicious activity, then it will automatically signal its nearest light to blink red and fire off alarm sounds. Honestly, this seems like a security system at the Pentagon or from any of the Mission: Impossible movies!
Three new Philips Hue Secure cameras were revealed at IFA 2023, which will be released this fall. They are as follows:
Philips Hue Secure Wired Indoor/Outdoor Camera: $199.99
Philips Hue Secure Battery-Powered Indoor/Outdoor Camera: $249.99
Philips Hue Secure Full-Colored Floodlight Camera: $39.99
Honor Magic V2
Foldable phones are all the rage now in the smartphone market. While most consider it a luxury smartphone with more style than substance, they are all but false.
Most foldable smartphones (like the Samsung Galaxy Fold and the not-so-foldable Moto Razr) are powerful in their own right. With their popularity rising daily, it's no surprise that even Chinese smartphone manufacturer Honor revealed the Honor Magic V2 at IFA 2023.
While this is not their first foldable smartphone (of course, the Honor Magic V1 still exists), it's by far their boldest offering yet.
Compared to all other foldable smartphones, this is the slimmest foldable smartphone in the market. With a thickness below the 1 cm mark, it's a fantastic smartphone that looks great – putting other fat foldables to shame.
Its design is so well thought out that it doesn't even feel like a foldable smartphone when you hold it. It's so tiny that it's even smaller than the Apple iPhone 15 Pro Max! Due to its small and slim size, it easily fits in your pocket, like a regular smartphone.
Here are the Honor Magic V2 specifications that you should know about:
| | |
| --- | --- |
| OS | Android 14 |
| Internal Display | 7.9" OLED display (120 Hz refresh rate, 2376 x 1060 pixels resolution) |
| External Display | 6.4" OLED display (120 Hz refresh rate, 2156 x 2344 pixels resolution) |
| Processor | Qualcomm Snapdragon 8 Gen 2 |
| RAM | Upto 16 GB |
| Storage | Upto 1 TB |
| Rear Camera | 50MP main, 50MP ultra-wide, 20MP telephoto |
| Front Camera | Dual 16MP selfie cameras |
| Battery | 5,000 mAh |
| Weight | 0.51 lbs (231 grams) |
The Honor Magic V2 release date is Q1 (January to March) 2024 (TBD). The Honor Magic V2 price will be $1,250 for the base version, as stated at IFA 2023.
Honor V Purse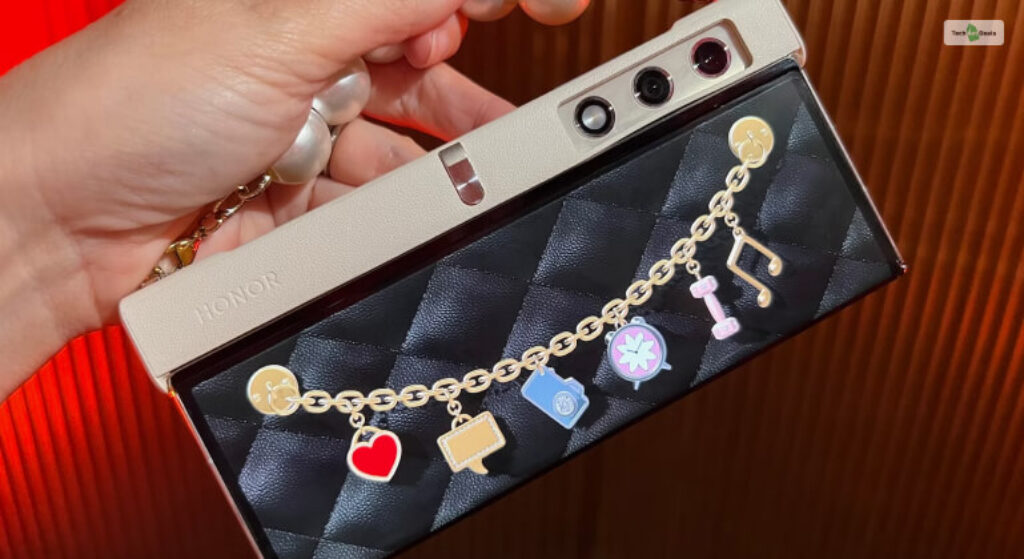 Smartphones have come a long way from just being portable telecommunication devices for communicating with others. With smartphones being capable of so much more, we are now seeing a lot of stylish smartphones that are more or less created as a fashion statement.
When I saw the Honor V Purse at IFA 2023, I thought – seriously? A smartwatch that can be carried around as a purse?
This is precisely what the Honor V Purse is made for – a smartwatch to be carried around as a purse. Crazy, right?
The interesting thing about this foldable smartphone is that its display is on the outside, unlike most foldable smartphones with inside screens.
Therefore, when you sling it around like a purse with the straps hanging from your shoulders, people will actually see the screen.
The best thing is that you can change the wallpaper to make it look like a purse. This way, most people might need to realize it's a smartphone!
This smartphone even has motion sensors on it so that the wallpaper can also juggle around when you move around. Cool!
While Honor hasn't publicly declared the specifications of this phone, the Honor V Purse release date is on September 19, 2023.
JBL Authentics Speakers
I saw a lot of speakers at IFA 2023. Lots of earbuds, over-ear headphones, soundbars, and whatnot. However, the only one that really got my attention was the new JBL Authentics speaker.
While its design might give an old-school retro-ish vibe, it has got dual pairing with Google Assistant and Alexa. This is a totally new school, making this the first speaker to have both. Therefore, regardless of your preferred voice, both will listen to you simultaneously!
The design takes inspiration from the vintage JBL L100 speakers, fitted with a premium aluminum frame. Plus, it has a "vegan" leather enclosure as well.
The volume and playback controls on the top look pretty premium. These speakers also support Dolby Atmos Spatial sound, which gives you a virtual surround sound experience. I got to hear them out at IFA 2023 (with a lot of background noise from the crowd) – and they sound amazing!
The JBL Authentic series of speakers has three models, which will all be released soon, on September 15, 2023. The 500 is the biggest one (best for small halls), while the 200 and 300 are meant for rooms. Their prices are as follows:
JBL Authentics 200: $329.99
JBL Authentics 300: $429.99
JBL Authentics 500: $699.99
Sennheiser Ambeo Soundbar Mini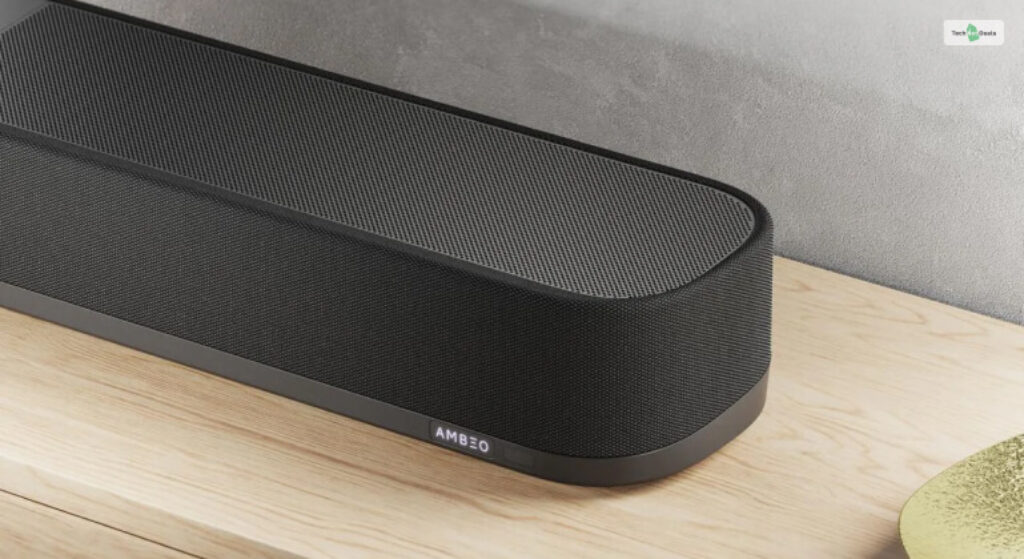 Apart from the JBL Authentics series of speakers, another speaker that caught my ears was the Sennheiser Ambeo Soundbar Mini.
While Sennheiser's Ambeo Soundbars are great premium-ranged soundbars with great sound quality, the Soundbar Mini is the smallest one so far. Its size is half of the standard Ambeo Soundbar, with a compact and sleek design.
Due to its size, I was pretty skeptical about its sound output. However, when I heard its booming sound at IFA 2023, I was blown away. To my surprise – its sound output is equivalent to the bigger models.
It supports Dolby Atmos audio and 3D surround sound with 360 Reality Audio. Plus, you can pair it up with the smaller Ambeo Subwoofers if you want the full home theater experience. Plus, you can also use it alongside your dear Alexa as well!
While the higher-end Ambeo Soundbar Plus ($1,499.95) and the Ambeo Soundbar Max ($2,499.95) have a high price ceiling, the Sennheiser Ambeo Mini is its entry-level (sort of) model, costing $799.95.
In addition, the Sennheiser Soundbar Mini was released on September 1. Therefore, you can quickly get your hands on this fantastic Soundbar now!
Withings ScanWatch Smartwatch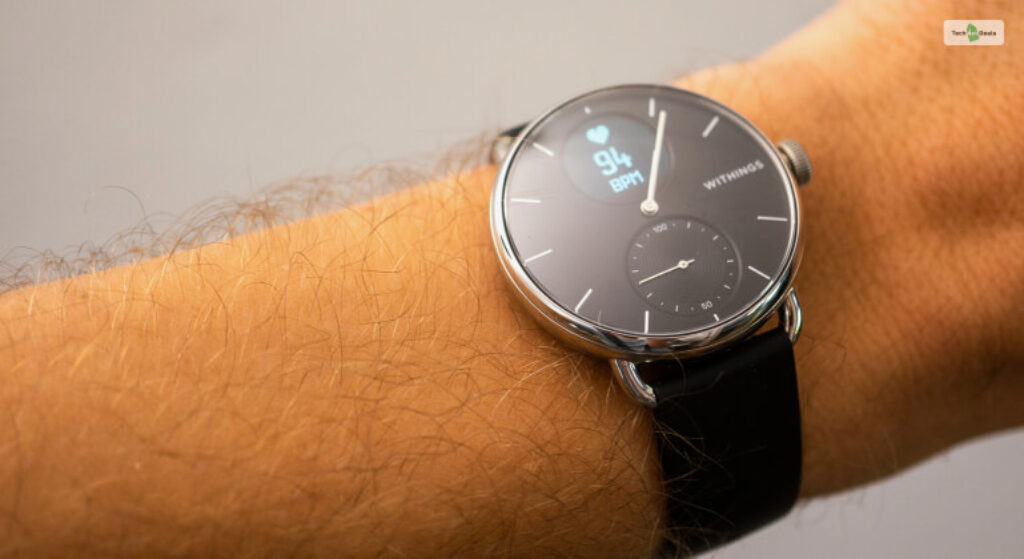 While Withings smartwatches flew under the radar of many users since bigger brands erupted into the scene, the new Withings ScanWatch 2 and Withings ScanWatch Light might bring them to the forefront.
The best aspect of the Withings ScanWatch (2020) was its design. While it's a smartwatch, it looks like a premium-quality analog watch instead.
As a lover of analog watches (I'm not really into smartwatches), I wish I owned one. The new variants also retain the same analog style, which I absolutely adored.
The ScanWatch looks like a circular analog watch with a small digital screen inside. This screen will show information that tracks your body temperature, blood oxygen levels, sleep cycles, and footsteps.
The Withings ScanWatch Light and Withings ScanWatch 2 release date is on September 18, 2023. The ScanWatch Light is a smaller variant, best for teenagers with smaller wrists. Their prices are:
Withings ScanWatch 2: $320
Withings ScanWatch Light: $230
Sony Xperia 5 V Smartphone
While Sony's Xperia models have remained outside the spotlight for many users for the last few years, it seems they are back with a vengeance. That too on a budget – with a weird name (5 V?), too.
The new Xperia 5 V is the new flagship model of this long-running series, revealed at this year's IFA 2023. This time, the Xperia 5 V camera has something new for all of us.
Instead of the triple camera setups we see on most smartphones like the Nothing Phone 2, the Xperia ditches it completely and includes it with the main camera. Nice!
| | |
| --- | --- |
| OS | Android 13 |
| Internal Display | 6.1" OLED display (120 Hz refresh rate, 2520 x 1080 pixels resolution) |
| Processor | Qualcomm Snapdragon 8 Gen 2 |
| RAM | 8 GB |
| Storage | Upto 256 GB |
| Rear Camera | 48 MP main, 12 MP ultra-wide |
| Front Camera | 12 MP selfie cameras |
| Battery | 5,000 mAh |
| Dimensions | 6.06" x 2.68" x 0.34" (154 mm x 68 mm x 8.6 mm) |
| Weight | 0.4 lbs (182 grams) |
| Colors | Platinum Silver, Black, Blue |
The Xperia 5 V release date hasn't been announced yet. However, we expect it to launch by the fall of this year. The Xperia 5 V price is $980 for the 128 GB variant, while the 256 GB variant is priced at $1,180. I expect this to be a great turning point for Sony.
Roborock Q5 & Q8 Robot Vacuum Cleaners
Roborock has been at the forefront of automatic vacuum cleaners for quite some time. At IFA 2023, I saw the new Roborock Q5 Pro and the Roborock Q8 Max.
Regarding innovation, both models offer many new smart cleaning features for convenient cleaning. Both models have a quick mapping system to instantly get your house's layout.
Plus, it also has AI-powered no-go zone detection so that it doesn't hit things it shouldn't. Therefore, they can also clean wooden floors parallelly as well.
In addition, the Q8 Max has an automatic dust-emptying dock to give you a more hassle-free experience. Plus, it also provides Reactive Tech for fine-tuning mopping controls.
Basically, you switch it on and let it do your dirty work for you, no questions asked! You can also control them using Alexa and Google Home Assistant. 
Both of these will be launched in October 2023. They will also include a "+" variant for each with larger 2.5 l dust bags and a dustbin-emptying dock. Their prices are
Roborock Q5 Pro Price: $429
Roborock Q5 Pro + Price: $699
Roborock Q8 Max Price: $599
Roborock Q8 Max + Price: $819
Conclusion: So, Which One Interests You The Most?
As a gamer and an audiophile, I am really interested in the Lenovo Legion Go and the Lenovo Legion 9i, along with the Sennheiser Soundbar Mini and the JBL Authentic speakers as well.
While I may not buy them (the Soundbar Mini and the Legion 9i are super expensive), I am still interested to see how well people respond to them. With such new tech coming into the market, I am super excited for them all!
So, which ones interest you the most? Plan on buying any of these? Let me know in the comments below as to which IFA 2023 made you drool!
More Resources: