With the gaming industry reaching an all-time high of $465 billion in 2023, the best time to buy a gaming laptop and get gaming. However, most gaming laptops come with a price tag above $1,000. Therefore, I have decided to test one of the best budget gaming laptops – the Lenovo IdeaPad Gaming 3 Gen 6 AMD.
So, does this laptop perform well for its lower price tag? Let's find out!
Lenovo IdeaPad Gaming 3 Specifications
The main specifications of the Lenovo IdeaPad Gaming 3 AMD 82SB00KFUS are:
| | |
| --- | --- |
| OS | Windows 11 Home |
| Display | 15.6" FHD screen (1920 x 1080 resolution @ 120 Hz) |
| Processor | AMD Ryzen 5 7535HS Processor (6 cores @ 3.30 GHz – 4.55 GHz) |
| Graphics Card | Nvidia GeForce RTX 3050 (6 GB DDR6) |
| Memory | 8 GB DDR5 RAM (4,800 MHz) |
| Storage | 512 GB M2 PCe SSD |
| Webcam | 720p HD |
| Ports | 1x USB 3.2 Type-C Gen 1, 2x USB 3.2 Type-A Gen 1, 1x USB 2.0 HDMI 2.0, 3.5mm headphone jack, RJ-45 Ethernet port |
| Battery | 45 Whr |
| Dimensions | 14.16" x 10.49" x 0.86" (W x D x H) |
| Weight | 5.1 lbs (2.3 kg) |
| Colors | Onyx Grey |
The Lenovo IdeaPad Gaming 3 release date was in April 2020. However, the model I tested (Lenovo IdeaPad Gaming 3 AMD 82SB00KFUS) has a release date of August 2023.
The Lenovo IdeaPad Gaming 3 price is $689.99. This is for the AMD Ryzen 7 variant with RTX 3050 graphics card – one of the cheapest currently available.
Lenovo IdeaPad Gaming 3 Review
After recently checking out various cheap laptops like the Acer Aspire 5, I wanted to award one laptop as the "Best Cheap Gaming Laptop." Finally, I think I have got it – the Lenovo IdeaPad Gaming 3 AMD (Gen 7).
So, how is this laptop for all you budget gamers? I already did find out, and it's time for you too!
Design And Build Quality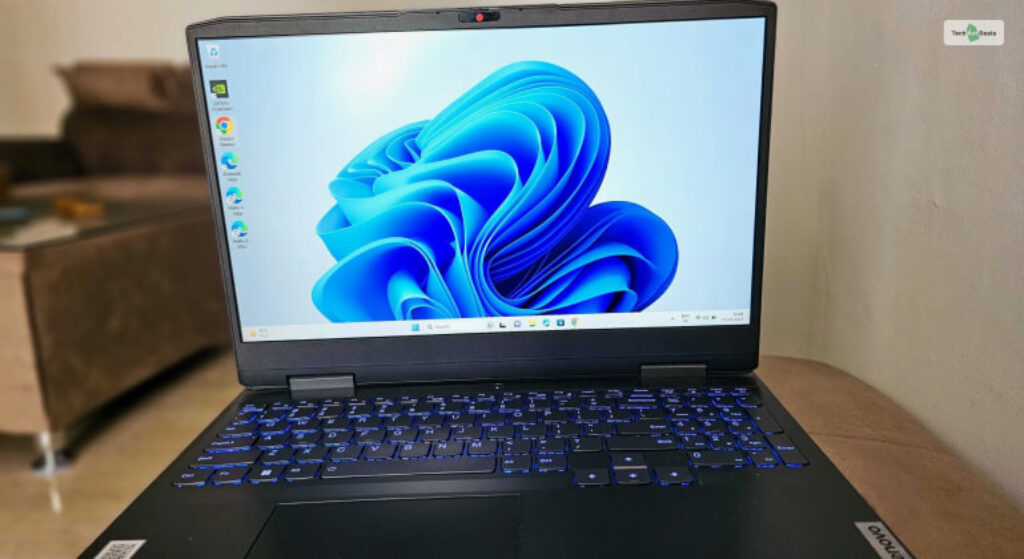 When I placed this laptop on my desk, I could hear the thud of it landing on the desk. Even though I placed it ever so lightly (it's a test laptop, not mine), it felt really solid.
Unlike any previous Lenovo laptop that I have tested (like the Lenovo IdeaPad 330-15 AMD or the Lenovo IdeaPad 720S-15), the build quality of this one is phenomenal.
You can tell it's a gaming laptop with one look because it lacks a traditional hinge. Instead, its hinge is placed an inch away from the very rear of this laptop. This has now become common for gaming laptops, as I got to see this on the Dell Alienware 15 R4.
However, the Lenovo IdeaPad Gaming 3 has a plastic body, which has standard dimensions. With a weight of 5.1 lbs, it lands itself in the medium to heavy weight range. Considering that this is a gaming laptop, this is to be expected.
You will find the Lenovo logo on the right edge of the lid. Look at this laptop from the sides, you will find a blue accent running parallel, which sizzles up the look. This goes well with the Onyx Grey color of the laptop.
Therefore, this laptop has a solid build for a budget gaming laptop. It has a neat design, which isn't too flashy. Overall, it's a great-looking laptop with a solid build quality.
Display
The Lenovo IdeaPad Gaming 3 has the standard 15.6" IPS display with 1080p resolution and 120 Hz refresh rate. Therefore, if you play competitive games like Valorant or Counter-Strike 2, the 120 Hz refresh rate will help you get some peekers advantage.
The screen looks great because it has anti-glare properties and thin bezels. However, once you start watching some movies or playing some games, reality hits you hard.
As a budget gaming laptop, I expected Lenovo to make some compromises here. However, a weak screen is not what I expected. While it has okay-ish 250 Nits of brightness, its 45% NTSC score is the main bummer here. Colors appear dull and washed out, which is something you don't want in a gaming laptop.
I noticed the difference while watching movies like Spiderman: Into the Spiderverse. In addition, playing games like Guardians of the Galaxy also accentuated this fact more.
Keyboard And Trackpad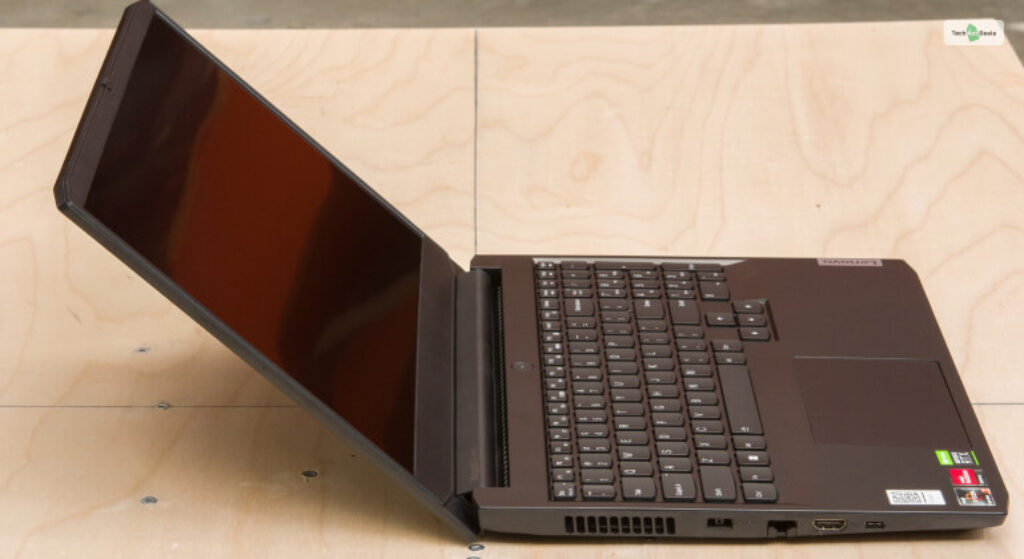 I am happy with the Lenovo IdeaPad Gaming 3 gaming keyboard. While the Asus ROG FX503 has a better keyboard, this one is no slouch.
Sure, it's not as great as a mechanical keyboard, which you don't get in a laptop anyway. However, typing and gaming felt responsive enough for my taste. The keyboard is also backlit, with two levels you can toggle between by pressing Fn + Spacebar.
The trackpad is also decent, with a size of 3.5" x 4.75". While it's spacious and responsive, it leaves room for no palm rest.
Therefore, I am overall pretty satisfied with the keyboard and trackpad of this laptop.
Webcam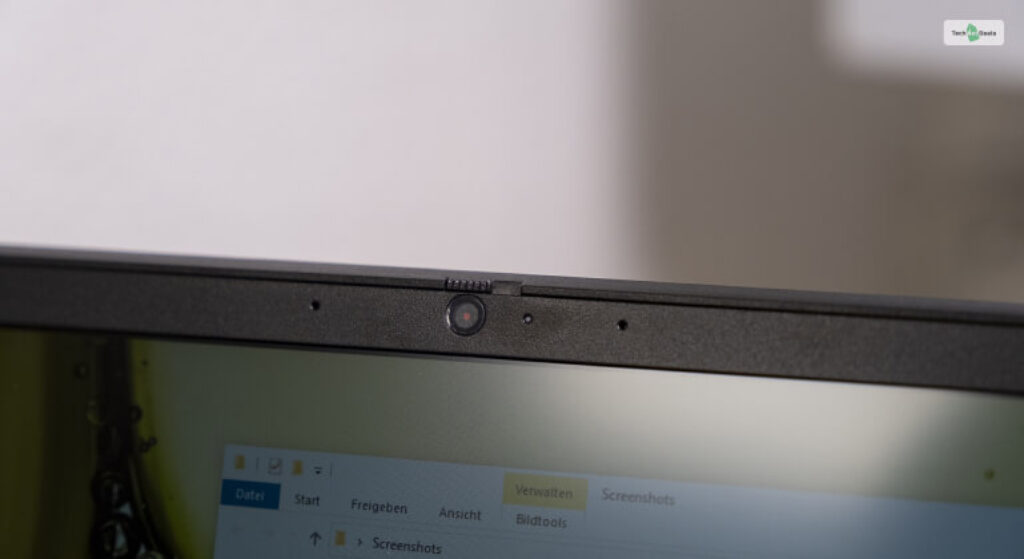 This laptop has the standard 720p HD webcam. Therefore, I expected dim colors and grainy visuals – which is exactly what I got.
Most laptops don't have good webcams. The only exceptions would be the MacBook 12in M7 and the MacBook Air M1. So, I'm not that disappointed here. I knew it wasn't going to be too good.
Speakers
The speakers of this laptop are good enough for its price point. They are loud and clear enough for most genres. However, they sound best kept on a flat surface since it's near the palm rest. Keep it on your bed or couch, and you will muffle the sound.
I listened to instrument-heavy songs like Snarky Puppy's What About Me and bass-heavy tracks like Childish Gambino's Feels Like Summer. Both the songs sound great, with no audible distortion at max volume.
Therefore, I am pretty satisfied with the speaker. However, they are not as good as the HP Laptop 17 at this price range. Therefore, it's best to buy one of the best Skullcandy headphones, like the Skullcandy Crusher Evo.
Ports
You will find an RJ-45 ethernet port, an HDMI 2.0 port, a USB 3.2 Type-C port, and the power port behind this laptop. On the left side, you will find another USB 3.2 Type-A port and the 3.5 mm headset jack. You will also find another USB 3.2 Type-A port on the right side.
It should've had more ports because it's a gaming laptop. They become helpful if you plug in an additional gaming keyboard, mouse, and controller. In addition, an SD-card card port would also have been nice at this price (like the Lenovo IdeaPad Flex 5i).
Battery And Thermals
The Lenovo IdeaPad Gaming 3 Gen 7 has a pretty average battery life. It lasts around 6.5 hours on normal usage, which comes down to 4 hours while gaming.
However, this laptop does run pretty hot. After 2 hours of gaming, I could feel the center of the keyboard burning up, along with its vents as well. Therefore, do not play games on this laptop when it's on your lap!
Performance
The Lenovo IdeaPad Gaming 3 performs productivity tasks pretty well. It will do well if you want to buy it for office work, studies, and designing (Photoshop, Illustrator, Canva) or editing (Premiere Pro, DaVinci Resolve).
However, as a gaming laptop, I know what you will be doing with it! This laptop performs pretty decently, thanks to the Ryzen 7 processor and the RTX 3050 6 GB graphics card.
Its performance resembles the Acer Predator Helios 500 17 AMD and the Acer Aspire Nitro 7. Therefore, here are some 1080p gaming benchmarks that I got:
| Games (Max Settings, RTX-off) | Average Frames (FPS) |
| --- | --- |
| Far Cry 6 | 48 |
| Red Dead Redemption 2 | 56 |
| Cyberpunk 2077 | 43 |
| Apex Legends | 82 |
| Hogwarts Legacy | 67 |
As you can see above, you will be able to do some good gaming on this laptop. You can play all the latest AAA games at medium settings to reach 60+ fps. Turn on Nvidia DLSS, and you can squeeze out more frames! However, this laptop isn't meant for 2k or 4k gaming.
Lenovo IdeaPad Gaming 3 Alternatives
If the Lenovo IdeaPad Gaming 3 didn't fancy you, here are two alternatives you may buy:
1. Dell G15
Price: $699.99
The 15.6 Dell G15 is a pretty good-budget gaming laptop. Armed with a 13th Gen Intel i5-153450HX processor and RTX 3050 GPU, it's a pretty good performer. However, its 256 GB SSD is bound to fill up a bit too fast.
2. Asus TUF Gaming F15
Price: $1,099.99
The Asus TUF Gaming F15 is one of the best budget mid-range laptops that I have tested. With a crisp 144 Hz refresh rate, 12th Gen i7-12700H processor, and the new RTX 4060 8 GB GPU, this is the best gaming laptop for you if you can spend a bit above $1,000.
Final Verdict: Should You Buy The Lenovo IdeaPad Gaming 3?
The Lenovo IdeaPad Gaming 3 is a good gaming laptop for $689.99. This laptop has everything right, except for its dull screen, which gamers will dislike. Therefore, if you can connect it to a bigger display using its HDMI port, you can buy this gaming laptop.
Pros
Cons
• Cheapest gaming laptop with RTX 3050 GPU
• Good design and solid build quality
• Great speakers
• Devcent 1080p gaming
• Dull display
• Too few ports
• Single-channel RAM
• Runs hot after a few hours of gaming
More Resources: