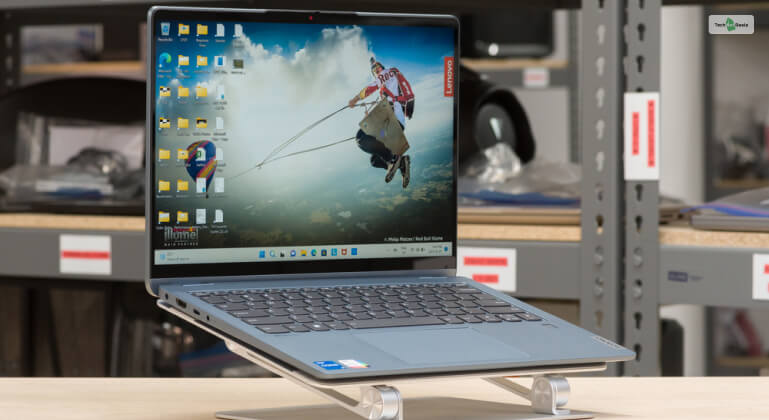 2-in-1 convertible laptops are becoming the rage nowadays. You can use them as a standard touchscreen laptop or flip them over and use them like a tablet. While the HP Envy Move may be a bit too much for some, the Lenovo IdeaPad Flex 5i is the proper buy for you if you want a cheap laptop.
However, after using this laptop for a few days, I now have some reservations about it. Keep reading this review to find out what they are!
Lenovo IdeaPad Flex 5i Specifications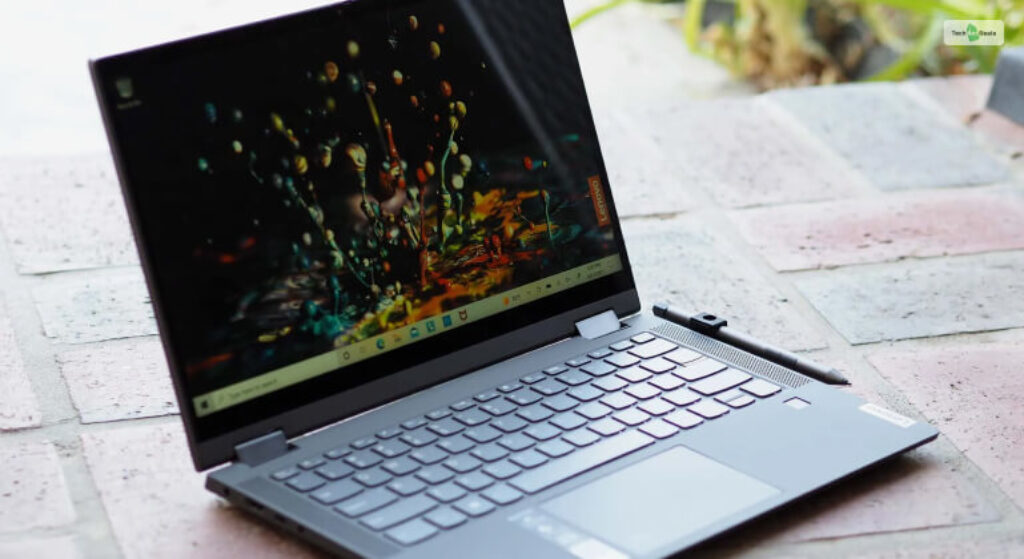 The main specifications of the Lenovo IdeaPad Flex 5i 16" (2023) are:
| | |
| --- | --- |
| OS | Windows 11 Home |
| Display | 14" IPS touchscreen (1920 x 1200 resolution, 60 Hz refresh rate) |
| Processor | 13th Generation Intel Core i5 – 1335U (10 cores @ 1.3 GHz – 4.6 GHz) |
| Graphics | Integrated Intel Iris Xe |
| Memory | 8GB LPDDR4X RAM |
| Storage | 512GB NVMe SSD |
| Ports | 2x USB 3.2 Gen 1 Type-A, 1x USB 3.2 Type-C Thunderbolt 4, 1x HDMI 1.4, 1x 3.5mm jack, 1x 4-in-1 microsSD Card Reader |
| Webcam | 1080p FHD webcam |
| Battery | 65 W, 3220 mAh Li-Ion battery |
| Dimensions | 2.32" x 8.85" x 0.69" (H x W x D) |
| Weight | 3.3 lbs (1.5 kg) |
| Colors | Abyss Blue, Arctic Grey |
The Lenovo IdeaPad Flex 5i price starts from $699 for the 16" Abyss Blue variant, which is currently on offer. There are also other more expensive variants with smaller 14" screens and Intel Core i5 and i7 processors as well. However, most retailers sell the laptop for around $800.
The Lenovo IdeaPad Flex 5i release date was on June 23, 2021. However, the release date of the 2023 variant, which I have reviewed here, was May 2023.
Lenovo IdeaPad Flex 5i Review: My Impressions
After I got the Lenovo IdeaPad Flex 5i 2023 in my hands, I was pretty ecstatic to try it out. I was excited because it had been some time since I tested a 2-in-1 convertible laptop with a touch screen. The last convertible that I reviewed was the Asus 2-in-1 Q535.
Continue reading to learn about my experience using cheap laptops like the Lenovo IdeaPad Flex 5i 16" Abyss Blue 2023.
Design And Build Quality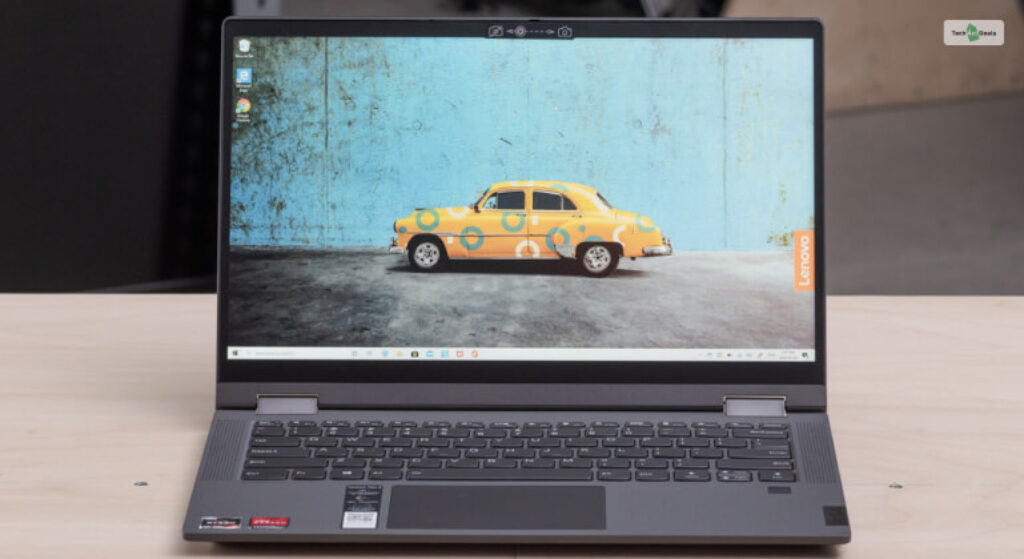 Unlike many other cheap laptops that I have reviewed, this laptop actually looks and feels cheap.
It has a whole plastic body with an aluminum lid at the top. The keyboard base feels sturdy, but the screen lid feels flimsy. When I opened the screen lid, it started to wobble a bit when I turned my fans to max speed.
The lid hinge was flexible yet sturdy, which is excellent, considering this is a 2-in-1 convertible laptop. Therefore, how many times you turn the laptop over to the tablet-like touch mode, it won't feel like it's coming off anytime soon.
However, the color contrast between the Abyss Blue body and the DarkGrey keyboard looks ugly. I feel like they have ported over the Arctic Grey of the other color variant but forgot to change the keyboard's color!
Overall, this laptop looks great despite the off-color keyboard. Durability-wise, it feels alright for a cheap laptop, but it definitely could have been better.
Display
The Lenovo IdeaPad Flex 5i has two screen sizes – a 14" screen and a 16" screen. I got to test the 16" variant since it's on sale for a discounted price of $699.
I found the touchscreen display to be good. It's a simple 16" IPS panel screen with a resolution of 1920 x 1200 pixels resolution. It's a bit better than the standard 1080p screens.
However, the issue I found was not its resolution. Neither was its 300+ Nits bright display nor its perfectly sized 16:10 aspect ratio. Instead, it was the screen itself.
The main issue I found here was the color quality of the display. I didn't find it to be as vivid as other budget laptops like the Acer Aspire 5. When watching my favorite Spiderman: Into The Spiderverse, I felt that the colors were all washed out.
Therefore, if you are a screen aficionado, this screen might not satisfy you. However, if you are not that big of a screen junkie and want a convertible laptop for work or studies, this laptop will do fine. If you want a better screen, pay a bit more and get the MacBook 12in M7 or the MacBook Air M1.
Keyboard And Touchpad
I like the keyboard of the Lenovo IdeaPad Flex 5i. It's sturdy and gives solid feedback when I type on it. It has comfortable key travel, making it quieter than most budget laptops.
However, as mentioned earlier, I absolutely hated the keyboard color. The dark gray didn't contrast well with the Abyss Blue exterior. It just feels weird to look at it.
On the other hand, the trackpad feels basic. While it has a plastic feel, it's not terrible since it's smooth overall. However, the trackpad's click is loud compared to the more silent keyboard.
Webcam
The Lenovo IdeaPad Flex 5i webcam is a good one. I appreciate that it records videos in 1080p FHD because most budget laptops have a 720p HD webcam. Therefore, you will get no grainy or dull-lit videos while video calling.
However, it lacks an IR facial recognition feature, which many 2023 laptops are rolling out with. It's not much of an issue, but it would have been better to see it here.
Audio
This laptop has two 2-watt speakers, which sound pretty bad to my audiophile ears. It's devoid of any bass and lacks any natural soundscape.
My advice – go for the best Skullcandy headphones, like the Skullcandy Crusher Evo if you like bass. You may also opt for a JBL Tour Pro 2 if you want earbuds or the Sennheiser Game One Gaming Headset if you are a gamer.
Ports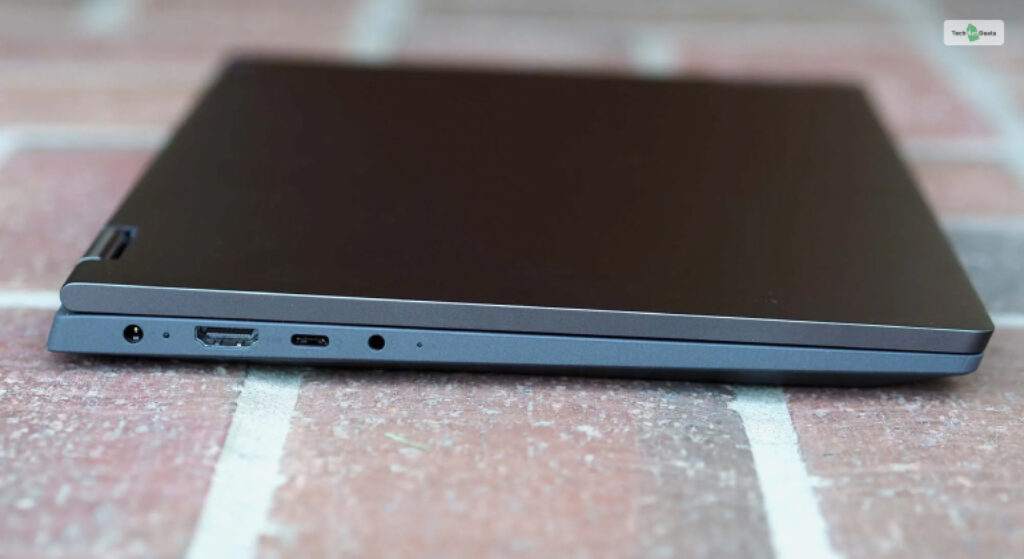 The Lenovo IdeaPad Flex 5i has a pretty decent set of ports. I appreciate the addition of a USB 3.2 Type-C Thunderbolt 4 port and a 4-in-1 microSD card reader. Plus, it has two USB 3.2 Gen 1 Type-A ports as well. Therefore, photographers using the Canon EOS R will have no worries here!
However, I wish Lenovo could have added an RJ-45 ethernet port. I don't know why most budget laptops miss this one out. 
Battery Life
The battery life of this laptop is pretty good. Using it for normal streaming and web browsing should last you around 7 to 8 hours on a single charge.
However, if you do some resource-intensive tasks like gaming, it can drop to the 4 to 5-hour mark. That's how long I played Counter-Strike 2 with Xbox Cloud Gaming on this laptop!
Performance
The Lenovo IdeaPad 5i Flex does its job as a decent performer.
This laptop is a good choice if you want a 2-in-1 laptop for work or studies. It will run all the apps perfectly without any lag. I opened 20 tabs on Opera Browser (with a 4k YouTube video running on one of them), and I was able to multitask efficiently.
I loved using the Adobe suite here, especially Photoshop, Illustrator, and Premier Pro. The touchscreen makes work easier here since it's more productive than using a mouse.
However, editing 4k and 2k videos might cause some lag, thanks to its weak Intel Iris Xe graphics card. On the other hand, its Intel i5 processor makes rendering quick since processors define video export speeds, not the GPU.
However, this laptop is not a gaming laptop like the Asus TUF gaming F15 or the Asus ROG FX503. Neither can it run previous generation Xbox One S games at 60 fps.
I played several games at their highest graphical settings to test the Lenovo IdeaPad Flex 5i gaming performance. Here is a list of all the frame rates I got:
| Games | FPS (Average) |
| --- | --- |
| Grand Theft Auto 5 | 60 |
| The Witcher 3: Wild Hunt | 45 |
| Red Dead Redemption 2 | 32 |
| Cyberpunk 2077 | 18 |
| Valorant | 98 |
| Counter-Strike 2 | 88 |
| Fortnite | 106 |
Best Lenovo IdeaPad Flex 5i Alternatives
If the Lenovo IdeaPad Flex 5i 16" 2023 didn't excite you, these alternatives might:
1. Lenovo IdeaPad Slim 5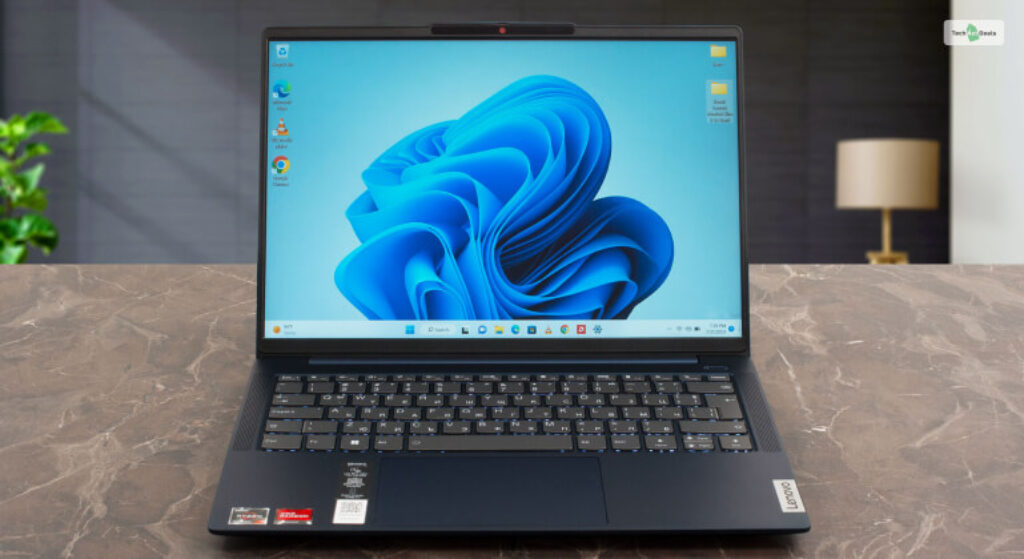 Price: $554.99
If you would prefer a laptop with similar performance and a slimmer design, then the Lenovo IdeaPad Slim 5 would be a good choice. It has a slightly bigger 16" screen, AMD Ryzen 5 7530U processor, integrated AMD Radeon HD graphics, and 16GB RAM.
2. HP Laptop 17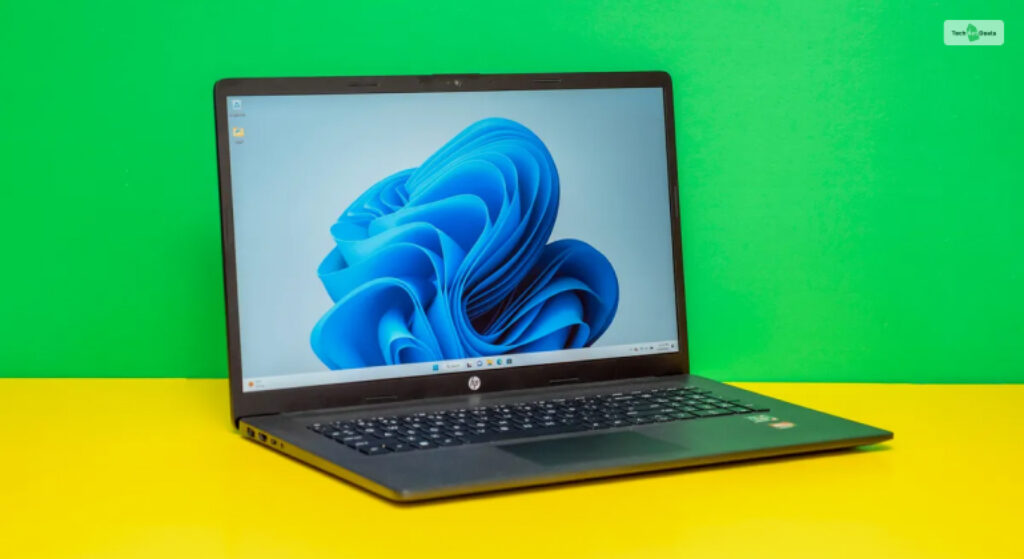 Price: $649.99
If you want a big 17" screen for Netflix, you should go for the HP Laptop 17. It has a great screen, with 16GB RAM and 512GB SSD + 1 TB HDD storage. However, it has an older 11th Gen i7 processor with the same Intel Iris Xe processor.
Final Verdict: Should You Buy The Lenovo IdeaPad Flex 5i?
If you want a 2-in-1 convertible laptop or a cheap laptop, I DO NOT RECOMMEND buying the Lenovo IdeaPad Flex 5i. It has a below-average screen, even though that is its selling point as a touchscreen laptop. 
It has decent performance, but nothing worth celebrating. Overall, it's a decent laptop, but not with it, since better alternatives exist.
Pros 
Cons
• Good battery life
• Crisp 1080p webcam
• Great port selection
• The screen could have been better
• The gray keyboard looks ugly
If you have bought the Lenovo IdeaPad Flex 5i before and have used it, tell us about your experience in the comments below!
More Resources: