Samsung phones are known to be the cream of the crop for Android smartphones. However, they are now facing serious competition from Google Pixel and OnePlus smartphones in the Android smartphone market. Therefore, Samsung is pushing more smartphones in the lower mid-range segment, and the Samsung Galaxy M54 is one of them.
Weirdly enough, this smartphone is known as the Samsung Galaxy F54 in some markets. No matter which country you are from, read this review until the end to determine whether this smartphone is a good deal.
Samsung Galaxy M54 Specifications
The primary specifications of the Samsung Galaxy M54 5G or the Samsung Galaxy F54 are:
| | |
| --- | --- |
| OS | Android 13 (One UI 5.1) |
| Display | 6.7" Super AMOLED Plus screen (2,400 x 1,080 pixels, 120 Hz) |
| Processor | Octa-Core Exynos 1380 (5 nm) |
| Graphics | Mali G68 MP5 |
| Memory | 8 GB RAM |
| Storage | 128 GB – 256 GB |
| Rear Camera | 108 MP (wide) + 8 MP (ultrawide) + 2 MP (macro) |
| Front Camera | 32 MP |
| Battery | 6,000 mAh Li-Po |
| Ports | USB Type C 2.0 |
| Dimensions | 6.49" x 3.04" x 0.33" (H x W x D) |
| Weight | 0.43 lbs (199 grams) |
| Colors | Silver, Dark Blue |
The global Samsung Galaxy M54 release date was on April 11, 2023. Currently, the Samsung Galaxy M54 price in the USA is $359.
Samsung Galaxy M54 Review: My Honest Impressions
After using this smartphone alongside the Xiaomi Redmi Note 13 Pro, I was satisfied with it. Sure, it has a few drawbacks, but its pros outweigh its cons.
Therefore, here is my honest Samsung Galaxy M54 review after four days of using this smartphone.
Design & Build
The Samsung Galaxy M54 has a slim profile, which looks good even with a 6,000 mAh battery inside. However, it has a plastic back cover, which I found slippery on my hands.
In addition, this plastic back cover also makes it prone to smudges and fingerprints. Therefore, it's best to use this phone with a back cover.
It has a USB port at the bottom, with the power and volume buttons on its right side. However, the feature I liked best here is integrating the fingerprint sensor into the power button. I loved this neat addition Samsung has made here!
Like the OnePlus 11, it has its camera on the center of the screen, without additional notches. This phone looks premium with a sleek build and sleeker bezels around the screen. However, in the end, its cheap plastic cover lets it down.
Display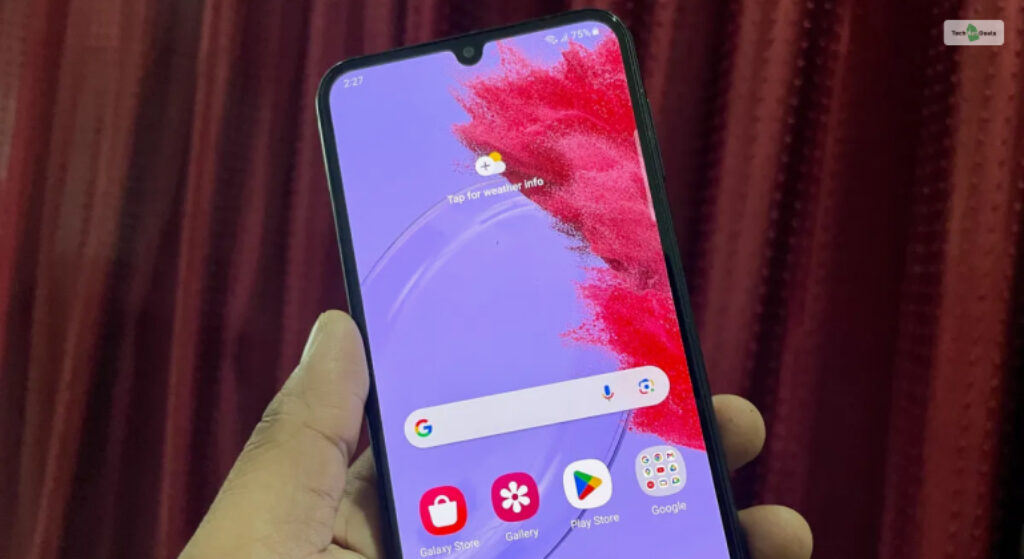 Samsung gets a lot of praise for creating impressive displays that can rival iPhones like the iPhone SE 2023. Therefore, you also get the same fantastic display in the Samsung Galaxy M54.
You will get a large and vibrant 6.7" Super AMOLED display here. It has a resolution of 2,400×1,080 pixels (FHD+). It has a 393 ppi pixel density, which is the average range.
Overall, this screen is excellent. Pictures and videos are all sharp and clear, with fantastic contrast and clarity. Colors pop on the screen vibrantly, which movie buffs and gamers will love. It's as good as the higher-end Nothing Phone 2 screen.
Audio
For the first time, I see a loudspeaker that supports Dolby Atmos audio using Dolby Atmos audio without headphones. While you won't get surround sound or spatial sound, it's still a noticeable improvement from standard smartphone speakers.
To make the best use of Dolby Atmos audio in the Samsung Galaxy F54, use the best Skullcandy headphones. I recommend using the Skullcandy Crusher Evo.
Battery
If you want a smartphone that you use more and charge less, get the Samsung Galaxy M54.
It has a massive 6,000 mAh battery – enough to last the entire day on a single charge. I charged it to 100% in the morning – and was surprised to see a 23% charge remaining that day! I used it like usual – for calling, reading blogs, social media, YouTube, and the occasional Wild Rift battles.
This phone also has the 25W Samsung charging tech, which is decent at best. You can charge this phone to full in an hour, which is nice. However, you don't get the charger in the box and must buy it separately.
However, it's still nothing compared to the 100W Super-VOOC charging of the OnePlus 11 and the OnePlus Open. Even the upcoming OnePlus 12 will get 100W charging as well – which is something I wish every smartphone producer would implement.
Another positive here is the heating. I didn't run into any heating issues throughout my four days of use, even after gaming for 2 hours straight.
Camera
More and more Android phones are now implementing 100 MP+ back cameras. Therefore, this phone is no exception, with its 108 MP rear wide camera.
However, after I clicked some pictures and videos – this 108 MP camera should not be hyped much. I found it decent, with many cameras with a lower Megapixel count providing better pictures. Here, I am referring to the 64 MP camera of the Moto Razr.
The Samsung Galaxy M54 rear camera performs well in well-lit places, especially during daytime. However, the low-light pictures I clicked with Night Mode have mediocre quality. Overall, I couldn't find the effectiveness of having a 108 MP camera if the photographs appear mediocre.
However, it does have some good shooting modes. For example, you can use Fun Mode to add Snapchat stickers from the Samsung Galaxy M54 camera app. In addition, it also has other modes like Single Take, Slow-Mo, and Astro Hyperlapse (time-lapse mode for videos of the sky and moving stars).
Its 12 MP ultrawide camera is decent, though it gets blurry if you zoom in too much. However, its 2 MP macro camera is useless because all pictures appear blurry. What do you expect from a 2MP camera anyway?
However, I was disappointed not to see a 4K 60 fps video recording here. The video capture setting, by default, is set at 4K 30 fps. However, you must bump it to 1080p for shooting 60 fps videos. This is because the Exynos 1380 processor does not support encoding for 4K 60 fps videos.
Regarding its 32 MP front camera, I enjoyed clicking selfies with it. They perform well in both lit and darker places, which the 108 MP rear camera fails to do.
Performance
While the Exynos 1380 processor can't encode 4K 60 fps videos, it does other tasks well. Therefore, you will find the Samsung Galaxy M54 performance smooth if you are not a hardcore gamer.
All the apps ran smoothly, and I like how smooth it feels on the app drawer. Therefore, I am happy that the 120 Hz refresh rate holds up its impressive display well! In addition, the Bixby Text Call feature worked smoothly here for me.
However, you will not be satisfied if you are a gamer. This phone handles almost all the games you play smoothly, with some minor fame drops here and there.
The only game I felt this phone struggled with was Genshin Impact, which I couldn't play at 60 fps, even on the lowest settings. Don't expect it to be like an Xbox One S. It's also the only instance where I felt this phone heated up a bit, but not to uncomfortable levels.
Plus, I like that Samsung has guaranteed four major OS upgrades. Therefore, while it's currently running One UI 5.1(Android 13), it hopefully will be upgradeable to Android 15.
Deal Or No Deal: Should You Buy The Samsung Galaxy M54?
If you want a solid phone with decent performance, excellent battery life, and an impressive Super AMOLED display, the Samsung Galaxy M54 will meet your needs.
Go for this deal if you want a good mid-range phone. Just don't expect too much from its camera and high-end gaming performance.
Pros
Cons
• 120 Hz super AMOLED display
• The Exynos 1380 processor performs well
• Good 6,000 mAh battery
• Great 32 MP front camera
• The 108 MP camera doesn't feel like a 108 MP camera in most situations
• It's pointless to use the 2 MP macro camera
• The Exynos 1380 doesn't support 4K 60 fps video recordings
• No charger in the box