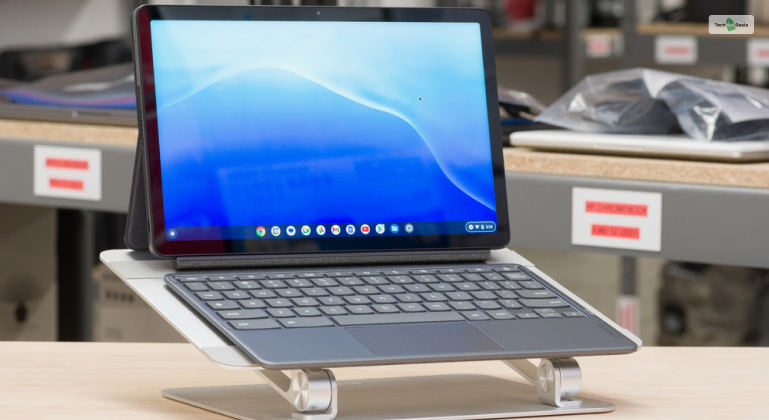 Convertible laptop-cum-tablets with detachable keyboards are becoming popular nowadays. If you aren't looking for any high-end gaming performance and instead want a lightweight device for work, then read this Lenovo Chromebook Duet 3 for around $350!
But does its cheap price produce a cheaper performance that is not worth a recommendation? Let's find out!
Lenovo Chromebook Duet 3 Specifications
The Lenovo Chromebook Duet 3 release date was in May 2022. The current Chromebook Duet 3 price is $349.
The primary Lenovo Duet 3 specifications are:
| | |
| --- | --- |
| OS | ChromeOS |
| Display | 10.95" IPS touchscreen (2000 x 1200 resolution) |
| Processor | Qualcomm Snapdragon 7c Gen 2 Processor (2.55 GHz) |
| Graphics Card | Integrated Qualcomm Adreno Graphics |
| Memory | 4 GB LPDDR4X (2133 MHz) |
| Storage | 128 GB eMMC |
| Camera | 5 MP (front camera) + 8 MP (rear camera) |
| Speakers | 2x 1W stereo speakers |
| Ports | 2x USB 3.2 Gen 1 Type C, 1x Pogo Pin |
| Battery | 45 Whr |
| Dimensions | 10.16″ x 6.48″ x 0.31″ (H x W x D) |
| Weight | 1.14 lbs (517 g) |
| Colors | Storm Gray |
Lenovo Chromebook Duet 3: My Impressions
As I got my hands on the Lenovo Chromebook Duet 3, I was skeptical about its performance. Does this tablet-cum-laptop – one of the cheapest Chromebooks – for $349 – have enough juice to power my demands?
To my surprise – it does. This is why I included this device in my list of the best cheap laptops (it technically is).
Let's break down its parts in detail, followed by a performance test.
Design And Build
The Lenovo Chromebook Duet 3 has a decent design. It has a compact shape and comes in only one color – Storm Grey. The surface has a glossy finish, which looks neat, like the MacBook Air M1.
Regarding its build quality, it's solid. While it's not very heavy (only 1.14 lbs), it feels heavy because of its sturdy build. I am sure it will survive a few accidental falls, at least!
Moreover, it has a kickstand on its back, an addition I liked a lot. Therefore, if you wish to watch movies or make video calls, the kickstand makes life simpler. In addition, it uses magnets to snap back in, which feels great.
Display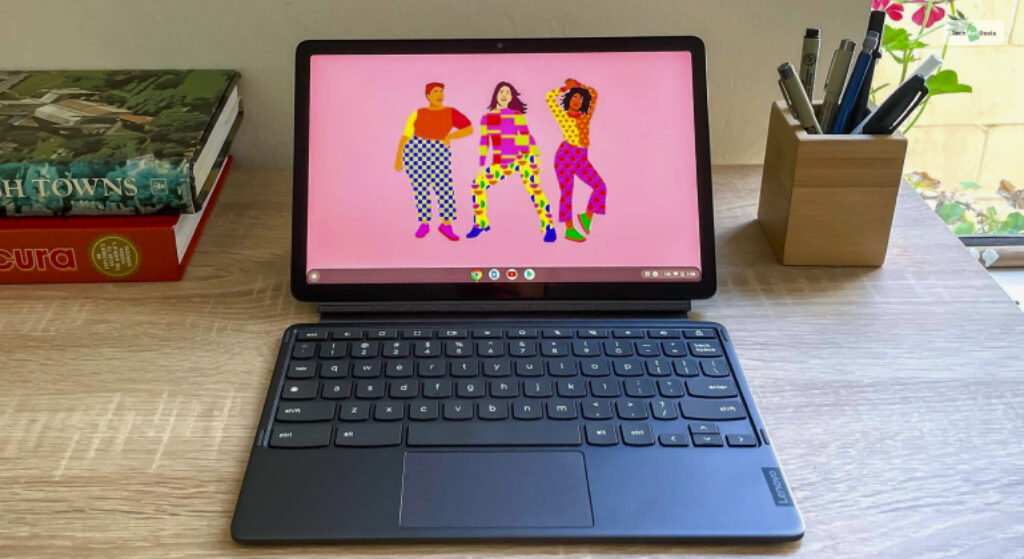 Apart from its build quality, another good aspect of the Lenovo Chromebook Duet 3 is its 10.95" display.
The display is crisp and vibrant, thanks to its 2000 x 1000 resolution, which is close to a 2k screen. In addition, a max brightness of 400 Nits makes the color pop, making it suitable for Netflix bingers.
Therefore, the screen will benefit Kindle readers since it's light enough for one-handed use. Along with a snappy touch response, I salute Lenovo for pricing this device so low! The screen is even better than the bigger Lenovo.
Detachable Keyboard And Trackpad
As a convertible tablet-cum-laptop, a poor detachable keyboard will delete this device in an instant. However, Lenovo knows this well and has thus provided an excellent keyboard and trackpad cover.
Typing on the keyboard feels excellent, thanks to its sturdy build and amazing feedback. It's not a flimsy keyboard that you might break after an intense typing session. Therefore, I would say it's as good as the keyboards of the Lenovo IdeaPad Gaming 3 and the Asus ROG FX503.
However, I disliked the trackpad. It's smaller than what I would've preferred. Plus, it was often inaccurate and sluggish at times. Therefore, I didn't use the trackpad much. Instead, I relied on the touchscreen more.
Stylus Pen
Since my package bought by my employer came with the stylus pen, I thought it came with the box. However, I later realized that you have to pay $35 extra to get the stylus pen and a different back cover with a rubber holder.
Using a USI 2.0 stylus pen with this cheap Chromebook feels as it should. The response of the screen is snappy, and its pointed tip makes signatures easier. It's even better than the LG Stylo 6!
However, it's sad to see that it's not compatible with older USI 1.0 pens, which forces you to buy a new one.
Camera
The Lenovo Chromebook Duet 3 11" has two cameras, both of which are decent.
Since this device is not meant for photography, don't expect the cameras to be great, like the Nothing Phone 2, Moto Razr, or the Apple iPhone 14 Pro Max.
I didn't use the camera much, except for clicking a few photos and one video of my cat being dumb. Therefore, expect grainy videos with half-decent pictures.
Speakers
The two speakers at the bottom need to be fixed. They have a tinny sound, which not even professional equalizing can make it sound good.
However, it is passable at best. Therefore, it's best to buy one of the best Skullcandy headphones, like the Skullcandy Crusher Evo.
Ports
The Lenovo Chromebook Duet 3 has only two USB 3.2 Gen 1 Type C ports. While this it's marketed as a convertible laptop, more than two are needed to be enough.
An additional HDMI port and an SD card reader would've made it a lot better. Plus, following the trend of modern smartphones, it lacks a 3.5mm headphone jack. Therefore, you are stuck with using Bluetooth headphones.
Battery Life And Heat
While the Lenovo Chromebook 3 is marketed as a laptop, its battery life is similar to that of a smartphone.
I used it for 6 hours (Chrome browsing, Spotify, and writing content on Google Docs). Therefore, it falls in the middle of the pack. It's not as low as the Asus TUF Gaming F15 gaming laptop. However, it's not as high as the MacBook 12in M7.
Regarding thermals, it never became too hot for my palms, even after six hours of continuous use. Therefore, it's good enough for such an affordable price tag.
Lenovo Chromebook Duet 3 Performance
Now, let's see how well the Lenovo Chromebook Duet 3 performs at varying workloads.
After opening 13 tabs on Chrome (with one of them streaming a 2k YouTube video), the lag became noticeable. Therefore, limiting your use to 7 to 8 tabs should be a cap.
Plus, the screen constrained my writing work since I typically open two tabs side by side – one for my research and the other for Google Docs. The smaller screen made this almost impossible since keeping tabs open side by side made the text too small.
Therefore, the performance of the Lenovo Duet 3 is decent for light use. If you must rely on Google apps for most of your work, this is a better buy than the HP Chromebook x360.
Regarding gaming, it's not meant for it. I only played PUBG Mobile and Genshin Impact. I had to play PUBG at medium settings (to get around 60 fps). On the other hand, I clocked an average of 24 fps while playing Genshin (at the lowest settings). It's nothing compared to an Xbox One S.
Therefore, if you are a gamer, don't buy this. Spend some more and get an iPad or the cheap Lenovo IdeaPad Flex 5i with Xbox Cloud Gaming.
Best Lenovo Chromebook Duet 3 Alternatives
If the Lenovo Chromebook Duet 3 didn't interest you much, here are some alternatives you may consider:
1. Microsoft Surface Laptop Go 4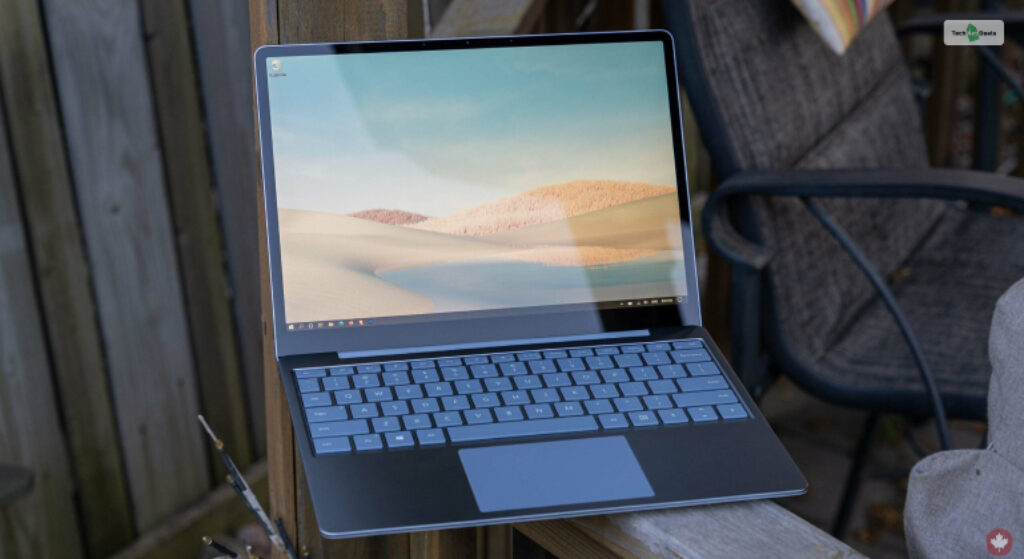 Price: $579.99
By looking at the Microsoft Surface Laptop Go 4 specifications, it's made primarily for students. It has weak power in terms of performance, but it is purposely built so that your child studies using this laptop, not playing games or surfing social media.
Additionally, it has an excellent Silver color and weighs only 1.15 lbs – which makes it almost as light as a smartphone!
2. Samsung Galaxy Chromebook 2
Price: $449.99
If you want an ultralight and super-portable cheap laptop with Google's ChromeOS, the Samsung Galaxy Chromebook 2 with Intel Celeron processor will be your best bet.
This laptop is lightweight and has a smaller compact design to fit easily inside your bag. Therefore, this Chromebook will serve you well whether you take it to school or your office.
Final Verdict: Should You Buy The Lenovo Chromebook Duet 3?
If you want a decently powerful Chromebook with an amazing touchscreen and a great detachable keyboard, you may buy the Lenovo Chromebook Duet 3.
It has an affordable price tag of $349, which is its biggest draw. For its price, you will get good performance. Expect anything more, and you will be disappointed.
Pros
Cons
• Excellent 11" touchscreen
• Lightweight and portable
• Good detachable keyboard
• Decent performance for the price
• More ports would've been better
• Poor speakers
• Subpar cameras
• Stylus must be purchased separately
More Resources: